return to beds
Akita Japanese Bed
in stock - get it 6/6-6/20


Akita Japanese Bed
in stock - get it 6/6-6/20
$1389.00
Product Description
An homage to Japanese tatami, our Akita Queen Japanese Bed boasts everything you could want in a platform. Akita features a super low-profile design: the side rails are raised up just 10-inches, so your mattress sits low to the ground! Akita's slab-inspired frame seems to float gracefully above the floor, nestling you and your Queen size mattress in for the perfect night's rest.
Two matching nightstands complete the bed, making Akita your easy solution for transforming your bedroom into a Japanese retreat. All that's left is to choose your favorite finish combination from a myriad of designer wood veneers and upscale upholstery options.
Stunning low profile Japanese Platform Bed
Includes two matching nightstands (23.5"w 17.5"d each)
Wood slat system eliminates need for boxspring
Laminated plywood base
Foam padded headboard
Supports memory foam, spring, latex and hybrid mattresses
Available in Queen size
See the assembly instructions here!
Product Availability
This item is IN STOCK!
If you ordered today, we estimate it would ship in 1-2 business days and arrive to you 3-6 business days later.
Product Specifications
Dimensions: 123"w 93.5"d 31"h
Assembly: ready to assemble
Shipping Options
Ships free*
#Winning This item qualifies for free standard shipping!
The Ultimate Japanese Bed: Akita Platform
Introduce a little zen into your bedroom with our stunning Japanese platform bed: Akita.
Creating a sense of serenity in your home, especially your bedroom, can be key to getting a good night's sleep. Factors like room temperature, wall color, and darkness all play into how your brain winds down at the end of the day.
If you've been researching bedroom updates, meditation, or ways to make your bedroom feel more conducive to sleep, you've no doubt stumbled over the simplicity of Japanese beds!
Our Akita Platform Bed is the perfect Japanese style bed - the solution to create that calming atmosphere you're craving in your bedroom.
Components of a Japanese Bed Frame
To find the perfect Japanese style bed, you need to find a platform design that has a few key characteristics. In our view, there's three major factors that go into creating the aura of traditional Japanese styling:
Low Profile Design
First, a hallmark of a truly beautiful Japanese bed should be very low profile motif. The Japanese culture and history features numerous activities that happen lower than us Americans are used to! From dining to sleeping, Japanese style skews low to the ground.
Akita fits the bill perfectly! With a frame and side rails measuring just 10-inches high, and Akita's slat support system nestled a bit lower, your mattress sits a low to the floor.
If you've lived in Japan for any period of time, you're probably familiar with sleeping on the floor. We think Akita is about as close as you can get to a Japanese style bed frame, without going full tatami!
Complete Wrap-Around Frame
Second, since we mentioned tatami (coincidence? We think not!), you need to consider the aesthetic of the platform. In classic Japanese style, you would sleep on a tatami mat laid on the floor. If you're anything like us, the floor just isn't a viable option! Americans, generally, are pretty set on sleeping on a mattress.
Instead, you can achieve the look of tatami - specifically, a low flat sleeping surface surrounded by wood. How? If you go with a platform bed that has wide rails and footboard, you can create that sense of "mattress on floor zen" without... you know, actually sleeping on the floor!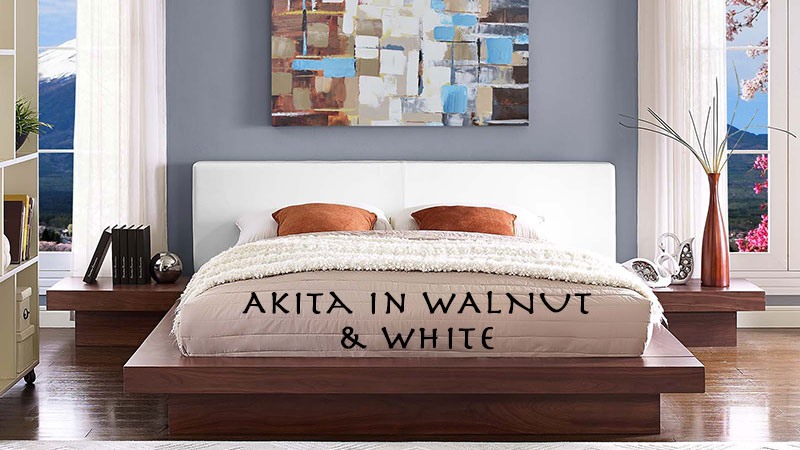 And here, again, Akita offers you the perfect solution! Akita's chunky frame and floating-affect design combine with wide built-in nightstands. The end result almost makes it appear as if your mattress is inset into wood flooring! Add in a low-profile mattress, and your dreams up creating a zen hideaway are complete!
Natural Materials and Colors
The last element of finding the perfect Japanese platform is going natural. A true Japanese bed would take inspiration from subdued natural finishes, and avoid flashier materials like steel.
The Akita Bed is available in a variety of upscale designer finish combinations paired specifically to transform your bedroom into a natural retreat:
• Walnut & Gray - A deep Walnut wood veneer contrasts in stunning fashion with the gray polyester headboards. This look is clean and contemporary.
• Walnut & Beige - A high-end combination of finishes, the Akita in Walnut and Beige is a striking blend of modern, natural hues that will have you feeling like you're dozing off in a bamboo forest.
• Walnut & White - Paired in the golden warmth of walnut wood veneer with contrasting white Vegan Leather will give your bedroom a classic look you'll love for years!
• Walnut & Brown - Lean all in to the natural forest tones, pairing walnut wood veneer with coordinating rich brown headboards will give your space a natural feel to escape to!
• Walnut & Latte - Splitting the difference between the brown and beige above, this color combination trends subdued, enabling you to keep the space understated, or add pops of color.
• Espresso & Gray - Considering all natural tones? Espresso and gray blends two soothing hues into a combination of veneer and upholstery you're going to love!
• Espresso & Beige - Pair the rich combination of espresso brown wood veneer with the subtle contrast beige upholstered headboards. This look is classic and subdued.
• Espresso & White - A deep espresso brown wood veneer contrasts in stunning fashion with the white vegan-leather headboards. This look is clean and contemporary.
• Espresso & Brown - Go for a more monochromatic approach and let the Espresso wood veneer pair with brown upholstery. The brown on brown combination is a trendier take on monochromes.
• Espresso & Latte - The last of our designer finishes, this pairing almost sounds like it's designed to keep you awak! But that's just the name. In your space, the soothing espresso veneer pairs with latte headboards. This pairing blends Japanese lines with rich Columbian hues for a look that's upscale and fresh.
After you find the color combination that compliments your bedroom, the final step is place your order! Akita is available in Queen size, so it's the perfect fit for your space.
Conclusion
Finding the perfect Japanese bed for your bedroom, while trying to achieve a blend of zen and comfort, requires taking into account a few key elements. Primarily, you should look for a bed that appears to meld with the floor. That means choosing a bed with a very low-profile design, combined with a sturdy, wide frame and side rails.
Lastly, most Japanese design favors natural elements and materials: woods, linens, leathers and subdued hues.
Our Akita Bed hits the trifecta. Akita offers you the best combination of those elements making it the ultimate Japanese Bed for your home!