return to dining tables
Astor Dining Table
in stock - get it 4/21-5/5


Astor Dining Table by MODLOFT
in stock - get it 4/21-5/5
$2899.00
Product Description
The Astor Dining Table offers bold contemporary style and modern manufacturing making it the perfect extendable dining table solution for your home! Closed, Astor is 71-inches long and perfect for a quiet night with the family. Getting ready for company? Pull apart Astor's tops to reveal a 23-inch butterfly leaf tucked neatly inside the table, open, and dine with nearly two extra feet. Crafted from hardwoods and veneers or lacquer, Astor is accented by a weighted chromed stainless steel base. Available in Walnut, Gray Oak, or a sleek White or Chateau Gray lacquer, Astor seats up to ten in your modern dining room!
The perfect gray Oak modern dining table
Extends from 71 to 94-inches long with butterfly leaf
Seats up to ten (10)
Chromed stainless steel base
Beautiful dark grey veneer will anchor your mod home
Product Availability
This item in IN STOCK!
Your order would ship from the closest in-stock warehouse in about 5 business days, and deliver to you 1-2 weeks later (depending on proximity).
Product Specifications
Dimensions: 71-94"w 40"d 30"h
Assembly: ready to assemble
Shipping Options
Due to their unique product designs and packaging, almost all MODLOFT items ship via specialty carrier for a flat fee of $299.00. This top-tier service includes a two-man delivery team, delivery of the items into your room of choice, packaging removal and assembly for all MODLOFT items on your order!
IMPORTANT: This service does NOT include the removal of your existing furniture. Please have your space cleaned and prepared for placement by the delivery crew.
*Inside delivery ($100) & assembly ($75) available in cart. Inside delivery can add approximately one week to transit time.
Your Complete Guide to the Astor Dining Table
There are tables, and then there are tables. Modloft's Astor Dining Table is the latter, a total showstopper of a piece that's like two tables in one: one for everyday usage, and one for all types of get-togethers and special occasions.
The Perfect Extendable Dining Table
It starts at 71-inches wide by 40-inches deep, a size which will easily accommodate up to eight people but won't overwhelm smaller gatherings. Your family of three can comfortably gather around it for meals and games without feeling like you're a million miles from each other.
Click here for EXCLUSIVE SAVINGS on the Astor Dining Table!
When guests are expected, expand the table by using the smoothly gliding automatic expansion mechanism to reveal and align the hidden center leaf, and suddenly you have a 94-inch long epic table, perfect for dinner parties, potlucks, and holiday celebrations. No more hiding an unwieldy leaf in the coat closet and hauling it out whenever company comes. Officially, the expanded table offers room for 10, but many customers share that it can easily seat a dozen diners.
Regardless of how many people are seated around it, the table's ample depth ensures that there will be plenty of room down the center for serving dishes, candles, bottles of wine, and centerpieces. Once the festivities are over and the dishes are cleared, fold the table back to its original size for daily use.
But what makes the Astor truly a standout is not just its practicality, but its presence. Its bold, sturdy T shape is balanced by a gleaming chromed stainless steel base, with the whole evoking modernist design icons such as i-beams and skyscrapers. And while it is, of course, generously sized, its clean lines and graceful proportions prevent it from overwhelming a space. The expansion function is perfectly concealed, with no trace of the mechanism visible and no awkwardness due to the hidden butterfly leaf. Expanding it will be your very own party trick.
Available Finishes
The elegant modernity of this table's shape is enhanced by the four hardwood veneer or lacquer finish options, all of which have an understated beauty that don't distract from the Astor Dining Table's lines. The Walnut finish is lush and versatile, one of those absolutely perfect browns that's neither too red nor too orange but is just right.
The Gray Oak is deep and dark, and has a bit of a weathered feel without sacrificing sophistication. The White Lacquer combines a futuristic high-gloss look with a Mid-Century Modern retro vibe.
Not sure which finish is right for you? Don't worry! Every Astor finish can be styled - and restyled! - to fit into any decor!
Shop the Astor in your favorite finish:
So, What Do Customers Say About Astor?
This table obviously looks great in photos and sounds great on paper, but how does it function in real life? The many, many five-star reviews almost all include the word "love," as well as "beautiful," "easily extends," and "happy." Many have exclaimed over the Astor's clean, contemporary style, revealing that it looks even better in-person than online. (That doesn't happen very often in life, but when it does, it's thrilling.)
Click here for EXCLUSIVE SAVINGS on the Astor Dining Table!
The table has a matte polyurethane lacquer which will prevent staining, but reviewers do recommend being cautious about scratching the surface. Don't be too concerned, though, as one of the most effusive reviews came from someone who had owned the Astor for two years and described it as holding up nicely, despite everyday use by their children! Other adjectives frequently used were "sturdy," "well-built," and "well-made," boding well for the table's longevity.
In our experience, the ModLoft has a ton of "pros," as almost any customer review can attest. The one "con" relates to shipping the Astor Dining Table. In our experience, Astor has a higher-than-average damage rate compared to all dining tables.
Click here for EXCLUSIVE SAVINGS on the Astor Dining Table!
For that reason, we HIGHLY recommend adding the assembly service when you order Astor! It's a little extra money, sure, but it enables you to see the table ready to go in your home, and ensure it's completely perfect! There's nothing worse than assembling the table yourself, and discovering damage while your dining room is in disarray.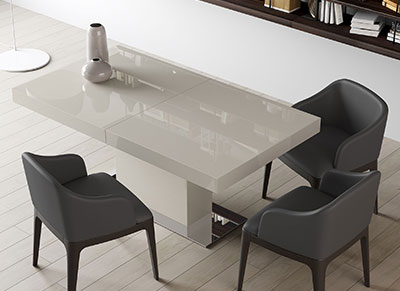 Oh, Astor weighs nearly 330 pounds... So if you live alone and/or you're not a powerlifter, opting for the assembly service includes placing your table. (Don't worry about bringing it inside, however, as we offer Free Inside Delivery with this item.)
Astor isn't terribly difficult to assemble, but having our delivery team assembly onsite removes a ton of stress and questions. Plus, they'll position - and reposition, and reposition - it, so it looks just perfect in your home!
Want to skip the assembly fee? Be sure to check out our Complete Guide on Accepting Freight Deliveries!
Click here for EXCLUSIVE SAVINGS on the Astor Dining Table!
Once the table is in place, you'll have years of worry-free use. Order the Modloft Astor Dining Table today and look forward to sharing countless meals around this stunning and immensely accommodating showpiece.