Shop Adjustable Bar Stools
Shop our cool collection of high-end adjustable height stools and create the dning or bar space you've always dreamed of!
Be sure to check out our complete guide below to find out what an adjustable stool is, how they work, and the pro and cons of adding an adjustable height stool into your home!

Your Complete Guide to Adjustable Bar Stools
One of our favorite categories, we absolutely love this collection of bar stools! So let's get into what an adjustable bar stool is, how they work, and whether or not they're the right solution for your home.
What Is an Adjustable Height Bar Stool?
Also known as an adjustable height stool, adjustable counter stool, or just adjustable stool, an adjustable bar stool is simply a stool that features a seat that you can adjust up and down, typically from around 24-inches up to 36-inches high. In other words, the stool works in both counter-height and bar-height applications.
The versatility offered by the adjustable height, also means they work as fantastic extra seating! Set them around the kitchen island at home, or even add some bar stools to the office conference room.
Just need a bar stool or counter stool? Don't worry! We've got you covered. Shop our collections of modern bar stools or modern counter stools!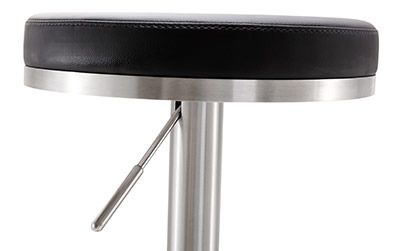 How Do Adjustable Height Bar Stools Work?
There's really only two mechanisms used in mainstream height adjustable stools. The first is, by far, the most common - hydraulic stools. These designs usually include a base plate, a gas or hydraulic piston that connects the base to the seat, and then, obviously (!), the seat.
Typically, the seat will have a small lever on the right underside of the stool that you pull up to adjust the height. When you pull the lever, by way of a fulcrum just off the center of the seat, you're actually pressing down on a small button at the top of the lift. This motion 'releases' the lift, which raises the seat of the stool. Most hydraulic bar stools require about 50 pounds of pressure to lower the seat.
You'll most like see this design atop a chrome base with clean lines wrapped in real or faux leather!
A lesser known approach is the swivel. These stools sort of mimic a throwback screw-and-nut design, where you can raise or lower the seat by swiveling (or turning) it clockwise or counterclockwise. If you're older than a millennial, you probably remember old school drafting and office chairs that used this type of mechanism. It's simple, foolproof and retro (in a good way!).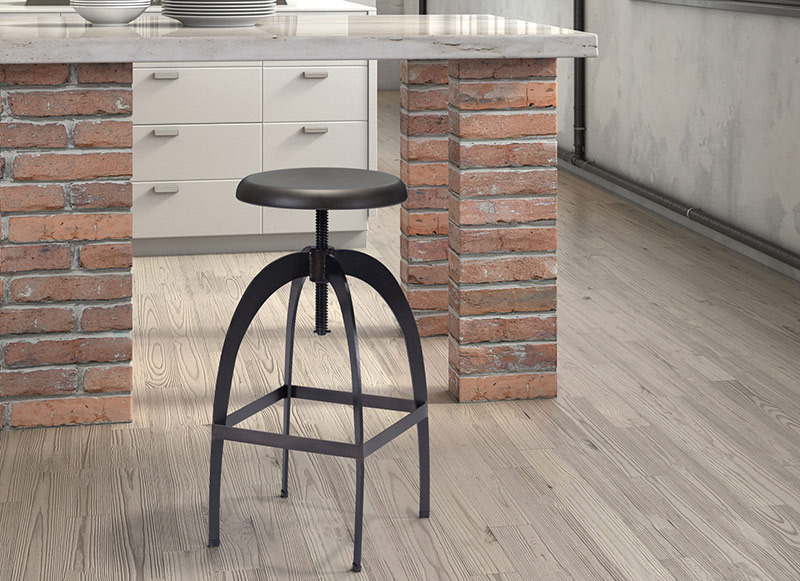 Quick sidebar: If you've never assembled an adjustable stool, and you need to disassemble one, the process can seem a little... overwhelming. In truth, it takes more force than you're probably expecting (especially if you've used it for a while). A rubber mallet will go a long way to helping you separate the pieces. Here's a helpful video on how you disassemble an adjustable bar stool.
Types of Adjustable Counter Stools
Suffice it to say, there's no shortage of fashions when it comes to adjustable height bar stools. They break down along a few different lines, almost all pertaining to the seat of the stool. There's styles of seats: For example, you might look for an adjustable stool with back, an adjustable height swivel bar stool, or a set of bar stools with backs and arms.
There's also materials. Most bar stools boast high density foam, and many have the option of real or faux leather (AKA pu leather).
Then there's a breakdown in materials of construction used on the seat. Bar stool seats can be crafted from classic organic materials like wood or leather. Then, of course, there's more modern stools that feature materials like steel, aluminum or acrylic.
An adjustable wooden stool is perfect if you're trying to compliment the wood grain in your kitchen cabinets or contrast a ultramodern kitchen, for example. Alternatively, acrylic bar stools might be used to make a statement at a countertop bar in a more classical kitchen.
Pro and Cons of Adjustable Bar Stools
Let's knock out some of the immediate cons: If you have small children... and they're, you know... 'active.' (We feel your pain!) Let's just say these bar stools are going to look a whole lot like a topsy-turvy-swiveling-tipping-super-duper-fun-jungle-gym to them. A vast majority of our bar stools have weighted bases, so this concern is certainly minimized, to an extent.
But you know your kids... If they can turn a static piece of furniture like a sofa into a bounce-house, imagine what they can do with counter stools that swivel!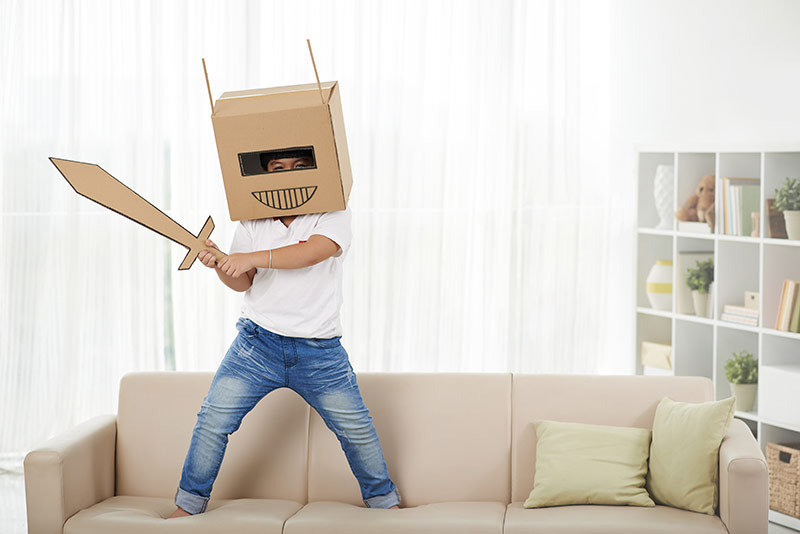 Another element some might consider a con (but we definitely don't!), is almost all these bar stools feature a mechanical middle section. Whether you go with the hydraulic lift or swivel design, you can still see those parts, which tends to give a modern edge to almost every design regardless of construction.
Now, for the pros! One of the best reasons to buy adjustable height counter stools is that they just work. They work in the literal sense that the mechanics are simple, so they're easy to adjust, and any well-made stool is going to last you a looong time. But, perhaps more importantly, they work for your kitchen now, and they'll work for that new bar table you've been eyeing, and they'll work in your next apartment.
Buying adjustable stools means you can use them at your 36-inch high kitchen counter, or your 42-inch high bar table. It means that your 5-foot 2-inch sister can be just as comfortable as your giant Uncle Bob. It's the adjustable element that makes these stools so perfect!
How We Choose Our Stools
At Modern Digs, we don't carry every single stool or design from every manufacturer. In short, there's no shortage of bar stools in the marketplace, and we've resolved to only carry designs and manufacturers that we love.
What that means to you is that our collection is made up of only adjustable stools that are hand-selected, high-quality, high-value pieces in a unique mix of colors and materials. Basically, we've culled the world's vast selection of adjustable counter stools and present to you only the very best bar stools and values out there today!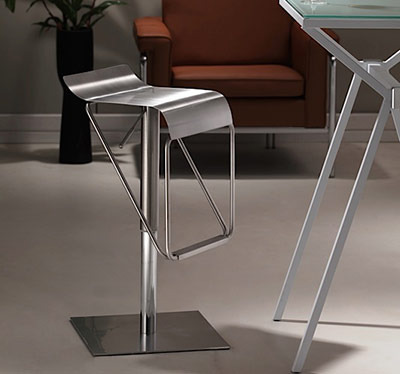 How To Choose Your Favorite Design
The most prominent visual element on nearly any height adjustable stool is the seat. It's easiest to start there in your search, and determine what type of stool works for you. Do you want a stool with arms and a backrest? Are you hoping for a cool modern design with a low back? Do you want mid-Century modern tufting? Wood or chrome accents?
The next design element to consider is the base of the stool. Circular bases are the most common. A vast majority of our collection features steel bases that give you a contemporary look. If you're looking for something even more modern, consider one of our designs with a square base instead.
Our swivel seat models give you a retro or throwback feel, plus the comfort and added stability of a four-legged base.
Popular Colors and Finishes
In terms of raw popularity, gray, white and black are definitely the leaders of the pack for adjustable height counter stools. Walnut wood is also very popular, while espresso (or wenge) remains a mainstay in wood adjustable height bar stools.
When it comes to choosing a color for your home, it's easiest to consider if you want the stool to make a statement or compliment your existing dining space or kitchen. A simple set of two white stools could easily compliment nearly any kitchen, while a clear acrylic design could almost disappear into your motif.
Alternatively, you might consider a design in orange or red, and add brilliant pops of color into your dining space.
High-End Designs
Truth be told, many of our favorite designs definitely fall into the high-end side of the market. There's a few reasons for that:
Adjustable stools, almost by definition, require a hydraulic lift. We've found that the quality of that mechanical element is pretty tightly correlated to price. Unfortunately, when it comes to the gas lift mechanism, the old adage 'you get what you pay for,' is true.
Few pieces of furniture in your home require so much in so small a package. An adjustable bar stool needs to adjust up and down, withstand daily use (often in a kitchen), and support a grown adult without tipping. Here again, we find that higher end stools handle those tasks better, and provide you a much better value in the long run. Weighted steel bases, commercial-grade materials, and the upscale upholsteries you'll find in our collection are worth it!
Conclusion
Our collection of modern adjustable bar stools is sure to give you an array of stunning choices perfect for your home. Whether you're going for something bold or subdued, mod or retro, we've got the perfect selection of high-end designs to transform your dining space or kitchen into the upscale bar you've been dreaming of!