Bohemian Rugs for Sale
Express your personal style and add exciting color to your bedroom, kitchen, living room or even bathroom with our collection of affordable (you might even say cheap) boho area rugs! These designs perfectly combine fun, life and vintage style into a stunning home accent you're going to love!
Beautifully intricate prints, brilliant colors... Just for you!

Bohemian Rugs: The Complete Guide
When it comes to identifying your design style, it's important to find what speaks to you. Maybe you're a fan of traditional decor and a neutral color palette or perhaps you find that a brightly colored Scandinavian look is more your thing. If you're looking to break out of your comfort zone, you might want to try mixing different styles to update your home.
One of the easiest ways to change up a room is with a rug that sets the tone and can add color or interest to any space. We offer a large selection of Modern Rugs, but our Bohemian Rugs, in particular, are a versatile choice to mix with any decor. It might take some careful planning and a keen eye, but we're here to help make sure that you find the perfect Bohemian Rug for you. So, let's dig in!
Persian Inspired Rugs
We'll begin with our Persian-inspired Bohemian Rugs since they're one of our most popular styles. Typically, these rugs have a contrasting decorative border and an intricate medallion-like center design or a more subdued repetitive pattern. Traditional Persian Rugs come in varying shades and combinations of red, blue, green, orange, gold, white, brown and black. Customarily, the wool used to make Persian Rugs is dyed using plants and minerals, which explains their earthy tones. The rugs are then painstakingly handwoven by experienced craftsmen to create one-of-a-kind masterpieces.
What makes our selection of Persian-inspired rugs unique is their unexpected designs and vivid colors that help to give them a modern feel. With the addition of machine fabrication and synthetic fibers and dyes, you'll find that we offer affordable options in traditional and neutral colors as well as brighter shades of pink, purple, teal, yellow and orange. These highly saturated colors mix together for a stunning conversation piece that will give any room a new look and bring some life to your space.
Vintage Bohemian Rugs
We like to think of these particular rugs as perfectly broken-in because of the intentional faded look that gives them an on-trend, aged appearance. Most of these Vintage Style Rugs have similarities to our Persian Style Rugs, but with the addition of rugs in a single color scheme of blue, orange or pink. With a neutral grey/beige background color that shows through the "worn-in areas," you'll find that these rugs have a soft, aged look that makes them feel more casual. You get the best of both worlds, a brand new, high-quality rug that also has an heirloom appearance coveted by vintage-lovers and modern enthusiasts alike.
Beni Ourain Rugs
Another of our boho rugs are the Beni Ourain Rugs, which are characterized by their creamy base color and gray or black tribal patterns. Often, you'll find these rugs are made of a plush shag for comfort and the monochromatic color palette makes them simple to work into any room. You'll find that we also carry an alternative to the typical style, reversing the colors with a dark background and a light colored pattern. These rugs were considered a trend in recent years, but have proved their staying power and with such a great look, they're sure to become a staple that isn't going anywhere. With a wide range of sizes, styles and price points, we're sure you'll find one that's perfect for you and your home.
Southwest Style Rugs
Our collection of Southwestern Style Rugs is comprised of brights and pastels that mimic a desert landscape like red, orange, yellow, pink, turquoise and brown. Additionally, this style is defined by their stair-step and geometric designs that blend with stripes or solids and even include animal hide rugs as well. Your first inclination might be to think of the rustic decor of a cabin in New Mexico, but this style is a bit more modern, minimalist and understated. With influences from Native American and Spanish textiles, you'll find these rugs give any room a relaxed and laid-back feel and can seamlessly blend with Mid-Century Modern decor or even more contemporary styles.
Bold Boho Rugs
As a contrast to some of our softer and subtler Bohemian Rugs, we also offer Bold Boho Rugs for the risk-takers out there. The bright and rich colors of the rugs make them the perfect option for someone that wants to make a statement. Beyond color, these rugs also have eye-catching patterns and prints that make them distinctive and perfect for someone looking for a departure from the norm. Think paisley, stripes, diamonds and even organic designs in shades of yellow, magenta, orange, teal and lime green and you'll get an idea of some of the options available. You could add one of these rugs to an otherwise neutral living room to brighten it up or it would be perfect for a child or teenager's bedroom since the colors are happy and cheerful.
So, let's say we've sold you on the idea of a Bohemian Rug and maybe you've even chosen your favorite style, or perhaps one for each room in your home. We'd love to help you design your new space to help you get just the look you're going for. But, the first step is to identify your home's current motif.
We've narrowed it down to the top five modern design styles, Scandinavian, Contemporary, Mid-Century Modern, Minimalist, and Industrial. Your home might not fit perfectly into one of these categories, but it will help if you can identify the one that is most similar. Although these are the ones we have chosen, please know that a Bohemian Rugs will be a great choice for Traditional, Eclectic, Coastal, Farmhouse or just about any other style as well.

Once you have selected the most similar look to your home's decor, then you can scroll down to see how to seamlessly incorporate a Bohemian Rug into your space.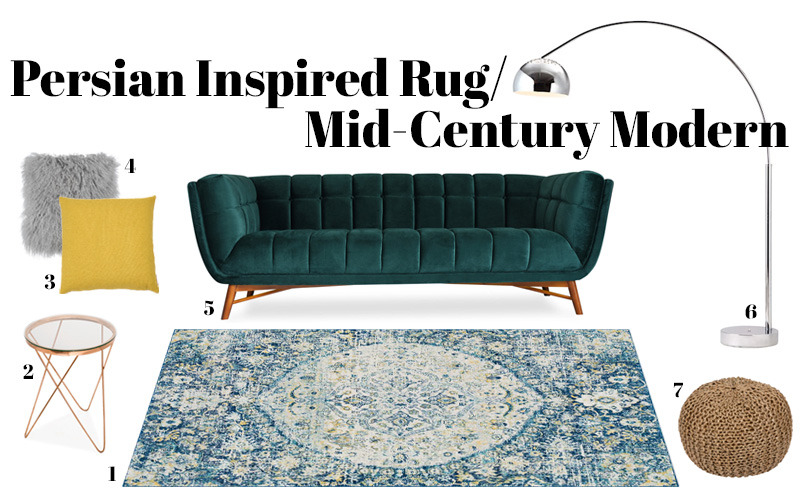 For Mid-Century Modern lovers like us, it can be difficult to imagine pairing this style with anything other than geometric designs reminiscent of The Jetsons. However, the clean lines of this era give it a chameleon-like quality that allows it to blend with many different styles. We've selected the Persian Inspired Vaughn Boho Rug, with an intricate pattern in shades of blue, cream and yellow for our Mid-Century Modern living room design. The contrasting style of the rug and the chic dark green Tribeca Velvet Sofa complement one another nicely. We then selected the Galactic Floor Lamp in a classic arc design and the rose gold Marquee Side Table to add a mixture of metallics and to bring some form and function to the room. Finally, for a little texture and softness, we've chosen the Jude Jute Pouf, the bright yellow Dapper Pillow and the cozy Square Tibetan Sheep Pillow in a neutral grey color. The mixture of elements come together to create a stylish and comfy space for any Mid-Century Modern enthusiast.
By incorporating one of our Vintage Bohemian Rugs into an Industrial design, we've joined two completely different realms that somehow work perfectly together. The faded garnet and burnt orange pattern of the Douglas Bohemian Rug is set against a beige and grey background, giving it a vintage appearance. We've picked the masculine and modern Kirkland Sofa in a top grain charcoal leather to pair with the Douglas Bohemian Rug since the pairing of old (looking) and new makes for an interesting mix. Then by bringing in a few polished pieces of accent furniture like the black and gold Earls Side Table and linen and teak Kent Loung Chair, we've ensured a blend of styles and textures. And finally, the Atom-10 Pendant with its smoky globes makes a glowing statement along with the plush white and brown Square Tibetan Sheep Pillow and blue and ivory printed Vardo Pillow that softens the sleek sofa. Surprisingly, the Industrial style of the pieces in this compilation provides the ultimate backdrop to a Vintage Bohemian Rug and we're loving the end result.
We love Minimalist style done right and actually find it quite soothing with its lack of clutter and fuss, but by adding a Beni Ourain Rug you can subtly add pattern without messing with the tranquility of your home. Our Jordan Shag Rug offers a plush feel in a neutral color palette that softens the clean lines of a minimalist design. We like the Jordan Shag Rug paired with the chic Finley Leather Sofa in a rich cognac color because the contrasting styles offer a perfect balance. Additionally, we included cool and classic pieces like the glass Pura Coffee Table and the curvaceous Artemis Chair with black upholstery or leather depending on your preference. By bringing in a splash of color and some texture with the turquoise Abramo Pillow and the cream Lamb Fur Pillow, the sofa and the room as a whole feel more inviting. And to complete the look, we've included the Washing Wind black and white abstract painting to keep the look modern and stylish. The mixture of the Beni Ourain Rug with a Minimalist design is refreshing and we think it is a superb choice for those that prefer a sophisticated space.
The simple and clean appearance of Scandinavian design can easily work with a plethora of rug styles, but we like the way a Southwest Style Rug complements the natural elements of the decor. By selecting the Sapphire Bohemian Rug, we have grounded the space with rich shades of blue, green and even a splash of pink. We chose to keep the rest of the room fairly neutral to let this gorgeous rug take center stage and so the Splitback Frej Sofa in white with oak arms and legs just makes sense. With the addition of the classic Earnest Dining Chair in black and the 100% solid Moso Bamboo Currant Shelf, you're sure to feel the Danish Modern vibes. We chose to accessorize with the Ode Pillow in a black and white tribal print and the neutral blush colored Dapper Pillow to add a little pattern and a feminine touch to the room. To top it off, the Tadpole Mirror adds a touch of modern and sophisticated style, plus it's a practical piece for any room in your home. If you love the Scandinavian approach to design, you'll love how a Southwest Style Rug enhances the aesthetic by adding the unexpected.
If your home is an homage to all things Contemporary, you might be surprised to find out how well a Bold Boho Rug works with this particular style, or perhaps you've fully embraced this paring. For starters, we selected the Ruth Boho Rug because of the vibrant colors and when combined with its eye-catching pattern, this rug makes a striking contrast in an otherwise sedate setting. So as not to compete, a neutral sofa like the Brita Sofa in stormy gray works well and offers a comfy resting place after a long day. By adding metallic elements like the Chevron Mirrored Side Table and the Circles Wall Sculpture (large size), we've further embraced the bold and given the space a touch of glam, if you like that sort of thing. And with the addition of colorful accessories like the luxurious magenta Thalia Throw, orange trellis patterned Avenal Pillow and teal blue pleated Oslo Pillow, we're able to tie back into the Ruth Boho rug. So, if you're looking to take your Contemporary style up a notch with some color, try a Bold Boho Rug and have fun making it work for you.