< previous post return to index next post >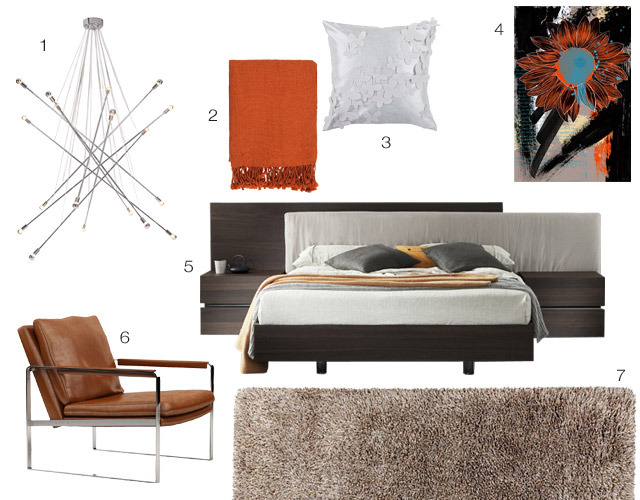 How to Go Classic Italian Modern in Your Bedroom
The Edge Bed boasts classic Italian modern design, so when we set to pairing it up for your home, we tried to carry the Italian modern theme throughout the design.
One hallmark of Italian designs is their affinity for air - their intention to let furniture float out in space, visually unencumbered. You never see an Italian furniture catalog stuffed full of furniture - quite the opposite! It almost looks like every Italian modern home is 5,000 square feet big.
So we skipped the dresser. A functional master closet with built-in drawers would be the way to go for sure!
Our goal was to keep the pallette light, then add pops of color, so the Milan Shag Rug was an easy addition. And carrying the brown hues a little further, we loved the addition of the Charles Armchair in Lion brown. It's a cool modern chair that's still got an airy base, and, it gives you somewhere to put your shoes on!
Every modern bedroom needs statement lighting, and the Belief Ceiling Lamp easily fits the bill! Modern lines, and measuring 5' in diameter, it's a striking fixture for any modern bedroom.
Lastly, the pops of color: Our designers love the blue and orange hues in the new Sunflower canvas. A matching throw and pillow complete the look!
Here's the complete product list:
posted on 6/1/2016