< previous post return to index next post >
Retro Extinction
No matter how Retro you want your decor to be, there are certain things from the past that will never be resurrected. While you are reclining on your sleek 60's-era style sofa, you are likely to have a remote control in one hand and your Smart Phone in the other. While the furniture in your family room may look like it was transported from the set of the Brady Bunch, you watch your favorite night time drama in Hi Def on a flat screen TV. Kiss the aluminum foil wrapped rabbit ears goodbye . . . forever!
Entertainment Modern Digs Style
With the extinction of your old bulky box-shaped television, your entertainment center may look a little out of place as well. Not to worry. Contemporary designers haven't missed a step and Modern Digs has acquired the perfect collection of TV stands and Media Wall Units to fit your Modern Decor. Whether you wish to mount your flat panel TV on the wall or use a stand, you can have your 21st century cool and your Retro too.
No Wall Flower
If you desire a sleek wall mount in addition to functionality and storage, our Genoa Media Center is the perfect media center for your taste and style. Like the floating bed, this Italian-made free standing wall unit offers Contemporary decor lovers the same minimalistic impression. Dark espresso drawers allow you to neatly tuck away your DVD's and various paraphernalia. Your state-of-the-art television takes center stage on a beautiful background panel of white hardwood. Surrounding shelves offer you plenty of space for your DVR box and artistic accessories.
Another Space and Time
While your technologically superior television may be as flat as a pancake, it may well be larger in perimeter than any TV you've previously owned. If space is an issue, you may want to consider our 360 TV Stand. Not only is this TV stand ultra-sleek and classically modern, it offers a swivel component that allows you to turn your TV in any direction. Featuring a chrome base and black glass shelf, the 360 is the perfect choice to complete your made-in-heaven minimalistic media room.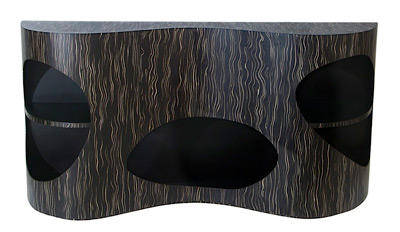 Panache for the Unique
In every room, with every piece of furniture and every piece of art you've hung on the wall - you've gone to extremes to make a statement. Why stop now? Since all the flair of your TV is hidden behind the scenes, why not display your modern marvel on an equally fabulous and unique piece of art? The Joneses will be dying to keep up with you when you set your flat screen on our Beersel TV Bench. Our most unusual TV stand, the Beersel is beautifully quirky with its curvy shape and non-uniform cut outs. With three different finishes to choose from, you are destined to find yet another statement piece for your fabulous home.
posted on 7/30/2013