< previous post return to index next post >
Your Modern Kitchen Deserves the Coolest Chairs!
Whether you're at your favorite bar, restaurant, or girlfriend's house, they catch your eye immediately. You feel a flutter of interest, followed by questions. What is that? Where did it come from? Could it work in my kitchen or dining room?
We've worked in modern furniture for nearly 20 years, and have our own selection of modern dining chairs and modern dining room sets. But these designs fall into a class of their own! Love them or hate them, we think you'll agree that some chairs are so striking, so unusual, that you can't help but look at them!
We've gathered them all here for you! In no particular order: the 30 coolest, most unusual, contemporary dining chairs out there!
1. Eames Molded Plastic Chair
Shown here with the dowel-legs, the Eames Molded Plastic Dining Chair is another fantastic example of contemporary design and innovative manufacturing. A staple in mid-Century modern designs the world over, this Eames piece is a fan favorite for myriad reasons. To start, unlike some of its brethren, the molded plastic chair is a little more affordable than its wooden counterparts. But we think there's more to it! The plastic variation is available in dozens of colors, enabling it to blend or pop as needed! And like all Eames designs, we think it's amazing how well it has stood the test of time. It's a timeless modern dining chair for any space! Shop the licensed version here, or you might like our Charlie Dining Chair.
2. Spindle Chair
A contemporary take on the old-school spindle chairs you might find in Amish country, the Spindle Chair is a design by architect Craig Bassam and Scott Fellows. By recasting the traditional chair with metal spindles instead of wood, BassamFellows have completely recreated the motif of a traditional classic. The ergonomic seat floats beneath a curved back and armrests, all supported with brushed nickel or brass creating a dining chair that's daring, natural and stylish! For more info, check it out here.
3. Perseus Dining Chair
It's hard to know where to start with the Perseus Dining Chair, a piece so unusual we weren't even sure if it was real! Turns out it is! And real or not, the Perseus Dining Chair takes contemporary design to a whole new level. Designed by David Savage, with a handmade backrest crafted by Daren Millman, the idea was to create a designer chair that "echoed the idea of smoke and sensuality." The curved woods are carried throughout the design, creating one of the most unexpected dining chairs we've ever seen! Get more info about Perseus at Fine Furniture Maker.
4. Be Bold Dining Chair
Crafted for Dot&Bo, the Be Bold Dining Chairs boast contemporary design at every turn. The shape and lines of the chairs are reminiscent of designs for Knoll, or even the Air Armchair from Herman Miller. But Be Bold lives up to its name, casting convention aside. Constructed from molded polypropylene (plastic), the Be Bold Chairs feature a cool mesh design in a striking orange! The curvy design is breathtaking from any angle, and should work both indoors or out. They'd be a great addition to a mid-Century mod patio!
5. Kartell Louis Ghost Dining Chair
Another classic, the Louis Ghost Chair was designed by Philippe Starck in 2002. Compared to Eames' designs, it seems like just yesterday; however Starck's designs are exceptionally popular, and, like Eames, often replicated. What's cool about the design is how a formal chair from the 18th Century is reimagined and cast in clear or colored polycarbonate. Lovers of modern dining chairs hardly think of 18th Century as "modern," yet the Louis Ghost Chair is exactly that! Get the licensed version here or you might like our Anime Arm Chair.
6. Sloane Dining Chair
An iF Product Design Award Winner from 2012, the Sloane Dining Chair is one of our personal favorites. With a low back design and slimmer stature, it's an ideal chair for any modern or contemporary home. Like many contemporary Italian designs, Sloane features a taut leather seat and back, foregoing the standard stitched-look for a more seamless aesthetic. However, what makes Sloane incredible is the marriage of classic contemporary elements. The Italian-inspired leather pairs perfectly with the bold geometric sweeping of the seat and back. Steel legs complete the contemporary styling! Get it here today.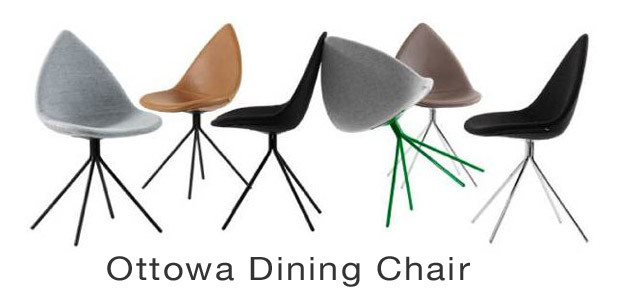 7. Ottowa Dining Chair
It's hard not to see the classic inspirations from chairs like the Drop and Eames Molded Plastic (DSW) when we look at the Ottowa Dining Chair by BoConcept. Nevertheless, we like that the Danish manufacturer added a new twist to those designs giving the finished piece a decidedly more contemporary bent with the pointed back and chunky legs. Like most BoConcept products Ottowa is available in an overwhelming number of options, but we really like the black leather and Oak veneer option the best. You can see all your choices on BoConcept's site.

8. Brno Flat Bar Chair
We know, we know... it's a classic, but it's also one of our favorite designs of all time! In fact, we think it might be THE classic. Ludwig Mies van der Rohe created the design in 1930; an homage to the growing number of skyscrapers being developed in the nation's major cities. Designed to replace the typical armchair that was so common in the era, Mies van der Rohe employed a cantilevered design using a thick steel base and arms to create a modern design that felt more open and airy. Finished in high-end leather with supple padded armrests, the Brno is, in many ways, the father to every other chair on this list! Get a licensed version of the Brno here.
9. Curule Dining Chair
Curved criss-crossing legs combine to create the Curule Dining Chair by Pierre Paulin. Originally designed in 1983, Curule manages to create a striking shape while still folding in the middle. Crafted from beech wood in a variety of stains, we love the Curule Dining Chair's uncompromising silhouette created out of, what we would normally consider, more traditional materials.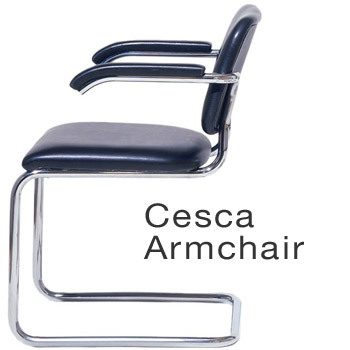 10. Cesca Armchair
Cara McCarty, and associate curator at MoMA says of Cesca, "it's among the ten most important chairs of the 20th century." Who are we to disagree with an expert? Named in recognition of his daughter Francesca, this classic from Marcel Breuer is sometimes referred to as the Breuer Dining Chair. Following his iconic Wassily Chair design, Breuer expanded on his idea of bent tubular steel to create a comparably iconic dining chair. Leather upholstery completes the piece. Shop the original design here.
11. Mayfair Dining Chair
Designs like Breuer's Cesca Armchair and the Brno Flat Bar Chair gained international acclaim with crafty cantilevered designs. Mayfair turns that paradigm on its head by offering another take on the cantilever. Mayfair's slim seat and back coordinate with slim carbon steel legs. What makes Mayfair unusual is how the curved seat and back are met at their apex by the legs. It almost looks like the seat could tip forward off the legs! When we set out to find the coolest modern kitchen chairs we couldn't ignore Mayfair's unique lines and Italian-inspired materials. You can get yours here.
12. Cherner Armchair
A chair with a complicated history, the Cherner Armchair makes our list of amazing dining chairs thanks entirely to its sweeping curves and stunning shape. Cherner shares similarities with the classic Series 7 chair in basic shape, but that's really selling this design short. More curvaceous, Cherner also features bentwood legs and unmistakable rounded bentwood arms. The end result is a dining chair that's striking and memorable. Made in the USA, the Cherner Armchair is crafted from laminated plywood, solid beech wood and walnut veneers. You can get yours here.
13. Panton System 1-2-3 Standard Dining Chair
The result of three years of work by Verner Panton, the Standard Dining Chair was introduced in 1973; part of a series of more than 20 different models. Like many of Panton's designs, the 1-2-3 Standard Dining Chair features a cantilevered design that makes its curvy shape difficult to ignore. The brushed aluminum base gives the piece a more modern feel than the classic Panton Chair, nevertheless, the broad array of colors and upholstery options still make the 1-2-3 Standard Dining Chair a must for any list of classic contemporary kitchen chairs! Licensed versions are available here.
14. Fauna Dining Chair
Pulling in organic inspirations, the Fauna Dining Chair has a natural, yet modern feel. The Fauna Dining Chair is constructed from a formed polypropylene, and its seat and back have a little bend or "flex" in them, much like the tree branches they seem to emulate. Chromed steel legs give the chair a simple, polished feel. Fauna is designed and manufactured by Nuevo Living, a Canadian based company specializing in high-quality modern designs. Just click here to order yours!
15. Saarinen Tulip Armchair
It's not hard to see similarities between this chair and its counterpart, the classic Saarinen Dining Table. And some may know the Gateway Arch in St. Louis was also designed by Eero Saarinen. What you may not know is that Saarinen's furniture designs were more than just sculpturally-imbued pieces of art, Eero was on a mission to render furniture legs obsolete. It's a bold idea, and his swiveling pedestal base, inspired by architecture's classic arch, is undeniably clever. Nevertheless, you don't have to look far on this list of contemporary dining chairs to find a set of legs you'd love in your home! Check out the original at DWR.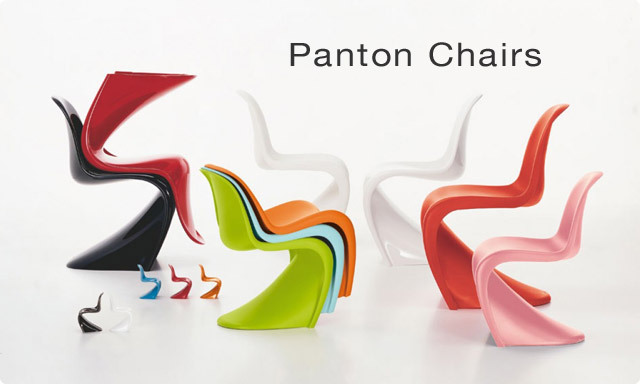 16. Panton Chair
From the renowned designer Verner Panton, his namesake chair was a first of its kind. In fact, the Panton Chair was the very first chair made from a single piece of a single material. (Obviously, we're talking about chairs that are produced or manufactured, not one-offs! We're sure there's some pretty impressive one-piece marble thrones or something sitting around Europe.) The cantilevered design is eye-catching on its own, and the overall impression of the chair definitely met Panton's goal when he said, "I want to design furniture that grows up out of the floor!" You can score a licensed version here, or you might like our set of two S Chairs.
17. Eames Molded Plywood Dining Chair
Instantly recognizable, the Eames Molded Plywood Dining Chair has been a staple of modern design for decades. Quite frankly, very few chairs will ever live up to the quality, style or ubiquity of this design by Charles and Ray Eames. The dining chair is actually a variation of the Eames Lounge Chair, its predecessor, resized for the dining space. Shown above with sturdy metal legs, it's available in a multitude of options, including wooden legs, and a variety of finish or upholstery choices. Licensed versions are here.

18. Toulon Dining Chair
An unusual twist in design gives us the Toulon Dining Chair. Based on strong geometric lines, the Toulon's base looks like it could almost be unwound to create a more "normal" chair. But we're looking for contemporary, and the twist means Toulon fits the bill! The square chromed base gives way to four angled legs supporting a simple and comfortable seat and backrest. The modern materials and asymmetry give Toulon a brazen look that's sure to make a statement in any dining space! Toulon is available here.
19. Mid Century Dining Chair in Notion Hypnotic Linen
Something about this amazing chair spoke to us. We love the bold upholstery choice, and how the designers opted to soften the geometric lines with a more padded seat. The raised edges on the seat and back tend to make you feel a little more... nestled or cozy, while the solid walnut legs are a welcomed, natural compliment to the chair. Offered by ModShop, we think it's an easy addition to any contemporary dining space, even if you opt for a more subdued upholstery! Available here.
20. Gruvyer Dining Chair
Eye-catching and shimmery, Creative's Gruvyer Dining Chair is a striking combination of organic shape and modern materials. Crafted from a clear polycarbonate, like so many other cool, contemporary dining chairs, the Gruvyer's composition makes it a fantastic piece in dining spaces that are heavy on natural light, or light on floor space. The seat and backrest boast a cut out pattern that's reminiscent of more organic figures like tree branches or rock formations. You can get more info about Gruvyer here.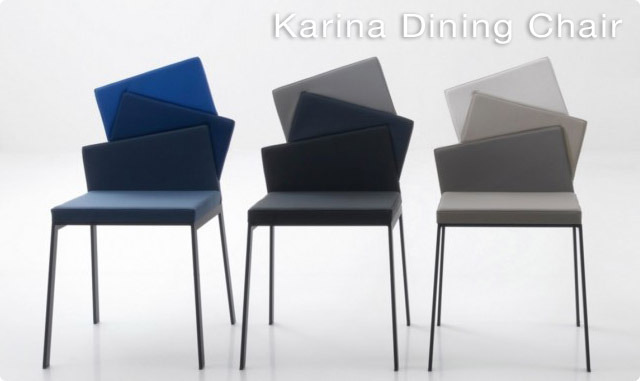 21. Karina Dining Chair
An Italian design from Compar Mobili, the Karina Dining Chair makes our list thanks to its bold commitment to geometric design. Not shying from angles or shapes like some curvy classics, the Karina chair is a full embrace of asymmetrical design stacking three polygons in varying shades of blue, gray or green to create a backrest that's unique, odd and eye-catching! Karina is available here.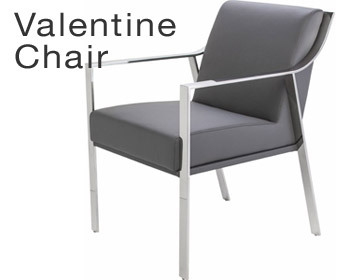 22. Valentine Dining Chair
Inspired by designs by Milo Baughman and Ludwig Mies van der Rohe, Valentine defines contemporary design by integrating steel and eco-friendly leather with lines you can't ignore. Valentine places a plush seat and backrest into a striking steel frame. Each of the legs meet at the armrests, which sweep up in the back to create a seamless and elegant frame. The end result is a beautiful blend of lines and materials, a truly comfy and striking dining chair. You can order Valentine here.
23. Crazy Dave Dining Chair
Where to start with Crazy Dave? Crafted in England by Bespoke Furniture, the Crazy Dave Dining Chair is a construction triumph surpassed only by the whimsy of the design itself. Offered in Light, Brown and Blackened Oak or Sycamore, each Crazy Dave Dining Chair is handcrafted by highly trained furniture makers. Crazy Dave combines an almost overwhelming number of modern design elements to create a dining chair that's hard to fit into any one genre. We don't think Crazy Dave is available in the States, but it's online here.
24. Drop Chair
Originally designed for the SAS Royal Hotel by Arne Jacobsen (currently the Radisson Blu in Copenhagen), the Drop Chair was the sibling to the more well known Swan and Egg Chairs. The design actually sat dormant for 50 years before the Republic of Fritz Hansen began producing authentic copies of the 1958 original just a few years ago. Like many mid-Century classics, the Drop is available in a variety of colors, all crafted from ABS plastic set upon slender tubular steel legs. The end result is a surprisingly comfortable dollop of a chair with an unmistakably stylish contemporary silhouette! Check it out at DWR.
25. Kartell Victoria Ghost Chair
Following the popularity of the Louis Ghost Armchair, Philippe Starck created Victoria as a less formal dining chair that could stand on its own or pair with the Louis. Like many of the most recognizable chairs on our list, Starck's design was recognized only through innovative manufacturing techniques the enabled the Victoria Chair to be crafted from a single piece of injection-molded polycarbonate. The versatility of Victoria's shape and composition makes it a chair you've probably seen everywhere, from street side cafes to upscale eateries.
26. Series 7 Chair
Easily one of the most recognizable and replicated chairs on the planet, we're surprised by how many people don't realize the pedigree or origins of the original Series 7 Dining Chair. We'll chalk it up to the downsides of being popular! The Series 7 Chair was introduced in 1955, another classic from Arne Jacobsen, and, believe it or not, was originally handmade from bent plywood. Modern technology has made manufacturing the Series 7 significantly easier now. We can't imagine the meticulous patience that went into creating the waterfall seat front and the bend in the back without breaking or cracking the wood. A variety of finishes and chrome legs polish off this modern chair. Licensed originals of the Series 7 are available here.
27. Sanctuary Dining Arm Chair
A more recent design from manufacturer ModLoft, the Sanctuary Armchair combines contemporary Italian design elements with natural materials. Sanctuary features a sturdy, slim steel frame wrapped in hand-stitched leather. What makes Sanctuary cool and unique, though is the angled armrests. The inclusion of this subtle geometric design element gives the chair an undeniably eye-catching motif. With a low back and unconventional colors, Sanctuary would make an ideal contemporary kitchen chair. You can pick these up here.
28. The Bentwood Dining Chair
In our research, we stumbled over this unique piece, but couldn't find its exact origins. High-end modern manufacturing would be required to complete this design: a single, solid piece of bentwood reminiscent of other cool cantilevered designs. Stained beech with, we're sure, a comfy amount of "give" or flex, we're putting our ignorance of this design's origins to the side and ranking it as one of the coolest designer dining chairs we've seen.
29. Eames Molded Wood Side Chair
The Eames Molded Wood Side Chair is an amazing demonstration of how modern technological advances, particularly in manufacturing, can move a classic design in a new direction. Owning rights to the Eames' designs, Herman Miller has created a bold new vision of the classic Eames Molded Plastic Chair. Casting the seat and back in a variety of wood veneers, Herman Miller gives us an alternate reality: one where a classic Eames piece is cast not in bold colors, but instead, lives in the natural beauty of wood. Like the plastic version, the molded wood chair features one-piece construction with waterfall edges, and a variety of bases. It makes us wonder if Eames himself would have created the chair, had the manufacturing capabilities been available to him! HiveModern currently offers the design here.
30. Real Good Dining Chair
From BluDot, this chair makes our list for a few reasons. First off, like the Series 7 and Louis Ghost before it, the Real Good Chair incorporates some intriguing manufacturing methods into its design. After all, the Real Good Chair ships flat, and then you simply unfold it to make the seat and back! And like clear polycarbonate or bentwood, laser-cut steel feels like a modern substrate ideal for today's furniture styles. Lastly, Real Good's geometric profile and colorful options make it a surefire contemporary solution. Now, if only we could do something about the name! Find them at BluDot.
As we searched for the very best contemporary dining chairs we could find, it got us wondering what factors really go into creating a long-lasting and modern design. And frankly, we had some disagreement about which chairs should be on this list, and which wouldn't make the cut! After all, there are still a few popular designs we left off. However, when it comes to sheer eye-catching brilliance, we felt like these 30 chairs were the most exceptional we'd seen!
Updated 1/5/2018
posted on 2/19/2016