return to sofa beds
Cubed 02 Folding Sofa Bed
in stock - get it 10/5-10/17


Cubed 02 Folding Sofa Bed by Innovation
in stock - get it 10/5-10/17
$2375.00
Product Description
Designed by Per Weiss, the full size Cubed 02 is an innovative Folding Sofa Bed and compact sleeper sofa design. With stylish, chrome steel, dark wood walnut or sleek aluminum legs, the Cubed Sofa Bed employs a unique transformation technique, unfolding the bed out lengthwise into your room. Innovation Living's patented 7-inch Icomfort mattress ensures the sleep surface is a cozy resting place for you and your guests.
The Cubed's mod tufting and all-around aesthetics mean you don't need to sacrifice style to fit a foldable sleeper into your home! Opens from a couch to a full extra long bed: 55-inches by 79-inches. Simply choose your upholstery and leg, and let the Cubed Sofa accent your stunning space. Includes two matching back pillows shown.
Need a larger version? Then you'll love the Cubed 02 Queen Sofa Bed. Read why the Cubed Sleep Sofa makes our list of favorite Modern Sleeper Sofas!
Product Availability
This item is IN STOCK!
Stocked on the East and West Coast, if you ordered today, this item would ship from the closest in-stock warehouse (Southern California or New Jersey).* Depending on your proximity, you could expect delivery in about 7-15 business days.
* - due to the rising costs of diesel fuel paired with continued supply chain congestion, Modern Digs may be unable to ship some "in stock" orders cross country, forcing us to await stock in the nearer warehouse. We will notify you ASAP if this situation applies to your order.
Product Specifications
Dimensions: 57"w 41"d 31"h
Assembly: minimal assembly
Shipping Options
Ships free*
#Winning This item qualifies for free standard shipping!
*Inside delivery ($100) & assembly ($75) available in cart. Inside delivery can add approximately one week to transit time.
The Benefits of our Best Folding Sofa Bed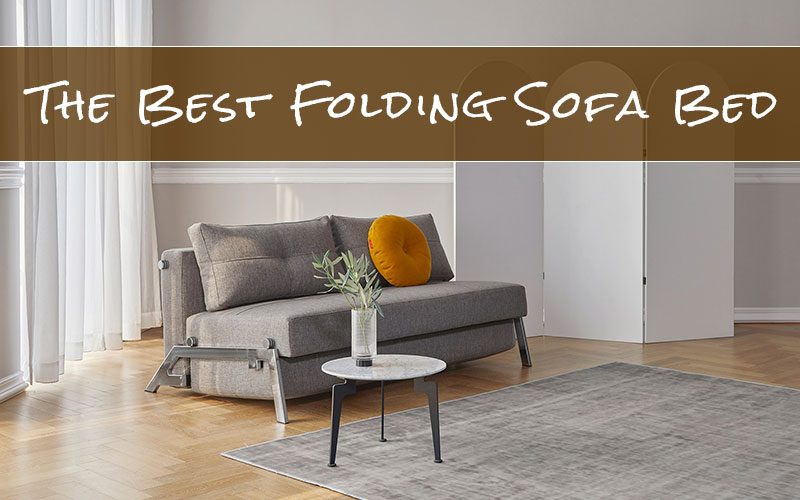 Let's face it - with inflation, even sofas now are considerable expenses! With our Cubed 02 Sleeper you get high-end Danish design, top of the line construction and sturdy frame, durable fabric options, all from a company that focuses exclusively on sleeper sofas!
If you're looking for an affordable and convenient way to add some extra seating or sleeping space to your home, then the Cubed 02 is the perfect solution.
Let's get into the whole story...
Here's what we're covering:
What is a Sleeper Sofa Bed?
The benefits of owning the Cubed 02
How the Cubed Sleeper works
Tips for choosing the right foldable sofa bed
How to care for your Cubed Sofa
What is a Sleeper Sofa?
Also known as foldable sofa beds, couch bed, or sleeper sofas, the short answer to the question is this: A sleeper sofa is a sofa or couch that has the option to transform into a bed. There are a number of ways these sofa beds are designed.
Some sleepers fold actual mattresses (usually foam or memory foam) up beneath the seat cushions. Futons are another common approach to blending a bed and sofa, although, technically, we don't think futons count.
Many of our manufacturer's (Innovation) designs are called sliders, with the seat sliding forward and the back folding down. Most of their remaining sofa bed designs use hinges in the metal frame to fold down the backrest.
A rare variation involves trundle pulls - pulling a mattress out and up inline with the seat.
Click here to get the top deals on a sleeper now!
In sum, sleeper sofas are a versatile pieces of furniture that can be used in a variety of different ways. You can use it as a bed for guests, or a sofa for relaxing. You're most likely to see them in a living room or guest bedroom. They're often lightweight and easy to fold up, making them perfect for a small space.
The Benefits of Owning the Cubed 02
As mentioned above, the Cubed 02 is in a class of its own!
Consider:
Convenience - The Cubed 02 is a great way to add extra seating or sleeping space to your home without taking up too much room. The compact couch design opens out into your room creating a full size bed. When not in use, you can simply fold it up and store it away until you need it again.
Comfort - The Cubed 02 Sofa features an innovative design! Using Innovation's patented iComfort innerspring mattress, the Cubed breaks the 7-inch mattress into thirds - two under the seat and one for the back. That means you're getting a sleeper that actually works as a bed! Each back pillow is plush and comfy, working great for seating or sleep.
Durability - A good quality sleeper sofa will last for years with minimal wear and tear. The Cubed is a best seller, in part because of its superior quality. The Cubed Sofa boasts a sturdy frame with your choice of legs. The steel is powder-coated for durability, and the fabric upholstery is specifically selected to withstand wear and tear, so it's a couch you'll love for years!
Versatility - Cubed is a sleeper sofa that could double as a futon in a bedroom, a chaise lounge in your entry, couch bed, or even the primary sofa in your Manhattan loft. Plush cushions make almost anywhere feel like home. The Cubed is a sleeper sofa bed that can be used in a variety of different ways depending on your needs.
Style - We think it's fair to say that people often trade aesthetics to find a futon or sleeper sofa that's comfortable. With the Cubed, there's no sacrifice required! The various leg styles work in any space, from classic to contemporary. Each upholstery option is a striking, durable material, in textures similar to linen.
So if you're looking for a comfortable and convenient way to add some extra sleeping space to your home, then this is the sleeper sofa for you! Whether you need a futon for the bedroom, or a sleeper couch for the guest room, Cubed is sure to provide many years of comfort and convenience.
How our Cubed Sleeper Sofas Work
Around 2019, Innovation upgraded the opening mechanisms on this collection. Here are a few tips for using yours:
To open, first lift the front of the seat
As you pull the seat towards you, the legs should hinge out
The underside of the seat will unhinge beneath as the sleeper opens into the room
Lastly, just fold down the backrest
To use as a bed, remove all the back cushions and unfold it as described above. If you're assembling the Cubed Sleeper Sofa yourself, always make sure that the sofa bed and corresponding hardware is properly fastened before using it.
Be sure to keep all sharp objects and heavy items away from the sofa bed to avoid any damage.
Tips for Choosing the Right Sofa Beds
When choosing a sleeper sofa, it's important to consider the following factors:
Size - Make sure to choose a sofa bed that's the right size for your needs. It should be large enough to sleep comfortably, but not so large that it takes up too much room when folded up. This Cubed Sofa is a full size, but it's also available in Queen!
Mattress design - As mentioned above, many sleeper sofas use a thin memory foam mattress folded up beneath the seats, often referred to as a "pull out sofa." The downside of these memory foam designs is the mattress itself is very thin - typically 3-4 inches, which can be uncomfortable for adults. The Cubed is an actual mattress designed in three separate pieces.
Materials - Be sure to choose a material that's durable and easy to clean. Leather is a popular choice, but there are also many other materials to choose from. The Cubed features hand-selected textiles designed to balance durability and comfort.
Style - Choose a style that will complement the look of your home. It's hard to argue that this model isn't modern, but the various leg options allow you to integrate it easily with almost any space. There are many different styles to choose from, so you're sure to find one that fits your taste.
Price - Make sure to choose a sofa bed that fits your budget. There are many different prices available, so you're sure to find one that's affordable.
How to Care for Your Cubed Sofa Bed
When you first receive your folding sofa bed, it's important to read the included instructions carefully. This will give you a better understanding of how the sofa bed works and how to best use it.
Here are a few other care tips for your Cubed 02 Sofa Bed:
When unfolding, be sure to check that the legs are properly locked in place
Ensure the space in front of the sofa is clear (moving your coffee table, etc.)
Avoid placing foods, and especially drinks near your Cubed
If you rarely use it as a bed, bed sure to open it every few months to keep the internal mechanisms in working order
If you do spill something on the sofa bed, dab up the spill quickly and use a spot cleaner as needed
Finally, adding the Cubed into your space is only part of the equation! You'll want to complete the room to ensure your space is functional and inviting. Consider pairing your sofa bed with one of our modern accent chairs and colorful throw pillows.
Conclusion
Our Cubed 02 Sleeper Sofa Bed is a stylish, versatile couch that can be used in a variety of different ways. It's perfect for small spaces, and, thanks to it's bold design and high quality craftsmanship, it's easy to fold up. You can use it as a bed for guests, or a sofa for relaxing.
Shop your favorite fabric and legs styles. Consider the coordinating mattress topper for extra comfort. Maybe select a contrasting modern accent chair, or matching ottoman to create a chaise lounge space. Then prepare to upgrade your space today!