< previous post return to index next post >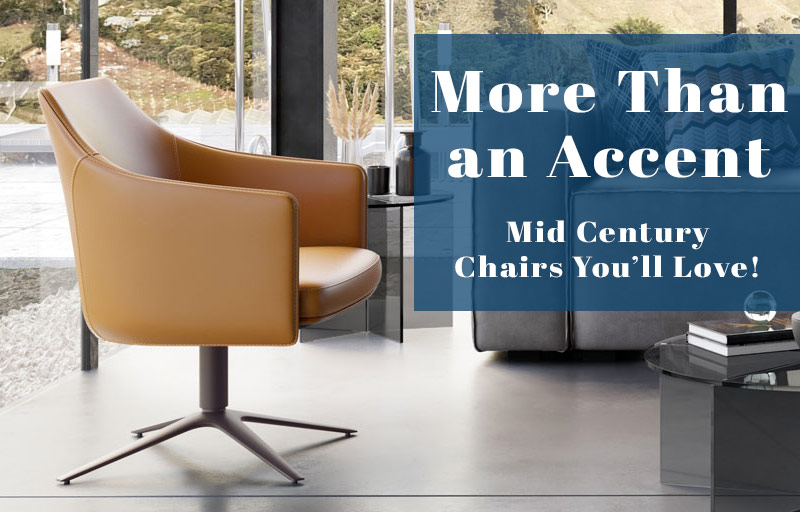 While they can't solve every problem, mid century modern accent chairs certainly don't hurt!
Do you have a bedroom, living area, office, or other area that seems to be missing something? Maybe an accent chair is just what it needs! A great place to sit and enjoy a cup of coffee, socialize with friends or read a book, an accent or lounge chair is ideal for just about anywhere in the house.
We've created a list of our top sellers and favorite designs - read on!
18 Mid Century Modern Accent Chair Designs
Spring Leather Accent Chair
Looking for a stylish and comfortable lounge chair that will add a hint of luxury to your home? Look no further than the Spring!
Upholstered in top-grain leather with a quilted back and seat, this item is as comfortable as it is good-looking. The sleek, powder coated steel legs add a modern feel, while the cambre stitching detail brings a dash of tradition.
An ideal choice for your mid-century modern, contemporary, or transitional decor, the Spring will become your favorite seat in the house.
Gretchen Accent Chair
Give your living room or home office a chic update with the Gretchen Occasional Chair.
This stylish item features classic Mid-century lines, updated colors and fabrics, and a sculpted seat with high-contrast piping. The angled, walnut-stained legs add a pinch of familiarity and balance to the look of this chair.
Whether you're looking for new accent chairs or a comfortable place to sit and work, Gretchen is a great option.
Enzo Lounge Chair
Looking for a design that personifies #weekendvibes? Sign up for Enzo.
This Mid-century modern occasional chair is both sophisticated and comfy, with a deep seat and exposed walnut frame. Whether you're relaxing at home or entertaining guests, Enzo is a classic choice. His organic design and simplistic look are sure to give anywhere a laid-back feel.
So go ahead and kick back, Enzo's got you covered.
Click here for EXCLUSIVE SAVINGS!
Elmstead Lounge Chair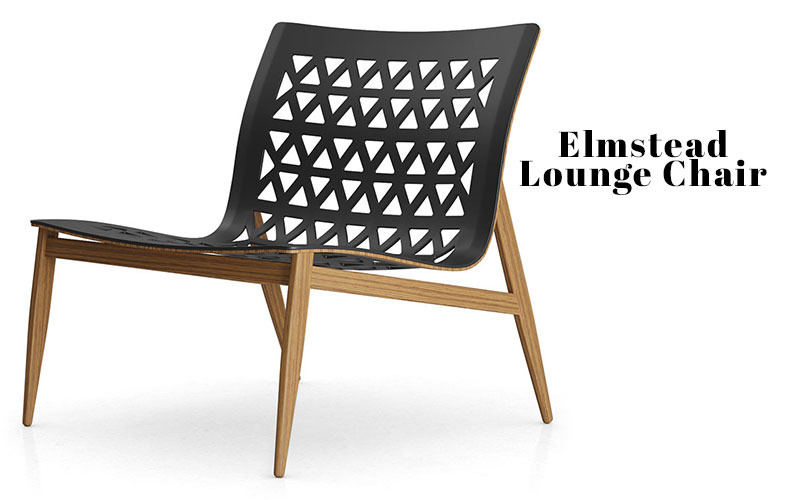 Lounge in a statement piece with the Elmstead Lounge Chair by ModLoft.
This unique item features a laser-cut leather back and seat, for a bold but not overpowering look. Sleek lines and angled legs give a nod to mid-century design, while the modern geometric pattern is a revelation in any decor.
The Elmstead is supported by a sturdy wood-wrapped steel frame, and was awarded the iF Design Award in 2018. Make it the focal point of your favorite spot and enjoy chic, comfortable seating for years to come.
Charlize Accent Chair
Hey there, gorgeous! Introducing the Charlize Chair.
This is a faultless item for anyone who wants to relax in elegance. It's got a broad stance, low profile design, and gently-curved armrests that make it a beautifully unique addition to any room. Plus, the deep, velveteen upholstery is insanely comfortable.
Don't wait for a sale: Click for SAVINGS!
Eloise Accent Chair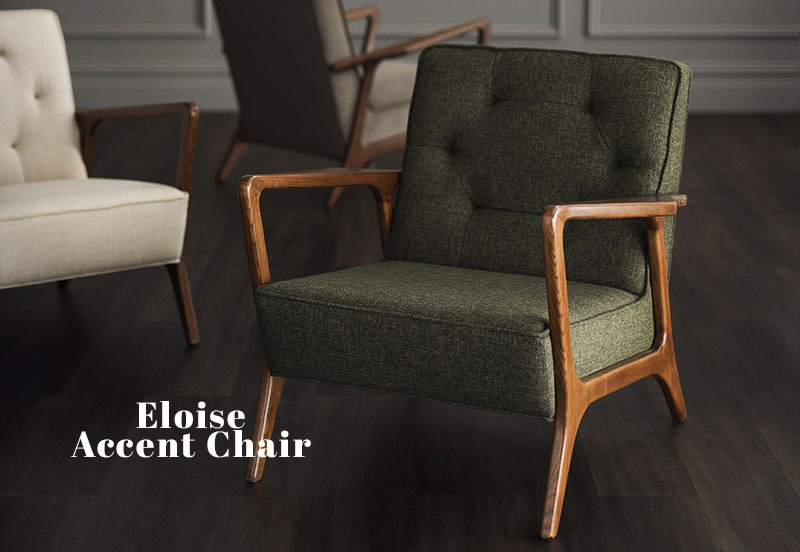 Looking for a modern-day update on a timeless Mid-century design? Then you'll love our Eloise Lounge Chair!
The walnut frame and button tufting add some charm and character to this stylish piece, while the deep seat and back cushions provide plenty of comfort. Choose from a variety of fabric and color options to find the right look for your house.
Click here for DEALS & EXCLUSIVE SAVINGS!
Kent Lounge Chair
Introducing the Kent Lounge, a modern classic designed to add a touch of elegance to your abode.
This item features a solid Teak frame with your choice of gray denim and caramel leather, black linen, or raw linen upholstery. The Kent is perfect for any mid-Century modern interior, with its geometric lines, leather trim and accents, and padded seat and back.
Choose the Kent Lounge for a sophisticated addition to your home décor.
Pearson Lounge Chair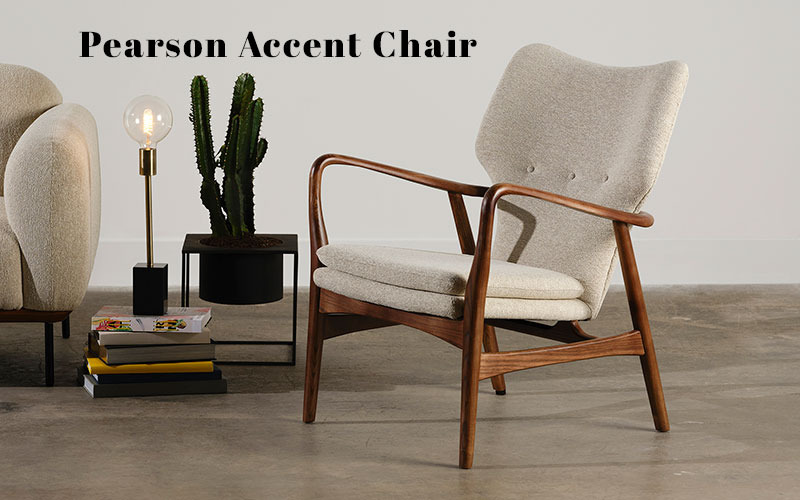 Looking to add a dash of sophistication to your lounge or office? The Pearson Lounge Chair is perfect for you!
With its mid-century design and solid American Ash frame, this item is sure to make anywhere look more elegant. It's also extremely comfortable, so you can enjoy it for hours on end. Choose from three different seat finishes: medium grey wool, dark grey wool, or dark grey tweed.
No matter which one you choose, the Pearson Lounge is sure to enhance your decor!
Click here for DEALS & EXCLUSIVE SAVINGS!
Lucie Accent Chair
Looking for accent chairs that will really make a statement in your home? Sign on to Lucie!
This stylish and comfortable item is upholstered in a beautiful blue or cream fabric, and features sculpted seat and wraparound back and arms. The sleek steel legs are available in either a matte black or gold finish, making it easy to integrate this chair into any existing décor.
Whether you're looking for a cozy spot to curl up with a good book or a stylish addition to your family room or bedroom, Lucie is the perfect choice!
PRO TIP: Pair a colorful accent item like Lucie with a modern coffee table and mid Century modern TV Stand to create a classic modern living room!
Victor Accent Chair
Hugo Lounge Chair
If you're looking for a modern accent chair that is both smart and sophisticated, then you'll want to check out our Victor.
This dapper little item is upholstered in a luxurious velour fabric and features clean, modern lines. It's also supported by mixed metal legs that combine blackened steel with brass caps for the ultimate in flair.
Whether you're looking for accent chairs to complete your living space, office or study, Victor is sure to make a lasting impression.
Don't wait for a sale: Click for EXCLUSIVE SAVINGS!
The Hugo Accent Chair is the perfect way to add a splash of luxury to your living room or home office.
With its bold proportions and strong look, this item stands alone, while the sweeping, sensual armrests lend it an elegant air. The comfortable, broad seat and grand backrest are upholstered in sumptuous velour fabric, while the matte black hairpin legs are capped with brass accent foot pivots.
Add this item to your home for a punch of sophisticated style.
Cyrus Accent Chair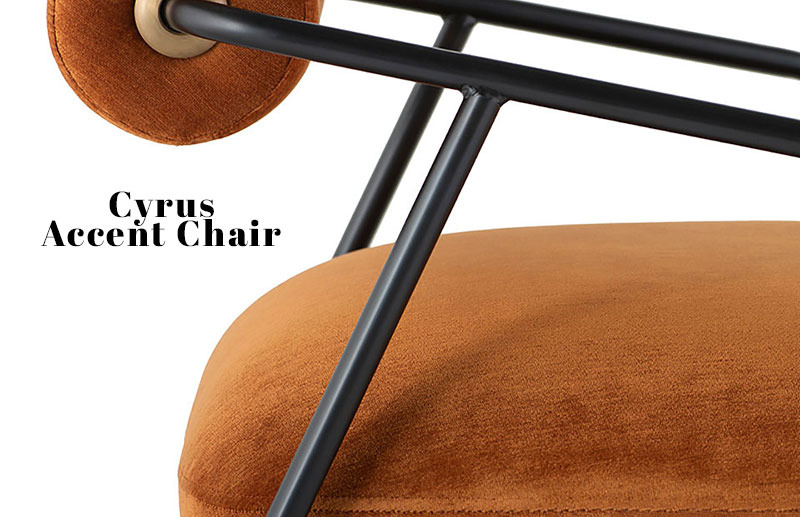 Looking for a unique and stylish accent piece that will make add class into your home? Look no further than Cyrus!
This one-of-a-kind item features a steel tube frame and a plump upholstered seat cushion, making it both comfortable and stylish. The cylinder backrest provides an elegant accent, while the clean, airy design makes it suitable for any space.
Cyrus is available in both velvet and leather finishes, so you can find the ideal match for your home.
Whether you're looking to add a pop of glamour to your bedroom or sophistication to your office, the Cyrus Accent Chair is the choice. Don't miss out on this must-have piece!
Click here for EXCLUSIVE SAVINGS on your new Accent Chair!
Malcom Accent Chair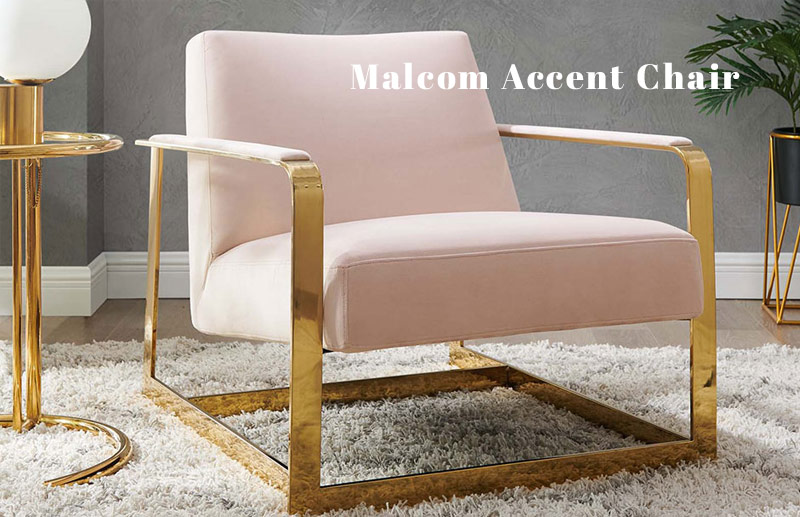 Looking for a seat that's as smooth as your own sweet talk? Our Malcom Lounge Chair is just the ticket!
A sleek, steel frame in the shape of a square gives Malcom an undeniably masculine edge. But it's the sumptuously padded seat and backrest - not to mention the thoughtfully placed cushioned arm rests - that make him irresistible.
So curl up with a cozy throw and your favorite glass of wine and enjoy unwinding in style!
Bethany Lounge Chair
Introducing the Bethany Lounge Chair, a piece that is sure to add a dose of retro-modern style to any room.
This beautifully upholstered chair rests on a solid hardwood frame that has been finished in an elegant walnut stain. Not only is the Bethany exquisite for adding a touch of style to your home, but it is also commercial rated, making it ideal for businesses as well.
So whether you are looking to add a unique piece to your living room or waiting room, the Bethany Lounge Chair is the unchallenged solution.
Olsen Lounge Chair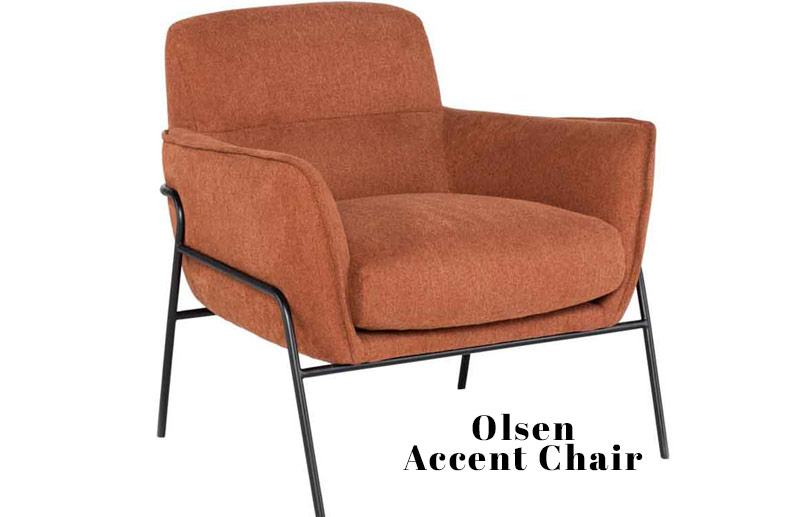 Looking for a cozy spot to relax? Look no further than the Olsen Accent Chair!
This stylish piece features a traditional design with a sturdy matte black steel frame. The generously padded sides and backrest make it super comfortable, while the playful color options let you customize it to fit your motif.
So why not add a pop of color to your living room or bedroom with this fun and functional item?
Don't wait for a sale: Click for SAVINGS!
Clayton Leather Accent Chair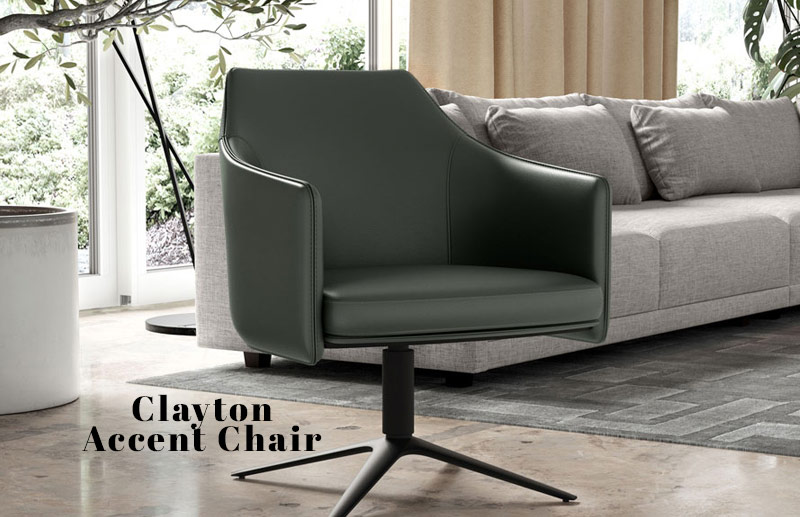 How do you like your comfort? Sleek and snug, or rough and tumble? With the Clayton Armchair, you can have both.
This refined chair features a streamlined, comfortable design with crisply tailored upholstery and a plush seat cushion.
But it's not all looks- the Clayton is covered in rich, full-grain semi aniline leather all around, ensuring years of luxury use. And if that weren't enough, the seat sits atop an elegant steel swivel four-leg base, completing the aesthetic.
So go ahead and indulge in the best of both worlds- comfort and sophistication. With the Clayton Armchair, you can have it all.
Dover Accent Chair
Looking for an unusual design element? Look no further than Dover.
This beautifully designed item features a generous base and curvaceous frame that make it spacious and comfortable. The matte black steel legs give it a modern edge, while the swivel base makes it superb for any room.
Whether you're looking for an eye-catching statement piece or a cozy place to relax, Dover is sure to impress.
Danica Lounge Chair
Lounge in style with the Danica Chair by Greenington.
This beautiful accent item highlights the best of midcentury modern design with its sweeping lines, elegant curves and exceptional comfort. The bamboo frame is sustainably sourced and finished in a light wheat color, creating a warm and inviting retreat.
The tailored fabric upholstery is durable and stylish, making Danica the 'green' addition to any room.
How to Incorporate Mid Century Accent Chairs into Your Home
First, their most basic function: accent and lounge chairs add seating, allowing you to invite over more friends for your next dinner party, game night, or movie night. They also can help to balance out a space.
If you have a big focal point like a sofa or a fireplace, a well-placed accent chair or two might be just what it needs. There's definitely a chair out there for ANY space in your home, which is why they're some of our favorite modern living room furniture!
In our opinion, a well-designed space will have furniture pieces that play off one another without being "matchy-matchy." So, you don't have to choose accent chairs that are the same style and color as your sofa. Just try to create a balance.
Your accent chair choice doesn't have to stand out. It can be classic or traditional if that's what suits your decor best. There's no right or wrong way to design your house. That's the beauty of home design! At Modern Digs, we have a variety of luxury modern accent chairs ranging from the whimsical to the timeless.
Why Choose Modern Digs?
With a wide selection of stunning, high-quality designs, Modern Digs is the best store for the mid-century-lover to shop or just look for inspiration!
We offer free shipping and fast delivery on almost every piece, along with excellent customer service.
We've hand-selected every one of our styles from top modern and mid-century-style brands across the country, and we'll ship them right to your door. No more spending your weekends in the furniture store searching for the right piece. We make it easy!

Post written by Kevin Sykes. Kevin is a Co-Owner and Co-Founder of Modern Digs Furniture and loves all things mid-Century modern. You'll find him weight lifting or rock climbing with his kids around Austin!
customer service report, customer service open
posted on 9/13/2022