< previous post return to index next post >
Do you have a bedroom, living area, office, or other space that seems to be missing something? Maybe an accent chair is just what it needs! A great place to sit and enjoy a cup of coffee, socialize with friends or read a book, a modern accent chair or lounge chair is appropriate for just about any room in the house.
Wondering if there's a difference between lounge chairs and accent chairs? While you can use the two terms interchangeably, a "lounge chair" has connotations of being a large, cozy chair where you can lounge the day away in comfort while an "accent chair" tends to be a supporting piece in a room that features sofas, a sectional, or other seating.
A lounge chair should have arms, while an accent chair may or may not have armrests. "Accent chairs" may contrast with the other furniture in the room, perhaps with a bold color or pattern.
Lounge chairs or accent chairs: Whatever you decide to call them, the luxurious modern chairs from Modern Digs will add personality and comfort to your home or office.
Read on to learn more about this indispensable type of furniture and view some of our top sellers and favorite designs!
15 Stylish Modern Accent Chairs & Lounge Chairs


London Lounge Chair
Made with high-quality cognac-colored leather, the London chair will add a lot of warmth and beauty to your space. Leather is such a great way to add interest and a natural touch to a room! You'll love the plush, cozy feel of the cushions and the clean contemporary lines of the piece. The most interesting part of this chair is the brass-colored, square-shaped iron base that almost makes the chair look like it's floating. With 31-inch square dimensions, this lounge chair is spacious and comfy. Perfect for your modern or transitional interior!
Click here for EXCLUSIVE SAVINGS on your new Accent Chair!
Gretchen Accent Chair
Available in a myriad of beautiful colors and with its classic, recognizable mid-century style, it's no surprise that this is one of our best-sellers! We love the upscale soft fabrics with their high-contrast piping details on the edges of the seat. The icing on the top? The tapered walnut-stained legs of this sleek chair, which provide a sturdy base and add some organic warmth to the design. From every angle, this chair is gorgeous to look at and it will give a nice mid-Century vibe to any style of room that you use it in!
Enzo Lounge Chair
The first thing you'll notice when you see the Enzo chair is its gorgeous walnut wood frame! Every bend and taper in the wood is charming and totally captures that Scandinavian, mid-century appeal. With a deep seat that's slightly tilted back, it'll definitely inspire you to curl up with a blanket and get cozy on the weekend. We love the sophisticated line of tufted buttons across the seat back and the slim, stylish cushions. The Enzo chair comes in three warm, gorgeous colors: shale gray, cream, and ash gray.
Click here for EXCLUSIVE SAVINGS on your new Accent Chair!
Elmstead Lounge Chair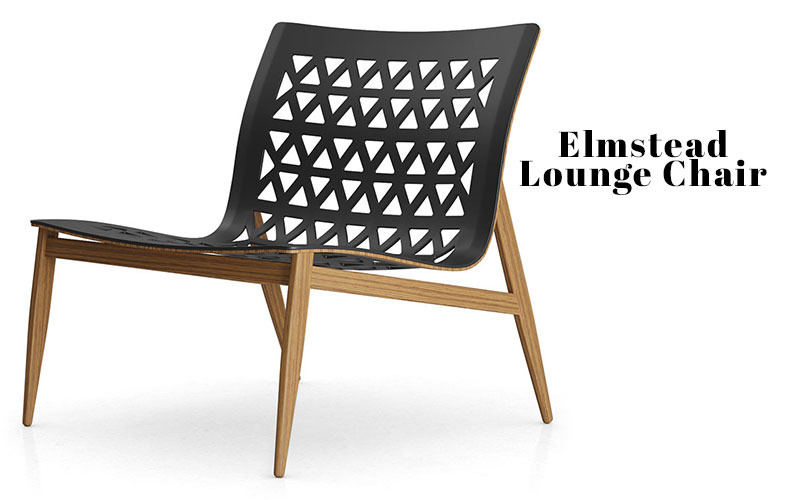 Different than any of the other modern lounge chairs on this list, you'll love the uniqueness of the triangle-patterned Elmstead chair! Sometimes, patterned furniture can steal the stage a little bit too much. But with its laser-cut geometric design, the Elmstead is striking without being overpowering in your space. The back and seat are made of sturdy leather, while the base is a wood-wrapped steel frame that is super-durable and sleek in appearance. While it doesn't have armrests, it is slung back and wide enough that it's still a comfortable place to sit. It even won the iF Design Award in 2018!
Charlize Accent Chair
Available in multiple colors, the Charlize is a wonderful accent chair that will fit into a wide variety of designs. You can opt for the gorgeous jewel tones of the navy velveteen or emerald velveteen fabrics. The softness and sheen of these fabrics will elevate any space and make it feel so sophisticated! Or keep it a bit more neutral with dusty blue, gray, charcoal, or denim tweed upholstery. Whatever color you choose, the Charlize will always impress with its sweet curved armrests and tapered ash legs.
Click here for EXCLUSIVE SAVINGS on your new Accent Chair!
Logan Lounge Chair
With a frame constructed from eco-friendly Moso Bamboo, the Logan modern lounge chair would be equally at home in a tropical villa or a mid-century ranch home... that's how versatile its design is! It has an angled-back cushion that makes it a comfortable place to lounge. The upholstery is removable and made of 100% polyester for easy cleaning, so if you have kids or pets, you will love the Logan chair! The sharply-angled, espresso-colored bamboo frame is what really makes it stand out, though.
Eloise Accent Chair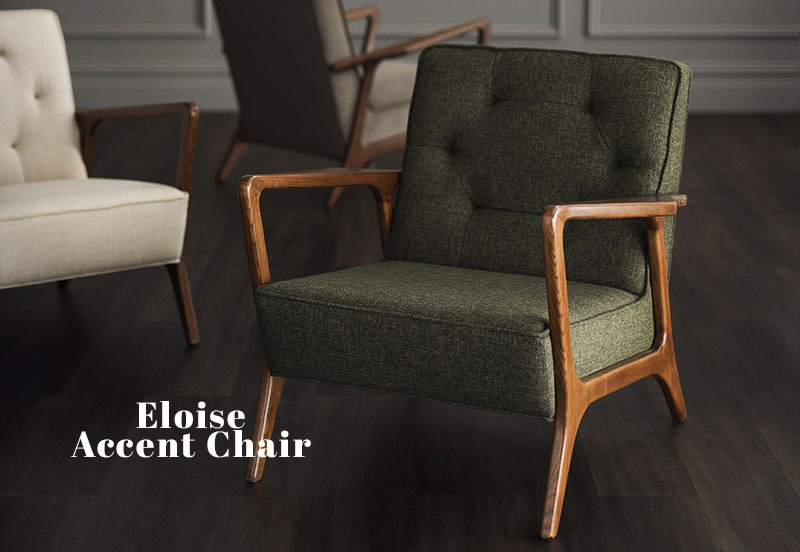 We love how the Eloise looks mid-Century modern and timeless at the same time! Whether your home is mid-century or not, this chair should fit right in. It has clean lines with wide, deep cushions that make the Eloise look cozy and inviting. The button tufting on the back adds some interest. And the angular walnut frame is just a tad bit whimsical to offset the squareness of the cushions. Choose the color you like best: charcoal, cream, gray velour, or green tweed. You can't go wrong no matter which you choose!
Click here for EXCLUSIVE SAVINGS on your new Accent Chair!
Kent Lounge Chair
The Kent isn't the kind of chair you see in everyone's home. It's reminiscent of "space age" mid-century designs and it is definitely a statement piece! We absolutely love the solid teak frame of the Kent chair. It's simple, sturdy, and elegant. It has a high back, geometric lines, and contrasting trim that really work together to set this chair apart. It is available in 3 beautiful neutral color combinations: gray denim fabric with a caramel leather back/trim, linen fabric with white leather back/trim, or all black linen.
Pearson Lounge Chair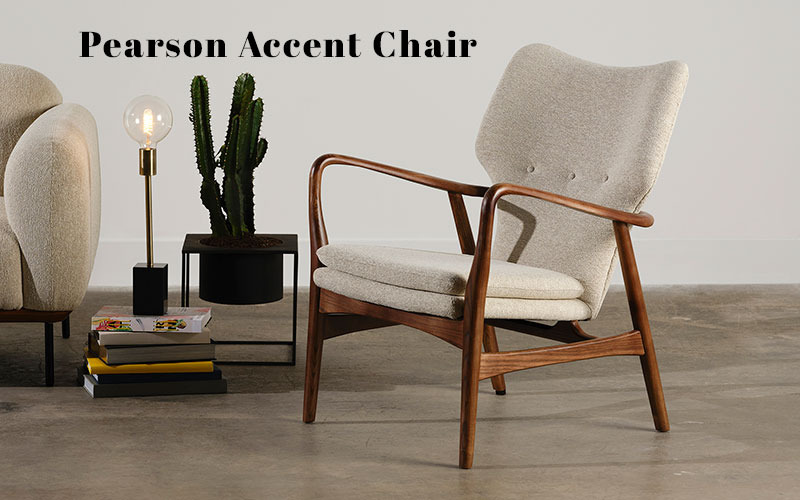 With its dramatic height and curves, the Pearson Lounge Chair looks amazing in homes and offices alike. It has a lovely mid-century appeal with its tweed upholstery and walnut-stained wood frame. Like many of the mid-Century styles on this list, it is slightly angled backwards and has nice, smooth armrests to further add to the comfort of the simple design. The Pearson chair is handsome, but at the same time, it really encourages relaxation! You can choose a number of fabrics, from the bold to subdued.
Click here for EXCLUSIVE SAVINGS on your new Accent Chair!
Lucie Accent Chair
The Lucie chair may look dainty, but it's actually quite deep and spacious! Of course, the best thing about it is its high-class, stylish appearance. It has a sculpted seat and wraparound back that gently curves into the arms. The rounded edges, tapered metal legs and soft fabrics are so sweet and feminine, perfect for your bedroom or minimalist living space!
You can get the Lucie in navy/gold, blush/gold, emerald/gold, cream/black, or nude/black. All the colorways are sophisticated and polished-looking, so you can't go wrong no matter what you chose. PRO TIP: Pair a colorful accent chair like Lucie with a modern coffee table to create a classic modern living room!
Victor Accent Chair
We love the smart, sophisticated appeal of the Victor chair! It's available in incredible velour fabrics in fun colors like mustard, navy, charcoal, blush, and emerald, as well as a handsome gray tweed. The slim steel legs are black accented with brass caps, adding an unexpected yet welcome detail. The back is angular and just a little big whimsical in shape. We guarantee that the Victor modern accent chair will add personality and interest to your space, wherever you decide to put it!
Click here for EXCLUSIVE SAVINGS on your new Accent Chair!
Hugo Lounge chair
Hugo will make a statement in your living room, office, or den. It has bold proportions, a broad seat, and gorgeous curved armrests. It is fully upholstered in your choice of beautiful velvet fabric (choose from rust, shadow grey, shale grey, midnight blue, blush, or nude)! It rests on low, matte-black hairpin legs with brass accent foot pivots. We think that this is the perfect modern lounge chair for settling in with a good book!
Oakley Lounge Chair
This modern lounge chair will cradle you in comfort with its contemporary, curved design. With its minimalist design and comforting curves, this ModLoft piece adds artistic appeal to any space. It captures the perfect balance between relaxed and stylish. It's low to the ground, but quite wide, making it very comfy to sit in while also looking light and airy. There's nothing bulky or heavy about this piece! You can choose between a light-grey "Oatmeal" color with brown trim, or a sleek "Aged Onyx Leather" option that also features stylish brown trim.
Click here for EXCLUSIVE SAVINGS on your new Accent Chair!
Mathise Lounge Chair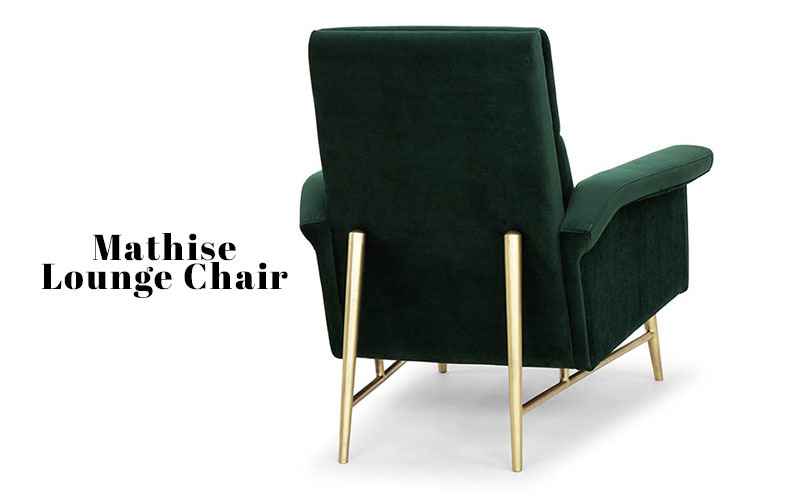 The stately Mathise lounge chair is tall and grand with strong lines and a retro appeal. It has a boxy shape with strong horizontal lines that make it incredible handsome – perfect for your office or lounge! Not only is the velour fabric super-soft and luxurious, but you can choose from vibrant colors like mustard, emerald green, and midnight blue. To keep up the contemporary appeal, this chair features slender yet sturdy matte black steel legs. It'll certainly become a favorite place to relax thanks to its large cushioned seat and tactile fabric.
Cyrus Accent Chair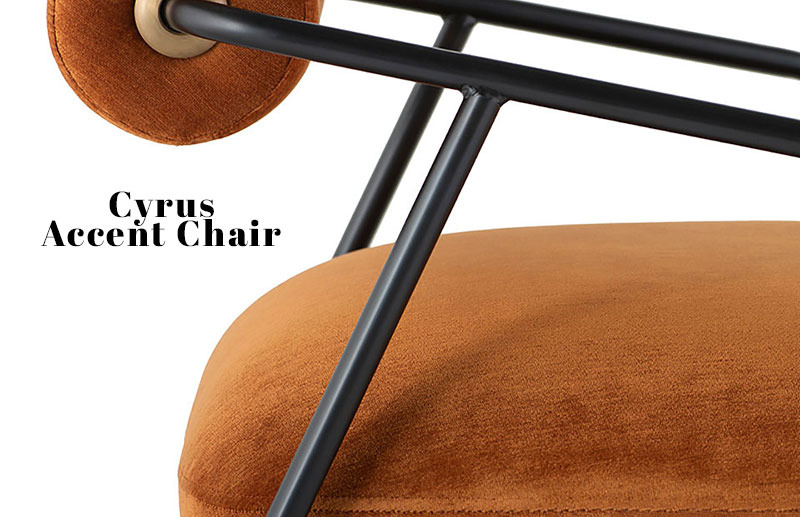 Last but not least, the fun appeal of the Cyrus modern accent chair makes it great for your minimalist or small space! The first thing you'll notice is the bold, low-profile design with a unique cylindrical backrest and sculptural steel tube frame. It's available in either plush velvet upholstery or sleek, smooth leather – equally sophisticated choices. While it may not look as "loungey" as the others on this list, we've tried it out and it is a nice, snug place to sit! It's great for bedrooms, office spaces, and more.
Click here for EXCLUSIVE SAVINGS on your new Accent Chair!
How to Incorporate Accent Chairs and Lounge Chairs into Your Home
First, their most basic function: accent and lounge chairs add seating, allowing you to invite over more friends for your next dinner party, game night, or movie night. They also can help to balance out a space. If you have a big focal point like a sofa or a fireplace, some well-placed accent chairs might be just what it needs. Accent chairs come in endless shapes, sizes, and colors. There's definitely a chair out there for ANY space in your home, which is why they're some of our favorite modern living room furniture!
In our opinion, a well-designed space will have furniture pieces that play off one another without being "matchy-matchy." So, you don't have to choose accent chairs that are the same style and color as your sofa. Just try for a balance. We encourage an unexpected focal point in every space, and in some cases, that could be an interesting or colorful accent chair (or even better, a pair of them set up for a close conversation)!
But your accent chair choice doesn't have to stand out. It can be classic or traditional if that's what suits your space best. There's no right or wrong way to design your house. That's the beauty of home design! At Modern Digs, we have a variety of luxury modern accent chairs ranging from the whimsical to the timeless.
Why Choose Modern Digs Furniture?
With a wide selection of stunning, high-quality designs, Modern Digs is the perfect place for the mid-century-lover to shop! We offer free shipping on almost every piece, along with excellent customer service. We've hand-selected every one of our styles from top modern and mid-century-style brands, and we'll ship them right to your door. No more spending your weekends in the furniture store searching for the right piece. We make it easy!

Post written by Kevin Sykes. Kevin is a Co-Owner and Co-Founder of Modern Digs and loves all things mid-Century modern. You'll find him weight lifting or rock climbing with his kids around Austin!
posted on 2/5/2020