< previous post return to index next post >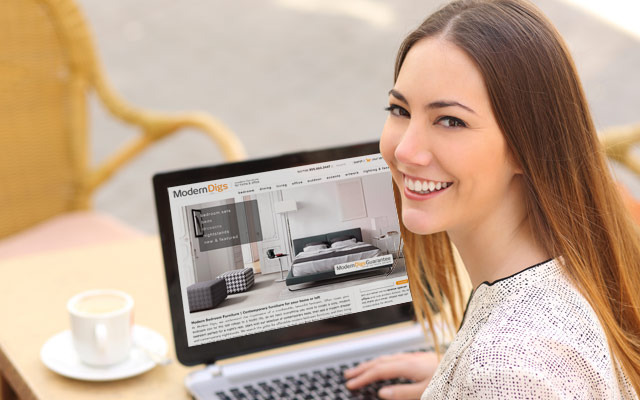 Shop the Best Modern Beds of the Year!
There's something to be said about trends.
We're a social species. And, every once in a while, it's nice to have a second opinion. To not wonder whether you're taste is too "out there."
We get that! You might be looking for comfort in numbers, shopping for your ideal platform bed, or trying to stay out of the herd and be a trendsetter.
Get your creative juices flowing, and check out our 10 best modern beds of the year!
This striking platform was first introduced by ModLoft in 2016. Amsterdam is a cool blend of modern and industrial, casting the bed itself in grey Oak veneers, and polishing off the look with black steel legs. It's the prefect design if you're going for a modern bedroom look that's more industrial and masculine.
2. Nixon Bed
Mid-Century meets budget simplicity in the Nixon Bed. It's hard to wrong with this modern platform! Nixon boasts a hardwood frame, upholstered in a variety of colors, and polished off with rubberwood legs. Whether you're Don or Betty Draper, the Nixon Bed is cool modernism you can afford!
3. Drake Bed
Designed to make a statement, the Drake Bed blends high-end modern materials to create an upscale design suited in any modern bedroom. Drake begins with a black powder coated steel frame, adding a solid hardwood frame to cradle your mattress. The French White Oak wood continues upwards, joined in a crosshatched headboard that stands nearly five feet tall. Whether your bedroom is contemporary or transitional, Drake is a welcomed compliment to the space!
4. Azara Bed
Azara's a newer piece to our collection, part of our eco-friendly bamboo collection. Azara's lines hedge a little more traditional than some of the more modern beds on this list, but the bold materials, "green" bona fides and striking Tiger finish have made it the most popular modern bamboo bed we offer! You might know the benefits of bamboo furniture, and Azara's an easy favorite for those concerned about style AND the planet.
5. Twist Bed
We find Twist boasts an Italian modernism you either love or hate! And we love it! Twist offers a casual and fun, you would even say "softer," alternative to the harder-edged modernism you're more familiar with. Designed with a low-profile frame, the Twist Bed adds on overstuffed grey upholstery giving the bed itself an inviting look perfect for the modern home!
6. Monroe Bed
What's not to love about the Monroe Bed? This modern platform design blends contemporary and cubist elements with a hint of Italian modern to create a staple piece for your bedroom. Incorporated nightstands float with the headboard, creating a stylish open look you'll love.
7. Jane Bed
Low-profile modernism at its finest, the Jane Bed is ideally suited for the modern loft. Jane begins with a steel frame beneath, and then adds on wide upholstered side rails and matching footboard. The gently angled headboard flattens out on top at just 31" high. If you're hunting for a modern platform bed that looks like it should be floated in your London flat, the Jane Bed is perfect!
8. Air Bed
Designed and manufactured in Italy, the Air Bed has been a personal favorite with our buyers for a long time. So many design elements combine to create the Air. It's asymmetrical lines feature a tiered headboard with steel accent. Rounded corners are carried throughout the shape, from the footboard all the way up the headboard. Combined with the warm Oak veneer finish, and the end result is a striking Italian modern platform ideal for your bedroom!
9. O2 Bed
A modern play on the traditional chevron pattern, our O2 Bed features sleek lines cast in solid Sheesham wood. O2's tall legs and slimmer side rails give it a lighter, airy look - ideal if you want to showcase an area rug or mod flooring. O2's headboard is the focal point, zigging and zagging to create a depth and texture you'll love. The O2 Bed is unquestionably modern, yet it's fun shape and unconventional design make it an easy addition to contemporary or eclectic bedrooms.
10. Prince Bed
Prince is actually a design we've carried for years, and it's consistently one of our best sellers! Prince offers simple modern lines, with a high tufted headboard and upholstered bedframe. Low profile steel legs complete the modern motif. Prince is popular because it works in nearly every modern bedroom. It's got a masculine shape, yet it's soft upholstered exterior softens it more than enough to work for women too!
posted on 7/27/2016