< previous post return to index next post >
So, you're considering adding a bamboo bed frame to your life? I won't lie. Finding the perfect bed frame can be difficult!
Even though we carry bamboo beds for sale, I can say that we've actually struggled for years to determine our favorite modern beds, and finally update our primary bedroom.
Not to worry! We've got an amazing assortment of designs hand-selected to provide you the perfect blend of quality and craftsmanship. No matter which style or bed size you're looking for, you're going to absolutely love this collection!
The 10 Best Bamboo Beds for 2022


I want to get into some of the perks of bamboo furniture for a minute, so feel free to click here and skip ahead to get to the good stuff!
Benefits of a Bamboo Beds
If you're on the hunt for bamboo beds, I would bet you're already pretty familiar with bamboo's myriad benefits. For the uninitiated, or those of you considering a faux bamboo bed, let's quickly sum up the big two:
Bamboo Is Ridiculously Durable
If you're around "that age," you've probably grown tired of hearing that "things just aren't made the way they used to be." Actually, I sort of get that... Maybe I'm getting old too!?
Let's go back quickly. 50 years ago the average piece of lumber came from a tree that was at least 4-5 decades old, and a 2x4 was actually, you know... 2-inches by 4-inches. My '58 Mid-century modern house had legit lumber - a full 4-inches by 6-inches used for the rafters!
Nowadays, the average piece of lumber is cut from a tree roughly 2 decades old, and don't get me started on "nominal" dimensions! #NominalIsShortForWhatItShouldBe #ButNotWhatItIs
As any old-school contractor will tell you, wood just isn't the same as it used to be. So, bamboo is unique in that it grows faster and can be harvested substantially more often without compromising the quality of the lumber. AND bamboo is still 20-100% harder than Oak. So harder, more durable wood - faster. Not bad!
Bamboo is Eco-Friendly
Aside from the above mentioned fact that bamboo is viable for harvest way sooner than typical hardwoods, bamboo is also great for the planet even before it's harvested. Bamboo produces 35% more oxygen than comparable tree stands, and our manufacturer uses 100% of the wood.
So, even before it's harvested and transformed into one of our modern bamboo beds, you're choosing a material that's providing a net positive for the environment.
Bamboo has more benefits, but I think we've covered the major advantages worth pointing out. If you're interested in our complete line, you can check out more about bamboo furniture.
Now let's get to our Top 10 Bamboo Beds!
Every one of these bamboo beds is crafted from 100% solid Moso bamboo, including the slat support systems. Additionally, every one is platform style, so there's no need for a boxspring. And, they all include free shipping!
Santa Cruz
One of our newest bed frames! Create a casual and sophisticated look with Greenington's Santa Cruz Modern Bamboo Platform Bed. The sleek modern design and simple clean lines of the Santa Cruz platform bed features a craftsman-built frame in solid Wheat bamboo, with two removable back cushions adding a dramatic focal point to the headboard, angled for good looks and comfortable lounging.
Mercury
One of the newest and most popular additions to our collection, Mercury blends a solid Moso bamboo frame with a gray upholstered tufted headboard. We think the results speak for themselves!
Click here for EXCLUSIVE SAVINGS on the Mercury Bed!
Mercury's low-profile lines, angled legs, and rich brown finish all speak to interior design elements of the 50's and 60's. Horizontal tufting gives Mercury a softer side that's sometimes missing in hardwood beds. The included slat system enables you to pair Mercury with your favorite mattress, and upgrade your bedroom in style!
Scarlett Bed
Mindfully manufactured with sustainable solid bamboo, Scarlett features a stunning silhouette, splayed legs, and an amber color that lends an earthen feel to your room. Scarlett is supported by a European slat system, which allows you to pair it with any standard innerspring or foam mattress, without a boxspring.
Azara Bed
The most popular of our bamboo platform beds (hey, we sell modern furniture!), Azara boasts stunning construction elements from top to bottom!
Click here for EXCLUSIVE SAVINGS on the Azara Platform Bed!
Curved in all the right places, Azara's tapered lines provide a clean modern look that pairs perfectly with the slatted headboard and angled legs. Azara features a Tiger accent on the headboard, with is subtle or striking depending on which finish you choose. Regardless, it's pretty easy to see why Azara is one of our best selling bed frames!
Ventura Bed
Looking for a bed that celebrates the natural beauty of wood? The Ventura Bed is perfect for you! This bed is made from solid Amber bamboo, which features a rich variety of colors. The modern style and simple clean lines of the Ventura platform bed show off the grain of the bamboo perfectly. The expert construction features a craftsman-built frame in solid sustainable bamboo, and the smooth detail where the headboard and footboard meet the frame is especially stunning. You'll love the way this bed looks in your bedroom!
Currant Bed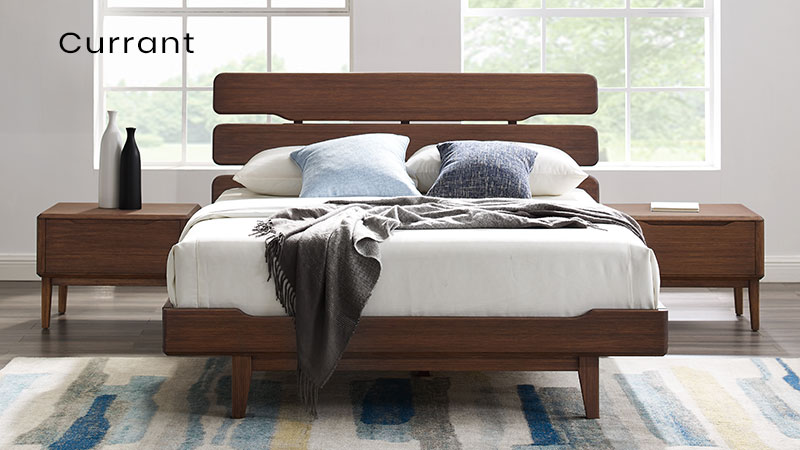 Our Currant Bed takes the slatted bed concept in a whole new direction, adding graceful curves to the classic shape.
Click here for EXCLUSIVE SAVINGS on the Currant Bed!
Currant carries the curved theme to each piece of the bed, from the rounded footboard to the contoured side rails. Supported by angled legs, you've got a stunning bed that's at home in any decor, from transitional to contemporary. Available in Caramelized or Oiled Walnut stains, you're sure to love Currant.
Sienna Bed
Sienna is the OG of our bamboo collection, and was my personal favorite until the Mercury came along. Like the Currant, Sienna puts a bold twist on the traditional, and re-imagines the classic slatted bed as something more.
Click here for EXCLUSIVE SAVINGS on the Sienna Bamboo Bed!
Sienna makes small elements beautiful: adding a slight angle and taper to the legs, beveling the side rails, and spacing out the slatted headboard. Each twist gives Sienna the bona fides of traditional style elements with the updated look of today. Available in several finish options, you can go classic caramelized or dark mocha to complete your dream bedroom!
Winona Bamboo Bed
When you picture a bamboo bed, we're pretty sure you see something like Winona in your mind's eye! Winona is the prototypical bed, placing just the right amount of emphasis on the beauty of its substrate.
Click here for EXCLUSIVE SAVINGS on the Winona Bed!
At home in any decor, Winona leans traditional with a few hints of contemporary appeal. Winona's curved headboard dips in symmetry with the footboard, which seems to really make the beauty of the bamboo pop. With larger panels than the other beds, Winona places an emphasis on letting the bamboo do the work, giving the bed a stylish appeal perfect for the purist.
Monterey Bed
Looking for a modern and stylish bed that's also eco-friendly? Look no further than the Monterey Bed! This beautiful bed is made from solid sustainable bamboo, with a rich amber finish. The craftsmanship is impeccable, with turned and tapered legs, and a prominent headboard. The Monterey Bed is sure to become the centerpiece of your bedroom!
Park Avenue Bed
Looking for a sleek and sophisticated bed that will make a dramatic focal point in your bedroom? Or even just one of our favorite beds ever?!? Look no further than the Park Avenue Bed. This beautiful platform bed is crafted from solid Ruby bamboo, and features two removable and washable back cushions. The clean lines and modern design of this bed will instantly transform the look of your bedroom, and the angled headboard is both stylish and comfortable. Whether you're looking to update your master suite or guest room, the Park Avenue is one of the best bed frames you can choose.
Conclusion
And there you have it! Choosing to add one of these bamboo beds into your home is a pretty easy one - bamboo is easily one of the best materials available for new furniture. And all of these bed frames include free shipping, making the your decision even easier!
Sometimes finding the right design to complement your style is tricky, so I hope one of the above bed frames caught your eye! Then just shop, choose your bed size (sadly no full or twin size bed for now), and get ready to create your dream bedroom!
And check back in - We're hoping to source some bamboo canopy beds soon.
As always, please feel free to call us toll free at 855.663.3447 or email with any questions!
Post written by Kevin Sykes. Kevin is a Co-Owner and Co-Founder of Modern Digs. Kevin lives in Austin, TX and loves all things mid-Century modern.
Updated August 12, 2022. Originally posted on 1/9/2019 <Category: beds>
posted on 8/16/2022