< previous post return to index next post >
image: Haru Bed
After downsizing and remodeling our mid-century modern ranch in 2016, my husband and I have been slowly curating the pieces in our home to give it just the right look and feel. We've been carefully choosing what we love, what fits the space, and items that make sense in terms of functionality with kid-pet-circus. So far, we're pretty pleased with our selections.
We've finally made our way back to the master bedroom, which always seems to be a bit neglected because, well... it's never on display. But, we want our room to feel like a retreat, so we've begun the task of finding the perfect bed to be the focal point of our bedroom. We decided to go with a platform bed for several reasons, which we'll get to!
In case you're ready to make your bedroom your own personal refuge, here's an outline of the beds we're talking about below listed (roughly) in order of price. Whether you're looking for a Queen or King size platform bed, you're bound to find a design you love below. Feel free to click and skip ahead!
- What Kind of Mattress Works on a Platform Bed?
The 15 Best Modern Platform Beds
What is a Platform Bed?
Before we get in too deep, let's set our ground rules for what qualifies as a "platform bed." Maybe you're picturing a bed frame that rests on the floor without a headboard like something you'd see in an urban loft, or even something a bit more retro that would be found in a swanky hotel room during the 60's.
Actually, you're right on both accounts! But platform beds are so much more versatile these days, even more so than you probably realize.
A platform bed is simply a bed frame that includes a built-in slat system so you don't need a boxspring. This simplicity usually means that platform beds skew towards a minimalist or modern design aesthetic.
If it's not obvious, that gives you a sleeker design, without compromising on comfort and functionality. And because you don't need to buy a boxspring, you end up with less bulk and more money to spend on decor (hint: Bohemian Rugs!).
As it turns out, all of the modern bed frames we carry are platform beds, which goes to show you just how much we like them, and how popular they've become.
What Kind of Mattress Works on a Platform Bed?
There's a common misconception that you need a special mattress for a platform bed. In fact, the slat systems in platform beds replicate the utility and functionality of a traditional boxspring. In other words, any standard innerspring, foam or memory foam mattress is perfect for a platform bed.
What types of Platform Beds are out there?
Now that you know what a platform bed is and what we liked about them going into this, let's discuss the different styles and finishes they come in. Our hunt found four types of platforms we liked:
Wood
Upholstered
Lacquered
Platforms with Attached Nightstands
Wood Platform Beds
Just like most types of furniture, wood is the most popular material for construction because of its durability, versatility and overall beauty. Our selection ranges from planked Acacia wood to muted gray oak veneer to an intricate Sheesham wood design. We've also included sprinkling of our favorite bamboo beds (even though they're not technically "wood").
All of these woods offer their own unique personalities, grains and textures to give each bed a different feel to fit your tastes. Whether you choose a wooden platform bed that has a cool mid-century vibe or a low profile look to fit your minimalist lifestyle, there is bound to be one that is perfect for you and your bedroom.

Upholstered Platform Beds
Second to wood beds - in terms of popularity - are the upholstered styles. Particularly over the past five years, they've been gaining in popularity for two reasons:
Upholstered beds offer an inherent softness perfect for the bedroom
The array of colors and fabrics you can choose from far surpass woods
We carry a selection of upholstered beds in luxurious blue velvet, soft gray linen and even chic white eco-leather to fit a wide range of tastes and preferences. Plus, these upholstered beds have various detailing that gives them each their own feel, from weaving and channel tufting, to intricate stitching and even button tufting for a vintage vibe.
Even though wood has been more prominent in years past, we're seeing these upholstered beds more and more in modern decor because of the endless options that really allow you to personalize your space.
Lacquer Bed Frames
Another material gaining in popularity, especially in the Italian modern side of furniture, is lacquer. For the uninitiated, lacquer is a smooth (usually high-gloss) finish that gives your bedroom a modern look. Lacquer makes a statement because of its ultra modern styling and glossy finishes that can transform a space.
You can choose from standard colors like black, white and ivory or go bold and select one in red to add some color. Many of our newest lacquer platforms have optional LED backlight kits that can be added to make it even more striking. One of these beds would be perfect if you're furnishing a modern penthouse overlooking the city lights or an industrial converted warehouse where it will add a bit of contrast.
Since we're looking for more serene and less drama (kids are enough drama, amirite?), we didn't think this style would work for us. Nevertheless, we know it can be just right for someone looking to catch some compliments and add a statement platform bed frame to their room.
Platforms with Attached Nightstands
Another option for a larger bedroom is one of our platform beds with attached nightstands. These beds have a large footprint and presence that is just what you need if you're looking to fill the space of a larger bedroom. In fact, our favorite Japanese bed includes attached nightstands.
Because of their low and wide appearance, they can help to ground existing furnishings. If you have high ceilings they can make your room feel more cozy and less overwhelming.
The variety of finishes like rich wenge, classic walnut or cool gray oak and optional comfy back rests or upholstered headboards give you plenty of choices to match your preferences and decor. Our bedroom is on the smaller side so unfortunately, these designs don't work in our space. Nevertheless, they're a lovely option for someone with more square footage. (And we've included the best in this guide!)
Our Top 15 Modern Platform Beds
And here are our picks for the Best Platform Beds with a short description and each of our takes on the designs themselves:
Our budget-friendly first option, the Harper Platform Bed blends classic design elements into a sturdy bed frame perfect for your bedroom! Harper's classy Walnut colored base features mid-Century inspired legs and, of course, a built-in slat support system. But the headboard is where it's really at! Harper takes a modern take on the wingback design, placing a bold tufted headboard in your choice of Gray, Beige or Blue.
Click here for EXCLUSIVE SAVINGS on your new Platform Bed!
She digs: For me the Harper Tufted Bed is the ultimate blend of modern and traditional styling, giving it a classic feel that won't go out of style. It's eye-catching, yet approachable and just begging to be cuddled upon. Plus, the price is right too!
He digs: First off, Harper is a fantastic value, and by far the least expensive bed on this list. Second, I think the Harper is a perfect blend of masculine and feminine. The tufting and low-profile design is definitely modern, but the fact that it's still an upholstered bed softens it. Another one of my favorite things about upholstered beds, including Harper, is that it leaves the rest of the room open to different pieces. It would contrast really well with an antique nightstand, or pair perfectly with something more modern like a white lacquer dresser!
Low profile, high style is just how we'd describe our Jane Bed. A steel frame that is cushioned and then upholstered makes Jane sturdy and soft at the same time. Minimalism at its best, Jane offers a straightforward design that will give you a calming place to rest your head.
Click here for EXCLUSIVE SAVINGS on the Jane Bed!
She Digs: The Jane Bed is exactly what I would picture finding in a luxury beach hotel with wispy curtains that blow in the wind. And because of that, I like it a lot. Although I would LOVE for my home to feel that way, I'm not sure the style is quite right for us. But, I look forward to that vacation!
He Digs: I really like Jane! In queen or king size, it's just a stunning low profile bed frame. The minimalist design is really cool, and the neutral colors make it easy to blend into any bedroom. I'd put the slate gray near the top of my favorites for sure!
Looking for a cabin-chic style? Then the Girdwood Bed is the one for you. With the Acacia wood planking that makes up the headboard and base of the bed, you get the rich look of wood grain that is contrasted by a modern silhouette. Top it all off with brass colored legs and you end up with a bed that adds a natural element to your bedroom.
Click here for EXCLUSIVE SAVINGS on your new Girdwood Bed!
She Digs: I wasn't sure what I thought about this bed when I first saw it because the wood grain felt a bit too rustic for my taste. But, I keep coming back to it because I really like the style and who doesn't want their bedroom to feel like a cozy cabin in the woods?
He Digs: I would probably put this design on the manly side of the spectrum, which is a plus for me. I think the rustic element of it is cool, and would create a really great contrast with some other more modern pieces. That said, I don't think I would want the bed AND the matching dressers. That would definitely feel too off-the-grid for me.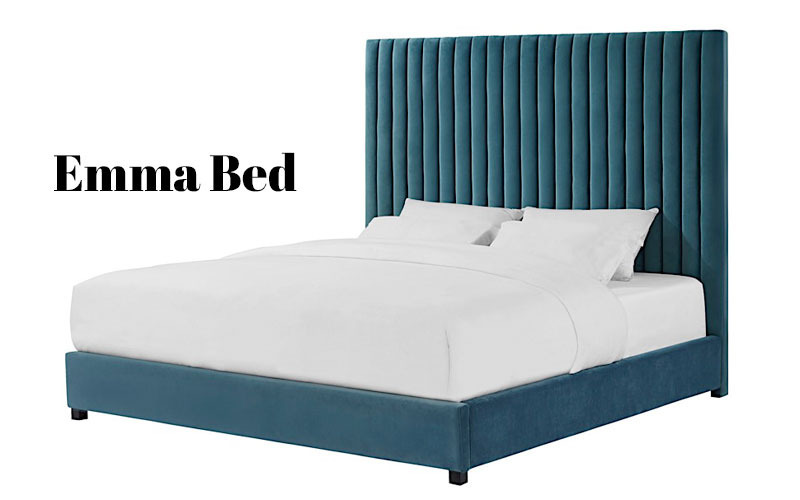 Velvet is big right now, in fashion and home decor and the Emma Bed will help you to keep your bedroom looking current. The Emma has a classic style with its channel tufting and the five and a half foot tall headboard adds a regal feel to any bedroom. With the choice of either grey or sea blue velvet, you can't go wrong.
Click here for EXCLUSIVE SAVINGS on your new Emma Bed!
She Digs: I've never owned a velvet piece of furniture and I think this Emma Bed might be a fun first. The sea blue color is my favorite, but I'm not sure it will be as easy to coordinate with as the grey color. This bed would definitely make a statement and add some softness to our bedroom!
He Digs: I totally agree, actually. I don't know why, but I think the sea blue color is awesome. It's bold, and would make the bed a true statement piece in the room. I've never owned a piece of furniture that bright, so pulling the trigger on that one would make me nervous. I think if we chose this bed, I would want to go bold and blue.
Masculine and striking, our Prince Bed will sweep you off your feet. With an ultra modern style and a soaring 5-foot headboard, the Prince is a man among men. Horizontal channel tufting wrapped in eco-leather, a solid pine-slat base and low profile chrome feet give the Prince Bed its solid appearance.
Click here for EXCLUSIVE SAVINGS on your new Platform Bed!
She Digs: I can get on board with a dramatic headboard, so Prince's stature is impressive to me. Unfortunately, that and the eco-leather (*think easy-care) are about all that grabs me. That's not to say this bed isn't just right for someone else, just not what I would choose, personally.
He Digs: I like the Prince! It's definitely more modern than some of our other designs, but that's probably what makes it one of our best-sellers. I particularly like the white eco-leather - it would like great against a dark wall.
Ciao Bella! Our gorgeous and modern Anzio Bed is made in Italy of the finest materials and high gloss lacquer finish. The epitome of style, Anzio features a raised accent panel to for subtle dimension and can be highlighted by the optional LED backlight kit for added flair. If you're looking for THE white Italian lacquer bed, look no further.
Click here for EXCLUSIVE SAVINGS on your new Anzio Bed!
She Digs: I like the simplicity and elegance of a white bed and although this one is quite modern, it feels a bit softer than some. This bed would certainly make a statement, but might be out of place in our more casual feeling Mid-century home. That being said, I think I could make it work with the right accessories.
He Digs: If you're looking for Italian modern, it's hard to wrong with Anzio. The white makes it a statement piece, especially with the light kit. I agree that's it's probably too... bold for what we're going for in our home.
Italian design and craftsmanship come together to create the Turin Bed, a lacquer bed that incorporates elements of modern and rustic style. Turin's high-gloss finish covers the synthetic gray oak to showcase its beauty. And the raised panel provides some drama, especially if you choose to add the optional LED backlight kit.
Click here for EXCLUSIVE SAVINGS on your new Turin Bed Frame!
She Digs: The Turin Bed is so unique and interesting. I like the wood and lacquer combination since it feels a little more natural to me than most Italian designs. However, it doesn't have the feel I'm looking for when it comes to a bed. I prefer calming to dramatic, but that's just me.
He Digs: Turin is probably our most popular Italian platform bed. I agree it's not quite the look we're going for in our home, but the high-gloss finish paired with the light kit sure does make a statement.
If you're looking for the quintessential modern bed, this is it. With its chrome steel base and eco-leather fabric, this bed blends form and function to make it a great fit for any bedroom. The Chelsea Bed comes in white, pearl grey, castle grey and Eiffel Tower (charcoal grey) so you can choose the color that works best for you. The low-profile design is perfect for a smaller bedroom, too.
Click here for EXCLUSIVE SAVINGS on your new Chelsea Bed!
She Digs: While I prefer wooden legs to chrome steel, I like the simplicity of this bed and the white eco-leather because it feels feminine and fresh. It can be placed against a dark accent wall (which I'm pushing for!) or surrounded by a gallery wall of pictures to make it stand out a bit more.
He Digs: I like the steel legs! They give Chelsea a mod aesthetic without taking it too far. I don't think Chelsea would fit in as many interiors as the Wright Bed, but it's still a clean, understated design. The divided headboard makes it easy to tell who's on who's side, so that would help if you share your bedroom with a bed hog.
Another green product made of eco-friendly 100% solid Moso bamboo, the Sienna Bed offers a stylish and modern take on a slatted style bed. With the option of mocha or caramelized bamboo colors, this Greenington bed will fit with any decor style. The Sienna Bed has a refined and sophisticated feel to it because of the beveled edges and smooth bamboo surfaces that lend to its overall appeal.
Click here for EXCLUSIVE SAVINGS on your new Sienna Bed!
She Digs: An eco-friendly bamboo bed like the Sienna would be great and fits with our green preferences since we already have bamboo flooring. The slats give this bed a more casual feel than a solid headboard and I like the lighter caramelized color that makes for a relaxed vibe.
He Digs: So, like the Mercury, the Sienna definitely has the sustainability aspect of bamboo furniture I like. The slatted headboard and angled legs give it a subtle but modern vibe. I also like the Caramelized finish - there's a reason Sienna is our most popular bamboo bed. It's a classic design that would fit into any home.
The Worth Bed is the quintessential platform bed with its low profile hardwood veneer frame and upholstered headboard to give you both form and function. With a platform height of 7-inches and the addition of two attached nightstands, the Worth Beds will make a statement in any bedroom. And since Worth is available in a myriad of colors and finishes, it is sure to complement your decor and lifestyle, too.
Click here for EXCLUSIVE SAVINGS on the Worth Beds!
She digs: Surprisingly (since it's not MCM), I really like the Worth Bed for its minimalist appeal and the presence that it has. I'm not sure it is the right choice for our space (mainly because it's huge!), but I think it would be amazing in a larger bedroom where it can truly shine.
He digs: Well, the Worth Bed is on this list because it's one of the most popular platform beds we've ever carried! The super low profile really appeals to a modern aesthetic, and the blending of materials gives it a classic appeal. Something about the wood veneer frame paired with the upholstered headrests makes it look and feel high-end. The newer Worth Bed II, especially, has some color combinations that I love. Being a platform bed with a wide edge, it's great for a big bedroom. Several customers have mentioned that they like the sort of zen-like/Asian-inspired motif that Worth creates - It would definitely fit in with a cool floor screen and exposed beams.
If you're into hugs (and let's face it, who isn't?), you'll love our Haru Bed. Like being embraced, Haru's headboard gently wraps around the frame to create a soft curve that is complemented by its solid wood framed and angled conical legs. Haru marries Mid-century modern styling with classic elements and the result is a perfect blend.
Click here for EXCLUSIVE SAVINGS on Haru Mid-Century Bed!
She Digs: I love the Haru Bed because it feels fresh and modern, but also cozy and comfy. That's no easy task and Haru seems to do it with ease. Not fussy, but so sophisticated, I think this bed would go perfectly in our home. To put it simply, there's nothing I don't like about it!
He Digs: Haru is my favorite platform design to come along in a long time. It's the perfect mid century platform bed! I love the blend of elements, wood and upholstery. It's still modern but not too modern. It reminds me of our Salk Solid Oak Bed, minus the nightstands. We're in total agreement - there's nothing to dislike here!
With a combination of eco-friendly bamboo and soft grey upholstery, the Mercury Bed is an example of classic mid-century styling at its best. A more modern choice of bamboo, rather than a more traditional wood material brings the Mercury Bed into the 21st century and gives you a sustainable product that you can feel good about. The sophisticated feel of this bed will take the look of your bedroom up a notch.
Click here for EXCLUSIVE SAVINGS on your new Mercury Bed!
She Digs: Another mid-century modern gem that adds the element of bamboo, which I appreciate. I am loving the look of the Mercury Bed and can even picture it with a lucite side table or maybe something more practical with a little storage. I like that you get the best of both worlds, the beauty of bamboo and the softness of upholstery.
He Digs: This is definitely one of my favorite platforms. I like everything about the design: from the bamboo construction to the tufted headboard and curved legs. It's a great mid century bed frame... easily my favorite bamboo bed, and the sustainability aspect is another notch in its cap. The more I look at it, the more I like it!
The Oxygen Bed is like a breath of fresh air and when placed in your bedroom will feel cozy and inviting. The solid Sheesham wood zig-zag detailing gives this bed a distinctive look, but the silhouette makes it feel classic and understated. The Oxygen Bed effortlessly marries a retro vibe with more contemporary wood detailing to appeal to many different tastes.
Click here for EXCLUSIVE SAVINGS on your new Oxygen Bed!
She Digs: I really appreciate how the Oxygen Bed looks a bit more feminine than some of the wood beds we have picked and the grain of the Sheesham wood is certainly unique. The classic silhouette combined with the unique wood detailing is exactly what I like. It's unexpected! See just how you could complete your master bedroom by checking out the Oxygen Bed Style Guide!
He Digs: This is a surprising design for me, too. I don't see it as feminine, though. Well, I see how people could see it as feminine, with the slim tall legs and narrower frame. But I interpret it more as mid-century, and I really like the design.
If you're into the live edge wood look, the Prana Bed might be just what you need in your life. The headboard is made of live edge French Oak and a blackened cast-iron plate to combine an industrial metal element with the natural feel of wood. The blend of wood and black steel legs round out the base of the Prana Bed to make it a platform that will stand out in any bedroom.
Click here for EXCLUSIVE SAVINGS on the Prana Bed!
She Digs: This bed is like a piece of art and because each piece of wood is unique, it makes it one of a kind. The live-edge wood appeals to me and I think with a bohemian rug and a macrame wall hanging, I could make this more industrial bed work for me.
He Digs: Another design that's definitely in my top 3. Maybe even my favorite... I don't think I would change anything about the design. It's a pricy bed, but Solid French Oak comes at a hefty price tag so I put that in the category of "you get what you pay for." The blend of industrial styling with the live edge headboard is amazing.
By looking at our Lucio Storage Bed, you'd never know the secrets that lay beneath. On the surface, Lucio appears to be a high-end European designed bed with upscale upholstery and style. You'd never expect to find a slat system that boasts high-resistance steel actuators and gas springs to allow for easy access to storage space beneath. A platform bed with storage? Sneaky!
Click here for EXCLUSIVE SAVINGS on the Lucio Storage Bed!
She Digs: You had me at bed frame with storage! With a smaller home, you must be mindful of storage space and Lucio certainly has that in its corner. Plus it looks great too. I like the simplicity and softness in appearance and could see it being a top contender for me.
He Digs: I like almost everything about Lucio: quality, shape, functionality, the fact that it's a platform bed with storage. I don't dig the upholstery. It's super cool and durable, but just too... busy for our small-ish bedroom. Personally, I picture the king size version in a bigger bedroom where the pattern can stand out instead of take over.
Conclusion
Well, there you have it! As you can see we have similar tastes in furniture, with a mid-century modern leaning and a fondness for clean and classic pieces. His style is decidedly masculine with a preference for dark, rich woods and edgier touches. And I like a more soft and feminine feel that combines my love of modern and vintage designs.
Now we're left with the difficult choice of which one of these beautiful beds to bring home. But you can rest assured (pun intended), we've chosen the best platform bed that will be the perfect blend of both our styles... "We'd like the Haru Platform Bed, Queen please!"
I can't wait to get started on our bedroom now that we have the most important decision made. And with just a few more touches like paint, a rug, nightstands and a few modern accent chairs, our bedroom will be complete and ready for relaxation!
Other Common Questions
How do I keep my mattress from sliding on a platform bed? A vast majority of our collection features bed frames with an inset that wrap around the mattress to keep it in place. The two best methods to keep your mattress secure on a platform are:
Placing an inexpensive rug pad between your platform and mattress
Installing strips of velcro to the underside of your mattress and the top of your platform. Note that this method only works on non-flip mattresses!
Previous Year's Favorites:
• 2018 - Amsterdam Bed
• 2018 - Wright Mid-century Bed
• 2018 - Atlantic Storage Bed
Post written by Meagan Sykes with contributions from Kevin Sykes. Meagan is the Creative Director, and Kevin is a Co-Owner and Co-Founder of Modern Digs. Meagan and Kevin live in Austin, TX and love all things mid-Century modern.
posted on 2/5/2019