< previous post return to index next post >
We get it! The most important factor in finding a stool is comfort and design.
Which is why bar stools with backs are your ideal solution!
Here are 15 of the best bar stools with backs for 2023. Each of these stools are comfortable, stylish, and perfect for any home bar or kitchen!
The Best Bar Stool & Counter Stools with Backs
Click through any of the items below to see stock status, ship details, price, delivery times, or to choose other options!
Corabel Bar Stool
Don't be fooled by their good looks- the Corabel Bar Stools with Backs are more than just a pretty face.
These stylish bar stools are designed with comfort in mind, so you can enjoy a leisurely meal or a few drinks with friends without having to sacrifice style.
The upholstered fabric is soft to the touch and padded with dense foam for a comfortable seating experience, while the black metal legs with gold accents add a touch of luxury.
Adan Bar Stool
Looking for a stylish and comfortable bar stool? Look no further than the Adan Bar or Counter Stool!
This stool features a spacious design with slightly winged edges, making it perfect for any casual or sophisticated setting. The steel legs provide a sturdy and architectural base, while the bucket seat and back give the Adan an unmistakably urban shape.
You're sure to love the comfort and style of this stool!
Meyer Wood Dining Stool
The Meyer Wood Dining Stool is the perfect choice for your casual dining needs. With its elegant distressed steel swag legs and laminated bentwood swivel seat and back, it is sure to impress.
The height adjustable seat swivel and sturdy base make it even more comfortable, whether you're looking for bar or counter stools. This stool works well in industrial modern, chic, rustic, farmhouse, and other eclectic décor seating environments.
Pelia Bar Stool
Looking to take your dining room or kitchen island up a notch? Pelia is the perfect solution.
This glam deco bar stool features soft and durable fabric upholstery for a streamlined modern look. The sleek matte black stainless steel geometric base with a footrest makes this bar stool both stylish and comfortable.
Ricki Bar Stool
These chic deco bar stools with backs are upholstered in durable, stain-resistant performance velvet and features a comfortable open back design. They're perfect for any dining or entertaining space.
The Ricki Bar Stool is constructed from bentwood and sits atop four gold stainless steel splayed and tapered legs with ball feet. Add a touch of glamour to your home with this must-have bar stool!
Entwine Bar Stool
This stylish stool is crafted from solid white plastic and features a unique, eye-catching design that is sure to complement any contemporary home.
The Entwine Barstool is also incredibly durable, making it a great choice for any home. So don't wait any longer, order your Entwine Barstool today and enjoy cool, modern style in your home!
Ryden Bar Stool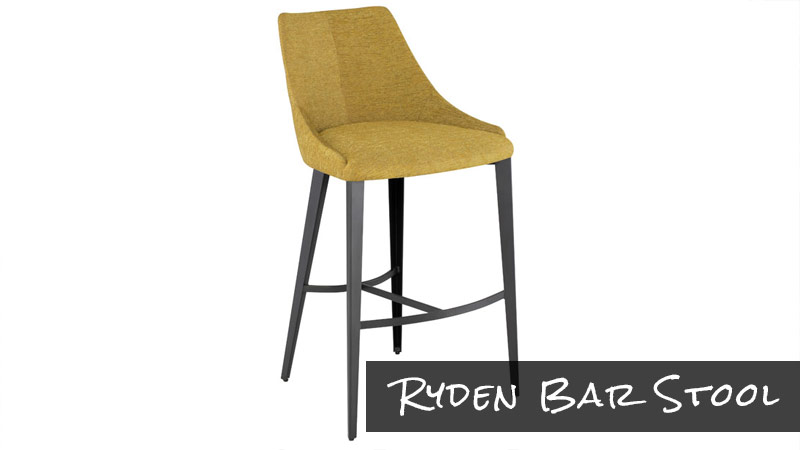 A meal is only as good as the company you keep, and with our Ryden Bar Stools, you'll always have great company.
This stylish and sophisticated stool is perfect for any kitchen or home bar. The Ryden's seat and back are curved to provide optimum comfort, while its tapered legs and footrest add a touch of classic elegance. The Ryden is upholstered in a lush fabric that adds to its timeless allure.
Pauleen Bar Stool
The Pauleen Bar Stool is the perfect way to add a touch of elegance to your home.
With its gold stainless steel base and comfortable Velvet upholstery, this stool is sure to make a statement in any room.
Astrid Wood Bar Stool
Looking for a stylish and sturdy bar stool? Check out the Astrid Wood Bar Stool! These beautiful bar stool with backs are perfect for adding a touch of rustic charm to your home.
Featuring a flowing frame and mid-century style, the Astrid is sure to become a favorite in your home. With its Elm wood construction and paper rope seat, this stool is built to last.
Add the Astrid to your bistro or bar area for a chic and sophisticated look.
Iberia Bar Stool
If you're looking for bar or counter stools that combine retro inspiration with modern flair, then you need the Iberia!
This stylish stool features tufted upholstery and a sleek, stainless steel sled base. The padded seat ensures a comfortable sit, while the non-marking foot caps protect your floors from scuffs and scratches.
Order the Iberia Bar or Counter Stools for your kitchen island or dining area to add a touch of contemporary class.
Abraham Bar Stool
This gorgeous stool features classic button tufting along the exterior and sweeping lines that blend seamlessly into the luxurious comfort of the stool.
Abraham is upholstered in soft, stain-resistant performance velvet, and it has a dense foam padded seat that is perfect for dining.
The four black tapered legs with gold foot sleeves add a touch of glamour to the stool, and it also has non-marking foot caps to protect your flooring.
Harper Adjustable Stool
These sleek and modern swivel bar stools are perfect for any upscale kitchen!
The warm walnut wood veneer shell forms the seat and back, and is padded and upholstered in the finest Italian-made fabric or leather. The piston allows you to adjust the height of the stool to fit your needs from counter to bar height!
Stunning triangular footrest provides extra comfort. The four point steel base ensures that the stool is sturdy and stable.
Placida Bar Stool
The Placida Bar Stools are the perfect perch for enjoying your favorite libations. This stylish stool features a molded plastic top and solid wood legs with foot caps to prevent scratching.
The deep seat pocket and waterfall seat edge provide added comfort, while the organic design is sure to turn heads.
Whether you're entertaining guests or enjoying a nightcap solo, the Placida Bar Stool is sure to become your go-to spot. Cheers! Choose black, white or clear.
Amias Bar Stool
If you're looking for bar stools with backs that are sure to turn heads, the Amias Bar or Counter Stool is a perfect choice.
The clean cut lines and angled legs create a strong, eye-catching frame, while the soft seat and back add a touch of comfort. Upholstered in your choice of leather or fabric, this stool is sure to become a favorite in your home.
Darien Bar Stool
Looking for bar stools with backs that are both dashing and handsome? Look no further than the Darien Bar or Counter Stool.
This stylish bar stool features brushed gold stainless steel legs and a matching stretcher, giving it a retro modern look that will fit right in with your mid-century modern decor.
The stain-resistant performance velvet upholstery is soft to the touch and easy to clean, making it the perfect choice for a busy kitchen. The Darien Bar Stool also features protective foot pads, a decorative handle, and dense foam padding for added comfort.
Serenity Velvet Bar Stool
This chic stool features a Clamshell-like silhouette and gold stainless steel legs that will give your dining room an elegant and polished look. The best part about our Serenity Velvet Bar Stool is that it's not only stylish, but also practical!
The performance velvet seat and back are resistant to stains, making this stool the perfect addition to your home.
Conclusion
As you can see, when it comes to bar stools with backs, there's a ton of variety in style and price! You can see more brands and styles on our bar stools page. Happy hunting!
Click here to see our website customer service report. As always, call or email for shopping assistance. Find a site bug - contact us here. Sign up here for an email.
posted on 10/4/2022