< previous post return to index next post >
In the world of interior design and furniture, black dining tables are a popular choice for those looking to add a touch of elegance and sophistication to their homes.
And there's no question why - black dining room tables can be dressed up or down to match any décor, and they make a bold statement that is sure to impress your guests.
So let's do it! Choose a modern sideboard to store your wares, and one of the dining tables below to create the dining room of your dreams!
Here are our favorites...
The Best Black Dining Tables
Click through the dining tables below for more details on the product page: seating capacity, materials, shipping & delivery information, stock status, availability, list, quickview, save and more!
Tawney Oval Dining Table
This beautiful table features intersecting detail and modern design styles that will elevate any dining room. The smooth, durable MDF tabletop is easy to clean and maintain, and the solid rubber wood base ensures lasting quality.
Whether you're hosting a dinner party or just enjoying a meal with your family, the Tawney Oval Dining Table is perfect for any occasion.
Darro Dining Table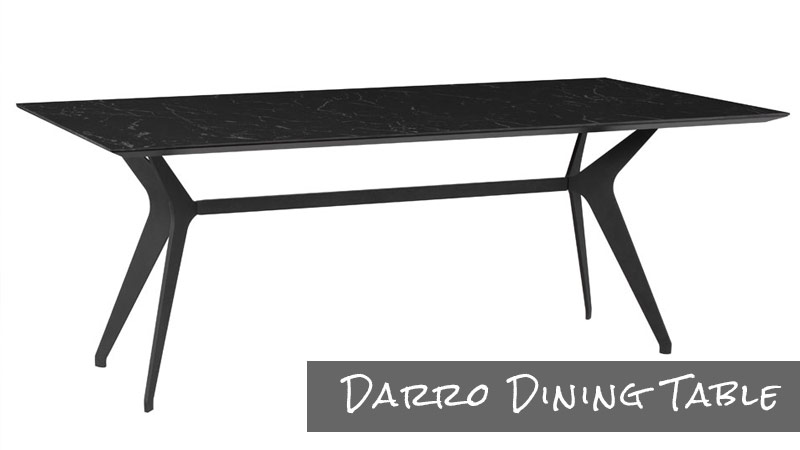 This striking rectangular table features matte black steel legs that extend at a slight angle, drawing the eye upwards to its industrial drop-bar. The black ceramic top is smooth as glass, and substantial in size, making it the perfect addition to any contemporary dining room.
Plus, its clean lines and simple design make it easy to pair with any of our unique dining chairs.
Whether you're hosting a dinner party or just enjoying a meal with the kids, the Darro Dining Table is sure to impress.
Justine Dining Table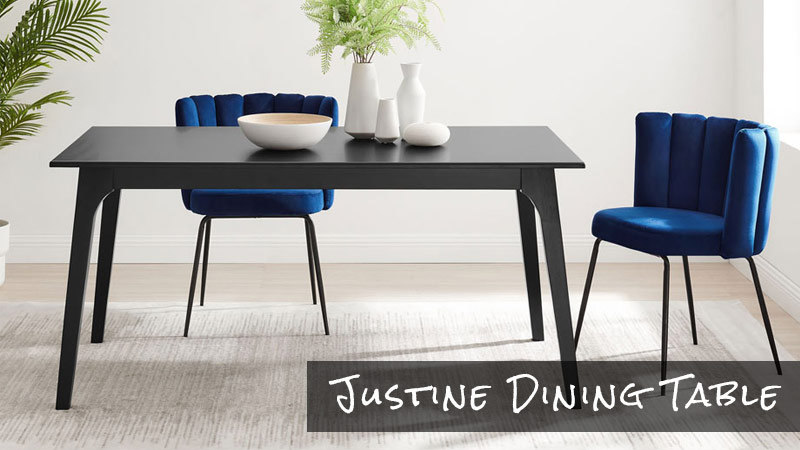 This elegant table is the perfect addition to your home décor. The sleek and stylish design will make it an eye-catching piece in any house, while its durable MDF surface makes clean up easy!
Plus you can rest assured knowing that this sturdy rubberwood frame has four tapered angular legs which provide stability when needed most. With seating capacity up to 6, Justine's a great furniture solution!
Kyleigh Dining Table
The perfect addition to your home, this rectangular Oak dining table will Blow You Away with its beauty and durability.
The rustic oak wood combined with modern concrete gives it an Asian inspired look that is just too good not have in any contemporary loft! Plus the sturdy construction means you can enjoy years of use from one furniture purchase.
Gianni Dining Table
The organic shape and sleek tapered legs make this dining table perfect for entertaining friends or enjoying a meal with family. The MDF surface is easy to clean, while also being maintenance-free!
Plus the rubberwood base ensures that you'll have something sturdy underfoot when it comes time sit down. Gianni boasts fast delivery.
Landan Oval Dining Table
The sleek and modern design of this beautiful table will impress your guests. The base is true to the original specifications while still maintaining a modern feel with its oval artificial marble top, which has scratch-resistant finish!
Tawney Dining Table
This stylish and surprisingly sturdy kitchen table is perfect for those who entertain often or have busy families. The rubberwood base ensures that it will always stand up to even the busiest of existences, while its MDF surface makes cleaning a breeze!
Tiernan Dining Table
When you're looking for a rectangular dining room table that's not only stylish but also functional, the Tiernan Dining Table is an excellent option.
Notable features include its sleek modern design and large black ceramic top--both eye catching elements which provide enough space to host dinner parties or family meals in style!
Leary Dining Table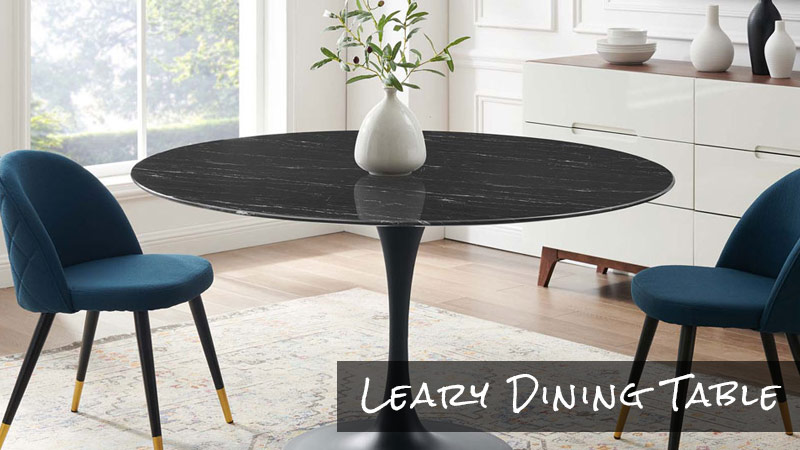 Whether you're looking for an elegant statement piece or something more subtle, our Leary mid-century modern dining tables are sure to please.
With its simple yet stylish base and artificial marble top giving it a timeless appeal that will never go out of fashion; the powder coated metal pedestal base ensures your table always looks new while protecting floors from scratches with non-marking rings included!
Vallerie Dining Table
The Vallerie Dining Table is a beautiful and functional dining table for your home. The MDF top features an eye catching matte black lacquer finish, while splayed iron legs with gold metal sleeves give it the perfect touch of glamour.
Add this mid-century modern design without being too overwhelming or overbearing - just enough so those details are noticed but not entirely taken away from what else may be going on around them!
Ginger Dining Table
It's time to bring a little industrial modern flair into your home with this sleek, yet powerful metal dining table.
The sturdy iron-plated design will make sure you're getting the most out of any occasion while keeping its elegance in check for those more formal settings where it belongs!
Plus, the solid old pine wood top and black lacquer finish give it a vintage feel that will add character to your dining area.
Dafne Dining Table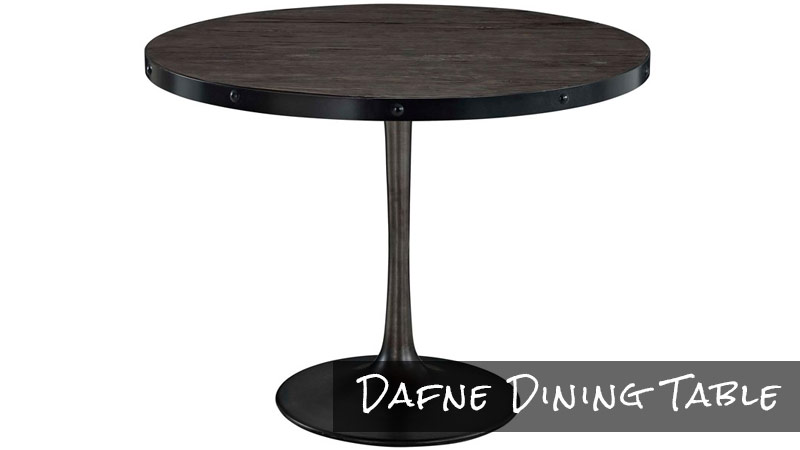 The Dafne table's cast iron pedestal base and pine top account for a rustic yet eye-catching look that will have your guests talking about how cool their new house is.
With its simple design, this piece can easily sign into any setting without drawing too much attention to itself or taking up valuable real estate on the floor!
Ostyn Ceramic Dining Table
The Ostyn Ceramic Dining Tables are a work of art that add elegance to any home.
The sleek design features powdercoated steel base and stunning oval ceramic top, cantilevered back over the base for fluid gracefulness in your space while capturing contemporary aesthetic with its rounded edges!
Millerd Dining Table
The Millerd is a work of art masquerading as one of our black dining tables.
Its sleek, sculptural base has unique and intriguing design elements that create refined drama with its minimalist curves - all in the form or an elegant metal frame perfect for any décor!
Dania Dining Table
Our Dania Round Dining Table is the perfect addition to any home, even small spaces!
It's crafted from a stunning ebonized American oak wood veneer and features an elegant tapered pedestal base. The mid-century piece will make your house feel like it was tailor made just for you, with its sleek black finish that matches every decorating trend out there today - no matter if they're traditional or trendy in nature!
Rosabella Oval Dining Table
The Rosabella Oval Dining Table is a sleek and stylish way to update your dining or kitchen.
The modern classic has been an elegant symbol for over 60 years, with its simple design that will impress guests while the scratch resistant artificial marble top makes this table timeless in style! Free shipping.
Michael Dining Table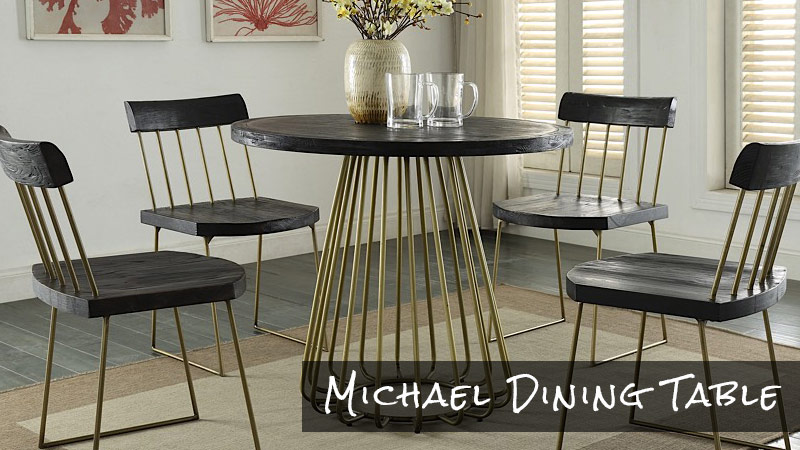 Go ahead and indulge in some good design with the Michael Pine Table.
This handcrafted dining table is a great fit for virtually any interior or kitchen, thanks to its elegant brushed brass tubular base that adds modern allure while still expressing character through natural markings on real wood top—perfectly capable of seating four people at once! Free shipping.
Beech Dining Table
Our Beech Square Glass Dining Table is modern and simple - the design is the perfect solution for those looking to add some high-end furniture into their pad.
The beveled glass top provides an elegant touch while also providing great visibility to whatever food you plan to serve on this beautiful table! Also available with white glass and base.
Roslyn Dining Table
The Roslyn round dining table is a stylish and functional addition to your space.
The design of this piece will make it an effortlessly chic element in any modern motif, with its monolithic look that's both unique but still classic enough for versatile use across many different settings! Free shipping.
Esme Dining Table
Esme Dining Table is a simple design that exemplifies mid-century modern style.
The round black top rests on solid beechwood legs to complement contemporary or classic dining spaces for just right look.
With fast delivery and free shipping, Esme is an easy solution for your kitchen!
Couture Black Dining Table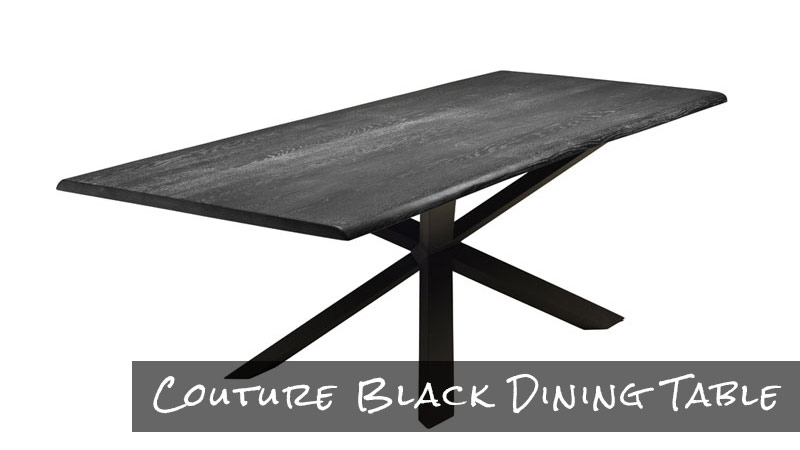 Your dining room needs a bold, modern furniture makeover with the help of this Couture Black Dining Table.
This sleek design features a black x pattern frame made from durable stainless steel that will last for years to come! The expansive top is crafted out natural French oak. Free shipping.
Jesse Dining Table
Jesse Acacia Dining Tables are a must-have for any design enthusiast!
This handcrafted dining table set features an acacia wood top in your choice of oval or round. The circular joinery and steel rings create the perfect pedestal design.
Tulipano Oval Dining Table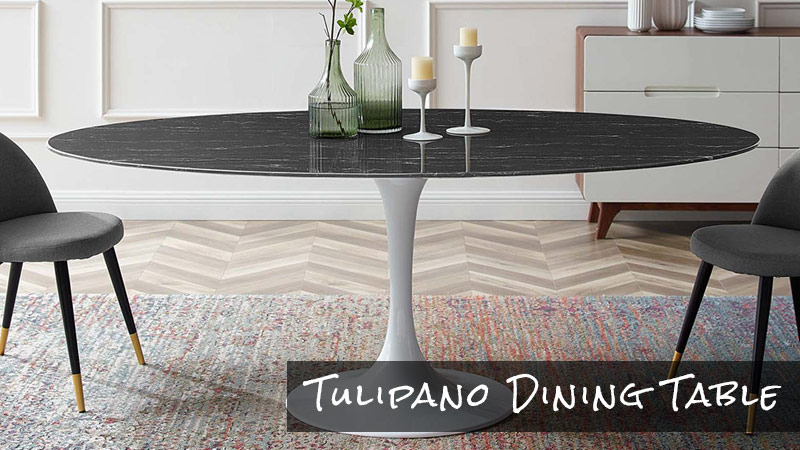 The Tulipano Oval Dining Table is a sleek and stylish way to bring modern design into your kitchen.
You won't mind eating here! This beautiful dining table has been an iconic symbol of spawn for over 60 years, which makes it easy enough reason why you should invest in one today! Free shipping.
Amal Marble Dining Table
The Amal Marble Dining Table is a truly unique piece that is sure to become the focal point of any room. The bold juxtaposition of solid marble and modern stainless steel base creates a stunning visual effect.
This table is perfect for those who appreciate beautiful design and innovative furniture. The Amal Marble Dining Table is sure to impress your guests.
Conclusion
From small kitchen tables, to large statement designs, we've covered the gamut!
Choose a black table that creates the space you've dreamed of!
Click here for our customer service report, or do an email address submit here for instant savings! Shop all our tables with more filters - black, clear, white, you name it!
Need assistance with our items or your cart? Call us toll free, or email when we're customer service closed. Find a website bug-contact us!
posted on 10/3/2022