< previous post return to index next post >
There are few things in life more enjoyable than a good game of foosball. Whether you're playing with friends or family, the competitive atmosphere and fast-paced action is always sure to get your heart racing. But if you want to make the most of your foosball experience, you need to have the right equipment. That means investing in a high-quality foosball table that will provide you with years of enjoyment.
So, how do you find the best foosball table for your money? It can be tricky, but it's definitely not impossible. The first step is to do some research and figure out which tables are the most popular and well-made.
Don't worry! We've got you covered here with the very best best foosball tables made by the best foosball table brands. Whether you're trying to replace an old pool table in your basement, upgrading your game room with table soccer, or even looking a professional foosball table, read on to find the best foosball tables for you!
We've done the research and read so. many. foosball table reviews. We're experts, so beofre you buy a foosball table let us get you headed in the right direction! Got questions about foosball? Skip to the bottom.
Our Five Favorite Foosball Tables
Best Folding Foosball Table: Kick Majesty
18 Best Foosball Tables You'll Love

1. The District Eight Foosball Table
This design is part of a one-of-a-kind collection made in Ho Chi Minh, Vietnam largely from recycled materials. The District Eight Foosball Table allows you to blend the expanding growth of one of the world's biggest metropolises into your own home by incorporating industrial design elements.
This foosball table was created from parts salvaged in Vietnam and reassembled into a style you'll appreciate! The table is made with aluminum players, a stone playing surface, and cast iron base. Each table is one-of-a-kind, a truly durable table, making it the ideal design for your area!
If you're goal is to find a high-end, quality foosball table design, the District Eight is one of the top foosball tables you can find.
2. The Modern Foosball Table
Our Modern Foosball Table is a stunning piece that will make a statement in your space. This design, part of an exclusive collection, is made in Ho Chi Minh, Vietnam using reclaimed materials and is handcrafted.
The Modern Foosball Table is inspired by mid-century designs and allows you to bring the huge expansion of one of the world's largest cities into your own home. The Modern Foosball Table features salvaged wood and steel from Vietnam factories and vessels, which are transformed into a stylish design!
The table has a reclaimed smoked Oak wood frame, steel and brass players, and a hand-cast concrete playing surface with cast iron legs. Every table is one-of-a-kind since it's the ideal design for your area! This table's blend of upscale craftsmanship, eco-friendly recycling origins, and stunning design make it one of the very best foosball tables on the market!
3. The Pottery Barn Teen Foosball Table
With Pottery Barn's foosball table, made with a sturdy pine foundation for modern design and plenty of strength for high-velocity corner shots, you can get your jollies. This game room classic is the ideal method to get your friends fighting over who gets to play next.
This table soccer piece is hand-crafted from pine, beech, MDF, and ABS plastic. It has a hand-painted cappuccino color finish. There are 13 players on each side. The metal tube with cover comes with the game. This is the best foosball table if you're looking for something understated and classic.
4. Triumph 45-6737W 56" 4-in-1 Swivel Game Table
Prepare for a tournament at any event with this Triumph 45-6737W 56" 4-in-1 swivel game table. This compact table combines the fun of air hockey, billiards, table tennis, and foosball into one! This table swivels easily to reverse the playing platform, displaying a flat surface for billiards or an air-powered tiny stadium prepared for an air hockey tournament, depending on your mood.
The manual score sliders built into the table make it simple to keep track in any game. This table has four leg levelers that enable you to alter the height on uneven floors to produce a level playing surface virtually anywhere.
This rotating table has everything you need to furnish a memorable, competitive event, including four built-in games and the accessories you'll need to host an exciting air hockey tournament.
Use the supplied hockey pushers and pucks to organize your own air hockey tournament. The table includes two billiards cues, a set of billiard balls and a triangle, two chalks, and a brush to complete the package when it's time to move on to pool.
The paddle, balls, net and post make transitioning to table tennis simple. The preassembled foosball rods allow you to convert the table in a matter of minutes! If versatility is your game then Triumph might be the best foosball table for your space.
5. West Elm Mid Century Foosball Table
Mid century inspired lines, and high quality design from West Elm will have you playing in style. With butcher block-finished wood walls, this BBQ island will appeal to both the serious and casual chef. Rubber grips on double chromed rods provide a secure grip. Cabinet and legs are laminated to avoid scuffs. 4 balls are included.
6. Benchwright Foosball Table & Essentials
The Benchwright Collection, inspired by an early 20th-century worktable owned by our designer's great-grandfather, pays homage to the power and simplicity of rustic-industrial design. We brought this popular collection to the game room with a trendy foosball table that is built to last a lifetime of use.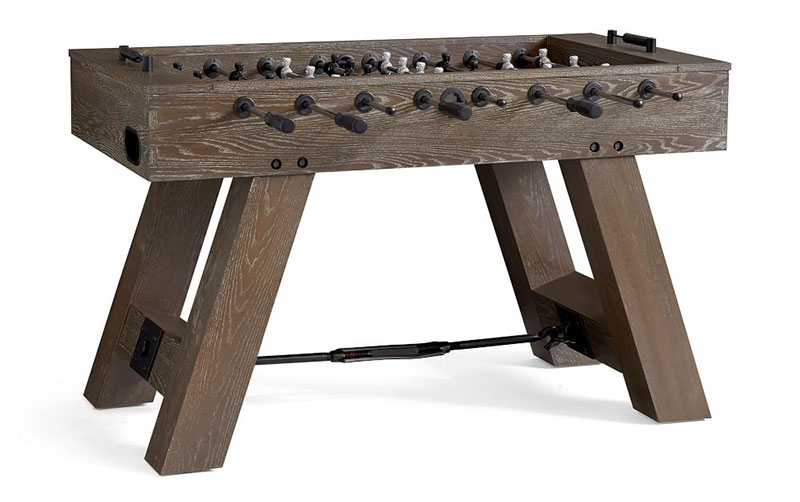 The entire table is constructed of wood veneers. Veneers provide high-quality furniture with smooth surfaces and consistent color tones that are not likely to fracture. PVC and MDF playing field, rods constructed of plated steel. Players molded from tough thermoplastic.
Hand-application of a unique multi-step technique for exceptional depth of color creates this stunning walnut dining table with split legs. Two game balls are included.
Stable levelers are provided on uneven surfaces using adjustable levelers. The table is delivered completely built and ready to use.
7. Sport Squad Greyson 56'' Foosball Table
The Sport Squad Greyson 56" Foosball Table with Grey Wood Finish is the ideal way for family and friends to gather for fun and competitive competition. The Sport Squad Greyson provides a contemporary and fun atmosphere to your home, workplace, or community center by using elegant wood grain patterning throughout and a sleek grey finish.
Each side has a pair of cup holders, creating the ideal game area environment while allowing you to stay hydrated during long play! The green playing surface is made of strong 15mm medium-density fiberboard (MDF), rather than particle board. To stabilize the table during a tough game, the table is also held up by 15mm thick square.
With 15.8mm chrome plated steel rods and ergonomic plastic handles that are designed to fit comfortably in your hand, you can make stronger and faster shots. Modern looking players have been deliberately molded to enhance accuracy when passing and shooting, ensuring long-lasting performance.
The Greyson Sports Squad also has a three-man goalie design to deal with tough corner shots. There's even space for two people to play two versus two! Slide scoring systems on each end assist players in keeping track of who is winning the game, and the recessed goal boxes are built to quickly and automatically return the ball to each player's
The unique form of this table, which is made to be assembled quickly, distinguishes it from other foosball tables. Simply attach the two sides with the pre-installed player rods and screws, and you're ready to play! The game system includes two soccer foosballs. Sport Squad games are designed to bring families and friends together.
If you're shooting for utilitarian precision, Greyson might be the best foosball table for you!
8. Smoky Mountain Nights Distressed Wood Foosball Table
Artisans hand distress and glaze the pieces before applying a unique patina and finishing it off with high-quality round wooden scorekeepers. Smoky Mountain's superior is apparent from its dove tail fitted and completed corners, which are easy to see. Wooden ball drop holes and an improved playing surface complete the look.
The unique 1 of a kind fit and finish components, including real wood with craftsman-inspired saw tooth serrations, distinguish each Smoky Mountain Foosball Table. The stretcher beam adds both beauty and strength, giving the design a rustic flair. Leg levelers ensure a level playing surface.
9. Arhaus Reclaimed Wood Foosball Table
Our Reclaimed Wood Foosball Table is a work of art that complements any décor while bringing family and friends together. Mexican craftsmen use steel and aluminum in oxidized colors to complement yukas veneer surfaces and ochre milpa burl players, as inspired by the natural characteristics of salvaged wood—gathered from trees destroyed as a result of natural calamities or cut down for development.
At Modern Digs we love great designs, and this piece by Arhaus is strikingly beautiful. From a visual perspective alone, it has to be in your consideration for one of the best foosball tables for your space!
10. Tour 65 Foosball Table in White by Basaglia + Rota Nodari
A popular classic: The Tour 65 foosball table features a basic yet attractive design, as well as a unique ball recovery system. Indoor usage only; it has white varnished metal box legs and an HPL-coated aspen plywood construction. The pitch is made of tempered glass. Created by Basaglia + Rota Nodari and handmade in Italy!
Striking and white, the Tour 65 puts a heavy emphasis on style. If you're like us, that should push it into your consideration list for best foosball table.
11. Cristallino Foosball Table
Minimalist design created by talented artisans of Italy, the Cristallino is truly one of those foosball tables you'll never forget! A great addition to the recreation room, the Cristallino Foosball Table by Teckell boasts sturdy construction characterized by clean design.
Built from transparent glass crystal with joints made of milled, chrome-plated polished brass and stainless steel and features concealed levelers on the feet to maintain a level playing surface. The playing field is made of laminated crystal with corner ramps that keep the ball in play.
Rods with two layers of shock-absorption at the ends and special, self-lubricating bearings and quick-mount handles provide superior performance. Chrome-plated scoring units at both ends allow you to keep track of the game.
Frankly, if you're trying to make a statement, this is the best foosball table for you!
Teckell Furniture, an Italian design company, brings fresh, clean aesthetic to the presentation of familiar game and foosball tables. The company embraces bringing unusual materials together for an impactful, emotional design.
12. Pottery Barn Industrial Foosball Table
The game is about to begin! This Industrial Foosball Table is designed to meet the standards and comes with everything you'll need to host your own foosball games. Hand-stained poplar veneers and sturdy steel bases make it a beautiful showpiece in the game room for years of entertaining.
The entire table is constructed of poplar veneers and MDF. There are two manual scoring systems, a three-player goalie system, two ball returns, and counterbalanced players on smooth steel rods.
Veneers provide high-quality furniture with smooth, level surfaces and consistent color tones that are not prone to cracking. Reclaimed brown finish is handcrafted using a multi-step procedure that results in rich color depth. Adjustable levelers provide support on uneven grounds.
13. 56" Wolf Creek Foosball Table
The cabinet walls are 1-3/8" thick MDF covered with an attractive Weathered Gray PVC laminate that looks like wood. The playfield is 5/8" thick MDF covered on both sides with high-pressure MICA for durability.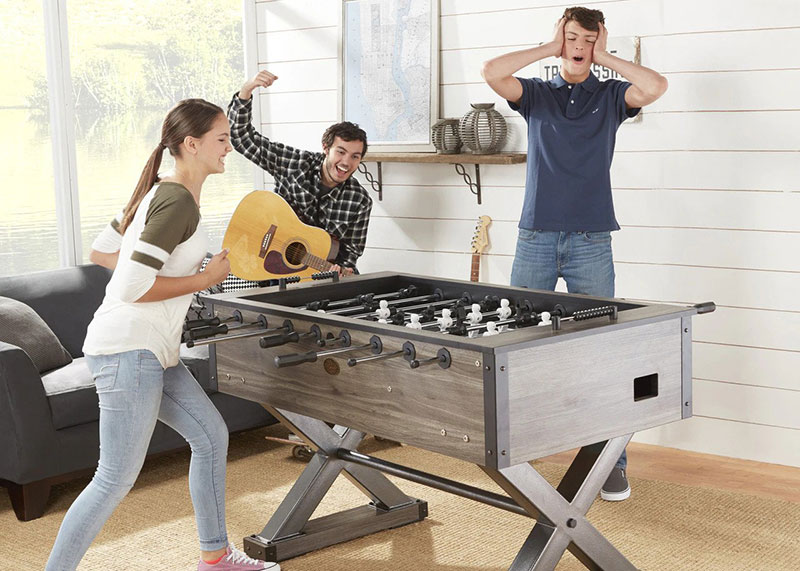 Both ends and both sides have ball serving openings. Both racks are 5/8" hollow steel chrome plated rods. ABS players are counterbalanced, and have knurled feet for enhanced ball control. Rods spin on impact and include wear-resistant bearings.
The legs are made of 3-1/8" square tubular steel and are enhanced with a steel cross brace for better stability. Leg levelers can be adjusted using the leg pads.
14. American Foosball Table
The Table is a fantastic value home soccer table that will provide years of dependable and trustworthy play. It has commercial-grade construction with a high-end, attractive oak veneer laminate on 3/4 particle board construction for durability, as well as ABS injected legs with individual leg levelers to guarantee a stable and level playing surface.
Comes with a slanted corner top for single goalkeepers or a flat corner top for three goalkeepers. It features high-performance counter-balanced polypropylene figures, medium-sized hand grips with solid chrome steel rods, and an opponent's goal ball return.
15. Imperial Butcher Block Foosball Table
The Imperial Butcher Block Foosball Table is a foosball table that mixes the speed of the game with the classic look of butcher block. The 14-inch MDF side walls and huge capped legs are covered in butcher block laminates.
The sturdy, double chrome rods have big rubber handles. MDF is used to make the playfield, which has a non-glare surface and lines that give it the appearance of a soccer pitch.
Regulation size: 55"L x 29"W X 34"H. This table is KD and requires assembly. The butcher block top and legs protect the cabinet from scratches and provide years of service. There are four balls included with it.
16. Garlando Exclusive Foosball Table
The foosball table in celebration of Garlando's 60th anniversary is intended for connoisseurs that appreciate style and elegant items, as well as the finest in foosball tables. The brushed aluminum and wood finishes, as well as the smooth finish, enhance the sleek but sturdy cabinet in an elegant wenge coating.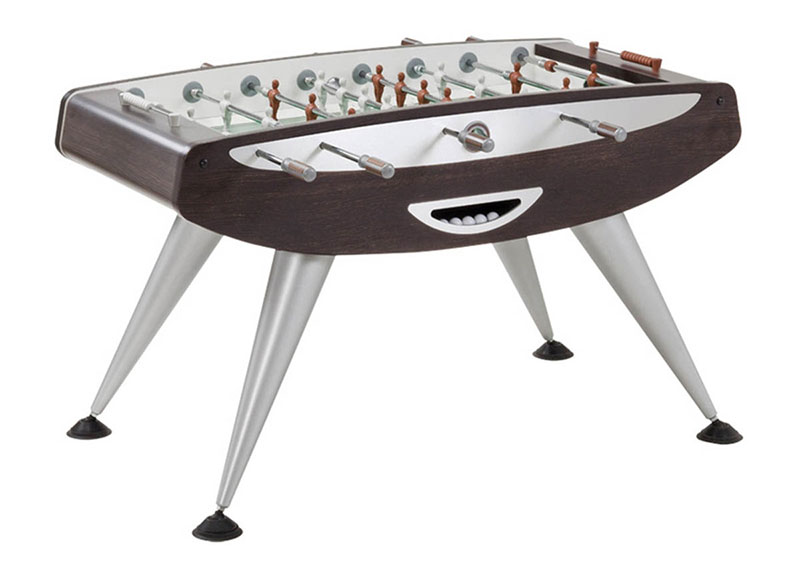 The Garlando is ideally suited for those who like to keep it clean and simple. The Garlando has all the bells and whistles: 30mm thick high-quality multilayer plywood cabinet with a wenge finish, Brushed aluminum and woodn finishing touches. There are no visible screws or plastic details to be found.
Slanted legs add an airy touch to the creation. Leg levellers are included for a smooth, flat playing field. Machine-trued hollow steel bars that have been anti-rust chromium plated and treated with high stress resistance.
17. Playcraft Pitch Foosball Table
Keep the games at home! The Pitch is a high-quality American style foosball table with three goalies and no ramps.
Men with counterbalanced weights, decent bearings, deep side aprons, built-in cup holders, bubble levelers, and tournament ball make the Pitch the best foosball table for quality and value. Assembly is necessary. The Playcraft Pitch has a tournament design ball, counterbalanced robot style men with tournament shaped feet, and adjustable leg levelers.
18. KICK Majesty 55″ Folding Foosball Table
Do you want a big foosball table but don't have the space for it? Our KICK Majesty folding foosball table has all of the features that a full-sized foosball table must have, as well as more! It comes with a folding design that allows you to store the table vertically when it isn't in use. It's a fantastic foosball table with a space-saving function and high-quality materials.
How to Choose a Foosball Table
When looking to purchase a new foosball table, there are a few factors you'll want to take into consideration.
The first is the price.
You'll want to find something that's affordable, but also fits your needs.
You'll also want to make sure you have enough space in your home for the table.
Once you've determined your budget and space constraints, you can start looking at other factors, such as the table's construction. You'll want to find a table that's well-constructed and will last for years. The table should also be stable and have adjustable leg levelers to ensure a level playing surface.
You'll also want to consider the table's design.
Some tables come with unique features, such as a built-in cup holder or ball return. You'll also want to find a table that has a smooth playing surface and is regulation size.
Finally, you'll want to make sure the table comes with all the necessary accessories, such as balls and rods.
What is Foosball?
Foosball, also called table football, is a game that can be played by two or four players. It is similar to soccer, but is played on a table with small figures that represent the players. The object of the game is to score more goals than the opponent. Foosball can be a very addictive game, and once you start playing, you may find it hard to stop.
One of the main things that will affect your foosball experience is the quality of the table you are playing on. If you are playing on a cheap, poorly-made table, you won';t have as much fun as you would if you were playing on a high-quality table. That's why it's important to invest in a good-quality foosball table if you want to get the most out of the game.
Quick History of Foosball
The history of foosball can be traced back to the early 1800s. However, the game wasn't actually invented until 1883, when John Thurston created a foosball table that could be played with four people.
In 1900, foosball was introduced to the United States at the World's Fair. The game became very popular and quickly spread to other countries.
Today, foosball is a popular game that can be played by people of all ages. The game is simple to learn but can be difficult to master.
Foosball is a game that is played with two teams of up to four players. Each team has a goalie and three players who control the rods that move the players on the table. The object of the game is to score more goals than the opposing team.
What's Regulation Foosball Table Size?
The table should be 56 inches long and 30 inches wide. This will ensure that the table is the correct size for official games.
Conclusion
If you're in the market for a new foosball table, be sure to check out some of these top-rated models. We've done the legwork, read dozens of foosball table reviews, and created a list of the best designs.
Whether you're looking for an industrial design, a professional foosball table, or a classic butcher block look, there's a table here that will fit your needs. Remember to consider the construction quality, materials used, and features when making your decision to buy a foosball table.
posted on 3/4/2022