< previous post return to index next post >
Whether it's a big promotion that has you moving to a new city, or a new passion catching your interest, big life changes are inevitable. At any given life stage there's opportunities where selling your house is a logical next step. And once you've made that decision, you can expect questionable advice from friends and family: have your home pre-inspected, move to this area, you should get chickens! Today we tackle a question we sometimes get from customers considering advice from their Realtors: Should I stage my home?
Let's knock out the tl;dr first: Um, not really.
That's a pretty short answer, and maybe a little surprising to hear from a company that sells furniture. (Actually, a company that sells amazing modern furniture perfect for staging homes for a generation of young, new buyers!) But let's get down to it. The term "home staging" is really a misnomer. It should be called "house staging." After all, most staging experts bring in new furniture, paint walls and remove any evidence you actually live(d) there. The process of making a house your home involves bringing in your personality, and your stuff! And, frankly, what Realtor's call "home staging" is the exact opposite.
With that in mind, let's consider the merits of (what we'll call) house staging: The most scientific study concludes that most buyers are savvy enough to gauge a house's value - with or without it being staged. Mark A. Lane, Michael J. Seiler, and Vicky L. Seiler published an article in the Journal of Housing research. Here's their takeaway from The Impact of Staging Conditions on Residential Real Estate Demand (emphasis ours):
We find that both homeowners and real estate agents believe staging conditions (furnishings and wall color) will significantly impact homeowners' willingness to pay for a property. Our results show that homeowners rationally do not significantly differ in their valuations based on staging conditions. However, staging conditions do influence the process, as we find a neutral wall color and good furnishings do significantly influence a buyer's perceived livability and overall opinion of the home. While these are a necessary condition for purchase, staging is not enough to result in a higher selling price.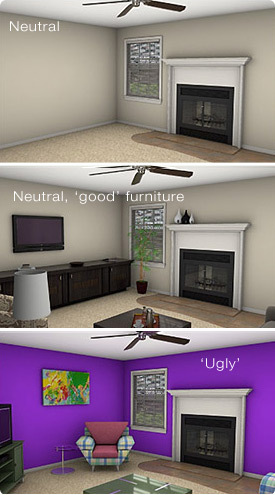 In essence, the study surveyed a swath of 820 potential homebuyers, taking them through a series of virtual home tours of a single family home. The six tours switched up the wall colors and/or furnishings, considered the two most important factors in an "effective" house staging, leaving an empty neutral house as a control. You can see a few examples at left. What may be surprising to most (especially considering how heinous that purple room is!), is that the buyers were willing to pay about the same price, regardless of the tour they saw. That said, the study's authors note that house staging likely results in your home selling more quickly. Just not at a higher price.
In some ways, these findings are counterintuitive. Surely someone would be more likely to buy your house if they love your decor, right? Marketing 101: Buyers need to picture themselves using your product. Maybe. But buyers also realize that all of your amazing stuff will be gone when they move in, and, ultimately, they're just not willing to pay more for it! Obviously, there's some caveats like if you're in a really competitive market, or if your home is in disrepair, but the costs of house staging aren't recouped through a higher selling price.
At Modern Digs, we recommend you take the approach of actually staging your home - it's called decorating! Just because your house isn't on the market today, doesn't mean it shouldn't be beautiful. If you're consistently working towards a decor that you love, your house will always be ready to sell. For most of us, life is a routine. Live, work, play... we're all looking for a general stasis at which we're content with our lives and our direction. But change is inevitable, and investing in the look and feel of your home has two benefits. First, your home becomes your personal retreat; an escape from the minutiae of the day to day grind. Second, when things change and you decide to sell your home, you don't have to rent a "look" to sell it. It will already have your amazing style. And, as an added bonus, you get to take your amazing stuff with you!
posted on 9/22/2015