< previous post return to index next post >
Unless you've been living under a rock, you probably know that American actress, Meghan Markle, recently became engaged to Prince Harry of Wales and they are set to wed on Saturday, May 19, 2018.
Maybe you have followed the royal family for years (like me), or recently became an enthusiast of all things royal after watching 'The Crown' and endlessly Googling to learn more and more.
In case you need a reminder, Prince Harry is the youngest son of Prince Charles and the late Princess Diana, grandson to Queen Elizabeth II and now sixth in line to the British throne after welcoming a new little nephew (Prince Louis) last month.
Much like Harry's mother, Meghan is a humanitarian with a kind spirit and fabulous taste in fashion. Not surprisingly, she has captured the attention of stylish women (and men) everywhere for her enviable wardrobe and playful smile.
So far, most of the items Meghan has worn since the announcement of her engagement to Prince Harry have sold out within a matter of hours. This is similar to her future sister-in-law Kate Middleton's influence on fashion, also known as the "Kate Effect".
Naturally, with all of the attention on Meghan's style, we were wondering what the inside of her home looks like. Shortly before becoming engaged, she made the move from Toronto to London to live with Prince Harry in Nottingham Cottage on the grounds of Kensington Palace.
Although we don't have access to her new space, we were able to find images from her (now deactivated) Instagram account that we used below. After pouring over these pictures of her previous space, we're sharing our insights and a few ways to get the look for yourself.
If you love Meghan's fashion sense, you'll find that her home reflects the same easy-going, yet feminine and refined taste. And if you would like to recreate Meghan's signature style in your own home, we have chosen several pieces that will do just that!
Meghan's Entryway
We begin with the entry since that is what you would see first if you were visiting. As you might have guessed, this space is welcoming and relaxed, just like Meghan herself.
Let's work from the ground up and begin with the rug she selected. The red striped rug that is placed in the foyer of her home adds some color and warmly greets visitors or offers a place for her sweet pup, Bogart, to sit. It is the perfect landing place and we have a comparable style, the Candy Rug.
It's a good idea to add a console table to the entry way to place keys or a few interesting reads and gives the space some functionality. Meghan selected a live-edge console table, which adds an organic element and unique style. Our Biotic Console Table will give you the same distinct look and you can even add a few books and a vase of peonies (which seem to be Meghan's favorite flower) for a fresh look.
Above the console table, Meghan placed a piece of art with a majestic looking tree to further add to the natural and stylish elements in her home. Our framed Verdure print will evoke the same feel and works well with the Biotic Console Table, too.
And finally, in one image we can see a rustic looking wall mount, which we think is a great way to add some depth to an otherwise plain wall. Although our Longhorn Wall Decor is a bit more polished, we think it is perfect in a modern space.
Now we move on to the living room where you would normally head to take a seat and catch up.
From the top picture you can see that Meghan started out with a cow-hide rug in her dining space, that she eventually moved to the living room. Each of these natural hide rugs has a distinctive pattern and texture, plus they are stain-resistant so they are perfect for high-traffic areas. Our Sweeny Rug in brown and white is a dead-ringer for Meghan's cow-hide rug.
Meghan chose to place a few poufs in her living room which we think is smart - they can each work as an ottoman or, in a pinch, they can provide extra seating. Because poufs come in many different styles, colors and materials, they're a great way to easily change up the look of your room. To get the look, we suggest the Jude Pouf and Cloud Sheepskin Pouf since they are nearly identical to Meghan's picks.
A soft and inviting sectional anchor's Meghan's living room. A white sofa can be a bit challenging to keep clean, especially with pups, but they have such a great look. We don't carry the same type of sectional as Meghan's, but our Elizabeth Sectional Sofa has clean lines that make it a great choice for any living room.
Since Meghan's pups like to sleep on the sofa, she keeps a cozy throw handy for them to curl up in. The gray and white striped throw works well with her love of white and neutral colors and you can get a nearly identical style with the Guy Striped Throw.
Meghan's Living Room
Meghan's Dining Room
Moving on to the dining room, we find more of the neutral colors and elegant styles that Meghan loves.
The cream and charcoal diamond patterned rug that is placed under the dining table adds softness and interest with the plush pile and contrasting colors. This rug would also be perfect for the living room because it is ideal for lounging. Our version is aptly named the Markle Shag Rug.
The Mid-century, oval-shaped tulip table in Meghan's dining room is perfect for hosting gatherings of friends, family or both. With a grey and white marble top, we see more of the natural elements that Meghan prefers. We don't have a marble topped version, but our Echo Dining Table will be just as stylish.
We love that Meghan chose to mix up her dining chairs rather than opting for one style. Again, the selected chairs keep with the white and natural theme found throughout her home. We carry the Earnest Dining Chair, Charlene Dining Chair and the Seraphina Sheepkin Rug (to drape over the back of the chair) to give you the same soft and natural dining look.
To glam up the space a bit, Meghan chose a bar cart which also serves as a convenient storage space for a dining room on the smaller side. It can house decor on top and beautiful bottles of your favorite liquor on the bottom making it a wonderful piece to add to your collection. We love the Princess Bar Cart and think Meghan would approve.
The pendant hung above the dining table helps to illuminate the space and add some sparkle and shine. We love the look of Meghan's pendant and although we don't carry an exact match, we think the Enzo Pendant Lamp would be a great choice.
As for the art, Meghan chose the Gray Malin Coogee Beach Horizontal print which is an aerial view of a beach setting. Here's what she had to say about it:
"My mom bought me my first Gray Malin print 7 years ago but Coogee Beach Horizontal is the specific piece that felt like the ray of sunshine I needed in my Toronto pied-à-terre to warm the space especially on chilly days."
We don't have an exact match to this piece, but the Beach Day and Pool Day canvases can pair together to create a similar color palette.
Or if you love the look of the beach print, our Fun In The Sun framed print (not shown) is a fun piece you might want to try so that you are able to capture the same essence of a warm and sunny setting.
Complete the look of your Meghan Markle-inspired dining space by adding a large fiddle-leaf fig or bird of paradise plant and a simple table decoration like the DNA Table Decor.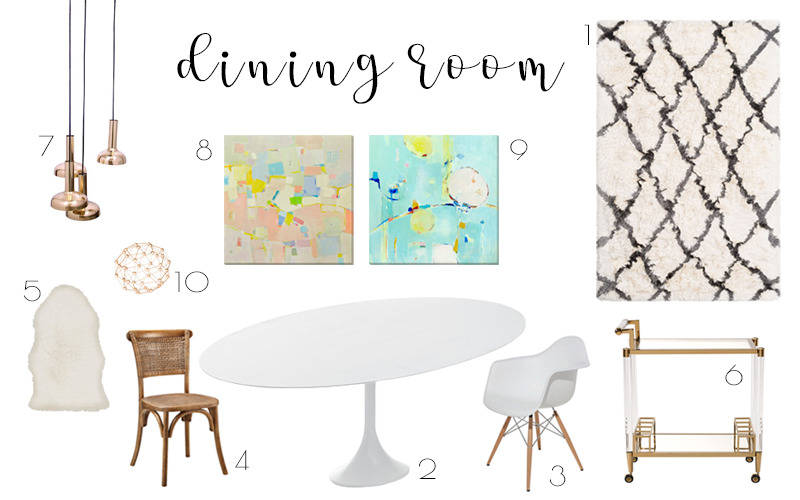 Meghan's Bedroom
Heading upstairs, we found some images of one of Meghan's bedrooms and we love the simplicity and minimalist feel.
Although we are not able to see the floor in any of the pictures, we're guessing that she would have had a rug to cozy up the space. Since we know that Meghan is a fan of white decor, we've selected the Seraphina Sheepskin Rug to fit with her overall bedroom design. The Seraphina offer a luxurious look and feel that would be a welcome addition to any bedroom.
The wood color of the bed and the subtle design give a light and airy feel to this space since it is the focal point of the room. Adding white bedding makes the room a soft and comfy place to sleep. Just ask Guy, her beagle companion! We think our copy-cat Sienna Bed will give your bedroom just the right touch.
Meghan adds a patterned pillow to the bed, which we think brings some contrast in an otherwise stark space. To get the look try the Ode Global Pillow and mix things up a bit.
For an extra layer of warmth and comfort, it is handy to keep a throw draped over you bed and we love that Meghan picked something neutral to add a little color to the white motif. Made of 100% mulberry silk, our Thalia Throw will give you the same opulence.
Meghan chose a small table to go along the bedside and it is a nice way to keep the look clean and uncluttered, as opposed to a larger nightstand. A side table instead of a nightstand can be difficult to keep up, so it is a practice in minimalism. We've selected the Marquee Side Table as a comparable style.
Above the bed, Meghan showcases a gorgeous Inslee Fariss character study with a striking contrast between the creamy background and lounging female figure. It is an elegant piece that perfectly complements the feminine bedroom. Our Ashley canvas wrap has a bit more color and definition, but we think it is the perfect modern take on a character study and will look stunning when hung above a wood or upholstered headboard.
In a photo from Meghan's Instagram account, we noticed a round mirror hanging in one of the bedrooms and although we can't find the exact image, we know enough about her taste to choose something she would pick. Meghan likes to mix metals with white and neutral shades, so we think the Goodman Wall Mirror would be just right for this space.
Wrapping It Up
We love the pieces that Meghan chose for her home, just like we love her taste in fashion. Ever since her engagement to Prince Harry and in preparation for her life as a member of the royal family, we've seen Meghan's personal style evolve from casual cool to sophisticated elegance.
This evolution makes us wonder how moving to Nottingham Cottage with Prince Harry and into a (likely) more traditional setting has affected her design preferences. How are the soon-to-be-newlyweds blending Meghan's feminine chic with Harry's masculine classic?
One thing's for sure, they won't be posting pictures on Instagram, which means we'll probably never know. We can only imagine their home together perfectly complements both of their tastes, just as nicely as they complement one another. Cheers to the happy couple!
posted on 5/16/2018