< previous post return to index next post >
Nobody expects you to completely overhaul your home each season (though wouldn't that be amazing?!?), but as these three bedrooms prove, just a few key pieces can make your bedroom feel fall-fabulous. The three palettes are absolutely autumnal - while avoiding the color scheme of an elementary school fall leaves construction paper art project - and the best part is, they're totally adaptable for the rest of the year. Gorgeous, modern-yet-timeless furniture is key here: furnish your bedroom with a bed, dresser, and nightstands that you completely adore, then subtly adjust the accessories as the seasons progress. Right now, it's time to surround yourself with warm colors and textiles that will make you thrilled it's finally fall!
Fall Foliage
Bring the fleeting beauty of fall foliage indoors by adding warm-hued art and textiles to your bedroom. The warm, honeyed hues of the Currant Bed, Watson Table Lamp, and Currant Nightstand blend perfectly with the reds, golds, and oranges, but will also look amazing with a cool winter palette of greys and whites. The green pillow and pouf (along with the green in the painting and bedding) keep things from being too aggressively autumnal and are a lively reminder that spring will come again.
Rich Jewel Tones
Autumn is arguably the most glam season of the year: cool enough to wear fabulous sweaters, coats, and capes in velvets and wools, yet warm enough to wear them with aplomb. (Come winter, it's all about survival over style.) Embrace the luxuriousness of the season by outfitting your bedroom with decadent pieces in deep, sumptuous hues. In the winter, add more reds, and in the spring and summer, trade in accessories that bring out the blues and greens of the duvet. The bed, bench, dresser, and nightstand will look regal and classic, no matter what they're paired with, no matter the season.
Southwestern Gold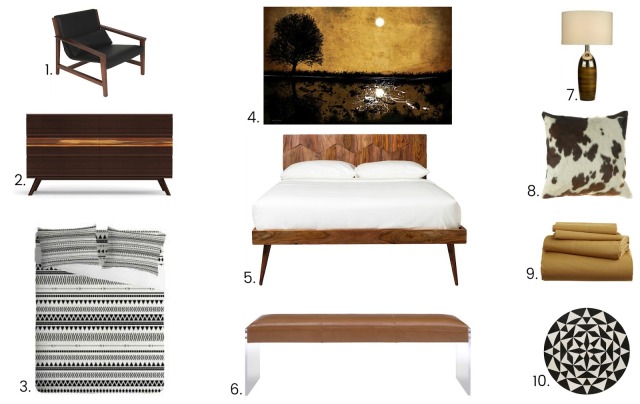 Get toasty with the golden hues of a Southwestern sunset - think campfires, perfectly toasted marshmallows, perfectly worn-in leather boots, and amber waves of grain. The black and white duvet and rug provide a graphic pop, the various caramel hues feel warm, and the lucite bench and clean-lined furniture prevent this style from veering into Wild West. Bonus: black, white, leather, and wood are the perfect foundation for almost any aesthetic. For winter, add a sheepskin pillow and pouf, and come spring, replace the landscape with Metro Graffiti artwork, swap in the poppy Zoey lamp, and add some neon sheets and throw pillows.
posted on 8/31/2017