< previous post return to index next post >
No home is complete without a modern coffee table. They're often the focal point of any area they're placed in! Coffee tables are a great place to set down drinks or other items while you're sitting on the sofa, and many even have hidden storage. Plus, they add decor value while balancing out any sitting area. It's important that the coffee table you choose goes with your already existing home decor to create a well-rounded, aesthetic space, whether that be by complementing existing colors and furniture or creating a statement piece.
Finding the perfect coffee table design can be stressful. That's why we encourage you to choose one of our favorite modern coffee table designs. Modern coffee tables have sleeker, simpler designs that complement any space or decor. Whether you have a contemporary home or a vintage design, a modern coffee table is the perfect choice for your space.
At Modern Digs, you'll find the best coffee table designs on the market. We want your home to be flawless. We have selections of coffee tables ranging from wood, glass, metal, nesting tables, and more. Look through our sixteen best coffee tables to find your new match, and keep reading for tips on which coffee table would look best in your home.
Our 16 Best Modern Coffee Tables


Rhody Coffee Table with Storage
This sleek design is made of solid Moso bamboo. It's available in three different finishes for optimal choice. This low to the ground coffee table with storage is extremely functional, with not only a hidden storage space but a lift-top design that allows you to extend the height of the table. One of the best coffee tables on the market, the Rhody Lift Top is ready for your home.
Hank Glass Coffee Table
The Hank Glass Coffee Table has a glass table top and solid hardwood base. Rounded coffee tables are a perfect way to add a touch of modern elegance to your space while still maintaining a high level of functionality. Because of the simple design, this coffee table fits perfectly in nearly any living room, family room, or other living space.
Click Here for EXCLUSIVE SAVINGS on Your New Coffee Table!
Beckenham Rectangle Coffee Table
Unique, modern, and sleek, the Beckenham coffee table is absolutely beautiful. Designed primarily with a white lacquer finish, the table's design is completed with a wood accent, adding a natural touch to the glamorous design. This large, low-sitting coffee table is great for a touch of elegance or a bit of eclectic-ness.
Athens Industrial Coffee Table
This table has a wonderfully elegant industrial design. Made of stainless steel, the Athens coffee table captures the modern minimalism and industrial aesthetics perfectly. The table is rectangular in shape, with lots of surface area for storage and decorations. Add the Athens to your home space for a bold statement piece.
Click Here for EXCLUSIVE SAVINGS on Your New Coffee Table!
Berkeley Nesting Coffee Tables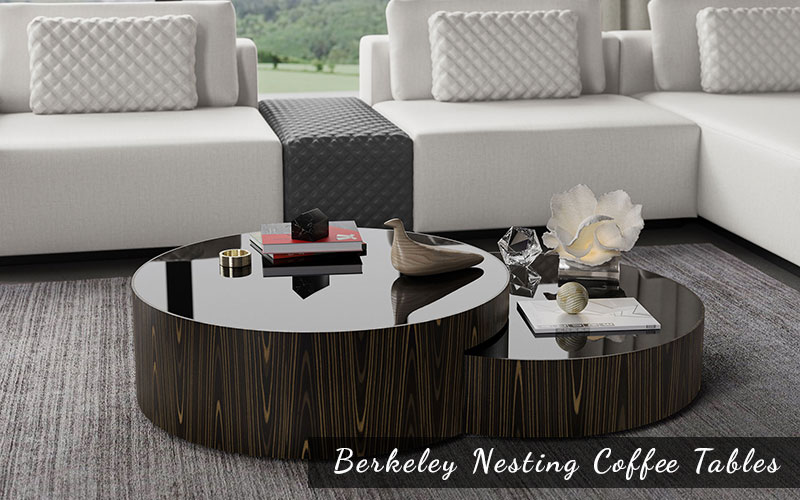 Nesting coffee tables have been rising in popularity. Nesting tables not only provide large amounts of surface area, but have a contrasting design that works well as a functional addition to any sitting area. The Berkeley Nesting Coffee Tables come in either white or black.
Gaultier Oval Coffee Table
If you're looking for a minimalistic piece that still manages to stand out in any space, the Gaultier design is for you. The table is available in circular or oval designs with finishes in steel, gold, or graphite black. Your new Gaultier modern coffee table design will complement any sitting area.
Click Here for EXCLUSIVE SAVINGS on Your New Coffee Table!
Constance Concrete Coffee Table
If you are looking for a bold, artistic coffee table to add to your home, the Constance is the perfect choice. Inspired by the Bauhaus school of design, this concrete table has trendy concrete, glass, and sculptural elements. This table is perfect for anyone who is a true artist at heart!
Como Modern Coffee Table
The Como coffee table design is simple and contemporary. The table has a glass top and a base that comes in either walnut, brushed gold, or polished stainless steel. Its geometric base adds style to any room and can be perfectly placed between any furniture.
Click Here for EXCLUSIVE SAVINGS on Your New Coffee Table!
Lydia Mid Century Coffee Table
This design is absolutely beautiful. With a white or walnut oval top and your choice of a rose gold, gold, white, or black base, you can find a way to incorporate the Lydia into any space in your home. It's the perfect white coffee table for your space!
Leona Minimalist Coffee Table
The Leona coffee table is one of the sleekest, simplest designs on the market. It comes in graphite, gold, or stainless steel, and is designed to allow for a side table to nest within it. The top of this table is circular, and it is simple and streamlined enough to work in any office, living room, or lounge area.
Click Here for EXCLUSIVE SAVINGS on Your New Coffee Table!
Aubrey Mid Century Modern Coffee Table
This modern and abstract design is great to add to a more simple, subtle space. The abstract-shaped top is made of glass, and the base is a walnut-stained wood. The Aubrey calls on design inspiration from both mid-century and Japanese home aesthetics, and pairs well with any home design.
Adelphi Nesting Modern Coffee Tables
These nesting coffee tables have an elegant and impressive design. Forming a figure-8, the glass top tables will become the focal point of your area. The Adelphi comes in four colors/textures: ice glass, black crocco, black glass, and white crocco. Choose glass for a smooth and shiny top or crocco for a leathery texture!
Click Here for EXCLUSIVE SAVINGS on Your New Coffee Table!
Adeline Round Coffee Table
If you're looking for a statement piece for your living room that incorporates terrazzo, the Adeline is the coffee table for you. With a circular black top and confetti or flamingo pink concrete bottom, this table is sure to be the statement piece in any room.
Celeste Marble Coffee Table
To add elegance to any space, you need the Celeste coffee table. This table has black or white marble top with stainless steel or gold legs. It's elegant, glossy, sleek, and everything you need to make your living space perfect.
Click Here for EXCLUSIVE SAVINGS on Your New Coffee Table!
Shubert Coffee Table
Modern and beautiful, the Shubert coffee table takes your typical table to the next level. The Shubert features one raised wooden surface, resting at arm level, complemented by a lower circular top with a larger surface area. It's functional, pretty, and perfect when used with the matching accent tables.
Costa Glass & Wood Coffee Table
If you need a functional, stable coffee table for your living room, this is the choice for you. The Costa is a glass top coffee table with a geometric wood base. The modern, functional design is a great choice for anyone.
Click Here for EXCLUSIVE SAVINGS on Your New Coffee Table!
How Do You Choose the Perfect Modern Coffee Table for Your Space?
Choosing from a list of sixteen coffee tables can feel impossible. Understanding what design complements your space isn't easy. To help, we've outlined a few tips for choosing the best modern coffee table for your area.
Choose Based on Color Scheme
Choosing based on color scheme can be very helpful. Your space most likely already has a determined color scheme. Your coffee table can either match with the colors in your living room or complement the colors that are there. Consider:
If you have bold bright colors in your living space, you could choose to buy a more subtle, simple coffee table. This is a great way to complement a space that has a lot going on. For example, if your living room is full of bold paintings, artwork, and colorful furniture, you could purchase the Como to offset these bright and bold designs.
If you have lots of color in your living space, you could also choose to complement these colors by adding in another bold piece of furniture. Choose one of your accent colors and buy a coffee table in this color. The Adeline is a perfect choice to make your space even more bold.
If you have subtle, minimalistic colors in your space, consider adding a brighter colored table or statement piece. This can add color and excitement to a living room that's otherwise more minimalistic. The Lydia is a fantastic way to add a touch of color to an otherwise simple room.
If you want a calming color palette in your space, consider adding a coffee table that complements this with more simplicity. If you prefer simple and minimalistic colors, purchasing a coffee table that doesn't add too much excitement can be perfect. The Hank is a great choice for this.
Choose For Aesthetic
Buying a coffee table to match the aesthetic of your home is one way to round out an existing space. Most likely, you have already determined what sort of aesthetic you want in your living space. Here at Modern Digs, we love modern and mid-century style, but we have designs that will fit into a variety of different aesthetics: minimalism, maximalism, glam, industrial, and more!
If you prefer a minimalist aesthetic, we have several modern coffee table options. Minimalism is full of simple, sleek designs that keep a space functional yet beautiful. Our minimalist coffee table designs include Rhody, Athens, and the Gaultier design selections.
If you have a maximalism aesthetic, you're more than ready to add another statement piece to your space. Maximalism is full of bold and bright colors, eclectic designs, and art deco-inspired pieces of furniture. We have several coffee table selections for you, including the Adelphi, Adeline, Constance, and Aubrey.
If you prefer elegant design choices, then you may prefer to keep your coffee table sleek, stylish, and tasteful. Your space isn't complete without one of our elegant modern coffee tables, including the Como, Lydia, Celeste, and Shubert.
If you have a taste for an industrial aesthetic, we have several coffee tables that will fit your interest. Industrial style choices include inspiration from factories, old buildings, and other industrial spaces. Our industrial coffee tables have these wood and metal elements, including the Athens, Gaultier, and Leona.
Choose For Functionality
Sometimes, choosing a coffee table is all about the functionality of the piece. It's important that you have a table that will fit your exact needs. You may want storage space, surface area, or prefer a certain size. Consider:
For storage space, purchase the Rhody Lift Top coffee table. This table has a great amount of hidden storage space and even lifts up for additional surface area. If you have a small living room or lack storage area, this is a great addition.
For surface area, purchase the Berkeley, Adelphi, or Beckenham. The Berkeley and Adelphi coffee tables are great choices because nesting tables provide large amounts of surface area. The Beckenham is one of our larger options, which also provides great amounts of surface area for your coffee table needs.
For a versatile, functional size, choose the Costa coffee table. This modern table has a sleek circular design that will fit perfectly in nearly any space. It's a great way for you to add a coffee table without having to worry about where it will fit.
Find High-End Coffee Tables at Modern Digs
Here at Modern Digs, we have the perfect coffee table for you. Our high-quality modern coffee tables are waiting to complete your living space. With free delivery and the highest quality furniture, Modern Digs is ready to help you furnish your home to perfection!
posted on 6/9/2021