< previous post return to index next post >
Let us help complete your living room with the perfect modern coffee table!
As you know, aside from your sofa, having the right coffee table can make or break your space. Below, we've gathered our favorite coffee table options for 2022. Everything from a white marble coffee table to a cool, affordable bentwood design.
Read on! We're confident one of the coffee tables below will be the ideal design centerpiece for your home!
Our 22 Best Modern Coffee Tables
Hubert Coffee Tables
Looking for coffee table options that are as unique as you? Look no further than the Hubert coffee table. This beautiful two-piece set is crafted with the artist in mind, paying homage to the Art Deco period with its innovative geometric design.
The smooth surface gradually narrows, resulting in an eye-catching look that will instantly elevate your living space. Plus, the bold contrast colors and materials of the Hubert coffee table make it a true statement piece.
Whether you're looking to add a pop of color or simply want a furniture piece that will evolve with your ever-changing style, the Hubert coffee table is perfect for you. Welcome it into your home today and enjoy a furniture experience like never before.
Athens Industrial Coffee Table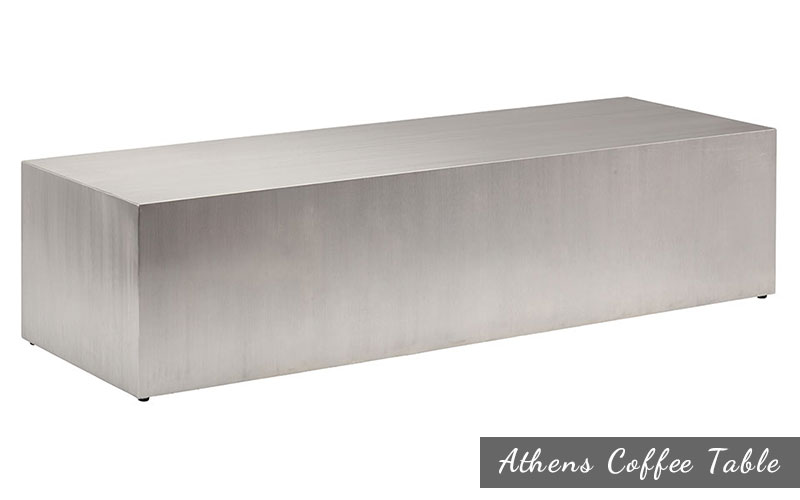 Looking for metal coffee table options that can make a statement? Look no further than the Athens Industrial Coffee Table! The sleek, brushed steel finish and simple shape offer a bold contrast to your living room furniture, making it the perfect anchor for your space.
Whether you're going for a modern or industrial look, this coffee table is sure to give your room the boost it needs.
Flynn Coffee Table
Or perhaps you're considering modern, industrial-style coffee table options? Look no further than the Flynn Coffee Table! This chic table is constructed from commercial grade stainless steel and finished in a high polish chrome.
Flynn features a 3/4" thick rectangular top and asymmetrical lines for a unique look. The Flynn Coffee Table is perfect for any setting - from your office waiting room to your mod living room.
Scissor Storage Coffee Table
The Scissor Storage Coffee Table is the perfect addition to any modern home. Its sleek, minimalist design is complimented by its functionality; the table opens up to reveal plenty of storage space for all of your living room essentials. Plus, its light grey high gloss finish is absolutely stunning.
The cleverly designed hinged ends allow you to easily open up the table and access the storage cubbies on each side.
It's the perfect way to keep your living room looking neat and tidy. So go ahead and declutter your space with the Scissor Storage Coffee Table.
Berkeley Coffee Table
The Berkeley Coffee Table is the perfect way to add a touch of luxury to your living space. Featuring a gorgeous crocco leather base with detail stitching outlining each panel, it's topped with a matching painted glass top that gives it a light and airy feel.
This statement piece is perfect for any modern living room, lounge area, or professional space.
Constance Concrete Coffee Table
If you're looking for a coffee table that makes a statement, the Constance Concrete Coffee Table is the perfect piece for you. Inspired by the lines and shapes of the Bauhaus school, this coffee table gracefully blends together elements of art deco, 70's smoked glass, and urban concrete into one cohesive design.
The Constance coffee table boasts a floating top supported by four sturdy powdercoated metal legs. There's also a cut-out accent space that adds a touch of softness to the overall look.
But don't be fooled by its delicate appearance - the Constance is strong and durable, just like any good coffee table should be!
The Constance Concrete Coffee Table is sure to give your space an upscale, trendy feel that you and your guests will love.
Gaultier Oval Coffee Table
Looking for a coffee table that's chic, stylish, and mid-century modern? Look no further than the Gaultier Coffee Table! This beautiful table comes in either a circular or oval shape, and boasts a stainless steel frame that's been vacuum plated and finished in your choice finish.
Whether your space is large or small, the Gaultier Coffee Table is the perfect accent piece.
Rhody Coffee Table with Storage
Who says being productive and having a stylish home can't go hand-in-hand? The Rhody Lift Top Coffee Table lets you have the best of both worlds. This sleek and stylish coffee table is made of solid Moso bamboo, and it's available in three different finishes to match any decor.
But the real beauty of this coffee table is its functionality. The lift-top design lets you extend the height of the table, so you can use it as a worksurface or dining table. And the hidden storage space is perfect for tucking away anything you want to keep out of sight.
Hank Glass Coffee Table
Who says style and functionality can't be beautiful? The Hank Glass & Wood Coffee Table is the perfect example of form and function working together in harmony.
This stunning wooden coffee table is crafted from solid hardwood with a rich American Walnut or stained Ash finish, and features a mesmerizing base which is revealed through the clear, tempered 1/2" think top.
Hank is one of our favorite glass coffee tables, and is sure to become your new favorite piece of furniture.
Aubrey Mid Century Coffee Table
Looking for one of our favorite wood coffee tables that's both stylish and modern? Look no further than our Aubrey Coffee Table!
This beautiful glass and wooden coffee table combines contemporary Japanese inspiration with mid-Century modernism to create a balanced, fluid design that is sure to impress. The Aubrey is crafted with a solid Ash wood base stained a beautiful Walnut and topped by a 3/4-inch clear top.
The Aubrey's rounded triangular design and abstract sculptural frame are bound to pair well with your keen design sense.
If you're on the hunt for a modern solid wood and glass coffee table that creates an open, natural feel in you home, look no further than Aubrey!
Lydia Oval Tulip Coffee Table
The Lydia Oval Tulip Coffee Table is a beautifully designed piece that reflects a seamless organic shape and timeless form. This coffee table has become a symbol of modernism for the past 60 years, making it one of the easiest coffee table options to fit in any home.
The base and dimensions are true to the original specifications, while the table's oval-shaped top and tapered metal base are carefully finished with a chip-resistant finish.
Rosemary Bamboo Coffee Table
If you're looking for wood coffee table options that will start a conversation, the Rosemary Bamboo Coffee Table is for you. With its sleek, retro-inspired design, this eye-catching piece is sure to turn heads.
The top is made from bamboo with a distinctive natural grain, while the legs are angled for a visual impact.
Como Glass Coffee Table
Looking for a coffee table that will make a statement in your living room? Look no further than the Como Coffee Table!
This ultra modern metal or wood coffee table has a 12mm tempered top that rests on a polished stainless steel, or walnut stained solid American Ash base. The jagged and geometric design of the Como coffee table is sure to turn heads and start conversations.
And with three points of contact on the floor and the glass, you can rest assured that your Como table will be stable and secure.
Leona Minimalist Coffee Table
One of our favorite mid Century coffee table options, the Leona Sleek Metal Minimalist Coffee Table is the perfect addition to any modern home.
Its metal finish and minimalist design are sure to catch the eye of anyone who enters the room, and its ergonomically intersected steel legs allow it to nest side by side with the matching side table (sold separately).
This round coffee table is perfect for small living spaces and is sure to be the center of conversation in any room.
Adelphi Nesting Coffee Tables
These nesting coffee tables have an elegant and impressive design. Forming a figure-8, the glass top tables will become the focal point of your area. The Adelphi comes in four colors/textures. Choose glass for a smooth and shiny top or crocco for a leathery texture!
Celeste Marble Coffee Table
Looking for modern and stylish marble coffee table options that will elevate your interior design? Look no further than the Celeste Marble Coffee Table!
This unique piece features a geometric steel base and an intricate wood-like marble top, creating a contrast that is sure to turn heads.
Not only is the Celeste Black or White Marble Coffee Table aesthetically pleasing, but it is also built to last. The steel base is durable and sturdy, while the marble top is smooth and cool to the touch.
Whether you're looking for a state-of-the-art conversation starter or a timeless classic, this marble coffee table is the perfect choice for you.
Scout Round Coffee Table
For the mid-century modernist who wants to add a touch of chic retro style to their living room, the Scout Coffee Table is the perfect choice.
This stylish piece features a round white lacquered MDF top and three legs for a perfect balance. It's perfect for displaying your favorite coffee table book, flowers or even your kid's latest sculpture.
Gracy Square Coffee Table
Looking to add a touch of modern elegance to your home? Look no further than the Gracy Square Coffee Table. This unique piece features a sleek design with straight lines and a tubular stainless steel frame.
What really sets the Gracy apart from other coffee tables is its striking clear top. The clear glass provides the perfect surface for displaying your favorite books, magazines, or decorations, while the steel frame ensures that this table will stand the test of time.
Pilar Wood Coffee Table
The Pilar Wood Coffee Table is a classic piece that will add a touch of elegance to any home. The top and legs are shaped by molding thin wood veneers under heat and pressure, resulting in a unique and beautiful table.
The table features eight-ply legs and three hardwood inner plies sandwiched between your choice of four natural face veneers, providing both style and durability.
Tabitha Coffee Table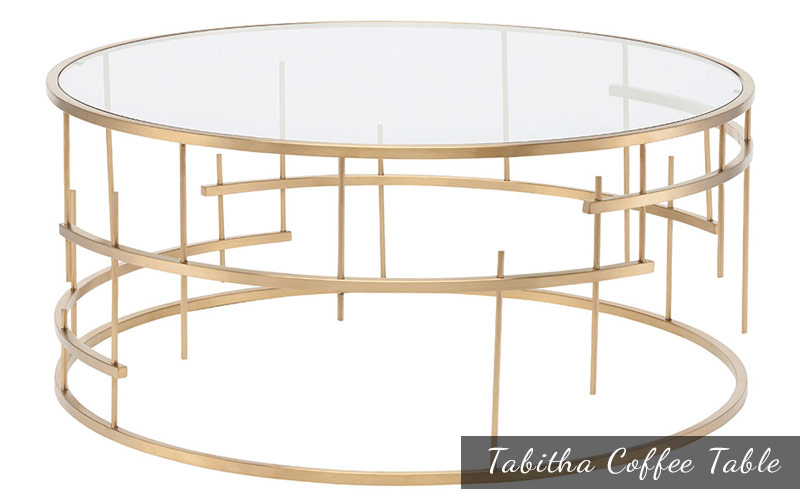 Our Tabitha Coffee Table is the perfect example of early modernism at its finest. The delicate cross-hatching of the stainless steel frame is elevated by the 1/2 inch clear top, creating a light and airy feel that is perfect for any home.
The geometric play of horizontal and vertical bars in a curved pattern is both elegant and stylish, making this one of our coffee table options that's a true conversation starter.
Milani Marble Coffee Table
Add a touch of luxury to any room with one of our Milani Marble Coffee Tables.
This sleek and sophisticated table features a minimalist design in steel and inlaid marble that is both stylish and timeless. The clean lines and simple aesthetic make it the perfect addition to any room, whether you're looking for a sophisticated centerpiece for your living room or a modern accent for your office.
The Milani coffee table is also incredibly versatile, thanks to its sleek form and durable construction. With its chic marble top and elegant steel frame, the Milani black or white marble coffee table is sure to make a statement in any setting.
Corinne Square Coffee Table
If you're looking for a coffee table that's both stylish and functional, look no further than the Corinne Square Coffee Table.
This unique piece features a sleek steel frame and an inlaid marble surface. The rectangular basin is perfect for holding drinks or decorations, and the contrasting materials make this table truly one-of-a-kind.
Whether you're entertaining guests or just relaxing at home, the Corinne coffee table is sure to make a statement.
How to Choose the Perfect Coffee Table?
Choosing from a list of coffee tables can feel impossible. Understanding what design complements your aesthetic isn't easy. To help, we've outlined a few tips for choosing the best coffee table for your area.
Choose Based on Color Scheme
Choosing based on color scheme can be very helpful. Your space most likely already has a determined color scheme. Consider:
If you have bold bright colors, you could choose to buy a more subtle, simple coffee table. This is a great way to complement a room that has a lot going on. For example, you could purchase the Como to offset bright and bold designs.

If you have subtle, minimalistic colors in your home, consider adding a brighter colored table or statement piece. The Lydia is a fantastic way to add a touch of color to an otherwise simple room.

If you want a calming color palette, consider adding a coffee table that complements this with more simplicity. The Hank is a great choice for this.
Choose For Aesthetic
Buying a coffee table to match the aesthetic of your home is one way to round out an existing design. Most likely, you have already determined what sort of aesthetic you want.
Here at Modern Digs we have designs that will fit into a variety of different aesthetics: minimalism, maximalism, glam, industrial, and more!
Minimalist: consider Athens or Gaultier

Maximalism: add another statement piece to your area like Adelphi or Constance.

Elegant design choices: keep your coffee table sleek, stylish, and tasteful. Consider the Como, Lydia, Celeste, and Corinne.

Industrial: Our industrial coffee tables have wood and metal elements, including the Athens, Gaultier, and Leona.
Choose For Functionality
Sometimes, choosing a coffee table is all about the functionality of the piece. It's important that you have a table that will fit your exact needs. Consider:
For storage: choose one of our storage coffee tables like Rhody or Scissor.

For surface area: choose a larger table, or a nesting set like the Adelphi.

For a versatility: choose a classic design like Aubrey or Hank. It's a great way for you to add a coffee table without having to worry about where it will fit.
Conclusion
Here at Modern Digs, we have the perfect coffee table for you. Our high-quality modern coffee tables are waiting to complete your living room. With free delivery and the highest quality furniture, Modern Digs is ready to help you furnish your home to perfection!
Updated 10/7/2022
posted on 9/7/2022