< previous post return to index next post >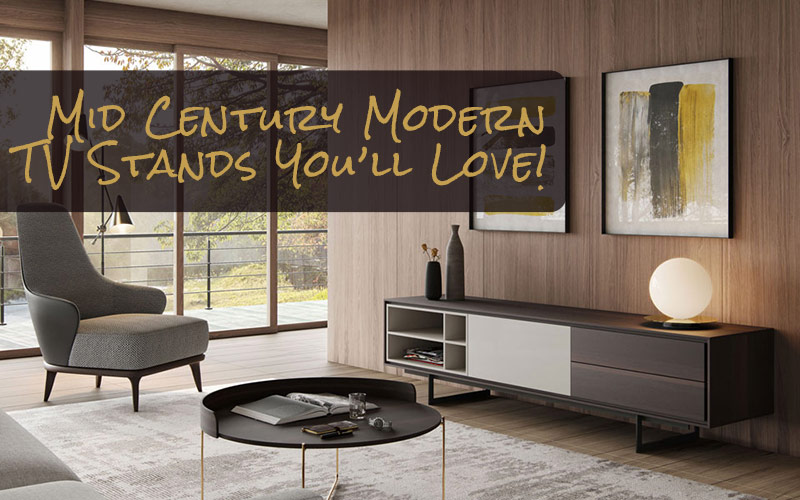 Mid Century Modern TV Stand Designs are all the rage these days. With their sleek lines and minimalist aesthetic, they can add a touch of sophistication to any living space. From traditional wood finishes to modern metals and plastics, there is a style for everyone.
So, whether you're getting ready for the big game at Thanksgiving, or just want to binge some Netflix in style, we've got you covered!
The 10 Best Mid Century Modern TV Stand Designs!
Stephen TV Stand
Looking for a TV stand that perfectly combines mid-century style with modern practicality? Look no further than the Stephen Mid-Century Modern TV Stand! This 6-foot design has 6 full extension drawers and wire management holes, making it the perfect base for your media components and television.
Plus, the sleek design is sure to complement any décor. So why wait? Give your living room space the stylish entertainment center it deserves with the Stephen MCM TV Stand!
Marlon TV Stand
From the mid century era of atomic decor comes our Marlon TV Stand, fit for Don Draper himself! This cabinet, made of smooth walnut wood grain laminate over durable particle board, features tapered dowel wood legs and white lacquer finished drawers.
The silver shine of the cabinet pulls sets the whole look off, especially when paired with your flat screen TV and seasonal decor.
Maarten Mid Century TV Stand
Looking for a sleek and stylish wood TV stand that won't break the bank? Look no further than the Maarten! This chic piece of furniture is perfect for any contemporary living room. Maarten features a built-in track and two sliding doors, providing ample storage space for all your media accessories.
The cord management system ensures that all your cords are neatly organized, while the mint and cream drawers add a pop of color to your décor. The solid poplar base and brass-capped tapered legs complete the look of this stylish mid century modern media console. Pair Maarten with one of our favorite modern accent chairs, and you're all set!
Drift TV Stand
Looking for a TV stand that is both stylish and functional? Look no further than the Drift! Made with a sleek grey or white gloss finish and thick tempered glass, this mid century TV stand is sure to elevate your space. The wide open shelving provides ample storage for your media components and accessories, while still allowing you to show off your favorite home accents.
Whether you're looking for a modern touch or a more traditional look, the Drift TV Stand is the perfect addition to any room.
Helena TV Stand
Looking for a glamorous, flexible entertainment center? Look no further than Helena! Helena boasts a stunning tiered design with a contrasting top and bottom unit, allowing it to fit in any type of interior decor. The top portion can be moved left or right to create just the perfect scale in your living area. Plus, inside you'll find four spacious drawers with thin silver pulls that slide out smoothly.
Whether you place your TV on top or hang it on the wall, the Helena TV Stand will be a true highlight of your living room!
Loren TV Stand
We are absolutely in love with the Loren TV Stand! This chic piece is perfect for modern homes, and is filled with both substance and style. The two-tone wood grain base and solid colored drawer fronts add a natural and minimalist touch that we simply adore. And, the ample drawer and shelf space is perfect for storing your game system or Blu-ray and discs.
We think it's worth it for the stealthy storage alone! Trust us, the Loren TV Stand is a must-have piece that you will absolutely love.
Baxter Media Cabinet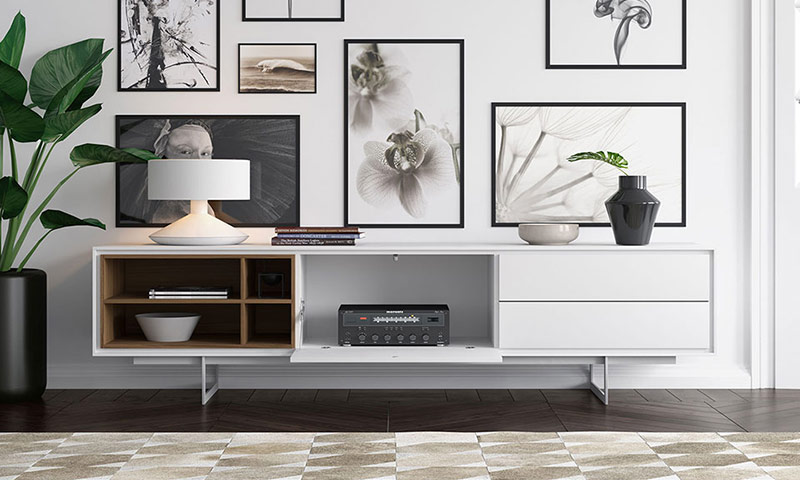 Introducing the Baxter from MODLOFT - the perfect way to add a touch of sophistication to your home. This stunning mid century modern design combines the best of form and function, with its carefully considered blend of warm wood veneer and beautiful matte lacquer open shelves.
The drop-down door is the perfect place to store your TV components, while the two soft-close drawers provide plenty of storage for all your other needs. The open shelving on Baxter's left side is the perfect place to display your modern accents. And all you need to do is choose your favorite finish combination!
Finally, the slim powder coated legs add the perfect finishing touch. So don't wait any longer - order your Baxter TV Console today!
Freeform TV Stand
Looking for a sleek and mid century modern TV stand that doesn't sacrifice function for form? Look no further than the Freeform.
This unique piece combines contemporary materials with ultra-modern mid century curves to create a piece that is sure to turn heads. The combination of black lacquer and walnut veneer give the Freeform a look that is both sophisticated and stylish. And, thanks to its three basic sections, it's also incredibly functional.
The left section features a large drawer with a fixed shelf on top for your components and storage below. And the mod cutout in the drawer front ensures your remote controls work!
So whether you're looking for style or function (or both!), the Freeform Entertainment Center is the perfect choice.
Mylo TV Stand
If you're looking for a modern TV console with a classic twist, our Mylo is the perfect piece for your home.
The simple lines and understated design of Mylo will give your living room a sleek and stylish foundation. The dark oak veneer and Wenge finish create a beautiful look that is both contemporary and timeless. The three large soft-closing drawers offer plenty of hidden storage for all your media essentials.
The Mylo TV Stand is also quite spacious, at six feet in length, making it the ideal spot to display your favorite decor. So if you're after a TV stand that is both stylish and functional, don't overlook our Mylo!
Adora Mid Century TV Stand
Introducing the Adora, one of our favorite TV stands. Blending a textured front storage compartments, with a Walnut case, Adora is a media cabinet that is sure to set the mood in any living space.
This sleek and stylish cabinet is crafted from a sleek walnut veneer and features a sturdy iron base. It also has three undermounted drawers, making it the perfect place to store all your entertainment devices.
Best of all, no assembly is required. So don't wait any longer, add the Adora to your mid century modern home today and enjoy the elegance and sophistication it will bring.
What is a Mid Century Modern TV Stand?
A Mid Century Modern TV (or television) Stand is a piece of furniture that is used to hold a television, either built-during or inspired-by mid century modern design. It can be a TV console or entertainment center style design, and is typically a rectangular piece of furniture that has a flat surface on top that can be used to place the television. It may also have shelves or drawers that can be used to store other items.
This type of stand typically has clean lines and a minimalist design, and is often made from wood or metal.
Conclusion
As you can see, from tv stands to entertainment centers, the above designs marry style, form and function! So, whether you're looking for something small, something large, a console with doors and shelves, or a more simplistic piece, we've got you covered!
At Modern Digs, we only choose the best furniture designs we'd put into our own homes, so we know you'll be thrilled to add any of the above tv stands into your home!
posted on 9/8/2022