< previous post return to index next post >
Your modern dining room may be a work in progress or a blank canvas. In either case, we've put together some great tips to get you moving in the right direction! Often the most difficult part is just getting started, creating a picture in your mind of how you want your dining room to look, how you want it to feel with friends and family. Our first step to creating your perfect modern dining room is formulating that mental image. Search Pinterest and images online for "modern dining rooms" or "contemporary dining rooms." Search those same sites for pieces of furniture like modern dining table, contemporary dining chairs, etc. But keep in mind: The goal of these searches isn't to find exactly what you want (although you might!). This search is the starting point to determine which course you're going to take. Do you want your friends to describe your dining room as "sleek" or "clean" or "organic" or "classic." How do you want the space to feel? Does it need to tie-in to an adjacent modern kitchen, or is it part of your relaxed living room? All of these questions lead to answers that will point you in a general direction.
Are You Going Contemporary or Modern?
There's a lot of debate about what constitutes a "modern" dining room, and what's more common in a "contemporary" one. In a lot of ways, it's really a semantic argument - instead we think you should focus on what you like and the style that fits into your home and lifestyle. Generally speaking, "contemporary" dining rooms create a space you might describe as clean, futuristic or even cold (if it's not your thing). Contemporary dining spaces usually boast big pieces that are very color neutral. For example, below are a few examples of modern dining rooms:
The Sapphire Dining Table above is what we would consider classic Italian Contemporary. Notice the color palette: white walls, white buffet and cabinet, white dining table, white dining chairs, gray shag rug. The beautiful wood floors are the only source of color, and they're pretty muted. Also note the shape and materials of the furniture: angular, lacquer and glass. Here's another few truly contemporary dining rooms:
When you think of a modern dining style, you're really talking about adding more natural elements to contemporary lines. Modern dining rooms are typically going to showcase simple lines blended with more organic tones, especially wood. You might describe these spaces as natural or warm. Check out the dining rooms below, and note the inclusion of wood with more contemporary accents like chromed chair legs or white lacquer accents:
When you consider your style, and what works with your home, ask yourself which room above is closest to what you're looking for. That gives you a fantastic jumping off point to start searching for furniture, rugs and paint to make your vision a reality.
Where's the Color?
All of the above rooms are beautiful and simple, but for most of us, they're a little drab. That's where you'll want to introduce some color. We recommend you start working toward the general feeling you want in the room, focusing on big neutral pieces you love (like the rooms above). Once your dining space starts to feel like you have to add color, add it a small piece at a time and let it marinate. Treat color like you would salt. Add some, try it, see if you need more; repeat.
Every market we see some really beautiful, colorful pieces: a yellow dining table, red sideboard, what-have-you. And while they're eye-catching in a showroom, color usually works best as an accent, not a staple. In the mid-Century modern dining room below, we love the pop of color in the dining chairs: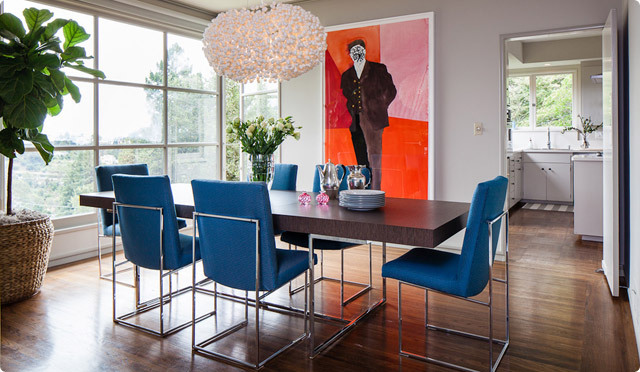 Or you might consider adding color through an accent wall. You could achieve a similar affect by adding color with an area rug.
If that's too much for you, consider adding smaller pops of color. We love the green hues added on the table centerpieces and these mid Century modern dining chairs:
Tying It All In
For most of us, the dining room is a central part of the home, and it shouldn't look out of place. We mentioned it briefly above, when you're considering your overall style, but tying your dining room into adjacent spaces isn't hard! For example, if you're dining room is an open space with the living and kitchen, and they're all on the same beautiful wood floor, you already have a common element. Just don't add anything that clashes, and you're good to go.
We love the look of this modern space, where they've added a few pendants over the dining table that compliment the mid Century mod sofa in the adjacent living room. It's simple, subtle, but beautiful:
Tying to spaces together can be as understated or obvious as you choose, from adding stainless steel accents to match your kitchen appliances to adding a unifying color across the entire space. Ultimately, style, design and taste are unique to everyone. But if you feel like you're floundering with your modern dining room style, take the above steps to create a modern dining space perfect for you and your family!
One Last Tip
Never be afraid to mix and match colors, materials or even styles. Your grandmother's vintage plates; the kitschy buffet you found at a garage sale - These pieces are what makes your dining room one-of-a-kind!
posted on 8/25/2015