< previous post return to index next post >
Everyone needs a dining table - whether you mainly use it to host parties, eat dinner with the family, do homework with the kids, or even catch up on work from home. Dining tables are so multi-functional and can really make a big difference in your home. But what type of dining table is best for you and your family? Do you need a huge table that allows you to host dinner for family and friends? Do you just need a small table to sit at while you sip your morning coffee? No matter your needs, at Modern Digs, we have you covered!
We specialize in contemporary, modern, and mid-century designs. Read through our list of the 14 Best Modern Dining Tables and see which styles speak to you!
The Best Modern Dining Table Designs of 2019:
Types of Dining Tables to Consider
Pedestal Tables - This type of table doesn't have four legs at the corners like most tables do. It just has a pedestal in the middle to support it. This means you won't have any legs getting in the way when seating extra people for your next dinner party. It's a popular modern and mid-century modern style that is excellent for contemporary settings!
X-shaped Tables - Straying away from traditional four-legged styles once again, X-shaped bases make for a cool and stylish dining table! You can get X-leg tables in wood, metal, and a variety of colors and finishes to suit your style, whether it leans more towards rustic/farmhouse, mid-century modern, or contemporary modern.
Round Tables - A round table is a great choice if you're going for a cozy atmosphere. The only drawback is that round tables are rarely large enough to seat a large number of people, so if you want to host 10 or 12 guests on a regular basis, a round dining table probably isn't going to cut it. However, round tables look beautiful and are well-suited to contemporary settings!
Wooden Tables - Wood is a classic material for tables, and it can have a rustic, vintage, or modern look depending on the design of the table. Obviously, here at Modern Digs, we specialize in the modern look and our wooden tables are no exception! When you go with a sleek wood in walnut, gray, white, or black, your wooden dining table will look stylish in your dining space.
Metal Tables - Metal tables always look contemporary and sleek. You can get ultra-shiny metal, black matte metal, brushed gold finishes, or anything in between. Whatever you choose, your metal table will look cool and sophisticated! Your metal dining table will be durable enough to last for years, even if your family is rough on furniture.
How to Choose the Right Size of Dining Table
How many people do you want to seat at your dining table? It all depends whether you just want a table for your family or you want to host lots of get-togethers with friends and family. It also depends on the size of your space - if you have a large dining area to fill up, you'll naturally want a big table to fill the space, while a smaller area will require a smaller dining table. For larger dining rooms, you could also add a modern sideboard!
Here's the rule of thumb to follow:
6-foot (72-inch) rectangular tables seat 6 people comfortably
8-foot (96-inch) rectangular tables seat 8 people comfortably
10-foot (120-inch) rectangular tables seat 10 people comfortably
Simple, right? These are just ballpark estimates. Not every table you see will fit precisely into these descriptions, but it should give you a general estimate of the size you need to be looking for. All our product descriptions display the table size in inches. Don't forget to measure your space and make sure your new table is the right size for your needs!
Astor Dining Table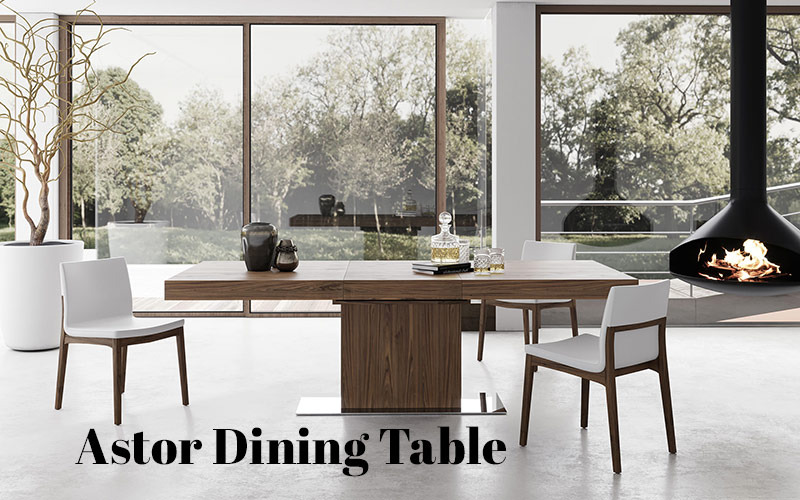 Searching for the perfect modern rectangular pedestal table? The Astor is just what you're looking for! It's available in four stunning finishes: white, wenge, walnut and gray oak. Its bold contemporary style makes an impact on your modern home, and its packed with function, too: it includes a 23-inch butterfly leaf within its pedestal so you can expand it in seconds to seat up to 10 people. In short, Astor is the modern extendable dining table.
Dania Dining Table
The lovely Dania Dining Table is a simple round pedestal design that would look gorgeous in any home! It's available in three different sizes to suit your needs. It would be perfect in a breakfast nook, kitchen, or smaller sized dining room. Made of beautiful ebonized American oak wood, the result is a black oak finish that's easy on the eyes. The pedestal base has a lovely texture reminiscent of clay on a potter's wheel, giving the table a mid-century flair.
Click here for EXCLUSIVE SAVINGS on your new Dining Table!
Samurai Dining Table
The stunning asymmetrical Samurai Dining Table is constructed of solid walnut and ready to take its place as the centerpiece of your dining room! Foregoing traditional legs, this table instead has two angled planks of walnut supporting the tabletop. The asymmetrical design looks like a samurai sword. This table comes in two lengths - 80 or 92 inches - so you can seat 6-8 people, or even up to 10. It's a bold choice for a modern rectangular dining table, but it's one that will last through the years and might even be passed down as a family heirloom.
Star Dining Table
If you're a lover of Eames and Saarinen designs, you'll crush on the Star mid Century modern round dining table! It mixes glass and walnut stained ash perfectly and provides a sophisticated update to a traditional design. The rich grain of the table base combines beautifully with the circular glass table top. And as always, the beauty is in the details: the intricately designed base showcases smooth, rounded angles that make up the three-dimensional support inspired by the shape of a star. Our Star Dining Table is sure to shine in any home!
Click here for EXCLUSIVE SAVINGS on your new Dining Table!
Curzon Dining Table
You won't find another modern white dining table like the Curzon! This design was inspired by Brazilian night life and is sure to bring the party to your place. For the sculptural, angled tabletop, you will love the high gloss white lacquer. Plus, the steel legs resemble scaffolding or a cool modern art sculpture. The entire design has an airy appeal and will fit perfectly in your modern home. It would fit nicely in a modern office space as a conference table, too. The hardest part is deciding which size option to go with!
Toulouse Dining Table
If you fall in love with the stunning Toulouse, you're in luck, because it comes in several sizes and finishes. One of them is sure to look great in your space, no matter what size you need! This table mixes wood and metal materials perfectly, pairing live edge and steel into a stunning rustic modern dining table too bold to ignore. You can get Toulouse in a variety of top and leg finishes, from seared oak and grey oak, to gold, black or polished steel legs. You'll love the high-end feel of the live edge top and double-dovetail joinery. It's stylish from top to bottom!
Click here for EXCLUSIVE SAVINGS on your new Dining Table!
Wembley Dining Table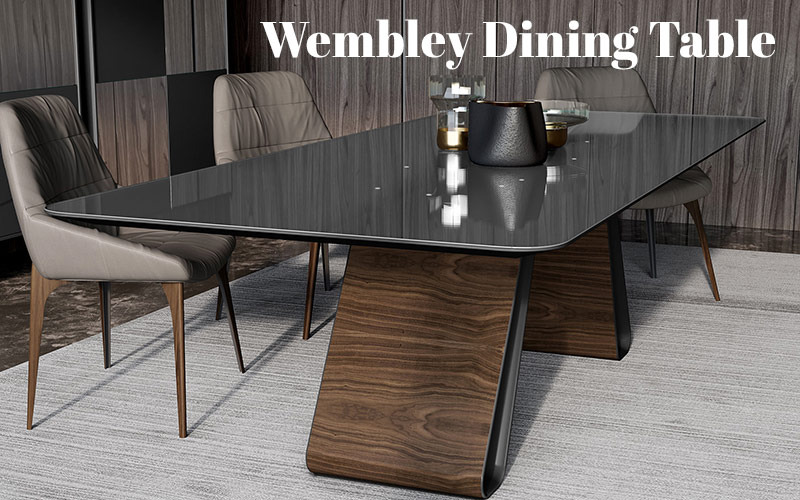 Searching for a bold modern piece with plenty of class and elegance? The dark, masculine design of the Wembley Dining Table may be just what you're searching for! It boasts a shiny glass tabletop with two uniquely-shaped table legs that are angled outward. It has plenty of space for up to 10 people. And it mixes black finishes with striking woodgrain to make a huge statement in your dining room!
Lyon Dining Table
Again, we see a stunning combination of wood and metal in the Lyon Dining Table! Choose from seared oak or grey oxidized oak table finishes with shiny stainless-steel, rectangular legs. The oak tabletop has live edges for a slight rustic touch, but the high-polish metal legs provide a stark and stylish contrast. You can get the Lyon Dining Table in two sizes to suit your needs. One more cool thing about this table: since it has live-edge oak, no two pieces are quite the same!
Click here for EXCLUSIVE SAVINGS on your new Dining Table!
Camden Dining Table
This stunning ModLoft modern glass dining table will definitely make a statement in your modern dining room! The unique sculptural shape of the Camden makes it a centerpiece in just about any design. The base is curved like an hourglass and it perfectly complements the rounded corners of the tabletop. The final touch is a shiny glass top inset into the tabletop that perfectly complements the stunning wood-grain veneer on each end of the base. It comes in two color combinations: white with dark walnut wood, and gray with gray woodgrain veneer accents.
Salk Dining Table
Looking for a minimalist and modern wood dining table? Look no further than the Salk Dining Table by Nuevo Living. Available in gorgeous charred oak or seared oak finishes, this high-end modern dining room table is simple in its design but its quality is instantly apparent. The tapered concrete legs and French oak tabletop are joined together elegantly, and the Salk Dining Table even includes a leaf that lets you seat up to 10 people comfortably at your next gathering.
Click here for EXCLUSIVE SAVINGS on your new Dining Table!
Catrine Dining Table
Marble is one of those finishes that is both timeless and trendy! It looks luxurious and beautiful no matter where you put it, and the Catrine Dining Table is certainly no exception. This mid Century modern dining table has a bold geometric shape with angled metal legs and a gorgeous marble top. You can choose between white marble and black marble for the tabletop, depending on how much drama you want to add to your space. And, for the metal legs, you can choose between stainless, gold brushed steel, or polished black. Whether you go bold or for the full modern black dining table motif, Catrine's upscale design is stunning.
Upper Lake Concrete Table
This stylish and stunning minimalist table is so on-trend right now with its concrete tabletop and matte black metal legs! This design will have you dining in style. It's super-durable, too, so it can handle anything your family throws at it! It is handmade by skilled craftsman and made from heavy-duty materials like steel and hand-rubbed concrete. Upper Lake is ideal for seating 6 to 8 people and will blend in with nearly any modern/contemporary design style. It would also look great on your patio or balcony if you're looking for a medium to large-sized table in those spaces!
Click here for EXCLUSIVE SAVINGS on your new Dining Table!
Currant Extension Dining Table
The Currant Extension Dining Table, handcrafted from sustainable bamboo, is the perfect choice for your space if you're looking for something modern and eco-friendly! Did you know that Mosa Bamboo is 20% harder than red oak? That means it's exceptionally durable, too! This extendable dining table boasts a cable-assisted ball bearing table glide, allowing you to smoothly and easily expand it from 72 inches to 92 inches long. If you love the design, you can also find coordinating Currant pieces to match this dining table.
Haru Dining Table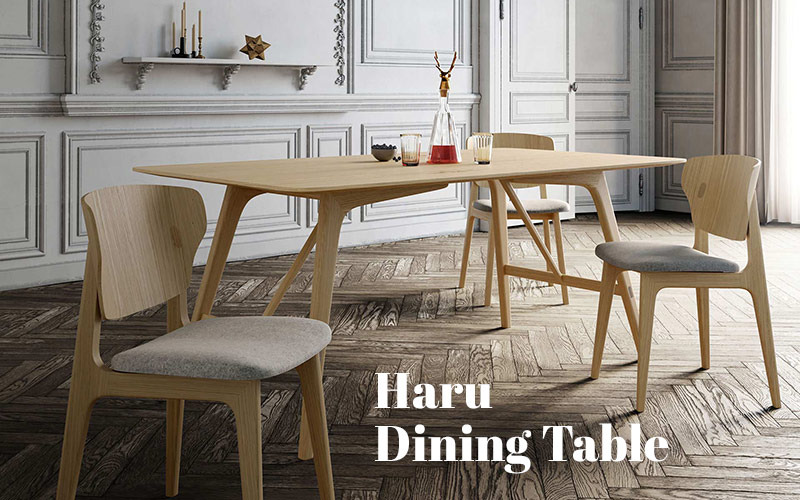 And last, but certainly not least, is the stunning Haru Dining Table. Crafted from upscale hardwood veneers - in your choice of Black Oak, Natural Oak, or Walnut - Haru blends mid-Century styling with Japanese minimalism. Haru's bold trestle base and rounded curves combine perfectly with the beauty of natural wood to create a centerpiece for your dining room that's stylish but subdued. Just choose your finish and transform your dining room into a stunning dinner retreat!
Click here for EXCLUSIVE SAVINGS on your new Dining Table!
Why Choose Modern Digs Furniture?
With free delivery and excellent customer service from start to finish, Modern Digs is the ideal place to order modern or mid-century modern furniture online. You'll find a wide variety of modern and mid-century modern furniture all hand-selected from only the very best quality brands.
posted on 6/26/2019