< previous post return to index next post >
If you're like us, you love designing and decorating your home, and you're always working to strike the perfect balance between style and function. Here at Modern Digs, we offer several hardworking furniture styles that will help you do just that! Here are some of our favorite modern sideboard designs. They'll allow you to stay organized while also evoking a sense of style and sophistication!
What is a Sideboard?
First off - what is a sideboard, anyway? A sideboard is a piece of furniture, usually located in the dining room, used to store and display serving dishes and serve food during gatherings. It's usually a slim, low-profile, short-legged cabinet that is set against the wall. You'll also see them used in "open concept" homes along the backside of a modern sofa to define the dining and living spaces.
Inside, your sideboard may have shelves, drawers, or both. They usually feature cabinets for concealed, closed storage and sometimes have open shelves as well - along with an open tabletop that's ideal for displaying items and serving drinks or appetizers when you have a get-together. They're great for getting extra items off your modern dining table when you have guests over.
Sideboards are available in many different styles, shapes, colors, and sizes. You can choose from white sideboards, modern finishes like matte metal or glossy vinyl, or classic wood grain finishes in just about any color you can think of.
What's the Difference Between Sideboards, Credenzas, Buffets, and Servers?
Sideboards are also known as buffets or servers, and are very similar to credenzas. In fact, they fulfill many of the same functions. So, if you're searching for a credenza, it's very likely that a sideboard buffet or cabinet would fit the bill as well. The main difference is that credenzas typically include file storage for an office.
Usually, a credenza doesn't have any legs, while the other types of cabinets do. In any case, these pieces of furniture are usually located in dining areas and used to store dishes, wine and/or serve food.
There's a Sideboard for Every Home.
If you're searching for modern furniture to add style and function to your home, we have several beautiful sideboards to choose from. Find your favorite new piece at Modern Digs.
The Best Modern Sideboard to Transform Your Home


Mott - our Most Popular Design
Baxter - the best White Sideboard

Elisabeth Slim - the best Mid Century Modern Sideboard

Barnes - a stunning Large Design
Brixton - featuring brass acents you'll love
Noori - our favorite New Design for 2019
Kenley - the best Modern Sideboard
Adele - a stunning Walnut Design
Currant - the perfect Eco-friendly Sideboard
Christopher - featuring glass doors and storage
Haru - the best Small Sideboard
Mott Sideboard
This sleek modern sideboard buffet has a beautiful wood grain finish or white lacquered finish, textured cabinet fronts, narrow powder-coated metal legs, and a cool modern appearance. The two sets of double doors open to reveal plenty of interior storage for dishes and other items, with several shelves and two drawers. Choose from several color and finish options to suit your style!
Click here for EXCLUSIVE SAVINGS on your new Sideboard!
Baxter Sideboard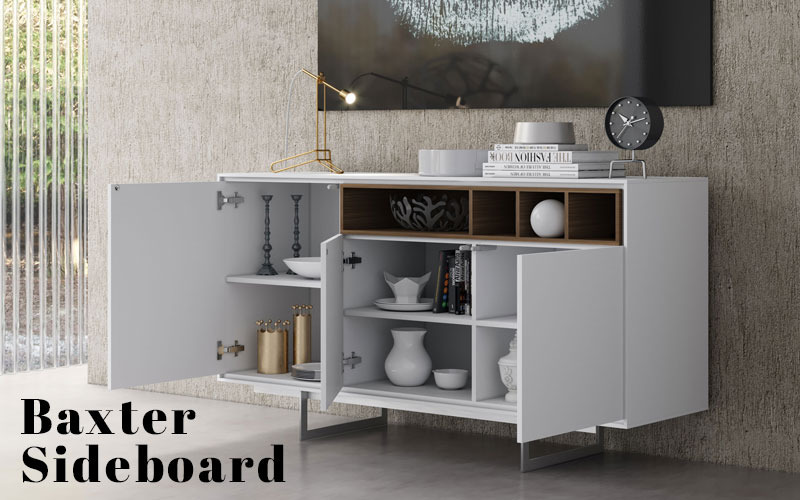 If you need a little bit of contrast in your dining room, the Baxter fits the bill. This beautiful addition to your dining room is sure to impress. It's on the smaller side, but it makes the most out of the space and offers ample storage for your tableware within its three cabinet doors. Baxter features modern powder-coated metal legs and asymmetrical open shelves where you can store books, decor, or additional dishware.
The Baxter sideboard cabinet comes in three color and finish options. The cool contrast of walnut and white shown above makes Baxter our most popular white sideboad buffet.

Elisabeth Slim Sideboard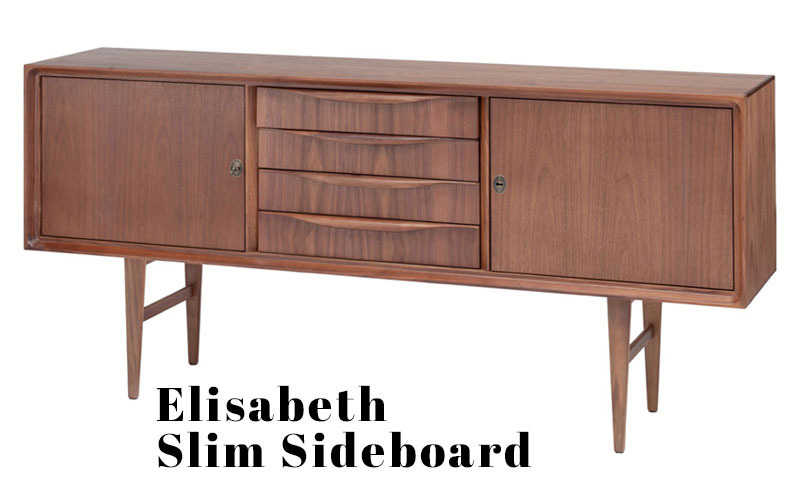 Add gorgeous vintage appeal to your home with the sleek Elisabeth Slim Sideboard. This mid century sideboard has a lovely walnut wood grain finish and sold hardwood edging, pulls, and legs. Inside, it features adjustable shelves on either side with four drawers in the center. The Elisabeth sideboard would look incredible with a brass serving tray and some pretty mid-century modern glassware on top! Heavy in style, and slight on dimensions, Elisabeth is a stunning solution if you need a narrow sideboard!
Click here for EXCLUSIVE SAVINGS on your new Sideboard!
Barnes Sideboard
Your dining room needs the Barnes sideboard! If you want to add some warm, natural tones to your space, the wood sides and top of the Barnes add just the right amount of rustic wood grain while the cabinet fronts (choose between glossy and matte!) are sleek and modern. The beveled edges add texture and depth to the piece. The Barnes sideboard offers multiple finish options.
Brixton Sideboard
If you're a fan of shiny brass accents, then the Brixton sideboard is what you need. It has a classic, simple silhouette and high-quality finger pulls on the cabinet fronts (choose from walnut or brass hardware!). This hardwood piece will last you a lifetime or more, and it'll store your dishes and tableware with ease in its eight interior compartments. Plus, it appears to float off the ground with its slim wooden legs. The Brixton is available in a variety of different color and finish options.
Click here for EXCLUSIVE SAVINGS on your new Sideboard!
Noori Sideboard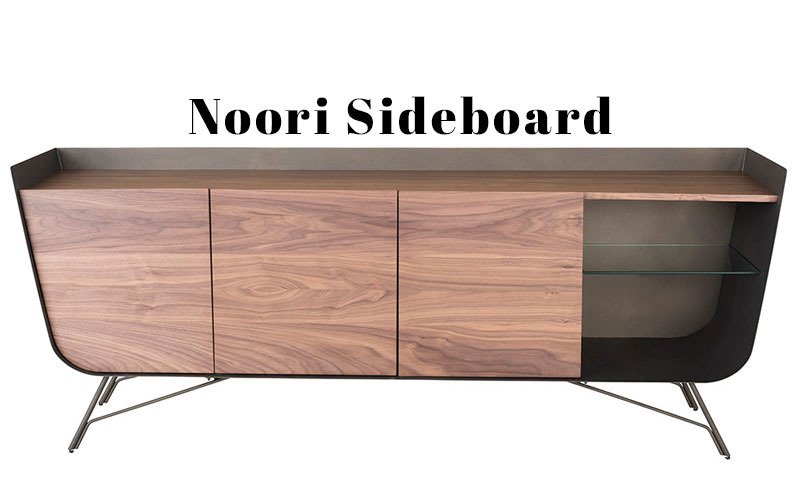 Who says a walnut sideboard is "traditional"?!? If you need a bold addition to your home, the Noori Sideboard is just what you're looking for! This design is anything but boring, so it's a great and versatile piece that would fit a variety of modern decor styles. It is wrapped in sleek steel and faced with beautiful walnut veneer on the front and top. There are three cabinet doors to conceal your belongings, along with an open glass shelf on the side. The slim steel legs offer an unexpected twist to the design.

Kenley Sideboard
With its striking wood grain top and sides, contrasting cabinet fronts, and unique curved corners, the Kenley sideboard is perfect for your modern home. It's stylish and low-profile, making it good for small spaces. Inside the two double cabinet doors, the Kenley has storage for your dishes and other tableware. The full-extension drawer inside is excellent for silverware organization!
Click here for EXCLUSIVE SAVINGS on your new Sideboard!
Adele Sideboard
The striking wood grain and sleek, low-profile style of the Adele sideboard gives you just the right blend of vintage and modern. Its mid-century modern design is covered in luxe walnut veneer with solid walnut construction and decorative routed cutouts that also function as drawer pulls. The slim tapered legs add to the vintage appeal. Inside, you'll find adjustable shelves and plenty of room to store plates, glasses, linens, silverware, or any other dining accouterments.
Currant Sideboard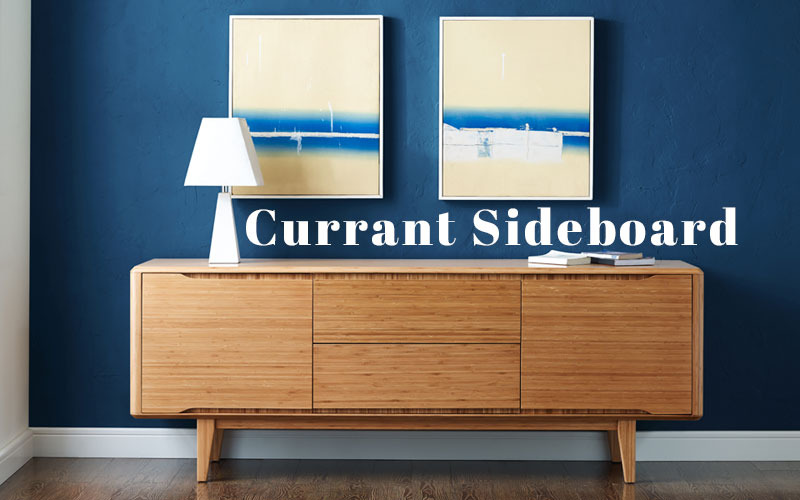 The beautiful craftsmanship is apparent as soon as you glance at the Currant sideboard! This beautiful sideboard looks elegant in any home. It is finished on all 4 sides, and it's versatile enough to use as a sideboard, buffet, or even an entertainment center. There is a center drop down door with cord management features, as well as two sleek side cabinets and a soft-close drawer. The Currant sideboard is available in a caramel-colored or a dark walnut-colored bamboo stain. Currant lets you go classic Caramelized, or opt for a contemporary espresso sideboard!
Click here for EXCLUSIVE SAVINGS on your new Sideboard!
Christopher Sideboard
Are you searching for something that is simple and stunning at the same time? The Christopher sideboard has a refined silhouette, but it's still incredibly sophisticated with its reflective mirror doors. You will have plenty of storage with deep drawers and ample shelving inside the two double cabinet doors. The Christopher sideboard comes in a stunning white lacquer and features a fun pop of contrasting gray on the inside!
Need a sideboard with wine racks? Check out the Christopher Highboard! Same great style, with built-in storage for your best bottles.

Haru Sideboard
Last but not least, we have the Japanese-inspired Haru sideboard. This upscale sideboard will keep all your dining accessories organized in style. It has four slim drawers on one side and a sliding door that conceals several shelves on the other side. You can slide the door to either have the shelves on display or to reveal the drawers. Instead of hardware, it features simple inset pulls. You can choose from a high-contrast finish or a simple and minimal design.
The Haru Sideboard comes in three attractive color schemes, so one of them is sure to suit your home's style! It's the perfect solution if youre hunting for a stylish small sideboard.
Click here for EXCLUSIVE SAVINGS on your new Sideboard!
Once you choose your favorite design...
Where Should I Put My Sideboard?
Most sideboards are located in dining rooms. However, that doesn't mean you can't switch it up! Even if you're in a studio apartment or an open concept house without a defined dining room, a sideboard is an excellent use of space. They're especially perfect if you don't have enough kitchen cabinets to keep all your dining accouterments, or if you want to separate your "special occasion" dinnerware from your regular everyday items.
Many sideboards are versatile enough to be used as an entryway table, a hall cabinet, or even a media center in your family room. If you enjoy moving things around, you might consider getting a sideboard that would work in many spaces throughout your home. Basically, you can use a sideboard just about anywhere you need some extra storage!
How to Style Your Sideboard
Sideboards are versatile pieces of furniture that lend themselves to many different decor styles. Here are some of the most popular ways to style a sideboard.
Lamps - if your space needs a little extra lighting or it would benefit from a beautiful lamp, a sideboard is the ideal place to put a table lamp. A lamp can add height and interest in addition to providing a light source.
Trays - Turn your sideboard into a mini bar. A pretty tray of glasses, bottles, and a cocktail shaker can be attractive and functional at the same time. Or simply use the tray to gather small decorative objects.
Houseplants or Flower Vases - Whether you have a houseplant that needs a home or you enjoy bringing vases of cut flowers into your home, flowers and greenery will look amazing on your modern sideboard.
Small Sculptures and Art - If you have a tabletop sculpture you'd like to display, a sideboard is perfect. You can also set one or two small tabletop picture frames with family photos or artwork.
China or Serving Ware - Do you have pieces that you usually only use when guests are coming? Display your favorite pieces of china, crystal, glassware, or ceramics on your sideboard whenever you're not using them.
A Fabric Table Runner - A long, narrow table runner can add color and texture to your dining area when draped over your sideboard. Bonus: a runner protects your sideboard from dings and water rings.
Why Choose Modern Digs Furniture?
With free delivery and excellent customer service from start to finish, Modern Digs is the ideal place to order modern or mid-century modern furniture online. You'll find a wide variety of modern and mid-century modern furniture all hand-selected from only the very best quality brands.
Other Resources
We're often asked about our favorite sideboards in specific finishes. Here are our the two most inquired after!
posted on 5/14/2019