< previous post return to index next post >
There's no more beautiful storage space in your home than a contemporary sideboard!
If you're like us, you love designing and decorating your home, and you're always working to strike the perfect balance between style and function. Once you've got a white dining table and unique dining chairs, it's time to add storage.
In the category sideboards/buffets, we offer several hardworking furniture styles that will help you do just that! Here are some of our favorite modern sideboards with free shipping.
They'll allow you to stay organized while also evoking a sense of style and sophistication!
The Best Sideboards for Your Modern Dining Room
Click products below to shop, see price and availability!
Mott Sideboard
This sleek buffet table has a beautiful wood grain finish or white lacquered finish, textured cabinet fronts, narrow powder-coated metal legs, and a cool contemporary appearance.
The two sets of double doors open to reveal plenty of interior storage for dishes and other items, with several shelves and two drawers. Choose from several color and finish options to suit your style!
Our Deeper Dig:
One of our most popular contemporary buffets, cool finishes give your stunning additional storage!
Elisabeth Slim Sideboard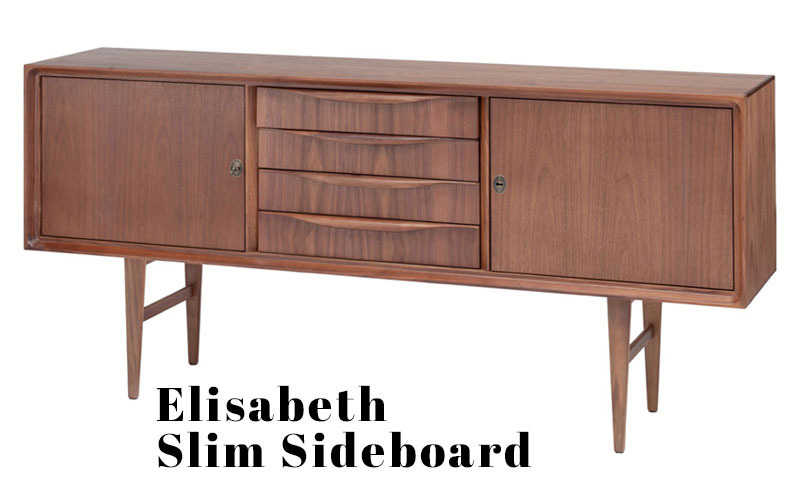 Add gorgeous vintage appeal to your home with the sleek Elisabeth Slim Sideboard.
This mid century sideboard has a lovely walnut wood grain finish and sold hardwood edging, pulls, and legs. Inside, it features adjustable shelves on either side with four drawers in the center.
The Elisabeth sideboard would look incredible with a brass serving tray and some pretty mid-century glassware on top!
Heavy in style, and slight on dimensions, Elisabeth is a stunning solution if you need a narrow sideboard!
Our Deeper Dig
High end quality and fast delivery, we love the MCM lines. With its shallow depth, Elisabeth works well in an entryway too!
Noori Sideboard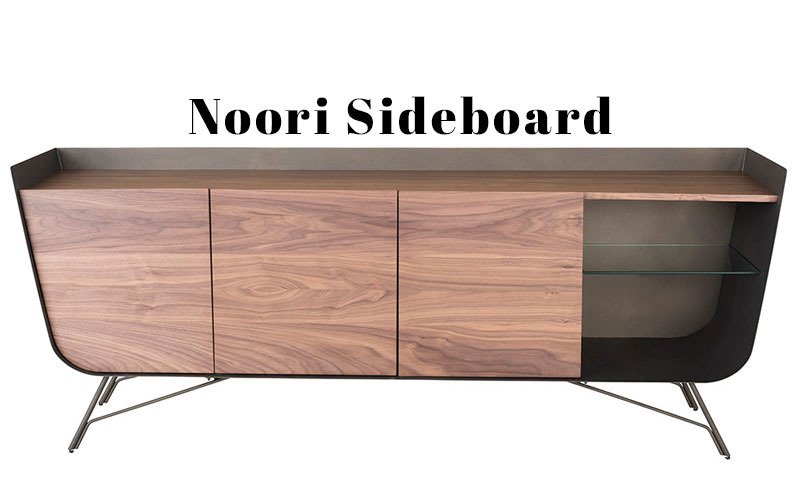 Who says a walnut sideboard is "traditional"?!? If you need a bold addition to your home, the Noori Sideboard is just what you're looking for!
Our Noori Buffets anything but boring, so it's a great and versatile piece that would fit a variety of modern decor styles. It is wrapped in sleek steel and faced with beautiful walnut veneer on the front and top.
There are three cabinet doors to conceal your belongings, along with an open glass shelf on the side. The slim steel legs offer an unexpected twist to the design.
Our Deeper Dig
Noori's one of our favorite contemporary sideboards! Generous storage, eye-catching cabinet shape, high end materials
Click here to sign up for deals!
Adele Sideboard
The striking wood grain and sleek, low-profile aesthetic of the Adele sideboard gives you just the right blend of vintage and modern.
Its mid-century modern design is covered in luxe walnut veneer with solid walnut construction and decorative routed cutouts that also function as drawer pulls. The slim tapered legs add to the vintage appeal.
Inside, you'll find adjustable shelves and plenty of space to store plates, glasses, linens, silverware, or any other dinner accouterments.
Our Deeper Dig
High end quality, free shipping, works with most aesthetics!
Currant Sideboard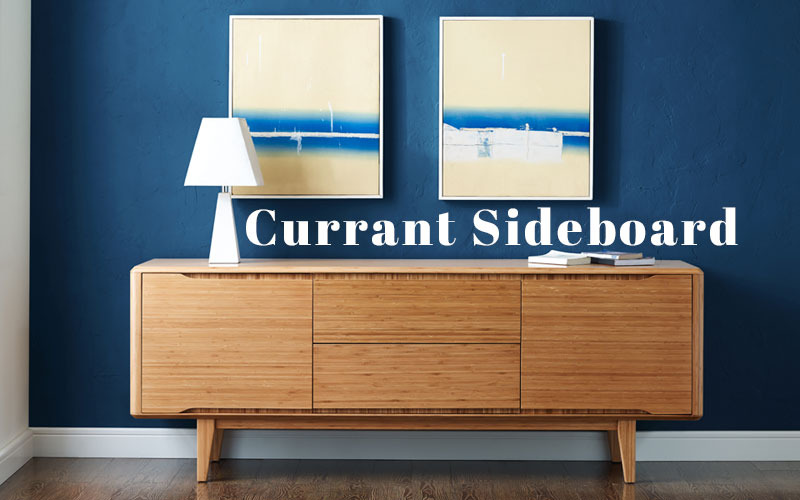 The beautiful craftsmanship is apparent as soon as you glance at the Currant sideboard! This beautiful buffet table looks elegant in any home. Currant is finished on all 4 sides, and it's versatile enough to use as a sideboard, buffet, or even an entertainment center.
There is a center drop down door with cord management features, as well as two sleek side cabinets and a soft-close drawer. Currant is available in a caramel-colored or a dark walnut-colored bamboo stain.
Currant lets you go classic Caramelized, or opt for a contemporary espresso sideboard!
Our Deeper Dig
One of our eco-friendly sideboards/buffets, the Currant Buffet fits into an decor, and boast high quality craftsmanship
Hanna Sideboard
Looking for a storage solution that's earth-friendly and stylish? The Hanna Sideboard is perfect for you!
This gorgeous piece is made from sustainable, solid bamboo and finished in a rich Wheat tone. The innovative laser door detailing adds a touch of elegance, while the sleek, tailored design celebrates the beauty of nature.
Whether you use it to store dishes, linens, or anything else, Hanna is a must-have for any modern home.
Our Deeper Dig
A new design in 2022, we love Hanna's laser cut front, and modernism. Not to mention the quality is top notch!
Click here to sign up for deals!
Adora Buffet
Introducing the Adora Sideboard, the perfect furniture solution for your dining or living space.
This minimalist cabinet features four spacious, removable shelves, perfect for keeping your favorite board games, consoles, and other items. The dark stained walnut veneer and black corduroy wood detailing give this piece a mid-century modern look that will complement any existing décor.
Adora is also built to last, with a quality veneer that is not prone to splitting or warping like solid wood.
So if you're looking for a fashionable and functional storage solution, the Adora Sideboard is the perfect choice for you.
Our Deeper Dig
Stunning textured front, classic materials, Adora can anchor any room!
Sutton Sideboard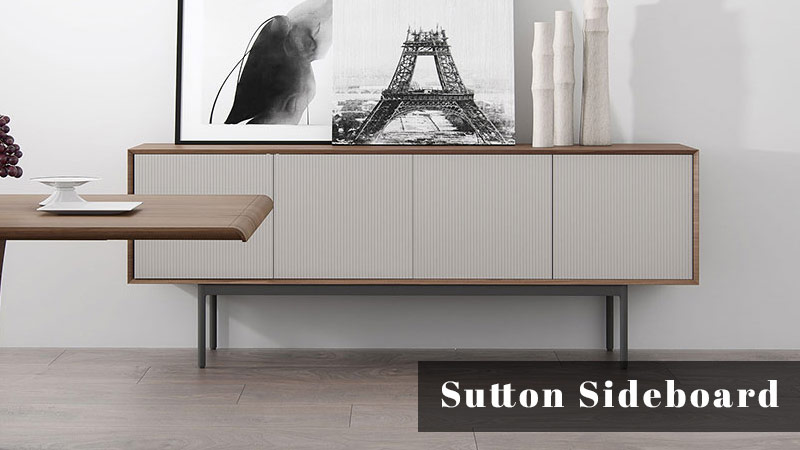 Do you have a contemporary dining area that needs a little extra storage? Look no further than the Sutton Buffets.
This beautiful piece will add both class and function to your space, with its ample storage and sleek design. The natural wood veneer and matte lacquer doors create a beautiful contrast, while the steel base adds a touch of modernity.
Perfect for storing your dining trays, china, and linens, Sutton is a must-have for any modern dining space.
Our Deeper Dig
One of our most contemporary buffets, Sutton offers classic modernism and quality you'll love for years.
Pura Buffet
Lend a touch of organic appeal to any room in the home with the Pura.
This stylish storage piece is crafted with MDF and walnut wood veneer for a natural look that complements any decor. It features slatted front doors with soft-close hinges, adjustable-height shelves, anti-toppling straps, and a cable management hole to keep cords tidy and organized.
The back panel features sliding doors that can be removed completely for easy access to stored items. The powder-coated iron tube legs provide sturdy support and add a modern touch.
Our Deeper Dig
Fast delivery, free shipping, Pura works in your dining or living
What is a Sideboard?
A sideboard is a piece of furniture, usually located in the dining room, used to store and display serving dishes and serve food during gatherings.
Sideboards, buffets and cabinets can also serve as a credenza. It's usually a slim, low-profile, short-legged cabinet that is set against the wall. You'll also see them used in "open concept" homes along the backside of a modern sofa to define the dining and living spaces.
Need help choosing? Contact us for shopping assistance!
furniture category > sideboards, buffets >previous page
Updated 9/30/2022
posted on 5/14/2019