< previous post return to index next post >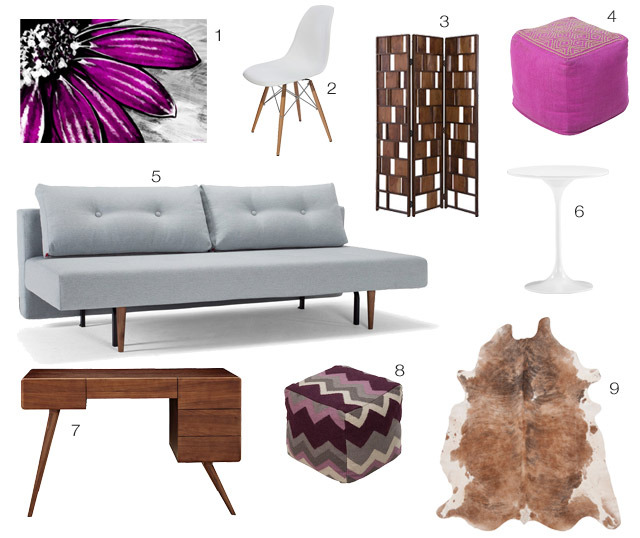 How To Have The Chic She-Quarters You've Dreamt About
We love the versatility of the Recast Sofa Bed. The Danish styling, armless silhouette, modern accents and functionality are a cool blend of beauty and utility! We notice our customers select the Recast for one of two purposes: their main sofa in a living room mix of modern and vintage, or as a sleeper sofa in a home office.
Using the Recast Sofa in Pacific Pearl for inspiration, we've created the home office of your dreams!
To start, we chose the Kobe Desk. It's mid-Century mod lines and tobacco finish accents the Recast's wood legs and tufted detailing. An Eames-inspired chair completes the work space!
But you need your space to be functional and versatile. We envision the cool floor screen breaking up the room a little, creating privacy as needed. The Indigo Daisy wall art gives you a bold pop of color, which we've carried through into the poufs. Rather than going with a hard coffee table, the poufs offer you a fun and flexible accent to the space!
Lastly, we bring in a few more hints of mid-Century with the cowhide rug and Saarinen inspired end table. Check out the items below, and get started on your very own Chiq She-Quarters!
posted on 6/9/2016