< previous post return to index next post >
Let's talk about one of our favorite mod accents: the Sputnik Chandelier!
"Chandeliers are marvels of drop-dead showiness – the jewelry of architecture."
- Peter York
Back when the Soviet Union launched our planet's first artificial satellite in 1957 – Sputnik I, almost everyone all across the world had just one thing at the back of their minds: space travel.
While Sputnik's successful launch shocked numerous experts all across the world, it paved the way to the creation of NASA, which in today's world is one of the most popular agencies responsible for myriad technological advancements.
Back then, space travel was one of the hottest trending topics worldwide. The successful launch of Sputnik immersed made everyone fall in love with the idea of space travel. More particularly – the design world.
And this led to the invention of Sputnik light fixture, which to date is one of the most iconic creations that can take your home décor to the next level.
Chandeliers are one of the most iconic symbols of both past as well as modern elegance. Want to go for a highly sophisticated look? If you have a high-enough ceiling, a chandelier will do wonders.
Some claim the Sputnik design to be "The Perfect Atomic Solution." So, whether you are looking forward to cheering up your dining room or want your bedroom or kitchen to look and feel luxurious, a Sputnik light is all you'll ever need to level up your décor.
While on of our Sputnik Chandeliers might just be what you are looking for, you may end up wondering: Out of the world full of options I have in front of me (check out all these modern pendant lamps!), which model is the perfect fit that matches my style and goes well with my home decor?
And that's what this blog post guides you through.
This detailed guide lists out the ten best chandelier designs that'll level up your home décor in 2021.
But before we begin, it's vital to look at what a Sputnik Light Fixture is for those who don't already know much about it. Also, we'd like to tell you about the factors we took into consideration while narrowing down our list and selecting the top 10.
What is a Sputnik Chandelier?
Inspired by Sputnik's successful launch in 1957, the light fixture is one of the most popular mid-century light designs, one that boasts multiple arms. Each one of these arms supports a single-light bulb. They typically radiate out from a central point, a globe or column.
It's a highly popular choice among designers and architects all across the globe. Here's a classic example:
A mid-century modern room is the classic setting for a Sputnik. You'll often see them cast in retro colors like brass and paired with medium-toned woods plus throwback colors like aqua.
One of the reasons why Sputnik Chandeliers are highly-beloved is that they don't just illuminate a room. Instead, they make a statement.
Unlike the other light fixtures out there, a Sputnik is a symbol of luxury and brings a unique style to any space. Also, its light-reflective property adds a dazzling touch to one's home, which is one of the biggest plus points.
Factors Taken into Consideration While Making our Selections
Imagine your guests walking into your home and not being able to resist falling in love with your home décor. These exceptionally unique Sputnik-inspired designs provide a novel design and a unique look and feel. They look best with traditionalist and minimalist styles due to their mesmerizing, breath-taking design, always making them the center of attraction.
While preparing this guide, we had a world full of Chandelier design options right in front of us, out of which we had to select the top 10 for you. Trust us; it wasn't easy!
Following are the factors we took into consideration to evaluate the different designs, which you'll want to consider for your own space:
Quality
Types of Bulbs
Size & Weight
Ease of Installation & Care
Price
Room & Placement
Some other factors that have been taken into consideration while selecting the top chandelier designs are ambient, dimming options, materials, accent, delivery time, maintenance costs, etc.
So, let's not wait anymore and hop onto our top 10 list straight away.
The 10 Best Sputnik Chandeliers to Look Out for in 2021
Let's look at each one of these pieces of beauty.
Atom-9 Pendant Lamp
Want to bring that classy look to your living room or bedroom? Or maybe your kitchen? You are about to fall in love with Atom-9 Pendant.
Introducing one of the most iconic and mesmerizing designs thats just a perfect fit for any interior type ranging from transitional to ultra-modern, all thanks to its sleek and modern design.
It's just the perfect light fixture that you can install in your dining room, kitchen, lobby, hallway, or any other space. With 9 E-12 base 40-watt bulbs, this unique bulb will make your guests go wow every time they visit your place.
Click here for EXCLUSIVE SAVINGS on your new Sputnik Chandelier!
These shades measure 5.5-inches in diameter! Finished in black powder coating, this light fixture doesn't just look unique but also adds the touch of luxury.
Astra Pendant Lamp
This light fixture, right here, makes a bold statement.
With space for just a single bulb, it's wiry and sleek.
If we had just one word to describe the Astra Pendant Lamp, 'beast' is where we landed. This light fixture manages to thread the needle between overpowering and large, with two color options available to choose from – Matte Gold or Polished Copper Wire. Though we used the word beast to describe this light fixture, it's airy enough to keep the space open.
All you'll need is a single 100 watts light bulb to power this gem. Keeping the large design open and airy, as the Astra Pendant Lamp hangs from a suspension wire plus cord with color matched canopy.
Sergei Pendant Lamp
With 24 15-watts bulbs surrounding the stunning chrome or antique brass ball in the center, Sergei Pendant Lamp will add the vintage look to just any interior. Its trendy look will bring glory to your living or dining, or bedroom.
Not only does it go well with the home interior, but it will attract people towards your workspace, café bar, restaurant, or other commercial places.
It's a revolutionary design inspired by the mid-century space race and features a central sphere surrounded by 24 lighted rods. This unique light fixture sparkles with ethereal starlike grace.
Click here for EXCLUSIVE SAVINGS on your new Sputnik Chandelier!
Also, it includes a matching 5-inch canopy with minimum overall height being 42-inches and maximum being extendable up to 118-inches.
The Galaxy Pendant Lamp
Now's the time to illuminate your living or dining room in ultra-contemporary style with the Galaxy Pendant Lamp.
Available in Matte Black & Brushed Brass finish, this light fixture features 18 40-watt bulbs at the ends of artistically suspended steel rods.
It's a perfect piece for a living or dining room, as it not just brightens the entire space but also starts a conversation. It's ideal for foyers as well as open spaces with 13-16 foot ceilings.
The Galaxy Pendant Lamp is a perfect combination of luxury and innovation, as its design features a floating cluster of 18 enchanting lights. A perfect combination of matte black rods, black suspension wire, grand scale, brushed brass tulip sockets is what makes it a perfect piece to level up your décor.
Phoebe Pendant Lamp
Featuring eight out-of-the-box, mind-blowing golden arms, the Phoebe Pendant Lamp is a bold take on the mid-century design, as each of these black shades is home to a 15-watt bulb, creating a truly mesmerizing effect.
These arms are extended from a classic black central globe, which is the focal point of the Phoebe Pendant Lamp.
Right from 25-inches to 122, you can hang it at any height you desire from a stainless-steel cable.
Click here for EXCLUSIVE SAVINGS on your new Sputnik Light Fixture!
Love black? Don't wait around! Buy this classic, sophisticated chandelier today.
Niklas Pendant Lamp
Available in 3 different configurations (5,8, or 12), the Niklas Pendant Lamp is charming and nostalgic.
Inspired by the classic bistro designs, it takes a retro approach to the Sputnik Concept. Depending on your needs or requirements, you can go with five, eight, or twelve white glass globes configuration.
So, whether you want to add a finishing touch to your dining or living room, remodel your house or workspace, or build your dream home from the ground up, Niklas Pendant Lamp is a perfect addition that goes well with different styles.
Also, it includes six extension rods, so you can easily set it at the right height. From 24 to 101 inches, you can fit it at any height you desire.
Sputnik Light Fixture
Available in Chrome & Antique Brass finishes, this Sputnik Pendant Lamp is a symbol of excellence.
With its top-notch minimalist design, the Sputnik Pendant Lamp takes you back to the 50s, bringing to mind classic designers like Saarinen and Eames.
With up to 98" adjustable length, this pendant lamp includes a wire suspension, matched canopy, and features 24 eye-catching bulbs from the center.
Click here for EXCLUSIVE SAVINGS on your new Sputnik Light Fixture!
Want to upgrade your dining room? Or the living room? Now's the time to order the Sputnik Pendant Lamp & give your electrician a call.
Yves Pendant Lamp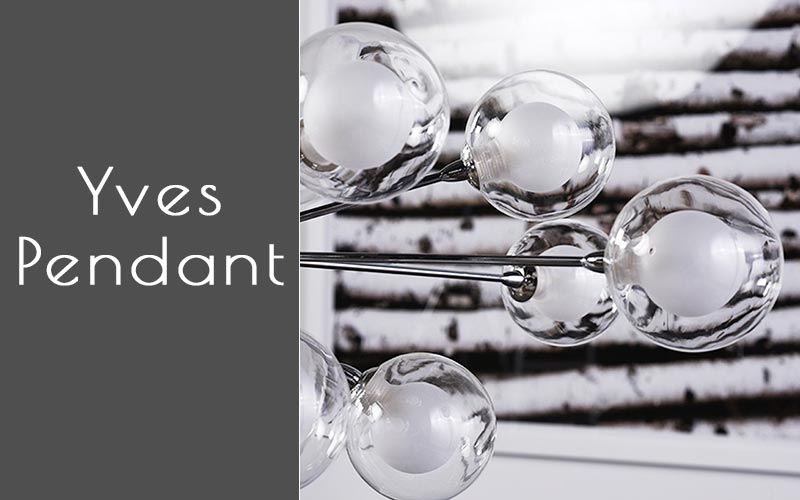 A perfect blend of vintage sophistication, as well as contemporary clout, is what the Yves Pendant Lamp is all about.
It's a perfect fit for both commercial and residential spaces as it measures 15" in height, with an adjustable height of up to a maximum of 80".
This Sputnik design features 15 light bulbs radiating out from a central ball for a starburst, striking look.
So, whether you want to fit it in your dining room, bedroom, or in your offices, it will go well and give that unique, eye-catching look in just any space. All the arms are pre-threaded and pre-wired for easy installation. So, looking for a masterpiece that makes your place go booming? Purchase Yves Pendant Lamp today.
Kaia Pendant Lamp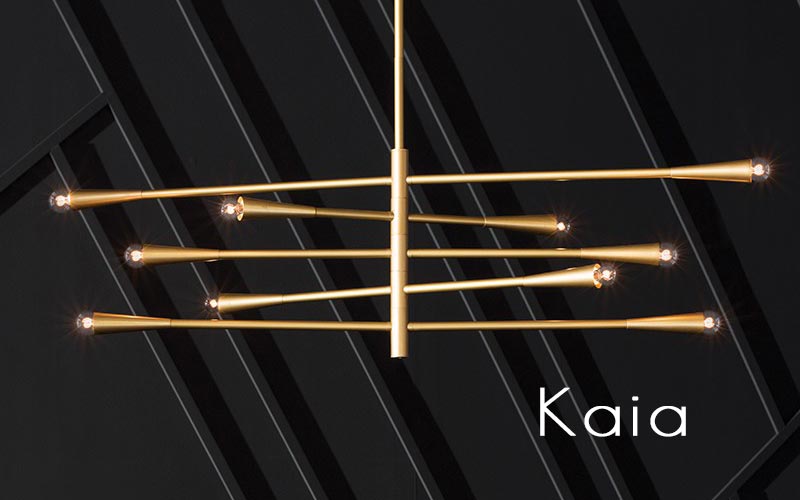 With its five slim golden trumpet arms, the Kaia Pendant Lamp leaves a mark and adds the touch of uniqueness to any space it is installed.
Each of these trumpet arms is fanned out with balanced precision. This light fixture allows you to create multidirectional lightning, all thanks to its unlimited design possibilities. All you need to do is install ten 25-watt bulbs to lighten up an entire room and cheer up everyone's mood.
Click here for EXCLUSIVE SAVINGS on your new Sputnik Chandelier!
These adjustable arms have been designed to suit your space. From 22 to 99 inches, you can fit it at any height you desire, so it doesn't matter whether you want to fit it in your living room, dining or bedroom; order this chandelier straight away to transform your space.
Hendrix Pendant Lamp
With its minimalist and clean style, Hendrix Pendant Lamp has been designed to win hearts, all thanks to its strong retro aesthetic.
Its gold or black finish adds a charming retro style and makes it perfect for mid-century contemporary and modern decors.
This light fixture balances asymmetry in both horizontal as well as vertical planes, making it the thing people talk about when they enter the room.
It includes six matching extension rods, so you won't face any hurdles fitting it at the right height. With five 100-watts bulbs, you will have your space lightened up within no time.
So, all you got to do is choose your finish and upgrade your kitchen or entryway today.
Conclusion
Add the touch of luxury and uniqueness to your house or commercial space by lighting it up with one of the 10 Sputnik Chandeliers mentioned in this guide.
Depending on your budget and various other factors, choose one that fits your needs and brings the best out of your décor.
So, what are you waiting for? Purchase the right one today.
posted on 1/7/2021