< previous post return to index next post >
We get it. Styling your home isn't easy.
You know you want it to look beautiful, but getting from where you're at now to "beautiful" seems almost impossible!
We recently stumbled across an amazing home in the northern part of Italy, not far from Turin. And the more we thought about its design, the more we realized that the look and style we loved in it wasn't hard to achieve. It's bold and classically Italian-modern, both inside and out!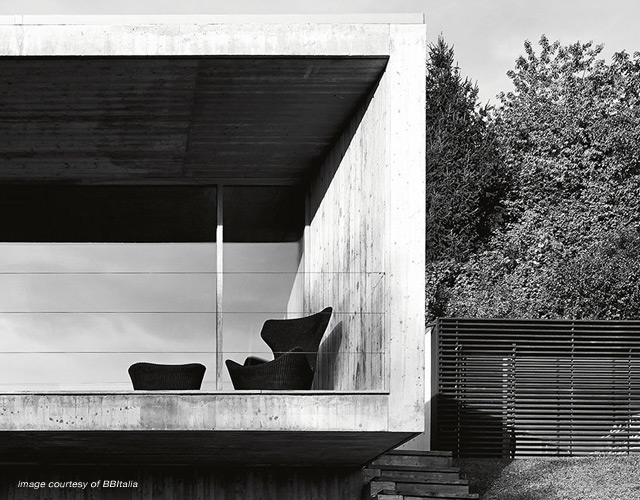 And today we've got a few simple tips to get you on the road to Italian modern style.
Don't worry - You don't need to move your home to an Italian hillside. (Sorry?)
Cast almost entirely in concrete, the home boasts an industrial theme, which is broken up only by the huge windows and natural light, and the introduction of Italian modern furniture throughout.
The modern living room includes warm wooden floors, and floor to ceiling windows overlooking the hillside. An oversized tufted, modular sectional breaks the room into easy-to-use spaces, without overpowering the true beauty of the whole motif - the view!
How to Get Italian Modern in Your Living Room
A key to achieving a similar look in your space is opening everything up. Lose the drapes and blinds on the windows. The goal should be to allow as much natural light into your space as you can find! Keep all of your large pieces, including the walls and floor, neutral tones.
You can see in this Italian modern living space, a simple pop of color was added with the yellow rug. Notice the vintage feel of the rug gives the room a texture and pattern you don't get anywhere else in the space.
We might try something like our Perry Sectional, a few natural accents pieces, and then maybe a pop or two of color with a Pouf or rug...
Dine in Italian Modern Style
The mod dining room continues the theme of large neutrals with a massive white lacquered dining table, white and gray rug, and mixed and matched dining chairs.
The wooden bench gives the space a touch of organic warmth, ensuring the natural light doesn't go to waste on a room and furniture that just feels cold.
Like the pop of color from the yellow rug above, it's amazing how just the one wooden bench gives the dining room a warner, more inviting feel. Every other piece in the space, including the staircase behind the table, would feel cold and hard. Yet, somehow, the bench breaks that "ice."
Consider employing the same strategy in your modern dining room. Skew toward mod furniture items in whites, grays and blacks. Then add one punch of wood - perhaps a cabinet, buffet or console table. The more raw the wood, the better to create the contrast you see above.
For example, you could pair our Parker Dining Table with a mix of Charlie and Ray Dining Chairs. Add in the Siku Buffet and you've created a space that's modern, yet warm.
Sogni D'oro
The bedroom is simple and modern, bordering on plain. Like the rest of this contemporary house, the designers opted to let the light and materials do most of the work. The natural wood floor and concrete walls are broken up by a winged, tufted platform bed.
Like all of the other pieces in this home, we see that the Italian modern look is best achieved through a neutral color palette.... with a pop of color at the foot of the bed!
We might create the same look by pairing our Twist Bed with a few natural and neutral accents, and then a pop of color in an accent chair!
Italian Modern in 3 Easy Steps
As you can see, the architecture of your home can do a ton of the work for you. But it is definitely not a prerequisite for going Italian modern. After all, only a few of us can own hillside Italian villas!
Just keep in mind these three easy design elements and you're well on your way to achieving the Italian modern look in your home:
First, let in as much natural light as possible.
Go with neutrals and naturals for everything large, focusing on furniture designs that are low-profile.
Then just add pops of color here and there!
Got questions? Shoot us an e-mail or call us toll free at 855.663.3447.
posted on 7/12/2016