< previous post return to index next post >
Just in time for the New Year, we've got a few quick style resolutions!
Go Understated
Unlike traditional furniture, which relies primarily on designs and materials perfected in the Gilded Age, contemporary furniture, almost by definition, is constantly evolving. Nevertheless, we've definitely seen some "staples" surface in modern furniture that make decorating your home or office easy and versatile. Go understated. If it's large - walls, couch, floors - choose pieces you love in understated tones. Let's face it, black and white have always been big! Espresso brown furniture has been "in" for at least 15 years, and grays have been consistent for 25 years. We recommend sticking with the whites, grays, browns and blacks for your big visual pieces. White walls, gray sofa, and espresso brown flooring are all ideal underpinnings of any modern home.
Above you see a great, understated base: natural wood floors, white walls and white sofas.
Go Bold
Once you've got your base pieces, that's when you go bold! Every year our buyers return from market with a story that sounds like this - "You'll never guess which color was huge this year!" And every year it's different. Blue and espresso? 2000! Orange? That was so 2006! This year? Well, gold and bronze are making a resurgence, along with bold jewel tones like fuchsia, topaz blue and lime green. The point is that you want to be "current," but you don't have to end up with a lime green sofa! Add punches of color in your accents - side tables, rugs, pillows, artwork and vases are great avenues to add color and personality into your space. Even a cool, colorful accent chair every few years doesn't have to break the bank!
In the bedroom above you can see we've simply added a few cool pendants, coordinating artwork and pillows to punch life and color into the room!
Go "Home"
Most importantly, only buy pieces for your home that you love! After all, you're making a "home." If you have to have an original Mies van der Rohe, find one. If orange is the "in" color, but you've found a blue accent chair you love, buy it. Your style is your own, and shouldn't be dictated by popular trends. Wait to find the perfect bed or table for your space. Don't settle for mediocre. Decorating your home isn't like a project at work. You aren't on a deadline, and your boss and clients might be fine with a 90% effort, but you don't want to live with the missing 10%. We're talking about where you have dinner with friends, watch Mad Men, sleep, and raise children. So resolve to making your space perfect, and then get to work!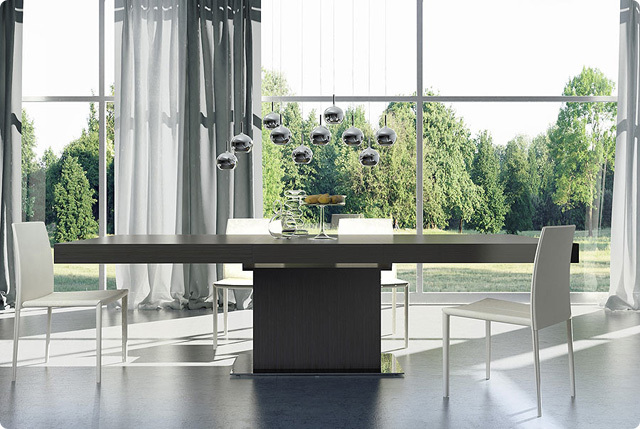 posted on 1/6/2014