< previous post return to index next post >
You finally have the house of your dreams along with a few coveted pieces of fantastic furniture – now is the time to think outside of the box, explore your personality and discover your own adventurous style. Unlike other design genres, minimalist simplicity offers you the perfect palette to have fun and be creative. Throw away the rule book and get a little funky!
Sweet Master Suite
Everybody wants sweet dreams – but not everyone gets Suite dreams. Bring on Da Bedroom Bling and take "boring" out of your nightly slumber routine. Imagine an exquisite Italian import headboard with bed framed in rich espresso wood. Now, let your imagination run wild and picture the ultimate design of Modern magnificence meets Funky fabulous. Voila! – introducing Modern Dig's Venice Bed from the iconic Milan Collection. The Venice features a headboard unrivaled in both style and uniqueness. The white lacquer headboard is edged in dark rich wood brilliantly designed to accent the interior serigraphy – a contemporary etching of gray zigzag artwork. If that wasn't funky enough, the Venice designers added LED backlit glass shelves on each side of the bedframe extending out over the built-in nightstands.
Groovy Baby
Really want to make a statement and create a living space Austin Powers would dig? Design a groovy pad beginning with Modern Dig's Ripple Chairs. Plush and comfy cozy, the Ripple Chair is a unique design of white leather ripple strips combined with two shades of lime green strips. Classically Modern shiny chrome legs complete the funky, contemporary look. Used as accent pieces with a white leather sofa or sectional, the Ripple Chairs are not only attention-getters, they are a great place for your friends to relax and enjoy a cocktail when showing off your new digs.
Bling Out the Walls
When it comes to spicing up a room, there is no easier way to "Bring on Da Bling" than with cool, funky artwork. Whether you choose contemporary metal wall sculpture or esoteric splashes of paint on canvas, your space can go from unimaginative and uninspired to bold and beautiful with just the right pieces of art. Modern Digs has your penchant for funk covered with pieces like our Benoit multi-colored metal wall sculpture or the ultra-funky Metro Graffiti – a brightly painted tribute to Metro Street Art on stretched canvas. These are just two stand outs from our extensive collection of contemporary wall art, so with so much to choose from, you may have a hard time putting the kibosh on the bling.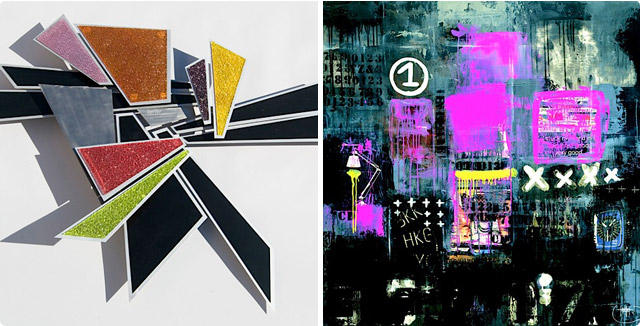 posted on 8/23/2013