< previous post return to index next post >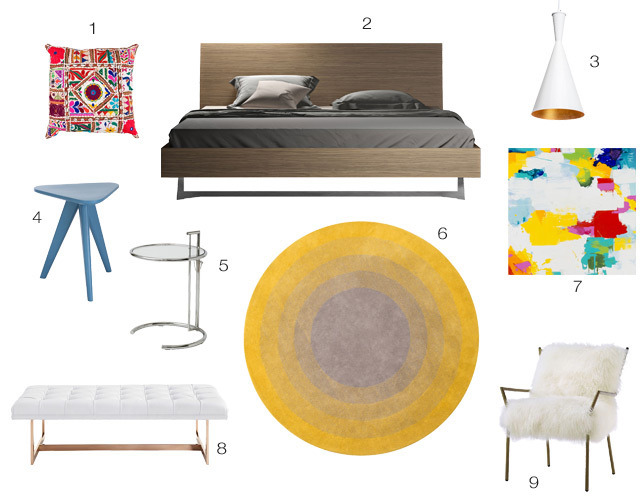 A Mod, Funky, Colorful Bedroom? Yes, please!
Our Broome Bed is a cool, modern platform bed offering clean lines cast in a classic walnut veneer with steel legs. Its striking and simple design makes it incredibly easy to pair with any number of different styles. Today our designers opted to blend modern and funky, with pops of color, to create a light and fun bedroom.
Who doesn't want their bedroom to be fun?!
To start, our designers shied away from Broome's matching nightstands, opting instead to mix and match funky mid-Century side tables. They chose the Karla in Blue, and the clasically-inspired Largent Side Table. Each offers funk and functionality, without the visual weight of a full nightstand.
Then came the color! The Meagan Pillow, Yellow Fading Sun Rug and Color Collage artwork all add in brilliant hues of yellow, red and blue, creating a bedroom space full of life and brightness!
To complete the space and add the functionality we all need, white and gold accents fill in the holes. The white and gold tufted bench at the foot of the bed, a fun sheepskin chair for getting your shoes on, with Lue Pendant Lamps to light the way!
Check out all of the items below:
posted on 6/23/2016