< previous post return to index next post >
Let's be real here...
Choosing the right sofa bed is challenging. Make the wrong choice, and you end up with a bad sofa, and a worse bed!
It's slow, but sure enough, your guests stop visiting. Family and friends stop calling. You start adopting cats for comfort, and before you know it... You die an old maid, hoarding cats to fill the whole left by your long lost friends!
Okay. That's clearly ridiculous!
But there is a kernel of truth in there! Choosing a sofa bed is tough, especially if you're not sure where to compromise. And a sofa bed does require a measure of compromise.
But that's okay! After all, if you're choosing a sofa bed, you're comfortable with some level of compromise. Whether you're making a den double as a guest room, or just really need a sofa for friends to crash on... That's compromise. Sure, you could buy a bigger place with more bedrooms outside the city. You could tell your husband's friend Roger, again, to "Slow down! This party isn't a high school kegger!" But whetevs.
But how do you compromise to get the best sleeper for your home?
We'd argue that you should give up on the traditional, and go for a modern sofa bed instead.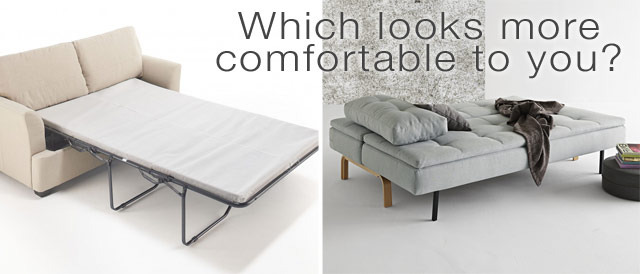 Pretty Bad Sofa. REALLY Bad Bed.
It really all comes down to comfort. The main problem with a lot of sleeper sofas goes back to the very beginning. When that first sofa set his eyes on that lovely bed at the bar, and they fell in love...
Sure, the kids had his frame and her innerspring center. But something just wasn't quite right...
It turns out that a lot of sleepers have the same problem - they squirm, fold and contort, attempting to achieve something pretty impressive - to stuff a mattress inside of themselves! Of course, along the way they trade in the comfort of both the sofa and bed, and end up pretty terrible as both!
For example, a standard innerspring mattress on a sofa bed is 3-4" think. Wow, you're thinking, "that's pretty thin." Yeah! Most innerspring mattresses are at least 8-10" thick. Why? In order to get enough padding around the springs so you can't feel them when you sleep.
Memory foam mattresses can be thinner, sometimes even just 6". But less than that, and, again, you start making trade offs just to fit a mattress into a sofa.
Guess what goes first on that sofa bed mattress? Yup. Foam (comfort).
Plus, that mattress is actually specially designed to fold, eliminating even the possibility of a full thickness mattress. And, again, you're thinking, "of course! It has to fit INSIDE the sofa."
But it turns out that making your sofa into some sort of magical-furniture-transformer requires a lot of ingenuity, mechanics and, especially, trade offs!
You've got the folding bed frame, designed and tucked into the sofa frame. The sofa frame itself is engineered to support all of the extra mechanisms going inside of it. Plus, all of the hinges and springs enabling you to actually lift the bed out of the sofa. Then the springs and legs that make the bed work once it's unfolded. And all of these pieces are specially designed and tested to deal with the extra work and torque they're subjected to...
Of course, the seat cushions themselves are usually a little (or a lot) thinner to make room for everything stuffed underneath them.
Oh, and then you've got that "mattress"!
And it's really heavy! Most sofa sleepers weight at LEAST 350 pounds, and we know of many that are closer to 500!
And for all of that, you get this:
Okay. We're sort of joking here! There are some pretty nice looking sofa beds with all of the hooplah of a fold out bed. Here's a cool one:
A Better Solution for Modern Sofa Beds
But is that what you want?
A vast majority of the modern sofa beds we carry re-envision the entire concept of a sleeper sofa. Instead of trying to stuff a bed into a sofa, the designers simply looked for commonalities between sofas and beds, and took their designs from there.
And what we ended up with were pieces that just make more sense!
Designer Per Weiss created sofas that split the mattress itself into two or three different components, like the seat and back of a sofa. This ingenious design choice enabled full thickness mattresses to be incorporated right into the designs of nearly every piece. No trade offs.
Of course, these mattresses are a little different than a standard innerspring mattress. Primarily, they're designed to hold their shape with a reinforced steel frame, so they're not "floppy" like a standard mattress. But all of the components of a real mattress are there! Springs, foam, fibrefill... Everything that makes a mattress actually comfortable, without compromise!
Which would you prefer? A mattress thicknesses of 7-10" across the board. You know, like a real mattress? Or some weird mattress mini mutant, 3-4" thick?
Benefits of Modern Simplicity
As Leonardo da Vinci famously said, "Simplicity is the ultimate form of sophistication."
By creating a mattress that doubles as both a bed and sofa, these designs eliminate the bulk, weight and mechanical sophistication of more traditional pull out sofas. The results speak for themselves! No complicated-hopefully-won't-break springs and mechanics to achieve the transformation from sofa to bed. Ours just hinge, fold or slide. Check out how clever our Cassis is:
As an added bonus, weight is less of an issue. Our heaviest modern sofa bed is less than 350 pounds. In fact, most are closer to 200. Admittedly, that's not a huge deal day-to-day. But call us on moving day!
Lastly, these sofas lean on the very best elements of Danish design, so they simply look and work better than traditional sofa beds!
You can check out our entire collection of modern sofa beds, or shop just our exclusive offering of modern sofa beds by Innovation!
Have thoughts or questions? Don't hesitate to e-mail or call us at 855.663.3447!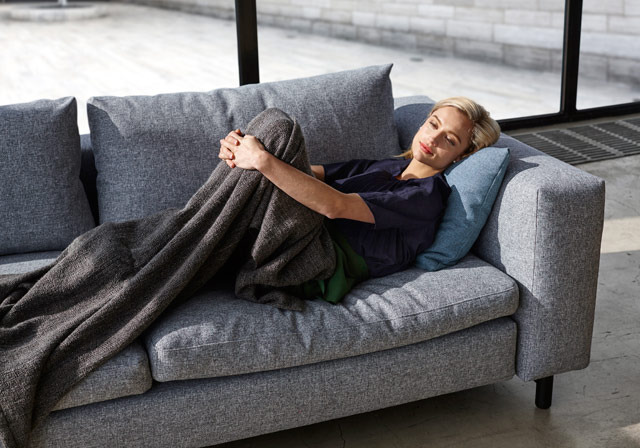 posted on 6/21/2016