< previous post return to index next post >
Maybe you've just arrived home after a long day at the office, bookended by an hour-long commute each way. Or perhaps you've spent the entire day taking care of everyone else besides yourself and you've finally tucked the kids into bed. It's possible you've done both and still have dishes and laundry to take care of too.
Regardless of what your day throws at you, we feel you and know that at the end of it, you're longing for comfort, Netflix and maybe a large glass of wine on your modern coffee table. If you're like us, your sofa is a refuge at the end of the day that offers a place to relax and turn off the to-do list running through your head.
For that reason, it's important to find a sofa that not only looks and feels just right but one that speaks to you. If you don't have this kind of relationship with your sofa (and you should), we're here to help.
Just as with a potential love interest, you most likely have a list of qualities you're looking for. Let's discuss some of the factors that might go into choosing your perfect partner.

When it comes to sofas, size does matter. Whether you live in a sprawling suburban home with large rooms and high ceilings or a studio apartment in the city, it's important to think about the scale of your furniture. A sofa should be the largest piece of furniture in your living room and because of that, it will (if we have anything to do with it) make an impact.
Below we've selected sofas for small, large and in-between spaces to give you an idea of what will work in your home. If your space is really small, you might maximize your space with a modern sleeper sofa instead!
Our Favorite Small Sofa
Our Aria Channel Tufted Sofa in a soft velour upholstery is on the smaller side at 64-inches long and perfect for a studio apartment or pre-war bungalow with limited square footage. Although Aria may be little, it certainly makes up for it in the style department. With retro styling and elegant lines, Aria is just what you need to make a big statement, while also fitting just right into any space.
Click here for EXCLUSIVE SAVINGS on Felix!
Need a Medium Sized Sofa?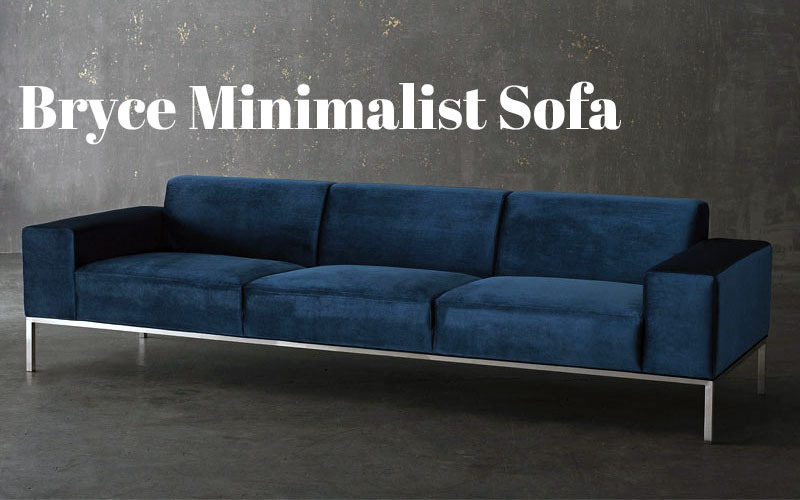 Looking for the perfect companion to your mid-sized home or spacious apartment? Then we've got just the guy for you! Available in a plethora of fabric choices and colors, Bryce is a chameleon of sorts that will fit in almost any moderately-sized space. Coming in at 109-inches in length, Bryce offers ample seating and can be centered in your living room to make it a focal point. Help your home stand out by choosing our Bryce Minimalist Sofa and you won't be disappointed.
Click here for EXCLUSIVE SAVINGS on Bryce!
The Best Large Sofa
When you've got a large living room, you don't want to clutter it up with too many items just to fill the space. Therefore, you must choose your pieces wisely and we think our Perry Sofa is just what you need. With an impressive measurement of 134-inches, Perry is a man among men.
Click here for EXCLUSIVE SAVINGS on Perry!
We picture Perry situated in a chic, modern penthouse or perhaps a luxurious media room, but wherever it is placed, it will certainly command attention. If you're looking for even more seating, give our Perry Sectional a try. PRO TIP: If your room is really large, or open concept, try placing a modern sideboard behind your sofa for added storage!

Most people have a type; a general appearance that they find themselves drawn to. Just the way you might find a quality attractive in a person, you probably can identify what catches your eye when it comes to furniture as well. Luckily we've got lots of cool, modern styles for you to choose from. If you like Contemporary furnishings, Ultra Modern looks or Mid-Century classics, then these picks are sure to grab your attention.
A Classy Contemporary Sofa
So many looks can fall under the umbrella of Contemporary and since we prefer versatile pieces that won't go out of style, we've selected our Cyrus Sofa to share with you. A good looking and well-rounded sofa, Cyrus can be gentle and smooth or refined and stately depending on the fabric you choose. We like Cyrus' clean lines and simple styling that make it a sofa that can adapt to nearly any motif.
Click here for EXCLUSIVE SAVINGS on Cyrus!
An Ultra Modern Sofa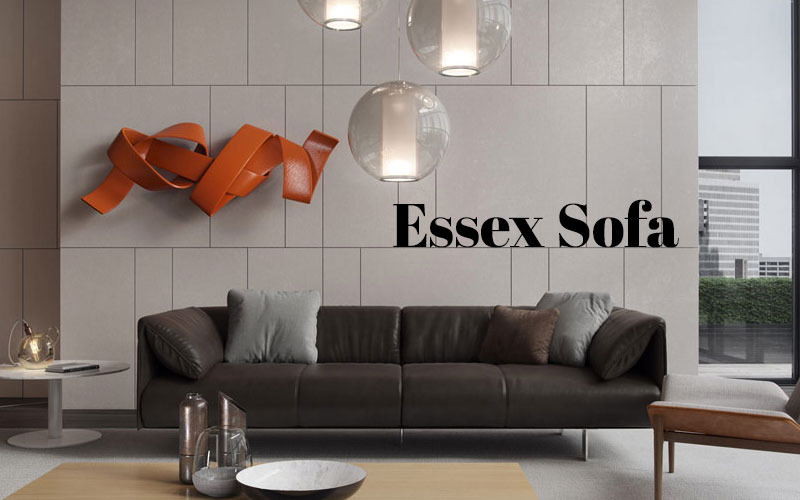 Sleek and sophisticated, our Essex Sofa appears to be all business but has a softer side upon closer inspection. With sharp angles and perfectly positioned steel legs, Essex has got it going on. Perhaps the best part is that the premium leather seat is incredibly supple and inviting, just the way we like it. We like to think of the Essex as a suited businessman that comes home after work to lounge in his t-shirt and joggers. The perfect blend of form and function.
Click here for EXCLUSIVE SAVINGS on Essex!
Breathtaking Mid-Century Sofa
The flawless combination of modern and retro styling, our Mid-Century inspired Adelita Sofa offers a look that is current, yet also transcendent. Adelita's polyester-linen blend fabric in a marbled gray color sets the tone for this polished piece and the angled gold legs are what make it truly memorable. We love the updated style of Adelita and think she's a real beauty, but there is more to her than meets the eye. Down-filled cushions and a kiln-dried wood frame ensure that she is more than just a pretty (sur)face.
Click here for EXCLUSIVE SAVINGS on Adelita!
Are you into blondes, brunettes or redheads? You're likely to have a preference, but when it comes to choosing your sofa color, there is much more that comes into play. You must ask yourself: What color will work with the other pieces in your home? Do I want to choose a neutral shade that I can easily work into my space or do I want my sofa to make a colorful statement? And finally: What do I truly love? Consider these questions when deciding and check out some options below.
Our Favorite Bold Colorful Sofa
Make a splash with a vibrant sofa like our Bardot Velvet Sofa, which comes in plush jewel-toned colors like emerald green, bold blue or flirty pink. Choose Bardot to place in an otherwise sedate room that needs some life or add it to your already colorful abode and it will fit in wonderfully. Bardot pairs perfectly with a white coffee table! Accentuate Bardot's colorful tones with patterned pillows or tone down the look with more organic colors and designs.
Click here for EXCLUSIVE SAVINGS on Bardot!
Wanting Soft? Maybe a Pink Sofa, or Sea Blue...
Okay, so you like color, but maybe you're more into subtle shades. If so, we've got the sofa for you! Our Brooke Sofa comes is pastel hues of blush pink, sea blue and soft gray that you're sure to love. These subdued colors allow Brooke's curvaceous shape and chic silhouette to take center stage in any setting. If you're a fan of retro styles, then our Brooke Sofa will take you back in time and give you a glamorous, yet timeless design.
Click here for EXCLUSIVE SAVINGS on Brooke!
Need a Neutral Gray Sofa?
Our Benson Sofa exudes sophistication and style. A neutral color palette of shadow gray velour, hunter green tweed or light gray fabric choices lets you pick the hue that works for you. Whether you're looking for a dark, moody sofa or a versatile gray, the Benson Sofa has got you covered, all with a unique, rounded shape. Add to that a solid wood frame, wood-trimmed base, and matte black legs and you'll see why Benson ticks all of the boxes.
Click here for EXCLUSIVE SAVINGS on Benson!
When searching for your soulmate, it's all about how they make you feel. When you're with them, do you feel comforted, safe and tingly all over? These are all good signs and just what you deserve from your ultimate sofa pairing as well. Alternatively, rough, awkward and uncomfortable are certainly not optimal.
Think about the attributes you're looking for and find an upholstery that will give you just what you want. Leather offers durability, velvet is luxurious and linen is crisp and clean. Check out some of our favorite fabrics and find your perfect match.
Perhaps a Top Grain Leather Sofa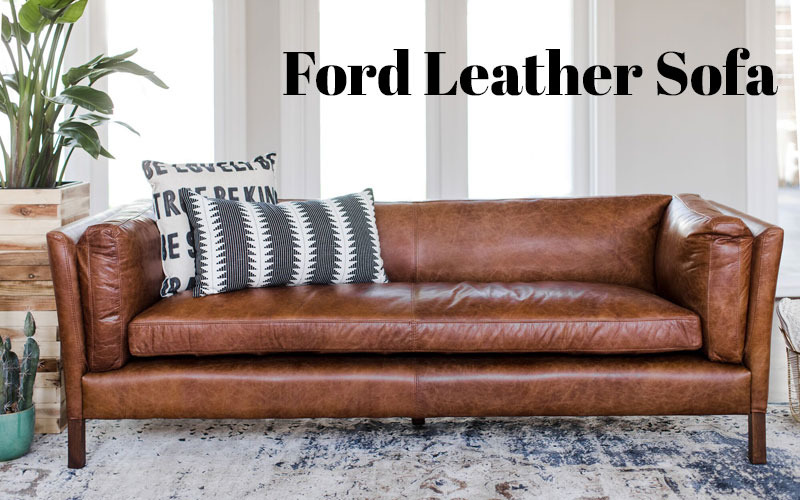 Rugged and tanned, our Ford Leather Sofa is perfect for those looking for a dependable companion that will always be ready for an afternoon nap. Ford offers effortless style and classic lines that not only look great, but its craftsmanship makes it perfect for a long-term commitment. Whether you prefer modern minimalism or a natural bohemian look, our Ford Leather Sofa has got your back(side).
Click here for EXCLUSIVE SAVINGS on Ford!
We Vote for This Velvet Sofa
When you think of plush upholstery, it's difficult not to immediately picture velvet and all of its allure. Soft and sumptuous, our Paulo Velvet Sofa is perfect for the person that's attracted to high-end finishings and has a taste for all things classy. Whether you're fancy, or just want to pretend, you'll appreciate Paulo's upscale feel. The beauty of velvet is that it is has become a staple in home decor, which makes it an attainable choice for all.
Click here for EXCLUSIVE SAVINGS on Paulo!
Lovely Linen Sofa
Smart and stately, our Gannon Linen Sofa is a modern take on a smart-dressed Mid-century classic. Handsome and well-groomed come to mind when we gaze upon Gannon, so he's just right for an office setting or a tidy bachelor pad. Our Gannon Sofa exudes masculinity and is perfectly polished. With this level of comfort, you're sure to have found the perfect blend of good looks and down-to-earth charm.
Click here for EXCLUSIVE SAVINGS on Gannon!
Consider these the finishing touches that make your ideal partner or sofa stand out. As far as your significant other, maybe it's a sly wink, a hearty chuckle or their quirky eating habits that make them feel like they are made for you. It's true, you're not likely to find a sofa that makes you quite THAT happy, but you'll likely find one that has the special touches you desire like gold legs, intricate tufting or wooden arms. See below to find out what speaks to you.
Go Bold! Add a Sofa with Gold Legs
One look at our Rina Velvet Sofa and you know she's special. Dressed to the nines in gold and velvet, Rina is certain to command attention. Fortunately, style and substance go hand in hand and we're sure you'll want to introduce to your mom to the new lady in your life. Although we carry several sofas with gold legs, Rina goes the extra mile by incorporating it into its base for added flair. And with a silk webbing suspension and sinuous coil springs to provide maximum support, we think this she's a keeper.
Click here for EXCLUSIVE SAVINGS on Rina!
Get Intricate with a Tufted Sofa
Nearly every surface of our Zack Tufted Sofa is covered in a unique square button-tufted pattern and we still can't seem to get enough of it. Zack's curvy shape feels comforting and safe, just like being cradled in your lover's arms. Okay, so maybe he can't fulfill all of your needs, but he does have a lot to offer. Zack boasts a premium foam padded seat, back, and armrests which are all covered in a polyester-linen blend, a durable and easy to clean choice.
Click here for EXCLUSIVE SAVINGS on Zack!
Wood Frame Sofa
We love a good wood accent and think our Distrikt Sofa gets it just right. A one-of-a-kind concept, Distrikt boasts a distinctive solid oak platform, wrap-around spindle armrest and blackened cast-iron legs with brass cap accents. Perfect for a beach-side retreat, our Distrikt Sofa is an exquisite beauty that is reminiscent of early 20th Century design. Add to that the appeal of overstuffed cream cushions and a built-in side table and you're sure to see why we can't get enough of it!
Click here for EXCLUSIVE SAVINGS on Distrikt!
Even if one of these gorgeous sofas doesn't strike your fancy, don't despair, we've got many more lookers for you to peruse here. Surely you'll find one you'll want to bring home and make a part of your life!
posted on 3/7/2019