< previous post return to index next post >

Let's face it: A sofa bed is inherently a trade off. It's a sofa AND a bed, and it's that little word - "and" that gets you!
Remember the El Camino?
It's a car AND a truck! Okay... A lot of you won't remember it. Actually, I don't either. But I do remember what my father told me about it: "It was a bad car, and a worse truck."
More isn't always better. "He's handsome and married." See?
So there's that risk when you need to go with a sofa bed. Your goal should be to minimize the "and." Here's your quick and easy guide to choosing the best modern sleeper sofa for your needs:
It really all boils down to just two factors, the first of which is absolutely crucial!
1. Are you sleepin' or sittin' on it?
I know, I know. You need it to do both. But, which are you doing more?
If you're living in New York or LA, scrounging around for square footage wherever you can, maybe a sofa bed is going to be your bed-bed. Or, maybe you need a sleeper to complete the craft room, and, every once in a while, put up your in-laws. The first order of business is to decide which needs to be more comfortable, the "sofa" or the "bed." From there, you've got a good starting point.
Occasional Use
If the bed is more of a "yeah, sometimes it would be nice" to "we have guests stay a night every few weeks," then you can get away with a folding mattress. There's nothing wrong with folding mattresses, per se. But they're definitely intended to take a nice sofa, trade in some comfort, so you can have a sofa AND bed. (There's that sneaky "and"!)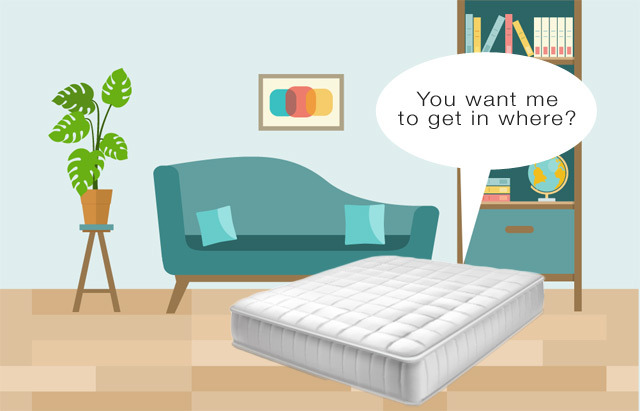 That's no big deal, if you're just planning for the "bed" portion of your sofa to get occasional use! And, better, you can focus on finding a sofa that has the comfort or style you really want!
You Need Comfort
On the other hand, if you're more in the "I'm going to sleep on it every night" to "I need a second bed every weekend" arena, then you should shy away from a folding mattress and look for designs that feature a single mattress, or join two mattresses together to create one sleeping space. Comfort is key on these sleeper sofas. You want a piece that makes a great sofa and bed because you're usually sitting and sleeping on the mattress. For me, that means the sofa is a little firm, and the bed is awesome!
2. Now Let Style Be Your Guide
Whether you're going for Country Chic, or mid-Century Modern, you have a place to start. Do not compromise on the comfort of your sofa bed... and then start hunting for the design that best suits you and your home!
Personally, I love our modern sofa beds precisely because they marry unique and innovative design ideas to create sofas that are sleek and simple. You can see our current collection here. Plus, a vast majority of the ones we carry eschew folding mattresses, focusing on comfort while still managing to look stylish and modern.
TL;DR
Decide how comfortable your sleeper sofa needs to be. More than occasional use as a "bed" means you should avoid a folding mattress. Don't compromise on that, then find the style that suits you! Our modern sofa beds are awesome!
posted on 2/2/2017