< previous post return to index next post >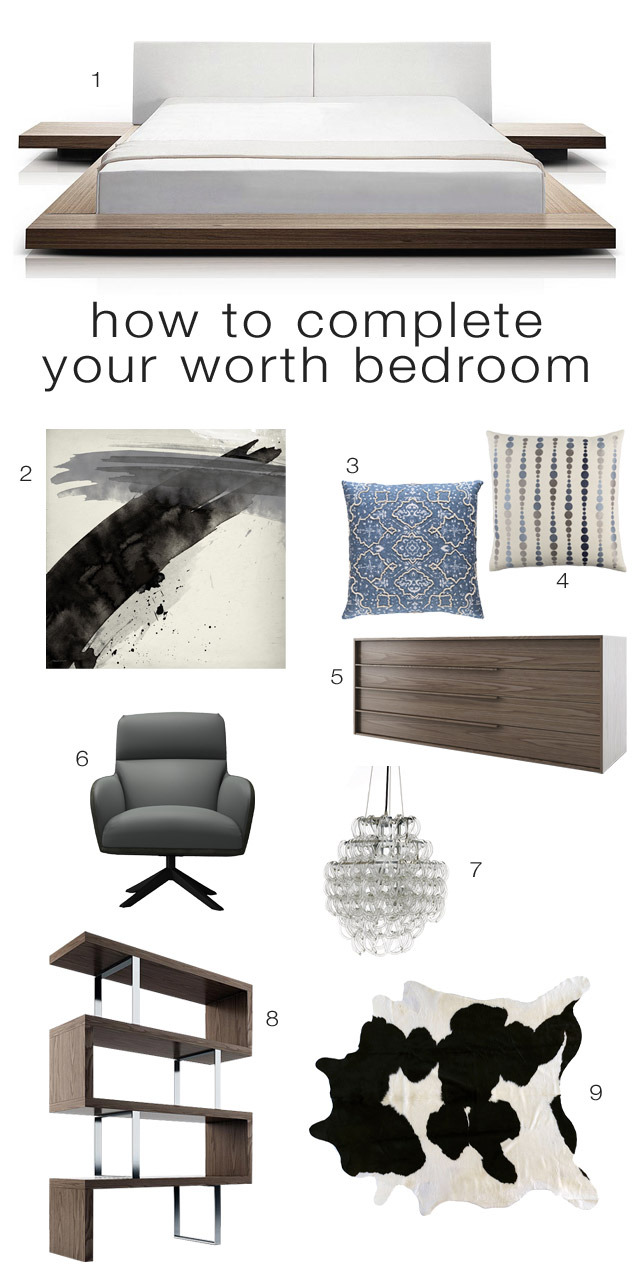 Creating Your Very Own Worth Bedroom Retreat
ModLoft's Worth Bed has been one of our most popular modern bed frames for years. Its clean modern lines and low profile give it an undeniably stylish and modern feel. But once you've got the bed of your dreams, how do you complete the room? Don't worry! We've got you covered...
The Worth Bed boasts two truly definining characteristics. First, is its zen-like low-profile silhouette. Second, is the Worth's strict adherence to straight and modern lines. Our stylists love both design elements, and began seeking out ideas to utilize Worth's distinctive look and accentuate each of those design traits.
Playing With Heights
Worth is known for its height, which seems to make your bedroom feel more open and airy, despite Worth's sturdy profile. So the question we first asked was what to do with all of that open air... Our designers loved the idea of accentuating Worth's profile, particularly by playing with varying height furniture.
To create a dramatic, classic space, we opted to add a hanging lamp. The Letizia Pendant Lamp is a perfect compliment in your Worth bedroom. Measuring 18" x 18" x 24" Letizia offers a substantial size to fill the air, and its 6' cord enables you to hang it lower than you might with a more traditional fixture. Placed over one of the built-in nightstands or in the center of the bed, Letizia will cast a beautiful ambiance through its glass hoops, while dramatizing the distance between your bed and your ceiling.
Next, they added height from the floor. Our designers choose the Pearl Bookcase; another striking piece from ModLoft. Pearl creates the perfect compliment to add subtle, stylish accents and functionality into your room. And at about five and a half feet tall, Pearl is perfectly scaled to the Worth.
Nothing Wrong With Curves
Then our designers went to work trying to highlight Worth's straight lines.
ModLoft's cool new Christie Lounge Chair is the perfect piece for your bedroom, and its rounded frame is a fun contrast to Worth's more rigid shape. Adding to the curves, our designers opted for the Sweeny Rug. Sweeny offers several tie-ins to the Worth: it's another modern piece, its curved lines contrast well, and the natural hair-on-hide element matches beautifully with Worth's natural walnut veneer.
Rouding out (see what we did there?) the room, the Batik and Dewdrop Pillows add in fun, modern textures and shapes while adding some subtle color to the muted palette. ModLoft's Jane Dresser is the quintessential pairing for your Worth Bed, adding stylish functionality so you can keep your room clean.
Lastly, the abstract canvas print Washing Wind ties all of the curves together into a straight and square canvas.
You can see more details on these items below:
The choices for completing your Worth Bedroom are endless. Our idea was to mix and match different heights and shapes to really highlight Worth's strikingly popular profile. During the process we added accents and functionality to make your bedroom space truly livable.
Did your room different? We'd love to see it! Send photos here (or it didn't happen)!
posted on 3/1/2017