< previous post return to index next post >
Gone are the days of wall units that dwarf the living room. Thank goodness! In their place we're seeing modern tv stand designs that complement your home instead of overpowering it.
If you prefer a more up-to-date TV stand design that is stylish and functional, then you'll need one of our Top TV console designs for 2021!
Here's the Best TV Stands for 2021:


How We Chose
Wondering what exactly we look for when selecting our "best of the best"?
Good Looks
Crazy fact: The average American spends more than 7 hours (per day) watching television.
I know; you're watching the television not the stand. But it's in your periphery. And, chances are, it's a focal point in your living room! (PRO TIP: Save your living room and add one of our favorite modern accent chairs to create a better focal point!)
So, since you don't have tunnel vision (I hope), your console is in view as well, its appearance can make a huge difference in your living room.
Shouldn't you enjoy the way it looks? Yes!
For that reason, we picked the best TV stands and console designs from our store. Whether you need a mod white stand or a floating concept, we're here to help make sure you find one you love that fits your space.
Materials
Our curated selection includes only the best materials available. From wood veneers to high gloss lacquers and glass.
Quality
We only included items from our website that are manufactured by the best brands, because we know that this is an investment you'll need to last for a long time. Each of the brands that we selected from is known for excellent craftsmanship.
No matter which of the options you order, you can be certain that it will stand (pun intended) the test of time.
Price
One of the deciding factors of whether or not to buy something is price. Because of that we've made sure to include a wide range of options and items from our store. Plus, please click the link below or the side banner to save on thousands of items from our website!
Now that you know why we chose these items, here they are in all their glory:
Our Short List
• Best White TV Stand: Eldridge TV Cabinet
• Best TV Stand with Storage: Stephen Media Unit
• Best Contemporary TV Stand: Murrah TV Stand
• Best Mid Century Modern TV Stand: Maarten TV Stand
Best Modern TV Stands for 2021
Gramercy
We'll begin with one of our best sellers: the Gramercy. Combining wood veneer and lacquer along with stainless steel legs and trim, Gramercy makes a bold statement. Available in two color combinations.
Click here for EXCLUSIVE SAVINGS on the Gramercy!
Jayne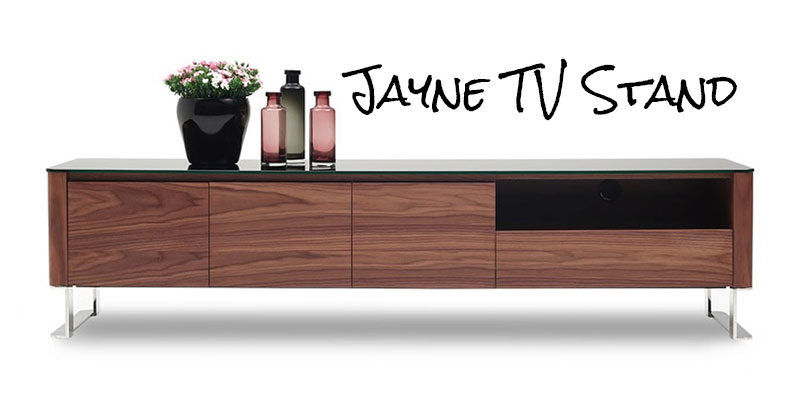 If you're looking for a more organic approach to aesthetics and materials, then the Jayne TV Console might be the perfect fit. We love that it is made of sustainably sourced French Oak and accented by rounded steel legs and glass. And it's from one of our favorite brands!
Click here to save on the Jayne!
Rowan Media Center
Practical and practically perfect, our Rowan Media Center is made of eco-friendly solid Moso bamboo (help save the planet!). The slatted design of the Rowan allows the infrared light from your remote controls to reach your devices. Available in two sizes and finishes with a completely finished back.
Click here to save on the Rowan Media Center. Order yours today!
Murrah
A rounded case wrapped in rich walnut veneer and polished steel legs give Murrah its characteristic appearance. With a blend of retro and new-age design, Murrah is the best of both worlds: a low profile TV console with ample open and closed storage.
Franklin
If you were to look back at a vintage Better Homes and Gardens magazine, you might see something almost identical to our Franklin Mid Century TV Stand. With classic good looks, Franklin might just distract from the television you place atop it. We love a good throwback and think you will, too!
Click here to save on Franklin. Order yours today!
Eldridge Media Cabinet
Our Eldridge Media Cabinet is the quintessential piece for someone that prefers a clean and contemporary look. Available in your choice of gray or sleek white lacquer finishes, Eldridge has your back! And plenty of space to store your media.
Please click here to save on the Eldridge Media Cabinet!
Currant
Drawers and doors galore, eco-friendly solid Moso bamboo (help save the planet!) and style to boot, our Currant TV Stand is definitely a keeper. Currant is closely related to the Rowan above, part of the same brand of bamboo furniture on our website, and features a finished back.
Please click here to save on the Currant!
Maarten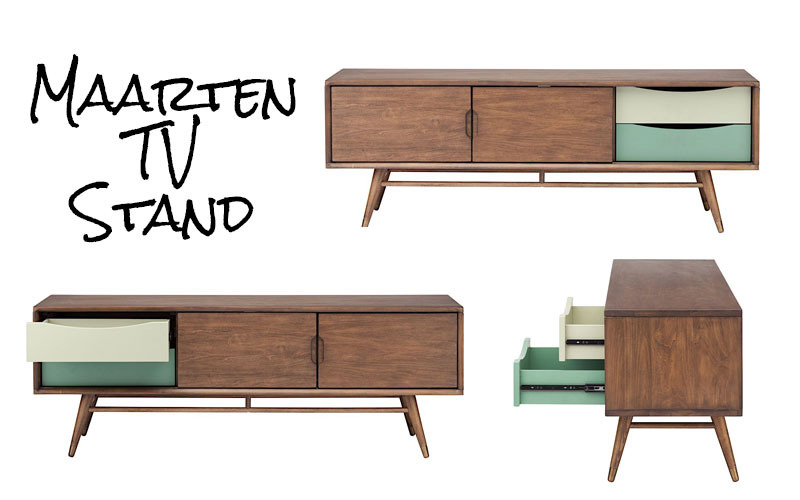 The Maarten TV Stand provides just a pop of color with its enclosed sets of drawers in cream and mint green that can also be concealed by its sliding doors. Maarten brings back a nostalgic feel and is one of our favorite items for Mid-century modern fans and minimalists alike.
Click here to save on the Maarten. Order yours today!
Baxter Media Cabinet
We dig everything about our Baxter Media Cabinet, from its warm walnut and gray oak veneer to its sophisticated matte gray lacquer. Add to that the slim powder coated legs and the variety of storage related spaces and we can't find a single thing we don't love.
Baxter may be the best console design for 2021!
Click here to save on the Baxter Media Cabinet
We'll round this out with a quick fire list of the remaining items you may love:
Beckenham
Chiswick
Helena
Please click here to save on your next favorite design!
Stephen Modern Entertainment Center
Mylo
Bryson
Bayard
Posey
Ondria
Lauryn
Harleen
Tecla
Olianna
Drift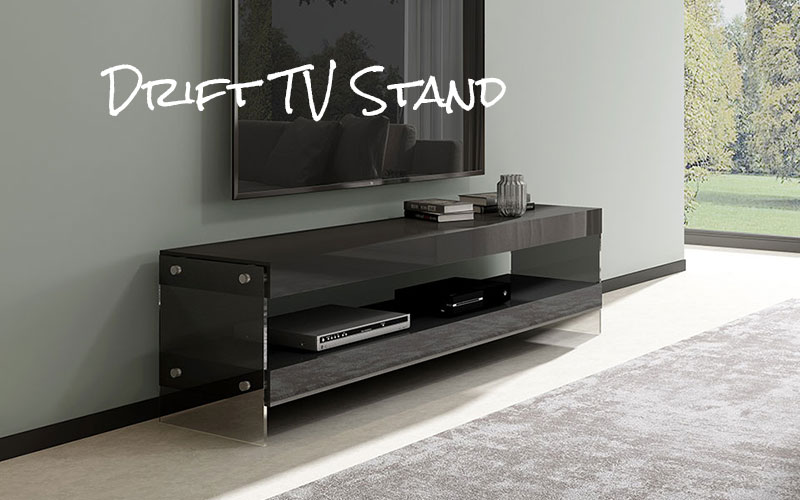 Conclusion
As you can see, we have lots of favorites, which made it difficult to narrow our list of available items down to just these. So, if you didn't come across one that speaks to you, then please be sure to check out all of our TV Stands where you'll find many more available. And if you'd like our opinion on one or a few, please don't hesitate to ask!
Click here to save on upgrading your living room!
Post written by Meagan Sykes with contributions from Kevin Sykes. Meagan is the Creative Director, and Kevin is a Co-Owner and Co-Founder of Modern Digs. Meagan and Kevin live in Austin, TX and love all things mid-Century modern.
posted on 6/29/2021