< previous post return to index next post >
Let's upgrade your living room with a striking entertainment center or modern TV stand!
Gone are the days of wall units that dwarf the living space. Thank goodness! In their place we're seeing modern tv stands and sleek entertainment centers that complement your home instead of overpowering it.
If you prefer a more up-to-date minimalist TV stand design that is stylish and functional, you're in the perfect spot!
The 11 Best Modern TV Stands
Click through TV stands below to shop, see price, ship details
Jayne TV Stand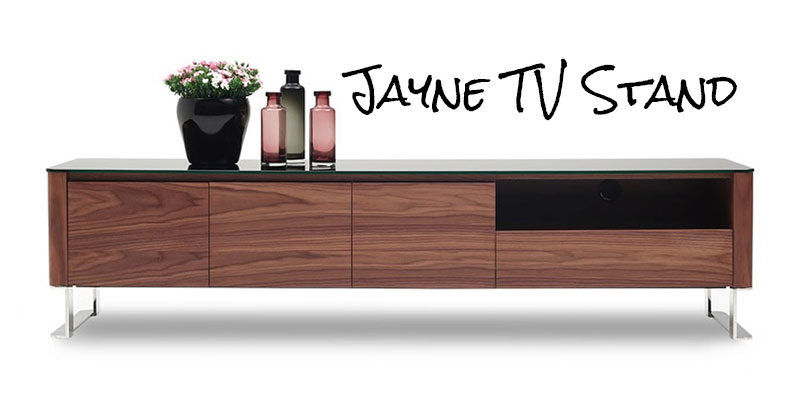 If you're looking for a more organic approach to style and materials, then the Jayne TV Console might be the perfect fit. It's one of our most popular modern TV stands!
We love that it is made of sustainably sourced French Oak and accented by rounded steel legs and glass. And it's from one of our favorite brands with fast delivery!
Eldridge TV Stand
Our Eldridge is the quintessential piece for someone that prefers a clean and contemporary style. Available in your choice of gray or sleek white lacquer finishes, select one, and Eldridge has your back! And plenty of space to store your media.
Please click here to save on the Eldridge Media Cabinet!
Maarten TV Stand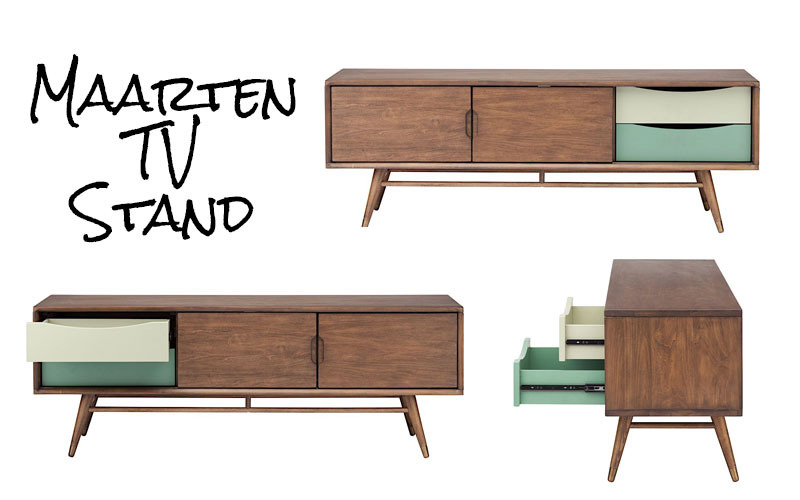 The Maarten TV Stand provides just a pop of color with its enclosed sets of drawers in cream and mint green colors that can also be concealed by its sliding doors.
Maarten brings back a nostalgic feel of TV stands from the 50's and 60's, and is one of our favorite designs for Mid-century fans and minimalists alike.
Click for savings. Order yours today!
Baxter TV Stand
We dig everything about the Baxter TV Stands, from its warm walnut and gray oak veneer to its sophisticated matte gray lacquer.
Add to that the slim powder coated legs and the variety of storage related spaces and shelves, and we can't find a single thing we don't love.
Baxter may be the best console design and TV stands for 2022!
Click here to save on the Baxter Media Cabinet
Helena TV Stand
Take a look at Helena!
This unique piece boasts a tiered design, with the top portion able to be moved left or right. This allows you to create just the perfect look in your space. The contrasting top and bottom units give Helena a gorgeous, stylish look that will fit in with any type of decor.
So if you're looking for something eye-catching and different, Helena is one of the best modern TV Stands designed for you!
Please click here to save on TV stands now!
Stephen Modern Entertainment Center
Looking for mod entertainment centers and TV stands that strike the perfect balance between form and function? Look no further than the Stephen Entertainment Center!
This stylish piece features a 6-foot TV stand with six full extension drawers and wire management holes, making it the perfect base for your components and television.
The wall-mounted shelves features open storage for decor, paired with cabinets and additional adjustable storage for items like books or DVDs. All of this is wrapped up in a neat blend of Walnut wood veneer and gray lacquer, ensuring a perfect blend with your existing motif!
Mylo TV Stand
If you're looking for TV stands that have both modern and traditional sensibilities, the Mylo TV Stand is the perfect piece for your space.
The clean lines and understated design of the Mylo are offset by the stunning Wenge finish, giving it a cool and collected look that will anchor your living room.
The three large drawers provide storage for all your media needs, while the spacious top surface is perfect for displaying decor, magazines, and knick-knacks.
Sign up here for exclusive deals on TV stands!
With its mix of sophisticated style and practical function, the Mylo TV Stand is sure to become a favorite in your home.
Tecla TV Stand
Looking for TV Stands that are both sophisticated and simple? Look no further than the Tecla!
Crafted in a matte walnut veneer with a black glass top inset in an aluminum frame, this entertainment center has the length to elevate any living space. Plus, it features a wide matte black shelf with plenty of space to set your media devices, and two deep drawers with soft closing glides to hold additional stuff.
So go ahead and add the Tecla TV Console to your cart now - with fast delivery you won't be disappointed!
Drift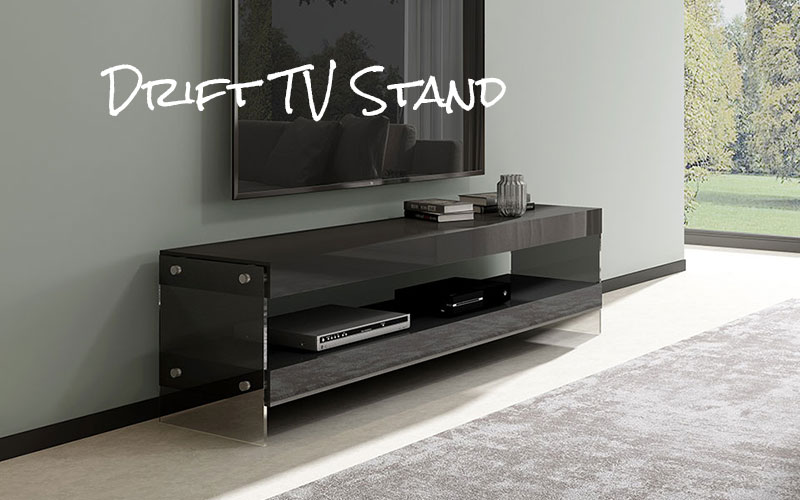 This beautiful piece of furniture comes in either grey or white gloss, and is made with thick resilient tempered glass. It's perfect for holding your media components and accessories, and it will also elevate the look of any space with its clean silhouette.
So if you want to add a touch of luxury to your home, then make sure to get one of our Drift TV Stands.
Lenox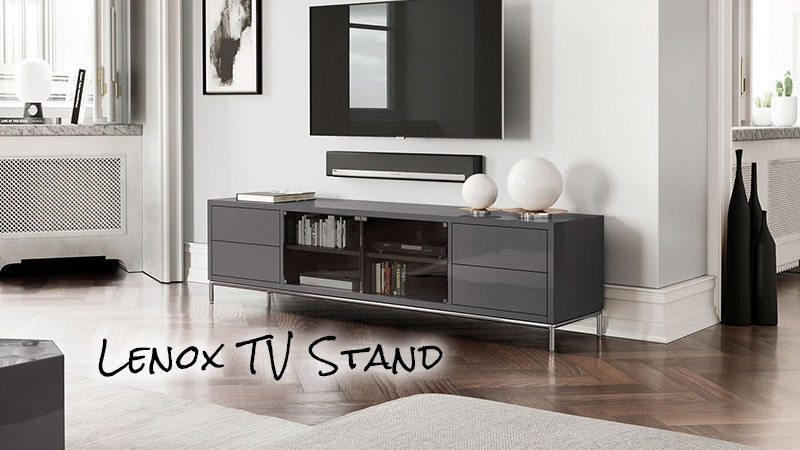 Looking for inspiration and a stylish way to store all your media gear? Check out the Lenox TV Stand!
This sleek and modern design is perfect for any contemporary space. The 83-inch cabinet features slate tinted glass doors that are IR-friendly, so you can easily access all your A/V components.
The polished steel tube frame and four legs give the Lenox a bit of added height, while still maintaining its low-profile presence. Plus, the sleek design is sure to complement any décor.
So why not ditch that old wall unit and give the Lenox a try? You won't be disappointed!
Adora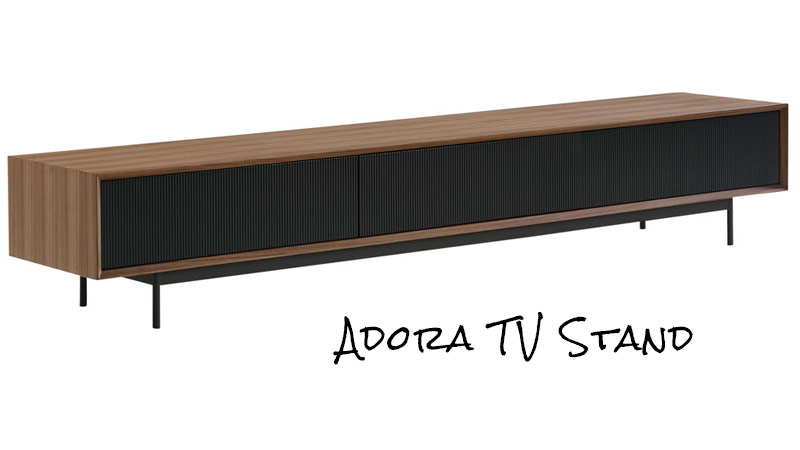 Looking for chic and contemporary TV stands that will elevate your living space? Look no further than the Adora.
Crafted from a sleek walnut veneer, this cabinet features a sturdy iron base and three under-mounted drawers, making it the perfect place to store all your entertainment devices. Plus, its clean lines and minimalist design make it a great addition to any contemporary home.
So don't miss out on this stylish and functional piece - order your Adora today!
How We Chose our Favorite Entertainment Centers
Wondering what exactly we look for when selecting our "best of the best" TV stands, entertainment centers? Let's boil it down!
Good Looks
Crazy fact: The average American spends more than 7 hours (per day) watching televisions.
TVs have advanced. Shouldn't your stand? I know; you're watching the television not the stand. But it's in your periphery. And, chances are, it's a focal point in your living room!
(PRO TIP: Add one of our favorite

mid century modern accent chairs

to create a better focal point!)
So, since you don't have tunnel vision (I hope), your console is in view as well, its appearance can account for a huge difference in your living room.
Shouldn't you enjoy the way it looks? Yes!
For that reason, we picked the best contemporary TV stands, entertainment centers and console designs from our store.
Look specifically for MCM? Be sure to check out our mid century modern TV stand guide!
Materials
Our curated selection of TV stands includes only the best materials available. From solid wood, veneers, over to high gloss lacquers and glass. Read our customer service report for proof we choose only the best TV stands!
Quality
We only included TV stands, entertainment centers and consoles from our website that are manufactured by the best brands, because we know that this is an investment you'll need to last for a long time. Each of the brands that we selected from is known for excellent craftsmanship.
No matter which of the options you select, you can be certain that it will stand (pun intended) the test of time.
Price
One of the deciding factors of whether or not to buy something is price. Because of that we've made sure to include a wide range of options and items from our store. Plus, please click the links above for an email address submit to save on thousands of items from our website!
Conclusion
As you can see, we have lots of favorites, which made it difficult to narrow our list of available TV stands down to just these. Many of them are pieces of art!
So, if you didn't come across one that speaks to you, then please be sure shop of our TV Stands (with more filters) where you'll find many more available.
And if you'd like our opinion or shopping assistance, please don't hesitate to ask!
Sign up here to save for your living room!
Category > TV Stands, Entertainment centers
Additional links:
Company reviews (customer service report), customer service open, shop with more filters on tvs stands, support
posted on 9/22/2022