< previous post return to index next post >
You deserve a bedroom that's a retreat. And a white bed frame is the perfect way to create a space that you love.
As you know, white bed frames are a popular choice for bedrooms because they can instantly brighten up any space. They're also perfect for bedrooms with little natural light, as they reflect the light and make your room appear brighter.
If you're looking for a way to give your bedroom a quick makeover, need a cool bed to match your mid Century modern dresser, or just love the look, we're here to help you shop the best styles from the best brands!
Click through items below to shop, order, find sizes, price, find stock status, ship and delivery info!
Joanna White Bed Frame
Shopping for the perfect white bed frame to complete your farmhouse aesthetic? Look no further than Joanna!
This stylish bed frame is made from a white powder-coated steel frame and features an integrated headboard and footboard with round finials for a touch of simple elegance.
Whether you live in the country or not, Joanna will give you the peaceful night's sleep you dream of in style.
Our Deeper Dig
Great value and price, fast delivery
Raine Velvet Bed
If you're looking for a stylish and luxurious white bed frame, the Raine Bed is the perfect choice.
With its squared profile and angular channel tufting, it's sure to make a statement in any bedroom. The padded headboard and side rails are upholstered in soft, stain-resistant performance velvet, adding rich texture and elegance to your space.
Our Deeper Dig
Bold tufting, great price, fast delivery, available in multiple sizes
Paulie Bed
Looking for a bed that's as chic as it is comfortable? Look no further than the Paulie White Bed Frame.
Upholstered in luxurious white velvet, this bed frame features an arched headboard with nailhead trim and a pleated design. The padded headboard is perfect for leaning back and relaxing while reading or watching TV in bed, and the stain-resistant fabric means you don't have to worry about spills and stains.
Our Deeper Dig
We love the leg options and the stunning headboard, fast delivery, available in multiple sizes
Griffen Bed
Looking for a modern and stylish bed frame that's also comfortable? Look no further than the Griffen Bed!
This platform bed features white faux leather upholstery with padded headboard panels, providing both style and comfort. The clean-lined, horizontal channel tufted headboard adds a touch of luxury to any guest bedroom or master suite.
Our Deeper Dig
Our furniture store specializes in modern, so we love Griffen. Great value, and fast delivery!
Want a coupon? Go here to sign up for deals!
Etta Bed in White
Whether you're shopping for a sophisticated and stately headboard or a tufted retreat, the Etta White Bed is sure to take centerstage in your plush modern bedroom.
Angled Mid-Century styled legs set the tone and provide support for Etta's polyester or velvet upholstered solid wood bed frame.
The wood slat support system allows you to use a mattress only and forgo a clunky boxspring altogether so Etta's look is minimal and clean, perfect for a restful night's sleep.
Our Deeper Dig
We're big fans of the white velvet, it's plush and inviting, fast delivery
Lily Bed in White
Looking for a bed that's both minimalist and chic? The Lily Platform Bed in White is perfect for your master suite or guest bedroom.
With a solid wood frame and slatted wood support system, this bed is built to last. The white polyester fabric upholstered headboard adds a touch of luxury, while the two different wood finishes and eight unique fabric colors give you plenty of options to customize Lily to your own taste.
Good sleep is important, so why not make your bed a haven of relaxation? With the Lily Platform Bed in White, you can do just that!
Our Deeper Dig
Want a different color ;-) ? White is just one option! Lily has been one of our favorite modern platform beds for years! Fast delivery, free shipping.
Montana Bed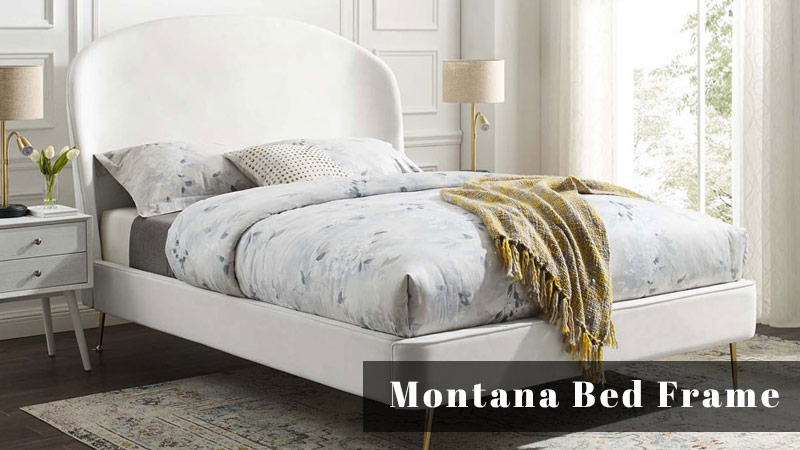 If you're looking for a bed that will make a statement in your bedroom, look no further than the Montana Bed.
Upholstered in a beautiful white performance velvet polyester, this bed is perfect for anyone who wants to add a hint of glamour to their space. The striking sloping headboard and brushed gold stainless steel legs with ball feet give this bed a luxurious look that will make you feel like royalty every time you lie down.
Plus, the dense foam padding ensures that you'll be comfortable all night long. And since this bed doesn't require a box spring, it's the perfect foundation for memory foam, innerspring, latex, and hybrid mattresses.
So whether you're looking for a bed that's stylish or practical (or both!), the Montana Bed has a lot to offer you.
Our Deeper Dig
Fast delivery, beautiful curved headboard gives Montana a welcoming feel, only available in Queen
Akita Japanese Bed Frame
Looking for a white bed that will transport you to Japan? Look no further than our Akita Japanese Bed Frame!
This beautiful bed frame is inspired by traditional Japanese tatami mats, and features a low-profile design that will make your mattress seem like it's floating. The matching nightstands complete the look, and provide the perfect place to keep your alarm clock and other select bedroom essentials.
Whether you're looking to create a stunning focal point in your bedroom, or simply want to enjoy the serene comfort of a Japanese-inspired space, the Akita Bed Frame in Walnut & White is the perfect solution!
Our Deeper Dig
Fast delivery and great lines, Akita is a statement piece of furniture
Want a coupon? Go here to sign up for deals!
Prince Bed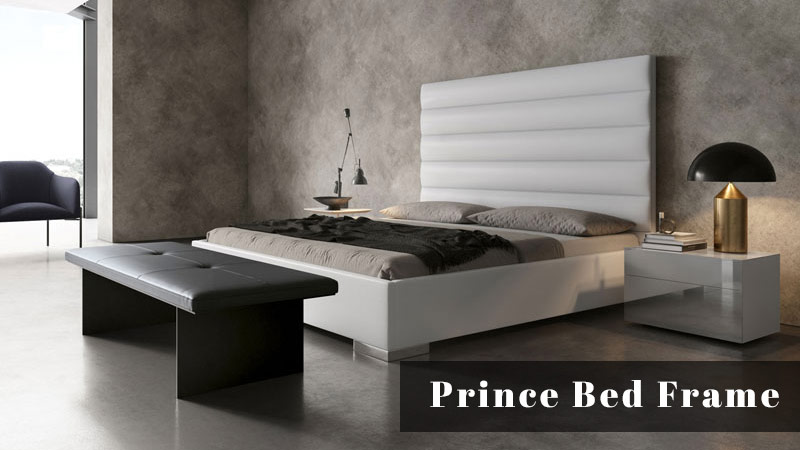 Introducing the Prince Bed Frame in white, a stylish and modern addition to any bedroom.
The high grade Eco-leather headboard with mod horizontal tufting makes a strong statement, while the tapered Eco-leather side rails, footboard and solid pine-slat base complete the look.
The slim lines and low profile of the Prince Bed make it perfect for small spaces, and the chrome feet add a final splash of modernity.
Our Deeper Dig
Prince comes from one of our select top brands, high end quality and craftsmanship
Ludlow Bed
The Ludlow Bed by Modloft is an instant attention-grabber. With its bold design and stunning tufted headboard, it's a bed that makes a statement.
The headboard is made of high-grade Eco-leather, and is tufted for a luxurious look. Framed in your choice of walnut, wenge, or gray oak wood veneer, and the platform base is also accented with matching wood trim.
The Ludlow Bed is a bed that you'll love coming home to.
Our Deeper Dig
One of our best brands, assembly available, higher price point but the quality justifies it!
Conclusion
We hope one of the above designs is the white bed frame of your dreams! If not, you should know... we're only showing you a select handful of our items.
Check out our beds page to see hundreds of products, including more white beds you'll love! Use the filters to sort, select bed size, and select the perfect bed frame for your bedroom today!
store > furniture > page > shop products > filters > bed frames > white
posted on 9/30/2022