< previous post return to index next post >
We know why you need a white dining table!
Let's face it, finding a statement piece for your dining room can be difficult. When you're prepping for visitors and the holidays, you want the exact right table.
Something that pops. Something that creates a welcoming, open space in your home. Maybe even something that convinces your mother-in-law you were right... Okay, that's a stretch!
Nevertheless, when it comes to finding the perfect white dining table, always keep in mind the piece you choose should fit both your needs and your style. And with so many different options to choose from, and places to shop, it can be tough to know where to start.
As you know, white dining tables come in a variety of shapes and sizes, making them a versatile option for any home. Plus, they can easily be matched with any type of décor, from traditional to modern.
If you're looking for a new white dining table but haven't found your dream design, we've got you covered! Without further adieu...
The Best White Dining Tables for 2022
Astor White Dining Table
Dine in style with the Astor Dining Table in white lacquer. This contemporary extendable dining table offers bold style and modern manufacturing, making it the perfect solution for your dining needs.
Closed, the Astor Dining Table is 71-inches long and can comfortably seat up to six people. Get ready for company by pulling apart the table's tops to reveal a 23-inch butterfly leaf, which can be opened to create additional surface area.
The Astor Dining Table is crafted with sleek lacquer, and supported by a weighted chromed stainless steel base.
Whether you're hosting a large dinner party or a quiet family meal, the Astor Dining Table is sure to make a statement.
PROS:
High end craftsmanship, extendable, self store the leaf
CONS:
Heavy, too large for many rooms
Catrine Dining Table
Get the best of both worlds with the Catrine White Marble Dining Table.
With a classic design that features elements of the mid-Century modern era, this table is both stylish and functional. The Catrine features a bold, defined and geometric shape, boasting angled stainless steel legs and a sturdy white marble rectangular top.
Choose from black veined or white marble, and enjoy the gentle tapered edge that can comfortably seat six people. The Catrine's legs are angled in, and offered in three stunning finishes to accent your dining room: stainless, gold brushed steel or black.
So shop no more. Text your friends and order the food - this is the perfect marble dining table for a dinner party!
PROS:
Top quality materials, excellent packaging, stunning design
CONS:
Heavy, pricey
Curzon Dining Table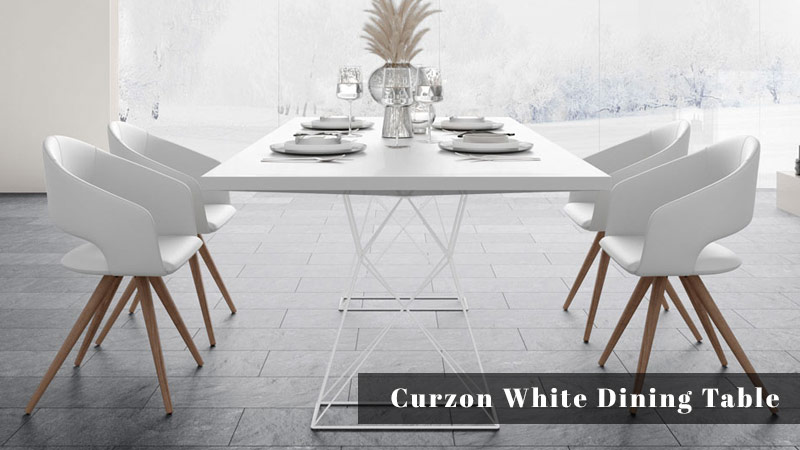 The Curzon Dining Table is a work of art masquerading as a functional piece of furniture.
Inspired by the Brazilian night life, this sculptural table blends beauty with modern style, destined to become the focal point of any home. Constructed in a stunning white lacquer, the Curzon boasts cool angled lines in a generous 87" or 102" long tabletop.
Beneath, steel legs mimic the architecture of a skyscraper. The Curzon's unique lines manage to offer an airy, yet sturdy feel. Seats up to eight (87") or ten (102"). So, whether you're hosting a board meeting or a party fit for Rio de Janiero, Curzon is your modern white solution.
PROS:
Available in two large sizes, striking aesthetics, pairs really well with a modern sideboard
CONS:
Slower shipping time
Tadashi Marble Dining Table
The Tadashi Marble Dining Table is a sleek and stylish addition to any home.
The smooth round white marble-like top is perfect for entertaining guests, while the steel base ensures stability and durability.
The open-air design is perfect for smaller spaces, and the substantial surface with a slightly tapered edge will seat four comfortably.
PROS:
Affordable, classic design, ideal for small to mid size spaces
CONS:
Base can bump taller people's legs
Roger Wood Dining Table
Take a step back in time with the Roger White Wood Dining Table. Inspired by one of the classic Saarinen designs of the 20th century, this piece is perfect for your modern home.
The cast aluminum base is finished in white high-gloss, and the oval table top is crafted from an MDF core with white Oak or walnut wood veneer.
You might recognize the Roger Dining Table from its appearance on AMC's Mad Men as Roger Sterling's mod desk. But this table is not just for TV sets!
It's also perfect for restaurants, hotels, or ad agencies. Commercial grade and built to last, the Roger Wood Dining Table is sure to make a statement in any home.
PROS:
Classic Saarinen-inspired design, beautiful wood top, a perfect staple piece
CONS:
Honestly, none... This table is amazing.
Edina Dining Table
Looking for a little bit of contemporary glam in your dining room? Then you need the Edina Dining Table in white and gold!
This stylish table features a high-gloss white lacquer top and brushed gold corners, giving it an eye-catching look from every angle. The steel base provides sturdy support, while the large shape easily accommodates up to ten people.
Whether you're hosting a dinner party or just gathering around for a family meal, the Edina Dining Table is sure to make a lasting impression.
PROS:
Glam design, good value, stunning styling
CONS:
Too large for some rooms. Despite its size, it seats just 6.
Imogen Kitchen Table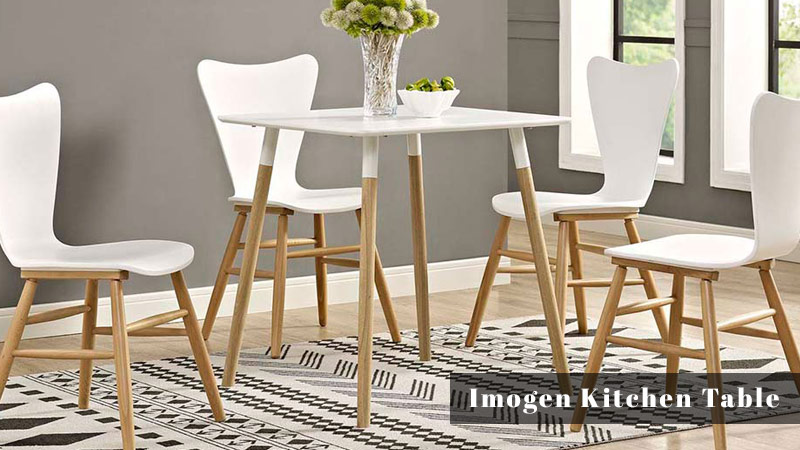 Our Imogen Dining Table is the perfect addition to any contemporary or classic dining room or kitchen.
The simple design and choice of a square or rectangular white top makes it a versatile piece that can complement any furniture style. The solid beechwood legs add a touch of elegance and durability, making it a table that will last for years to come.
Pull up a few modern dining chairs or a mixture of hand-me-down seats to achieve just the right look.
PROS:
Very affordable, great solution for small spaces
CONS:
Not a long-term solution for most
Aziza Marble Dining Table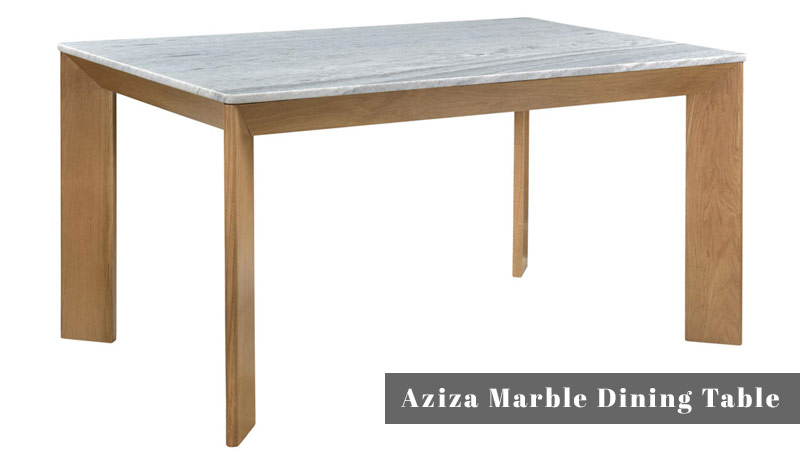 The Aziza Marble Dining Table is the perfect way to add some contemporary style to your dining room.
The sleek oak frame and crisp profile of the table pair perfectly with the soft, organic feel of the white marble tabletop. The smooth marble surface brings a touch of elegance and sophistication to any meal, making it feel like a special occasion.
Shown in white, Aziza is also available in black!
Whether you're hosting a dinner party or just enjoying a family meal, the Aziza White Marble Dining Table is sure to make any meal more enjoyable.
PROS:
Top quality materials and styling
CONS:
Heavy, pricey
Layton White Marble Dining Table
Grace your dining room with the remarkable and contemporary style of the Layton Dining Table.
The sleek white marble top and sectioned iron base are complemented with a bold brass finish, making it a real showstopper. The circular design offers seating for six people, making the Layton Dining Table a great option for sociable condo living.
With its clean lines, white marble top and chic design, the Layton Dining Table is sure to become the focal point of your kitchen or dining room.
PROS:
Bold, compact design, high-end quality
CONS:
Expensive for a smaller scale table
Abner Dining Table
The Abner Kitchen Table is the perfect example of a classic piece that should be left alone.
Its timeless design and flawless craftsmanship make it a table that will never go out of style. Whether you place it in your kitchen or dining room, the Abner will be a striking focal point in any space.
Paired with your favorite chairs, this design is sure to become one of your favorite furniture pieces in your home.
PROS:
Affordable, classic styling, ships free
CONS:
Small stature won't work in larger rooms
Beech White Dining Table
Looking for a modern square white dining table that makes a statement? Shop no more! Introducing the Beech Dining Table.
Substantial and bold, Beech is perfect for any contemporary dining room. The Beech Table offers you the modern style of high gloss lacquer on its square pedestal base and frame, and the mod simplicity of glass on top.
With the white glass on white lacquer base, you're assured of a stylish table that will be the focal point of your dining space for years to come.
Beech seats up to eight guests, so choose your color, schedule delivery and start planning that dinner party!
PROS:
High-end modern style
CONS:
Square shape won't fit all houses
Conclusion
There you have it - some of the very best white dining tables on the market today!
At Modern Digs, we're more than just a furniture store or website. We know shopping online can be tough. Which is why we pick and choose from the best furniture brands to find the very best styles you'll love! Guaranteed.
Need more inspiration? Check out our guide to find the best modern sideboard!
posted on 9/13/2022