< previous post return to index next post >
For the better part of my life, I could not imagine working at home.
Seriously.
I loved the routine of waking up, getting dressed, and heading out to work. I even liked the commute. I loved my job, my office, and, thinking back, I really loved my co-workers.
So when I started working at home, there was definitely some hesitation. Add in a new baby, a new business, and it was a perfect storm of distraction and change that I did not like!
I quickly learned there are a few tricks to maintaining a functioning home office. And there's a few more if you're shooting for a mod aesthetic.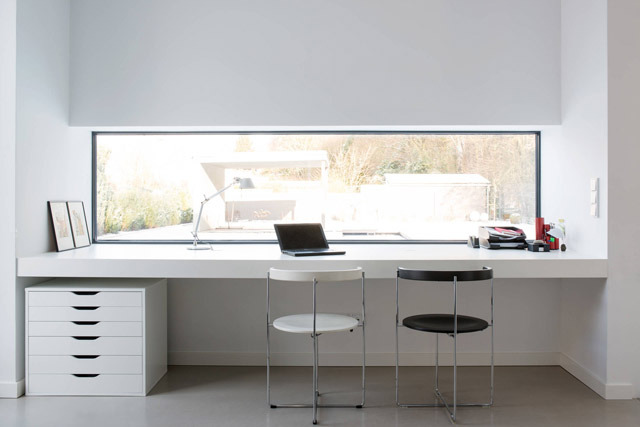 Find Yourself a Dedicated Space (Seriously!)
At first, I literally plopped a desk right in the middle of my upstairs loft. It was a nice big empty room, I loved the windows and view of our back yard, the light... What could go wrong?
Everything.
Dogs barking. Baby crawling or crying, or worse... pooping. Spouse asking questions about groceries, evening plans, whose turn is it to change the diaper. I had put my office in the most distracting place in the house.
Obviously, your situation may vary, but the goal should not: separation.
Your ideal home office will have a literal barrier between it and the rest of the house. Often, just a room divider and quiet partner will do the trick.
Need help finding a desk? See our Complete Guide & find the Best Office Desk!

In my case, I needed a door. With a lock.
Dedicate a guest room. Create a work nook. Go the "shedquarters" route with a cool Kanga Room.
There's benefits here aside from the obvious.
Yes, having your home office space in a dedicated location removes distractions, and, hopefully, noise. But there's so much more.
You don't have that awkward moment during a video conference where your spouse bursts into the house with groceries and a story about the tattoo on the check-out clerk, before realizing why you're not answering...
The dedicated space enables you to have a set place where you WORK. You don't have to pack up your project or supplies - you can just leave it and come back tomorrow.
It enables you to re-establish the routine of working. You know... getting out of your pajamas and whatnot.
The literal barrier leads to a mental barrier as well...
The truth is, when there's an office in your home, there's a sort of mission creep you need to actively fight... Without the physical distance between me and my work, I found myself working earlier, or later, or sometimes both.
It's not normal to have an idea mid Black-ish, and run off to your desk.
To be fair, at first, it's really not a big deal, to anyone.
But over time, those distractions add up, and you realize you never really get away from the work mindset. Everyone needs a chance to unplug, so adding a barrier, and treating your home office like it's several miles away is a key component to creating the home office of your dreams!
Be Realistic About Your Space
You know those Kanga sheds I linked to above? I don't really know anything about them, but they're awesome, and definitely my first choice in a perfect world. But they just really weren't an option.
Our house is on a weird shaped lot, and, although we just remodeled, I really couldn't justify using any portion of our small-ish backyard for something I don't actually need...
In fact, when we started our remodel, I realized pretty quickly what I actually NEEDED in a home office, and what I didn't.
For example, in our last home, my desk was in a guest bedroom. It was a great space, with a nice comfy queen bed. Turns out that bed... wasn't great for productivity.
In fact, the list of things I NEED is pretty short. I need a small desk with a pencil drawer. I need a decent size filing cabinet, and a comfortable chair. I need the space to be quiet. That's it!
I would love a window. I would love to have a sit/stand desk. Heck, I would love a view out to a swimming pool... I would love a swimming pool.
Here's what I ended up with: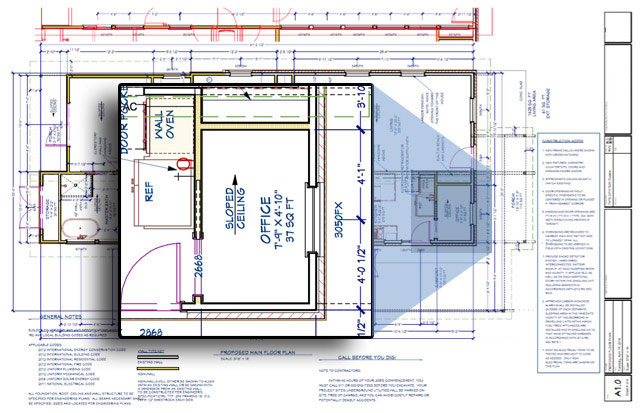 That's right - I'm rocking 40 square feet! For now, I've got everything I need, with the option to get the standing desk I want later. Evidently, the swimming pool isn't going to happen.
The same process needs to be applied to your home office. Try to get as much of what you need. Leave out what you don't need, if you have to...
Just working with a nook and a small budget? Maybe one of Bob Vila's DIY room dividers will work.
Converting a guest bedroom to a shared space works out pretty well. Swap the bed for a comfy sleeper sofa, and you're golden!
How To Begin
The first step to planning your home office is determining what type of home office you're working towards...
There's a case to be made that everyone should have a home office of some sort. But for now, think about how you need to use your office. Are you a graphic designer that just needs a good size desk and some quiet? A programmer that needs space to unwind in between testing? Will you be hosting clients? Co-workers?
There's three general types of home offices: the nook (which is what I'm sporting), the shared space (like a guest bedroom), and the dedicated home office.
THE NOOK
The nook is ideal when you're working in a confined space, enabling you to create a functional, and likely small (let's call it "cozy"!), home office space. As far as downsides, the nook is a one person operation! It's definitely not the ideal solution if you plan to meet with clients or collaborate with co-workers. The other downside to the nook is if you need a lot of workspace or filing cabinets, it's tough to fit them in a nook.
An ideal nook home office will consist of a small to medium size modern office desk, a modern office chair, and maybe a few cabinets. Here's a few cool nooks: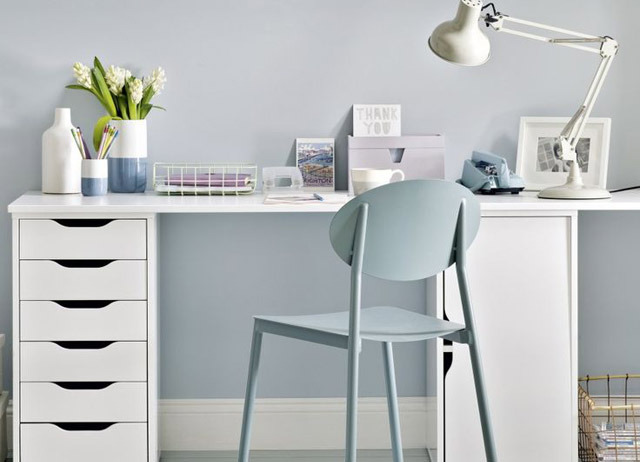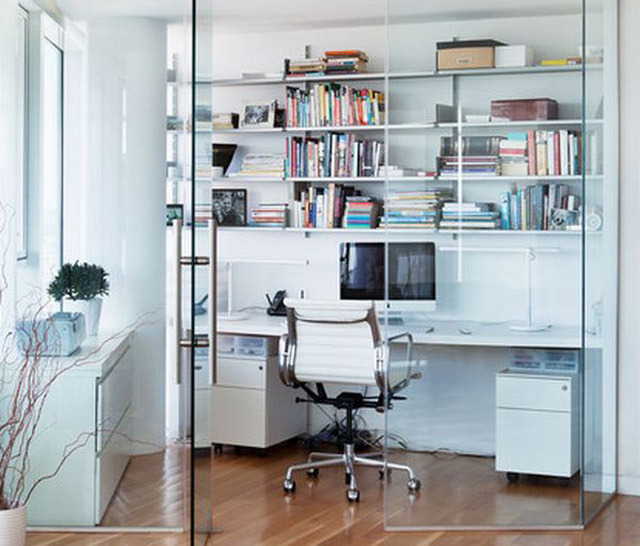 Tip & Hints for Your Nook
If you're working towards a nook, size becomes one of the limiting factors. The best place to start is to measure what you're working with.
As a general rule of thumb, most office desks are between 20-30" deep, unless you go with a larger executive desk. It's also standard for desks to be sized to the foot - 4', 5', etc. Obviously, that's not a hard and fast rule, but you'll find most desks are within an inch or two of those standards.
You'll also need to plan for enough space to get in and out of your office chair. 3' is the minimum space you should plan for between your desk and any obstacles (walls, cabinets, etc.). If you can, shoot for 42". I don't know why... that extra 6" seems like an awful lot!
To make the office feel larger, try to face your desk towards a window. There's a definite mental component there, and being able to see a larger space makes your work area feel larger as a result.
THE SHARED SPACE
The most common solution to creating a home office, the Shared Space, lets you trade part of your home to sneak in a workspace. Like I said, my last home office was in the guest bedroom. Sort of like this:
Upsides are pretty obvious:
Most spaces already dedicated to something else, are also already separate (like a guest bedroom or garage) so noise reduction might already be in place
Creating a Shared Space home office will probably afford you more square footage and flexibility when it comes to choosing furniture. (I lost the credenza and huge closet going from my old Shared Space office to my new Nook)
In many cases, a well-planned Shared Space home office will also let you host clients and co-workers.
This modern home office has a separate entrance, ideal for hosting clients without them wandering through your home!

I picture the ideal Shared Space with a good size l-shaped, maybe even executive, desk. A murphy bed or one of our modern sofa beds for the occasional visit from the in-laws. And, of course, a desk chair, file cabinets, and maybe even a few guest chairs.
Tip & Hints for a Shared Space Office
When you're planning your Shared Space office, the number one question is where you want your desk, and what kind of desk do you want/need?
Do you want to face a wall so you can mount your monitor? Are you planning to host clients or co-workers?
If you're planning meet with clients, the ideal solution would be to float a modern executive desk, or go with an L-shaped desk with some meeting chairs.
Once you decide what kind of desk you need, working the remaining furniture around is relatively easy. You can't float a cool executive desk AND fit a murphy bed, for example. But a sofa bed for guests, in that case, is an easy alternative.
In a shared space, it's important to prioritize your space based on usage. For example, if your home office will be in a utility room, weigh how much time you spend working versus folding laundry and try to prioritize square footage the same way. Consider stacking your washer and dryer, or nuking the table you fold clothes on for something more compact.
Like you would in the Nook, try to allow for at least 36-42" of clearance where your office chair will sit.
THE DEDICATED HOME OFFICE
It wasn't that long ago, but I used to live in a more suburban part of town, and a lot of our friends lived in even more suburban areas. And you know what I noticed about the 'burbs? Square footage is just laying around in people's houses! Maybe that's you, too.
We're squeezing into 1,400 square feet near downtown, while our friends wander their huge houses trying to find furniture large enough to fill their rooms!
Say Hello to the Dedicated Home Office!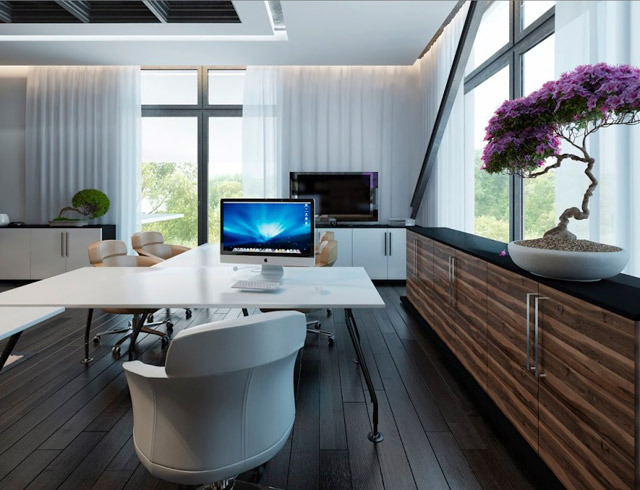 Obviously, I'm joking here a little, but when you can dedicate an entire room in your home for just an office, you're sort of rocking the Beyonce of home offices.
A Dedicated Home Office has everything you could need - a cool, large executive desk, office chair, guest chairs, bookcases... Maybe even a sofa and coffee table.
And the Dedicated Home Office is pretty much all upside. Welcome clients, co-workers. Work in peace. I'm sure there's a downside... but I can't think of any!
More Helpful Tips and Design Inspiration
Start with the Desk Chair, not the Desk
When I think home office, I immediately begin thinking about the desk. And, no doubt, it's a major component. But your first priority should probably be the chair, particularly if you're working on a budget.
Day-to-day, the chair you're using is going to create a more lasting impact on your posture and efficiency than the desk, so choosing a chair first enables you to prioritize the main piece in the office that's actually determinate of your comfort and output.
If you spend a little more to get the perfect chair, you can still scale back on the desk. If budget's no issue, by all means, choose your furniture in whichever order you please!
Office chairs come in all shapes and sizes, just like people, and there's definitely not a one-size-fits-all solution out there. So, it's important to find the chair that fits your frame, will providing ergonomic support.
Gentleman's Gazette has a super helpful guide to factors to consider when choosing an office chair. Their stance is a little cautious if you don't have back issues. Nevertheless, the tips, reviews and advice are fantastic!
I spend 8 hours a day on the Lucia Office Chair, and I'm terribly comfortable.
If you're clear on back issues and concerned about aesthetics, you can check out our cool, modern office chairs here.
Another alternative to consider is going with a dining chair instead of the traditional rolling office chair. A dining chair gives you a ton of stylistic flexibility, is a little less formal than a traditional office chair, and they have a smaller footprint if space is an issue.

Check out our 30 Favorite Contemporary Dining Chairs here!
Tips for the Desk
Choosing a desk is a matter of how you plan to use it, and any space limitations you have. I've managed to go paperless (for work, anyway), so I work at a desk much like our Tristan. However, as I mentioned, I plan to swap to my favorite sit stand desk later this year.
Lifehacker has a good starter guide to choosing a desk.
You might splurge on an expensive sit stand desk, like I'm planning. Before you do, be sure to check out our post on what type of desk is right for you! (Hint: we're all snowflakes)
Lastly, Make a Plan for Paper
In an ideal world, we would all go paperless. But, let's face it, you can't doge every piece of mail sent your way.
I've moved towards paperless by doing a few things:
First, contact everyone who sends you bills, and get them to swap your billing to "paperless." Almost every company on the planet makes that easy - it saves them money, and you headache! In fact, our insurance company gives us an additional discount!
Second, try to reduce the amount of junk mail you receive. The easiest way to do that is by visiting the FTC's web site - they've got a good guide.
Finally, I scan essential paperwork and save it to my computer. Well, actually... no I don't. But I want to! If I could make that last leap, I would nuke my filing cabinet...

Check Out These Home Offices for Creative Inspiration

This striking design boasts a white palette with black and steel accents - the result is an open and airy home office.

Built-in style, and Eames to boot! What's not to love in this cool nook design. The blend of natural wood and white gives the space a clean open feeling, enabling it to easily tie into the adjacent kitchen and bar.

This bedroom-adjacent office pulls on modernism in multiple design elements. White motif throughout strikes a mold contrast with the black hide rug. It's the perfect marriage of form and function if you're looking for a stylish nook!

Custom-made built-in bunk beds make this home office, stylish and functional! It's the perfect way to create a Shared Space office using natural materials, and making good use of the space!

Built-in elements in this home office give the space an incredibly custom and modern appeal. The sleek white desktop and shelving are accented by backlighting. The wood wall and hide rug add natural elements into the space, without distracting from the while palette.
posted on 3/8/2017