< previous post return to index next post >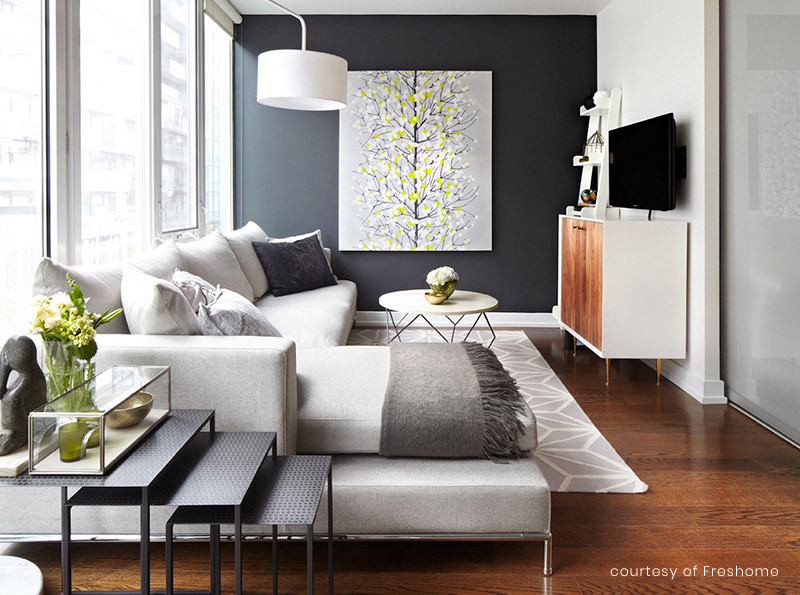 A writer can tell you that there's nothing more intimidating than a blank sheet of paper. (Actually, a blank screen, I guess, these days...) And, for a lot of us, that's how it feels when it comes to creating the modern living room you've always dreamed about.
Whether it's paralysis by analysis, or just your design sense going haywire, it's hard to know where to start, or which elements of modern design to incorporate into your home.
Does it make sense to have an accent wall? Can you add eclectic or retro pieces? Should you go with the blue sofa or the gray one?
We totally get it!
We've got the modern living room furniture you need. But to help get you headed in the right direction design-wise we reached out to some of our favorite interior designers to get their tips on what goes into creating the perfect modern living room! Here are eight great interior design ideas to help you create the modern living room of your dreams!
White Walls Make Modern Easy
Let's start with the walls since one of our designers had a great tip that will get you started off in the right direction!
Jennifer Fisher of J.Fisher Interiors says, "the most important thing for me is white walls. Modern design is all about creating visual interest through color and art. Having a neutral background makes interesting pieces really stand out."
You can see in her stunning Austin, TX design above how the white walls create a nice, clean canvas, to which she added pops on color with the wall art and pillows. The subdued white coffee table contrasts with the darker furniture. Add one of our tufted modern sectional sofas, or even a mid Century modern sectional, with an understated rug and mid-Century chair (an early Milo Baughman chair from James Inc.) to create a stylish, classic base of furniture.
Steer Clear of Sofa Sets
Ginger Curtis at Urbanology Designs created the space below and had this great tip about choosing your seating:
"Committing to a style will ensure a cohesive pulled together look, this is especially true for modern living spaces. Committing to style doesn't mean filling a room with a complete living set, which is outdated. We call this matchy matchy and it will leave your space feeling flat. Instead choose foundational pieces like your sofa, rug and arm chairs that are different but compliment each other. It's ok to sprinkle in other design styles/elements as long as they compliment not compete with your overall goal."
"The above image is from one of our recent projects and is a great example of this. You will notice clean lines contested by a few bold elements like the pendant lights that instantly command attention. Everything works together without feeling matchy and at the same time feels balanced and intentional."
Like Jennifer Fisher's design above, Urbanology started with a modern sectional in an understated creamy white, and then added three modern lounge chairs to complete the seating. The two side chairs incorporate wood and gray upholstery, while the Mies van der Rohe Barcelona Chair nods to classic mid-Century designs, adding both leather and steel into the space.
Don't Hesitate to Mix Materials
"Our best advice for creating a fantastic modern living room would be to mix materials. Combining different finishes to create a layered look is what contributes to an overall dynamic design," says Caitlin Giacalone at GREER Interior Design.
Caitlin continues, "the living room pictured above has a large expanse of glass windows overlooking a gorgeous view of the Hill Country (in Austin, TX). We used a mixture of various materials to help ground it, in this airy space. A mix of fabrics in leather, velvet and linen bring in great texture and are offset by the exotic wood on the coffee table and stone in the side tables. Mixing both brass and bronze metals gives the space a collected look, without 'matching.' Balancing the hard and soft finishes in this space gives you a very layered and interesting design."
Unlike some of the designs above, this striking living room by GREER doesn't have a ton of wall to work with. (I think we'd all trade walls for a view like that!) Instead of adding color through art, the modern blue sofa makes a statement. The mod accent chairs add in hints of gold, and the striking modern coffee table adds a functional, natural feel to the room.
Make a Seating Plan (with Help if Needed)
Your mod living room should balance form and function, starting with a seating plan. Karen Burris at Ice Interior Design gave this helpful insight:
"When considering your living space, address what I consider one of its most important features - seating. This is where we gather to talk, watch Netflix, or even work. The most common complaint I hear from clients is not enough seating. Of couse, we are all limited by the size of the room and space planning before purchasing is essential."
"Modern calls for clean lines and open spaces, so there is a fine balance to strike between the look and functionality. A floor plan is vital to this end. If necessary, enlist the help of a professional interior Designer to draw up room layouts for you," says Karen. "This insures that you purchase pieces that work in your space. Your seating is also the largest 'accessory' in the room, consider your upholstery fabric and frame style carefully. Case goods and accessories can easily be layered in once the gathering spaces are planned."
As you can see in Ice Interior Design's living room above, a large custom angled sofa adds plenty of seating into the unique angled room, making the most of the space without encroaching into the middle of the room. Whether your room is large or small, the goal is to add the right combination of sectional sofa, modern sofa and accent chair to provide as much seating as possible without making your home feel cramped! it's your call whether you enlist the help of an interior designer, or go old school with graph paper and a measuring tape!
Don't Fear Color
When it comes to creating your dream space, it's easy to question how much color is too much color. When it comes to modern interiors, color is your friend. You can add as much as you want, or use it sparingly to create focus in the room. Here's a helpful take on just adding a pop of color from Plano, TX Interior Designer Eva Hines of Decorating Den:
"Pops of color: A navy blue sofa in tactile velvet provides an anchor to this otherwise light and dreamy living space."
Eva continues, "geometric window panels on either side of the large window provide a focal point. The pattern is also echoed in the small round metal end table. White leather Barcelona chairs flank the fireplace. The glass cocktail table seems to float in the room while at the same time drawing your attention to the fluffy shag rug underneath. Color is provided by the sofa pillows and the art above the fireplace."
We've got an easy solution for pops of color and style in your living room! Check out our collection of Bohemian rugs!
We love this design for its simplicity. It's a great example of using a modern style in your living room while easing into color! If you're hesitant to add color, try starting with the more neutral base we've been talking about, and add color through smaller accessories, like the vase above, or even one of our modern end tables.
A Cool, Mod Fireplace Never Hurts!
Down here in Texas "needing a fireplace" is a slight exaggeration. Nevertheless, there's a consensus that fireplaces add value to your home, and, if you're going modern, yours should make a statement!
Maggie Smith at Smith Haven Interiors says, "I love a fireplace that makes a statement. It serves as artwork and it's a great focal point for the room. Have fun with it. Formal living rooms are a way of the past."
Her striking loving room design speaks for itself!
If you can't work in a fireplace now, you might try creating a focal point around a modern TV stand.
Design Your Living Room for How You Live
Between reading our iPhone and shopping on our iPads, we sort of lost track of an important design element of the modern home! Brent over at Common Grid gave a really helpful tip about how technology is changing how we interact with everything, from each other to our homes:
"When planning a living room space, we like to consider a few things: modularity, comfort, and organization. People aren't necessarily using their living room to watch TV; with the advent of tablets and smartphones any room can be used for that. We think that this shift really opens possibilities for a space that perhaps would have been centered around the TV.
"Thinking about this shift, we really like to approach a living room as a multifunctional space. Keeping a minimal palette and free of clutter really allows this space to be whatever you need it to be, from relaxing to entertaining. We really like to eliminate anything that might feel extraneous, but comfort is the ultimate goal. An inviting space is key, without the lure of TV a living room can really go underutilized."
Brent cites this mod design by Annabell Kutucu: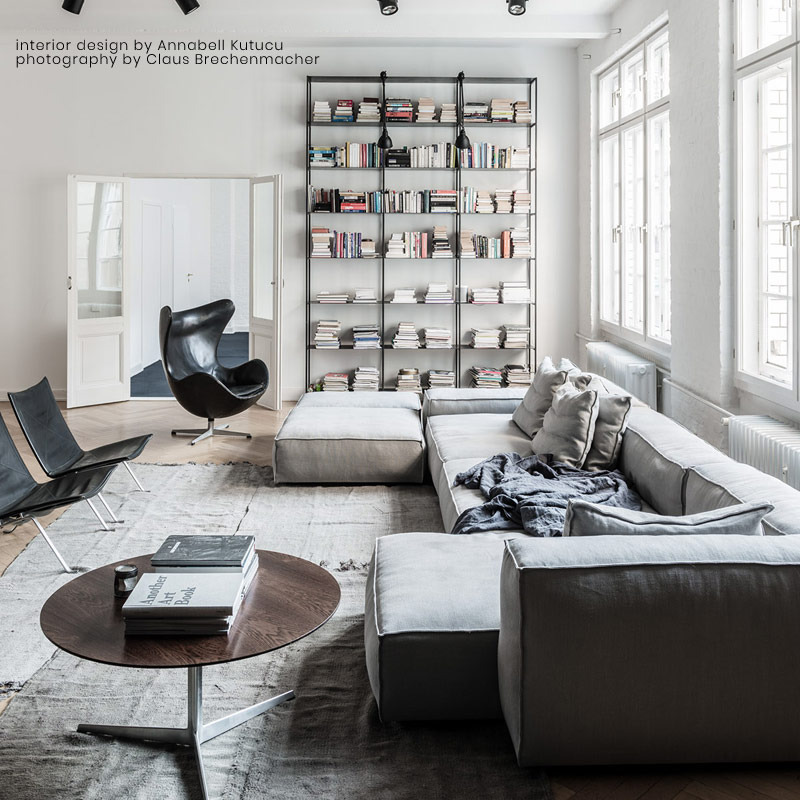 Mod gray sectional? Check. Classic accent chair? Check. Open, mod feeling? Check. Television? Nope. With screen sizes changing faster than our kids go through laundry it's worth considering how you want to orient your living space. Modular sectionals, or even one of our modern sofa beds, enable you to use your living room in ways we couldn't even imagine five or ten years ago.
It's now completely possible to have dad watching the game on the big screen, while the kids catch a Netflix movie on their iPod. Planning your living room for versatile spaces will make your home more welcoming and usable for years to come.
Above All, Only Add What You Love
It's tempting to think you could knock out a "living room make-over" in a week, especially if you're an HGTV fan. But in our last tip we'd urge patience. Your living room is one of the most used spaces in your home, and it's worth getting exactly right! Our in-house designer, Meagan Sykes, had the following advice for creating a living room you'll truly love:
"When designing a room or a whole house it's easy to go to a store and select items you like to fill your space. But, the real character comes out in the carefully curated pieces that you find along the way, like a one-of-a-kind vintage store find, the perfect pillow in your favorite shade of yellow or your grandfather's hat to hang on a gallery wall. Don't be in a rush to finish decorating, instead start with your larger items like furniture and rugs and then slowly add what you love as you find what speaks to you."
Don't hesitate to email or call us with any questions, and, of course, be sure to check out our entire modern furniture collection to create your very own modern living room!
posted on 10/18/2017