< previous post return to index next post >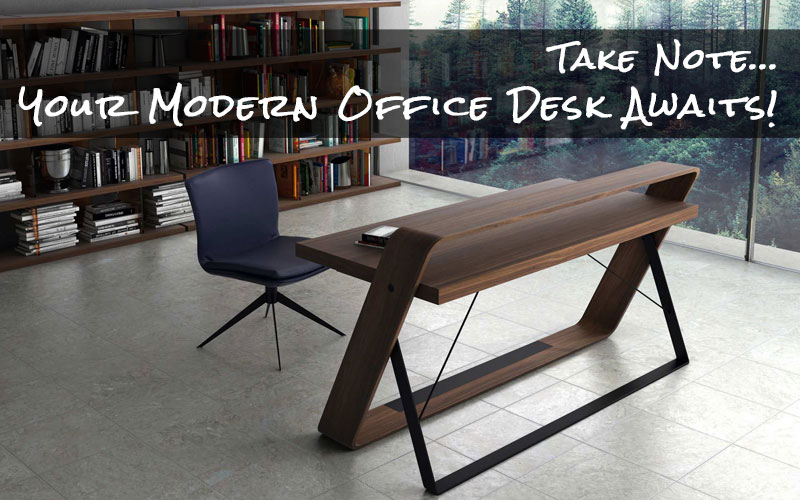 We get it. You're on the hunt for the very best office desk!
You want your office to be fantastic! Whether you're decking out your real estate space to impress clients and create a welcoming ambiance, replacing old worn-out furniture for your boss, or just trying to make your home office really WORK for you...
We feel your pain, and we want to help! (In fact, we have a whole guide full of great modern home office ideas, and, of course, an amazing hand-selected collection of modern desks.)
Finding the perfect desk for your space takes time and a little planning. You have to consider the look and style of the desk; what size you need; what you'll be using it for, and how often.
So, let's get down to it!
If you want our short-list of the best desks, start with these five:
Now, if you're ready to really get into the weeds... here's our complete list!
The 30 Best Office Desks
Usually, for a guide like this, we'd break our desks down into a few subcategories of desk types - like executive, secretary, etc. But, before doing that, we thought we would check out how our customers actually shop for desks on our site. After all, "best" is a subjective term, so we really wanted to incorporate what our customers considered "best" above all else.
We reviewed our search traffic and discovered different patterns than we were expecting. There were, of course, searches for types of desks. But we also noticed that color, shape, and functionality seemed to factor in much more than we'd originally anticipated.
So, instead of going with just types, we added in these new considerations and created the following breakdowns for popular searches related to desks, along with the "best," most popular desks in each category! (Again, don't hesitate to click around and skip down.)
Most Popular Types of Desks
White Desks
Truth be told, several of our most popular desks are white. Because we focus on modern furniture, we always assumed that we sold white desks because they're more contemporary and a better stylistic fit in modern offices and homes.
It turns out that's too simplistic. White desks are a look that's sought out specifically, regardless of design style. Pair it with a white office chair for the ultimate mod look!
So, besides trending modern (which is what drew us to them), what makes white desks so popular? First off, white naturally reflects more light, which means white furniture makes an office feel lighter, more open, and more inviting. This play on light works both ways, too. It can make a small office feel larger, and it can make a large desk look smaller.
In other words, if your goal is to create a welcome, open and airy feel in your office space, a white desk is the perfect solution!
Another giant plus for white desks is that they're neutral. To put it another way, more often than not, if you add a white desk into your office you're not committing to a specific style. If you go with a desk that's more distinctive, let's say a rustic desk with a barn-door-looking-front, you're sort of committed to a style...
It's a slippery slope into shiplap!
Seriously, though. White desks are popular because they work in tons of spaces, modern or traditional, large or small. Because white is such a popular option we broke our favorites into three subcategories: computer desks, corner desks, and desks with drawers.
White Computer Desks
As computers get smaller and more mobile, what it means to be a "computer desk" is becoming much more fluid. Some believe a computer desk has to have a keyboard tray, or a shelf for your monitor, but the truth of the matter is that a computer desk merely needs to work with your computer. Here are our favorites!
This design has been our most popular office desk for nearly 10 years! It does everything well and is the perfect modern computer desk. To start, Lucid features an aluminum frame and legs with built-in power management. It takes a little work up front to get everything wired and cinched in just right, but once you do your desk always looks clean and uncluttered (by wires anyway).
Click here for exclusive savings on the Lucid Desk!
The top is a simple high-gloss white lacquer finish. At 60-inches wide, it's the perfect all around desk that works wonders with all of the wires and hoopla associated with your computer!
Admittedly, this desk trends a little more modern. Arundel has a bolder look than the Lucid, adding rounded corners to the white desk top, and black and steel angled legs beneath. The contrast between the white work surface and black steel gives Arundel more of an "edge" in terms of design.
Click here for exclusive savings on the Arundel Desk!
Like the Lucid, Arundel also features a privacy panel giving you a perfect place to hide away computer wires, and it's available in three different sizes - 55-inch, 63-inch, and 71-inch - so finding the perfect size for your space is pretty simple.
White Corner Desks
A white corner desk is usually a culmination of a few different needs, each complimenting the other. Generally, if you're looking for a corner desk, you're trying to fit it in a corner. (I know, I know, bear with me!) Or, to put it another way, you're trying to leave the rest of your room open and make the most of your square footage.
Corner desks are ideal if you're using an extra bedroom as a guest room/office, if you're trying to work a desk into a part of your home you're already using, or if you're trying to fit multiple workstations into one office!
In other words, you probably want your corner desk to look smaller in the room...
And, like we've already talked about, white desks are perfect for creating spaces that feel more open. So, getting a white desk in a corner configuration means you're making the most efficient use of your space, both from a literal floor space perspective and visually.
In terms of popularity and high-end style, you're going to have a tough time finding a better white corner desk than our Arundel Executive Desk. Designed to fit into a corner or float in the center of your office, Arundel combines what we love about the Arundel Desk (above) and pairs it with a credenza-like return.
Click here for exclusive savings on the Arundel Executive Desk!
The end result is absolutely stunning, peerless among executive desks. The credenza features a pencil drawer, filing drawer, and two cabinets - one specifically designed to house a CPU. There are even a few cool cord ports specifically designed to make running wires clean and easy. In terms of "best," you're going to be hard-pressed to find a better office desk than Arundel!
League features a bold tiered design that makes it a versatile workstation. League starts with a white lacquer pedestal featuring three pencil drawers. They're perfect for storing books, office supplies and the like! The desktop can be set on either side, supported by the angled steel leg.
Click here for exclusive savings on the League Desk!
Three more pencil drawers are built into the desktop, which includes a chromed steel accent running beneath. The end result makes it appear as though the desktop is floating slightly above the pedestal. League is a stunning workstation, blending sleek white lacquer, steel and an assymmetrical shape you're bound to love!
White Desks with Drawers
We were surprised to see our customers searching for this specific term. It felt a little... ambiguous. We had questions. What types of drawers? Filing or pencil? How many? Do they need to be attached, or would a matching pedestal work?
But we looked at the data a little closer and determined that there were three desks, in particular, that were popular choices for people that were searching specifically for a white desk with drawers.
At about 4-feet wide, Derby is a smaller design intended to give you just what you need in a cool compact package. Derby features a chrome steel frame, with a matching pedestal supporting one side of the desktop. Derby can be assembled with the cabinet on either side, so making it fit into your office is a cinch.
Click here for exclusive savings on the Derby Desk!
The cabinet contains a single pencil drawer and one filing drawer enabling you to store just what you need. On top, a simple white lacquer work surface gives you a clean, compact work area.
One of our favorite designs, Swank begins with an expansive white lacquer top. At more than 6-feet long, Swank's desktop offers you a ton of work space. It would make a perfect craft table! And better yet, its design features the desk sitting on the matching three drawer cabinet, so you can expand the overall length to more than 9-feet!
Click here for exclusive savings on the Swank Expandable Desk!
Swank is perfect if you're incorporating a desk into your living room or guest room - its cabinet could serve as storage or even a dresser, enabling the entire design to double as a wall unit!
Taking a minimalist approach, the Houston Desk is designed by ModLoft to be a modern accent piece in your office. Of course, Houston features a sleek white lacquer finish, and the two pencil drawers seem to round out the design and match the clean aesthetic.
Click here for exclusive savings on the Houston Desk!
Houston's bold angular legs are finished in a striking chromed steel, so Houston definitely appeals to a modern aesthetic. It's the perfect desk to float in a home office or tuck into a nook. Either way, its eye-catching design and materials have made it a favorite among design enthusiasts! Houston is also available in other finishes as well.
L Shaped Desks
Finding just the right L shape desk can be tricky, especially if you're working with limited space. The best approach is to measure your space carefully, ensuring you know exactly how much length you have for each side of the desk.
From there, you just need to find a design that fits!
A few quick tips: If you're adding an L shaped office desk into a professional office (you know... one with employees) you need at least 36-inches of clearance between the inside corners of the desk and any adjacent furniture to be ADA compliant. If you're putting the desk in your home, that number could get as low as 30-inches. Smaller than that, and it just gets too tight!
One more thing: Desks are typically 30-inches deep, so keep that measurement in mind when you're planning your space. Some L shaped desks feature a return on one side, which could be just 15 or 18-inches deep, which would, of course, give you some extra flexibility if needed!
Our #1 design for several years, the Arundel Executive Desk is the best office desk! Arundel boasts everything you could want in an executive office desk - high-end quality, warm wood veneer paired with gray lacquer casing, a wide executive-sized desktop, and built-in credenza giving you a myriad of storage options!
Click here for exclusive savings on the Arundel Modern Executive Desk!
Arundel is crafted with an eye-catching Zebrano wood veneer on the desktop and cabinet fronts. Gray lacquer accents the design. The credenza features three separate cabinets: one is vented with built-in cord ports making it the perfect location for your CPU. The second is a single door cabinet with an adjustable shelf perfect for storing media like books, DVDs, etc. The final space includes a pencil drawer and filing drawer secured with a locking system to keep your space private.
Arundel is available with the return on your left or right side (and also in white), so if you've got the space, this is the absolute best desk you can find!
Carlisle features a cool organic shape and a few choices of wood veneers, enabling the piece to work into a variety of design motifs. It's also available in both "left" and "right" configurations to best fit your office space.
Click here for exclusive savings on the Carlisle Desk & Return!
Although Carlisle has a rounded shape, its edges still straighten out to fit into a corner as needed. It's a subtle but interesting design element that enables Carlisle to look natural placed in a corner or floating in an executive office. Carlisle's single pencil and filing drawers give you plenty of storage, so it's both functional and attractive!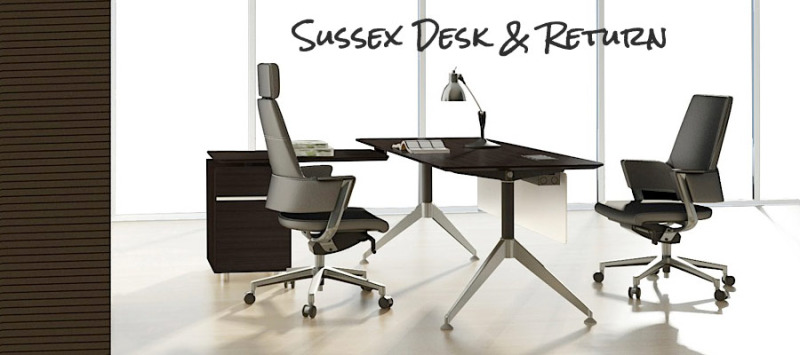 Sussex blends the basic design elements of our Carlisle, and then adds both simplicity with the lines and variation in sizes. Where Carlisle had curves, Sussex is straight. Where Carlisle is a fixed width design, Sussex offers a few size options giving you more variations to choose the right on for your office!
Click here for exclusive savings on the Sussex Desk & Return!
Sussex's warm wood veneer adds a natural feel to your workspace, while the tiered return gives you alternate heights to work at. The return includes a built-in pedestal with a single pencil drawer and a filing drawer as well. With the included privacy panel, Sussex is another design that works great both in a corner or floating.
Glass Desks
As you can imagine the typical glass desk is decidedly modern or contemporary given the nature of glass, and, frankly, there are a TON of options out there! Here we thought we would give you a few interesting alternatives!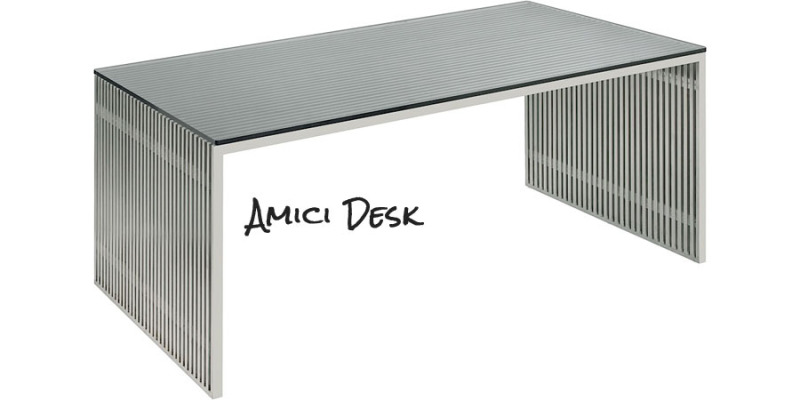 We concede that we're stretching the definition of "glass desk" a little with this design. Nevertheless, it's one of our best selling designs for good reason!
Click here for exclusive savings on the Amici Desk!
Amici boasts a stainless steel frame constructed from matching brushed steel tubing separated by clear lucite spacers. On top rests a 48-inch wide 1/2-inch thick clear glass top. One of our favorite aspects of this design is that, unlike traditional clear glass desks, Amici's glass top doesn't show nearly as much dust. So it looks cleaner longer! (You could also use the Amici Dining Table if you're looking for something larger!)
Liphook is a modern take on a traditional style, giving you an executive-sized 63-inch wide clear glass work surface. Each of the legs is finished in a chromed steel, giving the entire design a contemporary edge.
Click here for exclusive savings on the Liphook Glass Desk!
Liphook is a stylish glass computer desk with adjustable height legs that allow you set the worksurface at just the level you want it. Liphook's trestle steel base and flexibility make it a favorite among design enthusiasts looking for a modern option.
Wall Mounted Floating Desks
Also known as a "wall desk," these styles are typically low-profile and designed to leave a minimal footprint in your office. Often a wall mounted desk will be a simple plank of wood that extends out from a wall to create a writing or work surface.
Currently, we only carry one wall-mounted desk, but it's a stunning design and easily makes it onto our top 30 list:
Modern at its finest, Walker blends a few different design techniques into a striking piece of furniture. To start, Walker features a walnut wood veneer backplate that's intended to be secured to the wall. From there, a slab of white lacquer extends out into your room at a slight offset to Walker's back. Walker includes two pencil drawers, so it's easy to keep the Walker clean both literally and figuratively!
Click here for exclusive savings on the Walker Desk!
We also love the designs by Formolly! If the Walker Desk isn't what you're looking for, Formolly has several amazing all wood styles that might strike your fancy.
Writing Desks
The concept behind a writing desk is pretty simple: you need a writing surface, and... Well, that's it! We noticed two types of writing desks were particularly popular: small ones and ones with drawers.
Small Writing Desks
A small writing desk is a great addition to your den, bedroom or even a living room, especially if you're a note taker or journaler (or sporting a tiny New York apartment). These pieces give you a stylish feature and the functionality you need!
Our Plymouth Desk is a study in simplicity. Plymouth boasts a powder-coated steel frame ideal for easy assembly and disassembly. A clean white glass top gives you a nice 4-foot by 2-foot worksurface, making Plymouth an easy addition and the perfect metal desk for any room in your home!
Click here for exclusive savings on the Plymouth Desk!
Plymouth features a simple rounded shape and affordable price point, so it's the perfect solution when you're looking for a desk that's affordable, portable and stylish!
Unity is part of our modular collection of office desks, with the 47-inch design serving as the smallest option in the series. Unity features the clean, simple lines you would expect from a Danish designer.
Click here for exclusive savings on the Unity Desk!
Available in your choice of white, espresso and walnut laminates, Unity includes built-in cord ports if you plan to add a computer to your small writing desk!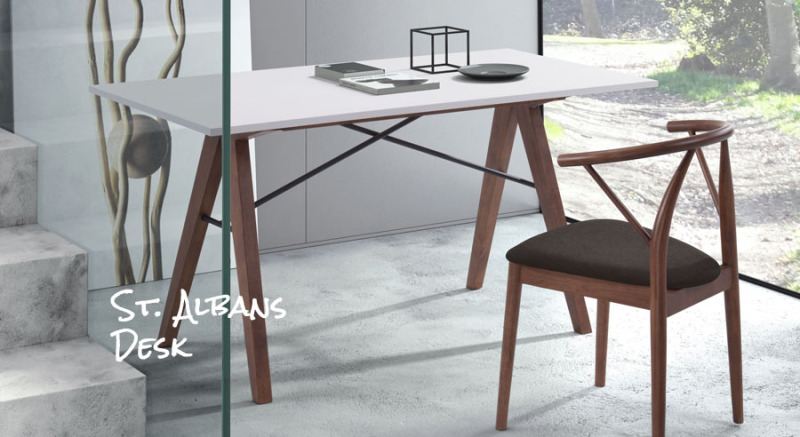 Okay, we admit it. St. Albans might be pushing the limit a little on what you can consider "small." But at 55-inches wide, it's definitely not "big," and we love the lines and materials!
Click here for exclusive savings on the St. Albans Desk!
St. Albans is perfect for adding a little mid-century styling into your space, combining walnut legs, black steel, and a white top into a single cohesive product that might (might!) even help with your writer's block.
Writing Desks with Drawers
Adding on to the typical writing desk style is the writing desk with drawers, giving you a small pencil drawer or two for stationary, pens, pencils, etc. We typically find this style of desk to be a little larger (around 5-feet), but still simple - no privacy panel or extraneous parts.
This style of desk is perfect for a den or bedroom, where you might work on a laptop or write in a journal. Our most popular designs tend to look best "floating" in your office space, but, of course, you could also place these against a wall!
Designed by Ronald Sasson, the Hampton Desk by ModLoft is for those seeking high-end materials and attention to detail. Hampton features a stunning Natural Oak veneer and tiered desktop featuring inlaid brown leather.
Click here for exclusive savings on the Hampton Desk!
Hampton's rounded legs and trestle-inspired base support a single-piece top with a gentle outward taper. The lone pencil drawer includes three wood trays, so organization is easy. From the bottom to the very top, our Hampton Desk exudes high-end style you're going to absolutely love!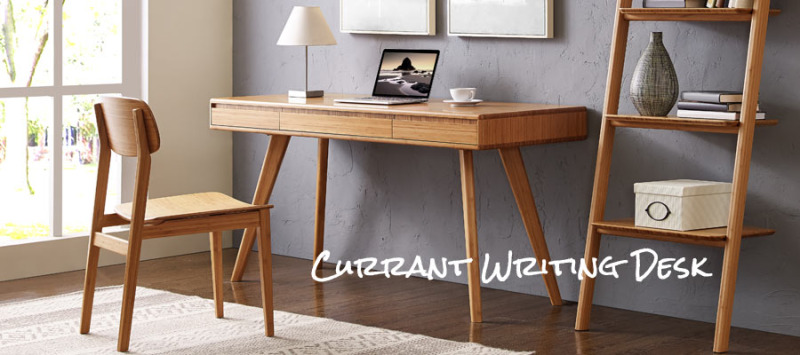 The ultimate "green" choice, our Currant Writing Desk has a few features that easily make it the "best" eco-friendly desk for the planet. Currant is crafted from 100% solid Moso bamboo! Read more here about why bamboo furniture is the best!
Click here for exclusive savings on the Currant Writing Desk!
Currant's round angled legs are a nod to mid-century design and the simple desktop features three pencil drawers. Available in a few different finishes, we've found the caramelized finish is especially popular among the eco-friendly crowd. The "caramelization" process essentially bakes the bamboo, adding strength and durability, and bringing out the natural golden tones of the wood.
Another stunning design by ModLoft, the Barrow Desk offers a contemporary take on the typical writing desk. Clean simple lines, warm wood veneer, and black steel legs create the perfect feature in your office!
Click here for exclusive savings on the Barrow Desk!
Barrow features a simple 64-inch rectangular work surface covered in walnut wood veneer. Two linen-lined pencil drawers give you a touch of storage space for office supplies, without encroaching on Barrow's simple shape. Underneath, a black powder coated flat steel base intersects to cross brace the entire design.
Our Hayes Writing Desk boldly blends materials into a stunning, minimalist desing you're sure to love! Hayes features warm Walnut and deep Java giving it a classic warm feeling that will help work feel a lot less like work.
Click here for exclusive savings on the Hayes Desk!
From the stitched leather top, to the steel frame and walnut drawers: Hayes exudes luxury with its high-end materials and modern lines. It's the perfect writing desk with drawers when you want to transform your office into a stylish retreat!
Black Desks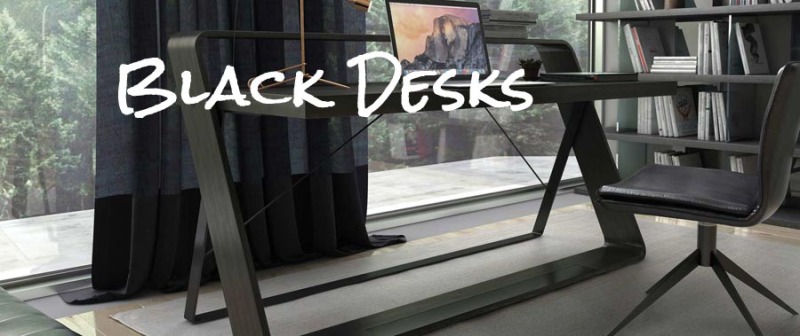 Adding a black office desk into your space makes a statement. Black means bold, contemporary. When done properly, a black office desk contrasts with the natural light in your office, creating a sense of balance.
Whether you go with black steel, or a more subdued wood like our Watts Desk, adding black into your office creates a sense of centrality. Your desk becomes the epicenter of the room. Ideally, you can float the desk in the center of your office and really let the furniture anchor the space.
Here's our favorite black desk:
A popular pick with our buyers here at Modern Digs, the Onda Wave Desk blends black and walnut into a stunning and unexpected design.
Click here for exclusive savings on the Onda Wave Desk!
The word "wave" refers to the inlaid wood in the Onda's top - a subtle accent of walnut with a wave pattern. The smooth black top breaks for the walnut inlay and is the perfect place to rest your pen without it rolling away. Beneath, a black steel trestle base is powder-coated to a smooth finish.
Desks for Small Spaces
Finding the right desk for your small space can take a little bit of luck and creativity. We mention a number of small desks here throughout our top 30 list, including these favorites:
Looking specifically for a small desk with drawers? Check out the Houston Desk or Derby!
If you need something even smaller, we've got just the right option for you!
Verwood offers flexibility and bold color choices to give you an unexpected design and utility!
Click here for exclusive savings on the Verwood Adjustable Desk!
Available in a myriad of finished, Verwood features a small rounded rectangular top affixed to a rolling adjustable height pedestal base! With a range of 28-inches all the way up to 41-inches, Verwood is perfect for you to use while sitting on your sofa, or standing in front of a window. Verwood suddenly makes working on your laptop anywhere a very real possibility!
Mid-Century Modern Desks
If you're a fan of Apartment Therapy, we're sure you've seen their article on how popular mid-century modern furniture is. If you haven't figured it out yet, we're big fans of the style as well!
When it comes to finding the right mid-century modern desk, there are a few designs we absolutely love. We'll let you decide which is best for you, but here they are in order of popularity!
Where to start with Chet? I guess we'll start with materials... Chet is crafted from solid American poplar with a classic surfboard-shaped top and Antique-brass caps polish off the lathe-turned rounded legs.
Click here for exclusive savings on the Chet Desk!
But it's Chet's lines that make the design truly stunning! Chet's legs are placed at a subtle angle (an homage to classic trestle designs) but meet beneath the desktop and privacy panel at two wood drawer boxes. Suspended beneath the top, the two pencil drawers are undeniably mid-century mod. The whole design begs to go back to the American heyday of the 50's and 60's!
A simpler take on mid-century modern, Matt goes with a more subtle approach than Chet. However, Matt features a generous 4-foot top finished in a durable black laminate to make it a stylish contender.
Click here for exclusive savings on the Matt Desk!
Wrapped in solid American Walnut, Matt's top blends the organic beauty of wood with the modern feel of black accents. Elegant and simple solid-wood black legs angle up to support the top, while two sleek pencil drawers polish off the design.
At 55-inches wide, the mid-century inspired Keith Desk begins with the most standard dimensions in office furniture. But that's where "standard" stops. From top to bottom, Keith exudes design elements even Frank Lloyd Wright would approve of!
Click here for exclusive savings on the Keith Desk!
Wrapped in Americal Walnut, every curve of Keith's shape offers a glimpse into a bygone era. From the angles in the K-shaped legs and the antique brass accent bar supporting Keith's frame to the suspended drawer box and pencil drawers, our Keith Desk adds classic styling into your office. It's perfect for the design connoisseur.
Minimalist Desks
Minimalism as a design style is easy to understand and appreciate. In a nutshell, less is more! Our top 30 list already contains multiple options that minimalists seem to love. Check these out: The Lucid Desk, Amici Desk and the Barrow Desk.
Adjustable Height Desks
We've talked at length, actually, about whether you even need an adjustable height computer desk. If you weigh the pros and cons and think an adjustable computer desk is the solution for you, here are our favorites:
Bristol adheres to its Danish roots, providing clean lines, classic materials, and just what you need from your office desk.
Click here for exclusive savings on the Bristol Sit Stand Desk!
Bristol is available in two widths (55-inch and 65-inch) and two finishes (walnut and espresso). Black steel telescoping legs conceal silent motors that are controlled by a small remote underneath the desktop. Now finding just the right position, or just moving throughout the day, is easy to do in style!
Liverpool features high-end craftsmanship and a variety of finish options perfect for any office space.
Click here for exclusive savings on the Liverpool Sit Stand Desk!
Liverpool's ergonomic top features a gently curved front and a generous 55-inch top. The black steel legs enable Liverpool to quietly lower down to 27-inches and raise all the way up to 47-inches. An under-mounted steel track and built-in cord ports make Liverpool the ideal adjustable computer desk for your office!
Solid Wood Desks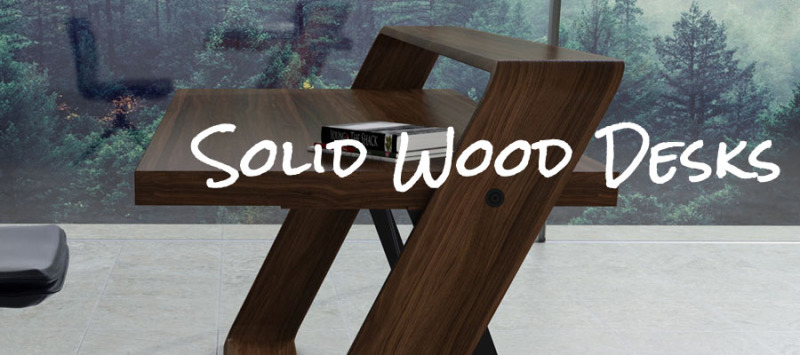 We understand. Nothing beats a solid wood desk. Modern styles often negotiate on materials and opt for easier-to-work-with substrates like MDF to create bold shapes and lines. Nevertheless, if you're hunting for a solid wood design, we've got two of the best desks out there!
Currant hits the trifecta! First, Currant is a stunning nod to mid-century design inspirations. Second, it is constructed from the most sustainable wood on the planet, eco-friendly bamboo. And, finally, Currant is constructed completely from solid wood!
Click here for exclusive savings on the Currant Writing Desk!
Currant is the perfect solution for your home or office - it works well as a writing desk or executive desk, and makes a stylish workstation for your laptop. Quite simply, Currant covers every base, from style to sustainability making it one of the best desks on the market!
Available in a verstile Walnut finish, ModLoft's bold solid wood design is a statement piece for any office!
Click here for exclusive savings on the ModLoft Watts Desk!
Watts begins with a solid wood ring enclosing a 67-inch wide work surface, supported by a matching angled steel leg. Watts' tiered desktop provides ample workspace and a bold open design perfect for a modern or contemporary motif. All you need to do is figure out exactly where you want this gorgeous piece!
Want to see even more?
Check out our entire selection of high-end, hand selected modern desks to create the office of your dreams!
posted on 5/7/2018